Into Day 2 of our trip.
It is a shopping day so as casual as possible!

1st stop was to head down to Penisular Plaza which is just beside our hotel for Provence!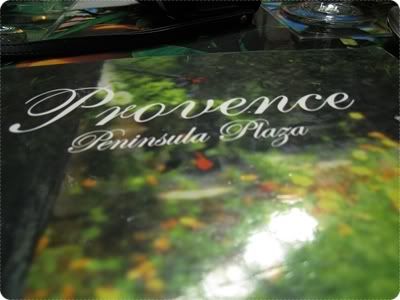 We had it last year and we love the food there so much that we went back again!
They've got Movenpick ice-cream! Aw~

Photo of us….

While waiting for the food to arrive.


Can't wait to go shop till we drop!
Our food…


Dig their beef noodle and ice tea. Totally awesome!
I went on the trip with boring people, so we ended up ordering the same kind of food we had last year.
Totally not adventurous. Haha…
Us with our main.

We attempted to walk to Platinum Mall.


Just as last year, I don't know how we manage to walk but we ended up in the wrong direction.
Once bitten, never twice shy.
Made the same mistake again
So we ended up taking our 1st cab ride in Bangkok!


Yes, it went by metre. =)
There was a little jam so we ended up taking photos (again!) to kill the boredom!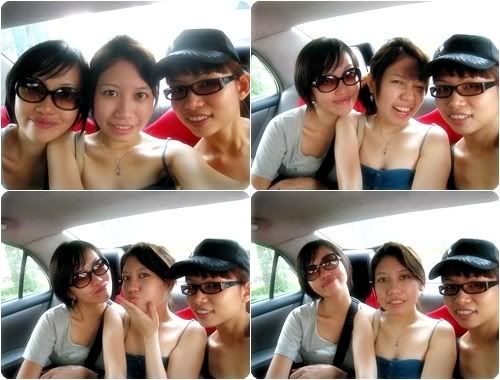 All the 4 photos, Daphne's facial expression just never change! SzeHui's too! Haha..
B-o-r-i-n-g! Ooops.
Finally we arrived at Platinum Mall.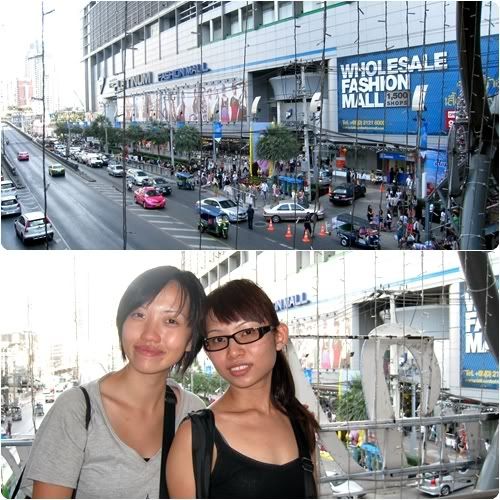 This is where the REAL shopping begins.
so we shopped the whole late morning to afternoon before we ended up at the foodcourt.


Boring people having late lunch.
The oyster omelette… really, I still prefer Singapore's version anytime although oysters there are really huge!
I miss their mango glutinous rice. Aw~
After the late lunch, more damages were done to our wallet before calling it a day as the shops are closing already.
How could we not take photos with the christmas tree outside Platinum?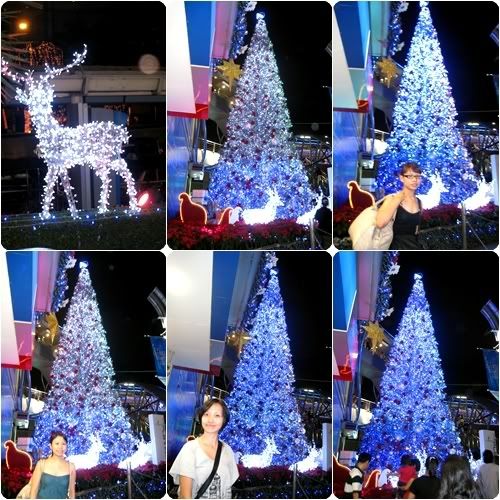 Walked to Central World Naraya to grab the stuff we need before heading towards Big C supermarket for our toiletries and food shopping!
It is always so crowded in Naraya! Those things I want to buy had to go OOS! Gr~
Had AuntieAnne before we start another round of madness in Big C.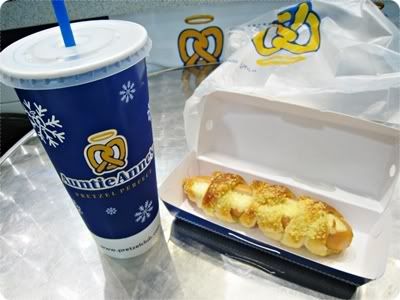 Love the cheesy hotdog pretzel though it's really small to share between the 3 of us.
Brilliant tagline! =)

SzeHui with our trolley of purchases!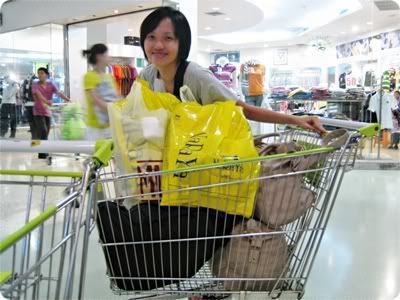 Yes, we shopped like things we buy could have last us for the next 2 years!
The 2 girls went ballastic at the woman personal care area!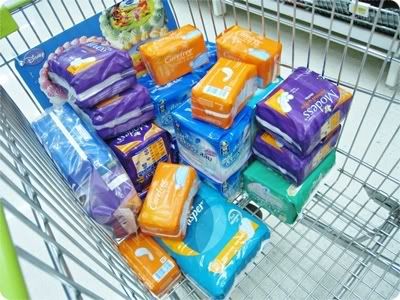 From the amount of pads they bought, you would think that their flows are non-stop for the next 2 years kind!
Can someone please educate my friends?
We had to hail a cab back to the hotel even though it's within walking distance because we could no longer carry EVERYTHING!
We had to dump all the loots into the boot of the cab!
Upon alighting, the bellboy came to open the door for us and when the taxi driver opened the boot, we were so embarassed with our whote trunk of loots!
Though the bellboy offered to carry our things for us, we refused with embarrassment.
Imagine, 3 asian girls in top, shorts & slipper walking past the very atas entrance to the lift lobby with bags of loots looking so unglam!
Super no image lah can!
SzeHui was clearly disgusted with the amount of things we purchased!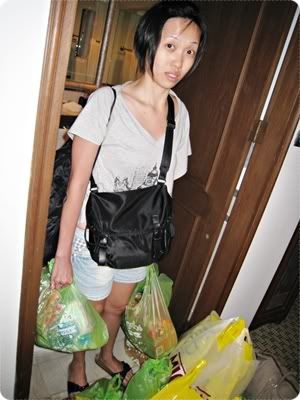 We were the 3 contributors to the loots.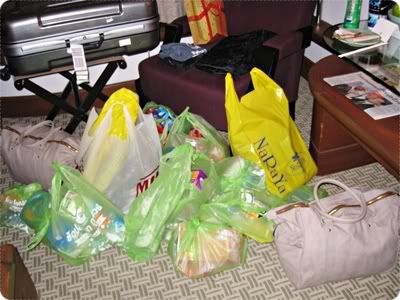 Once we've dumped our things in the hotel, we headed out immediately as we were late for our appointment at Healthland Spa.
When we got to the lobby to hail a cab, the same bellboy saw us, he gave a frown and a diaoooo, fall back kind of action.
Hahaha… he said, Wow! going for more shopping? So we replied that we were heading for massage. He comment that come Bangkok for shopping and massaging, good life.
I went into a different room from Daphne and SzeHui as we took up different package.
Took up 2 hours of thai massage for 450 bahts.
Changed into the clothes provided.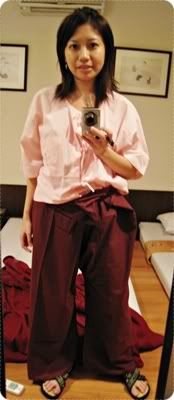 All I can say was the thai massage was damn shiok!
It really make my swollen ankle and my really tense shoulder 1001 times better!
It was past 12 mindnight before we actually cabbed back to hotel.
The last 'meal' we had eated was Auntie Anne, therefore the 2 girls decided to order room service as the guys had already hit the sack which apparently means they would not want to accompany us to grab food from the street.
Ordered minestrone soup and hot chocolate.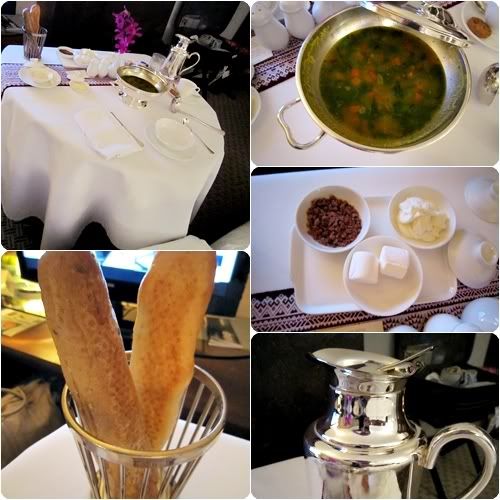 Honestly, the minestrone soup taste really… weird.
Daphne so ready to dig in!

SzeHui's loots of the day.

Yes, she was really happy with her buys!

These are mine!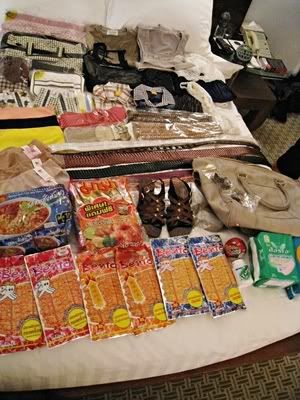 Really, I did not purchase alot. The only thing I went crazy buying were probably the belts.

These are Daphne's.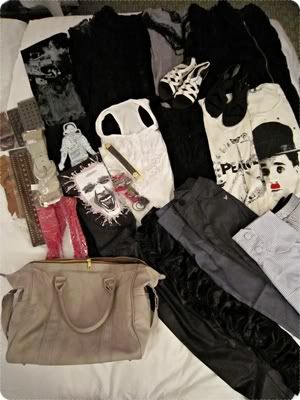 Manage to get myself a good quality s&b leggings for 400 baht.
It was not that cheap but still cheaper than any online blogshop in Singapore and I really wanted to purchase this already.
SzeHui wanted to see how it looks like when worn so I wore only 1 side for her.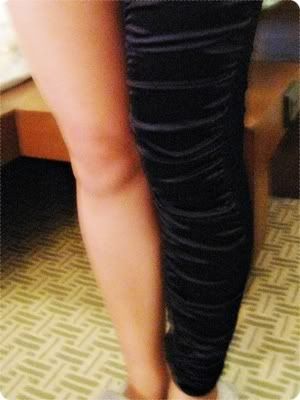 Then I realise it's so Jolin. Ha….
Had to pack our bag for HuaHin trip as we will not be bringing our luggage along.
So we ended up sleeping for only a few hours. Sigh~
*still in the midst of editing Day 3 photos.
Please stay tune! =)