Caution!
This is an image heavy entry!
Don't say you haven't been warn.
~*~*~*~*~*~
Woke up bright and early at 6.30am because we needed to check out and wait for the arrival of the van to bring us all to HuaHin.
So the city starts to get busy while we were getting out of it to a quietier and freshier air part of Thailand.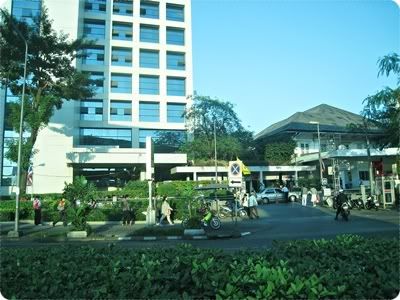 In the van… can't wait to see other part of Thailand!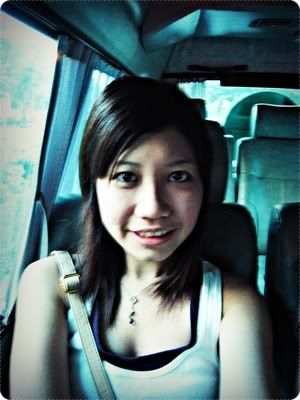 Stop over at A&W for our breakfast…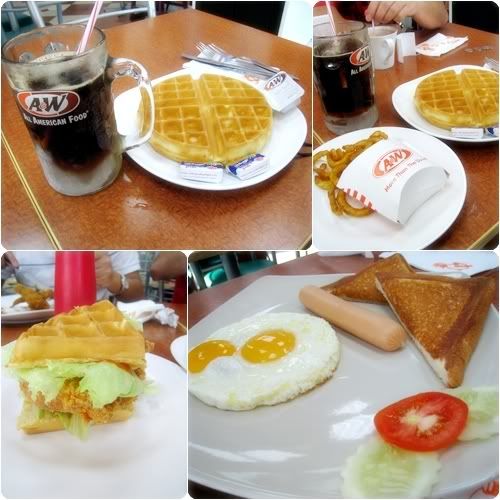 I miss their waffle, chicken, curly fries and root beer float. =(
The nearest A&W can only be found 1 hour plus ride away from Johor Bahru which makes it 2 hours away from where I am now. =(
After our breakfast, continued our journey…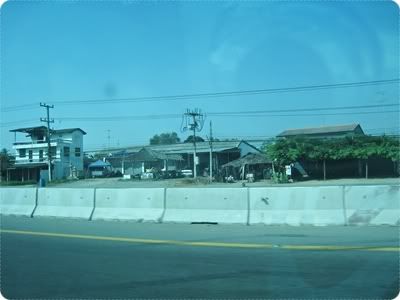 SzeHui and I…. having fun with the camera while Daphne was sleeping.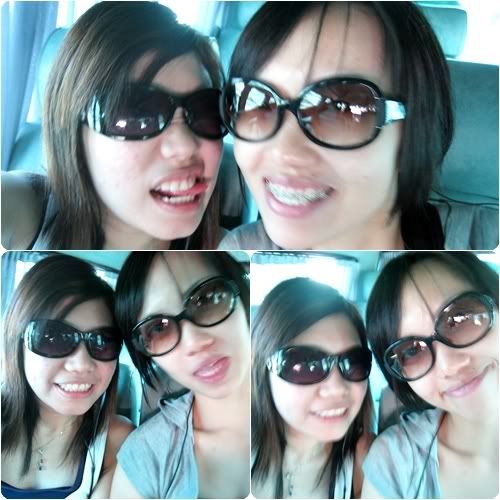 There were some mixed up of hotels before we finally reach our destinated hotel.
When they alighted us at Hilton, we were delighted!
Saw the beach from the lobby and oh boy.. .how excited we were because we thought it was like a private beach or something!
Luckily the guys were sharp enough to notice that it was Hilton, not Sheraton.
After about 10 minutes we finally arrived at Sheraton Hua Hin Resort & Spa Thailand.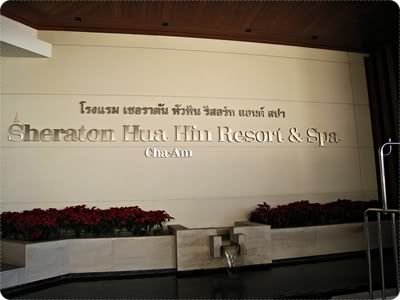 Finally!
Love the spacious lobby with greenery.
Makes one feels so peaceful and calm.

We sat down for our complimentary drink while waiting for the hotel staffs to prepare our rooms.
Me, at the lobby area.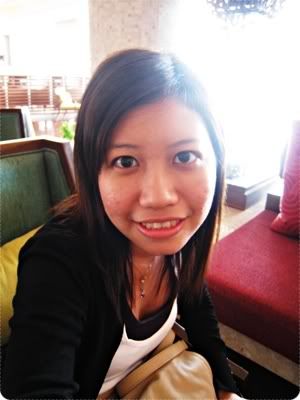 We were led to our rooms….
Ta-dah~ This is the girls' room.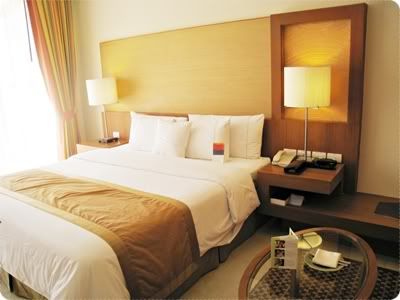 A queen-size bed and an additional bed which they brought in later on.
The guys' room.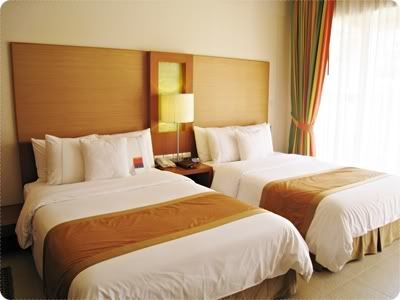 The 2 rooms are connected.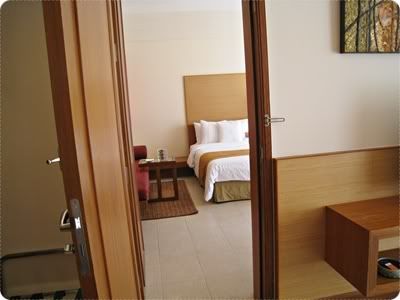 The sofa resting area.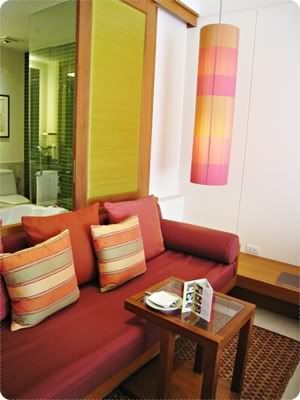 Looking beyond the sofa, it is actually the bathroom!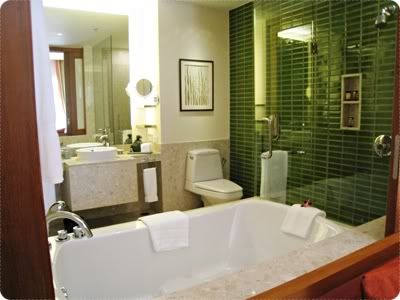 The sofa and bathroom are only seperated by a sliding window.
Heh… very romantic if only you travel as a couple.
Otherwise, there is an unspoken rule that the window must be close at all times!
Our mini counter bar with snacks, alcohols, tea bags and coffee maker.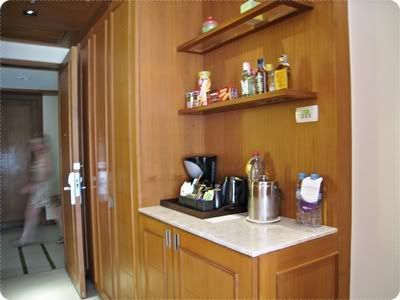 It's a flat-screen tv that can be remote by the normal remote control or the keyboard provided below the tv set.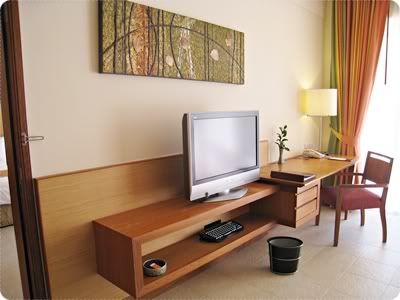 Our garden view.


No, the green gate cannot be opened.
By staring this green, maybe it can help the myopic me.
Look at what I've found while reccing the room.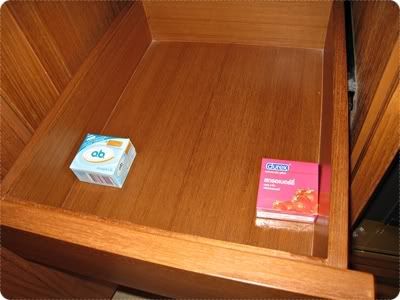 A box of tampon and condom that is of strawberry flavour. Heh.
The super effort toilet paper at Shereton.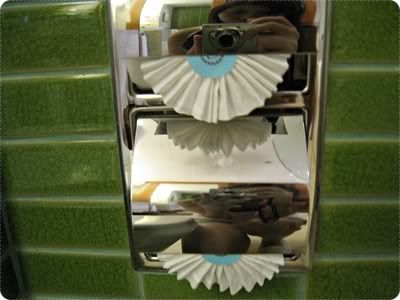 It is folded in the shape on the fan.
It only happened on the 1st day. Subsequently…. the toilet papers they brought in were the normal ones.
Daphne performing her stunt of making her lower torso disappear.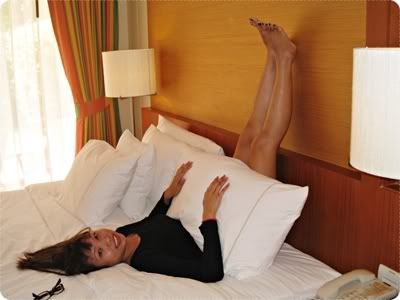 Got ourselves changed and went to explore around the resort while waiting for the transport to pick us up for some sports activities.
The magnificent pool area. Some rooms even have direct access to the connecting pool from their balcony.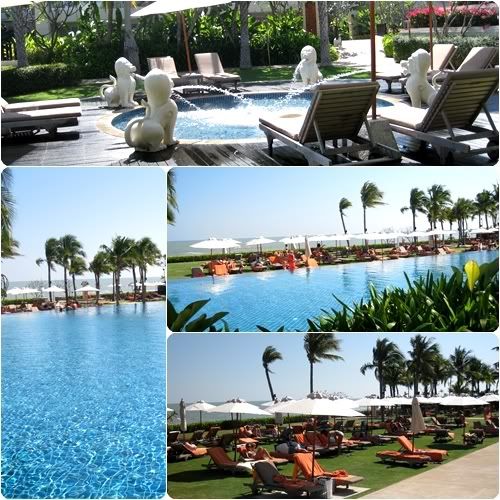 The most impressive part is that at a certain angle in the pool, you the pool and the sea in front actually make a straight line, making an illusion that you're swimming in the sea.
We were told that we were not allow to go to the sea side area due to the high tide.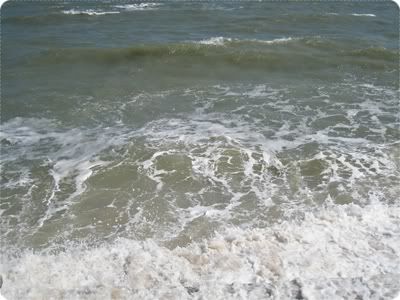 We were shocked when we realise the high tide was indeed high!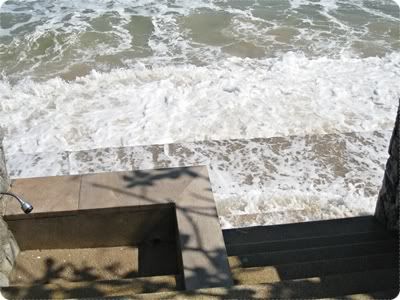 Looking the the situation, it was rather alarming that the global warming issue are indeed very serious.
One day, this beautiful place is going to be destroyed.
We humans are destroying what Mother Nature gave.
Anyhow, back to the trip…. heh… photos with the sea view behind us.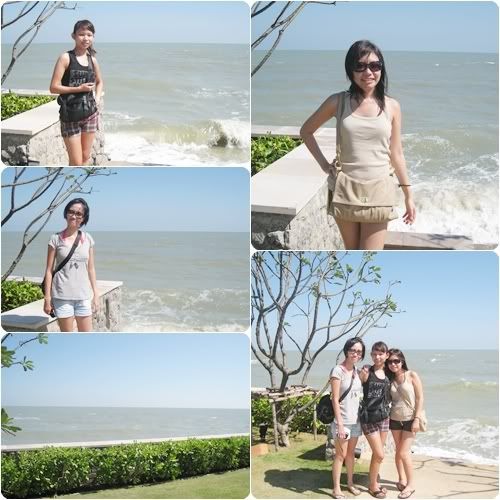 Honestly speaking, the beaches at Hua Hin were nothing compared to Redang.
The seas are rather dirty. No clean awesome beaches.
A photo of us girls…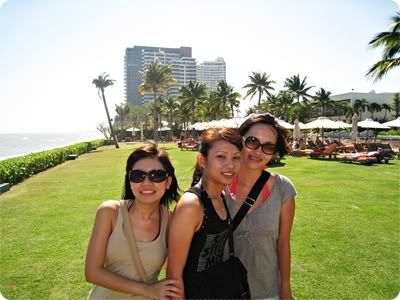 All thanks to the wonderful invention of wide angle, it fitted all 5 of us in the frame.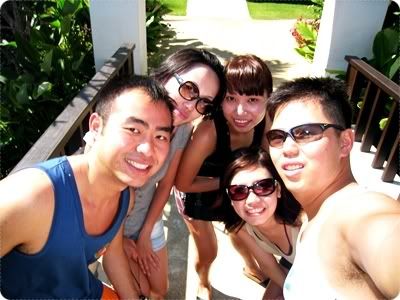 Eugene, Sze Hui, Daphne, Me and York Lin
Took the free transportation to where the sport activities were held.
This place offered a range of activies such as snokeling, riding of elephant, riding of ATV, jet skiing, banana boat, parasailing etc.
We sat at the back of this opened-air vehicle.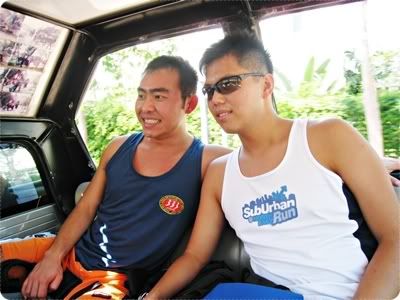 Took this while we were the move.


I like this picture alot!
It was soooo windy…. had to tied up the flying hair!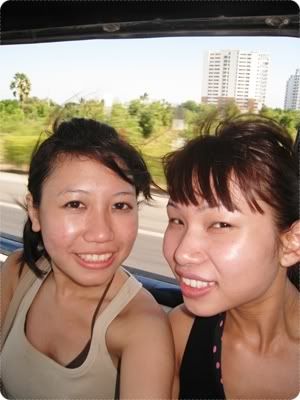 A picture of York Lin…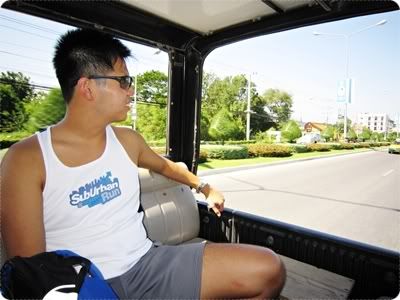 Does he looks like he is on the run? 逃亡-ing
Oh well… nevermind, not a very good model for our story. =.=
When we were nearing the place, the vehicle had to drive through a sandy path.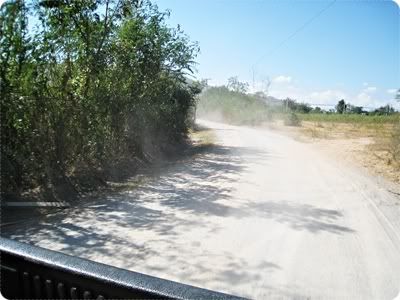 All the fine sand particles flew up and we could hardly breathe properly.
We had the sand particles covering every part of us!
Yes, even the poor camera had sand on the lens area.


Daphe had to close her eyes to prevent sand particles from flying in and lucky for me, I have my huge kick-ass shades on.
I can even pose. Haha…
After a few rounds of negotiation with the person who was trying to sell us their package, we decided to take up an hour of ATV riding and half an hour of jet skiing for the guys.
1st time on the ATV for us girls!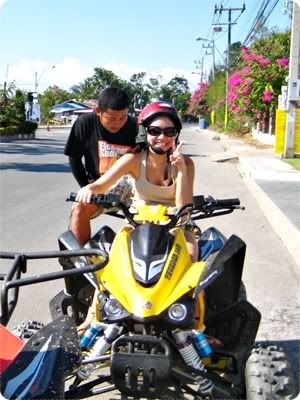 Me and my bumblebee!
I had this guy sitting behind me because….. i cannot seems to have problem steering because the handle is rather heavy.
The 5 of us went on the ATV ride with another 2 ATVs that was shared by a man, 2 children that looks like his daughter and son and 1 older guy whom we deduced that is the father of the man.
We rode through sandy paths, on the road with stalls and around the residential areas.
We even ride up and down a hill that is filled with thousands of monkeys!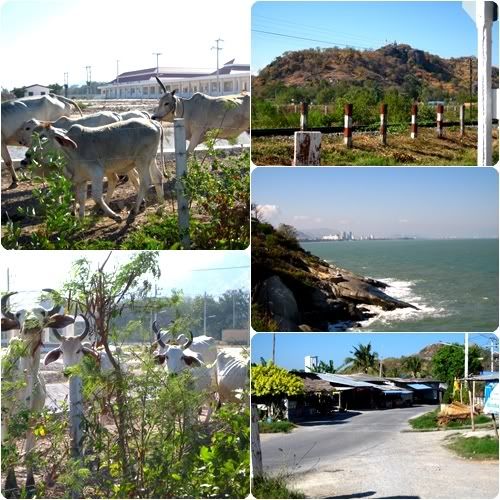 At our one and only stop over, all the ATVs were neatly lined up side by side.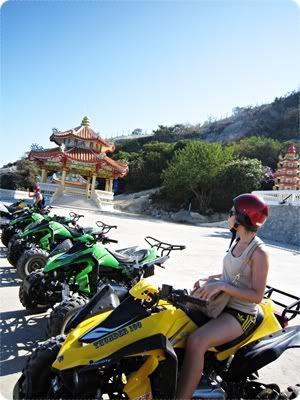 A picture of us…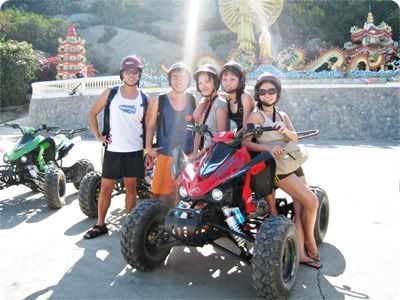 See the 光 shinging upon.
We had a 小插曲.
Saw this particular monkey coming towards our direction.
Naturally Daphne and Sze Hui were scared (they are both afraid of cats and dogs).
The instruction York Lin gave was that not to move so as the monkey will not attack us.
So indeed we tried to remain calm.
出乎我们预料的事 happened!
The monkey was actually aiming at York Lin's backpack!
It actually grabbed his backpack and York Lin was obviously taken by surprise for so much of standing still and remain calm.
He used all his mights to shake the monkey away from his backpack.
Why it actually attacked the backpack was because we had food inside and we guessed the monkey could smell them with his sensitive nose. Haha…
It was quite a scene… and thinking back, it was soooo funny!
Taken after the monkey truma.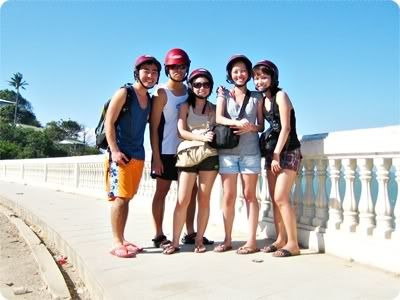 The sky is so crystal clear with no trace of clouds!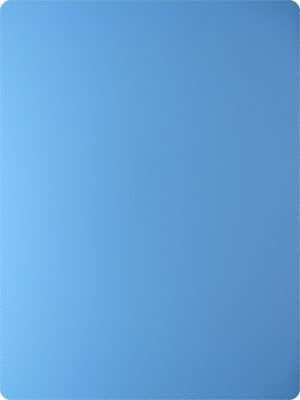 Beautiful!
The background looks soooooo perfect!


We sat on the ground looking like kids on excursion and the shadow of this 观音 (i think) casting over Daphne.
Awesome place to be….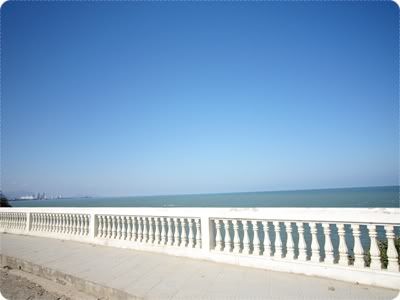 Picture perfect!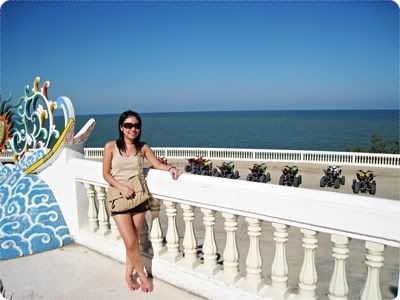 When we left the stop over and headed to this so-call terrian course whereby we can try other more interesting roads.
Suddenly this guy who was attached to me and my vehicle jumped off the ATV and ran towards this particular direction.
Immediately my head turned towards the direction and i saw Daphne on the ground with her ATV 四脚朝天. (Should have took a photo of that. Oooops.)
Got so worried and the thought that went through her mind was that we did not get any insurance for this trip and the 生死状.
It was like those TV drama because the man who was riding the ATV with us was actually a doctor and so he rushed to Daphne.
He sounds like an ABC.
He did a quick test with Daphne to ensure she has no broken bones or giddiness and whatsoever.
Too good to be true and he actually stayed in the same hotel as us!
Thank goodness she only suffered bruises and nothing much.
At least that took away the 'floating' spell which she suffered after her cruise a day before our this trip!
After our ATV rides, we were ferried to this beach to do the next activity which is jet skiing.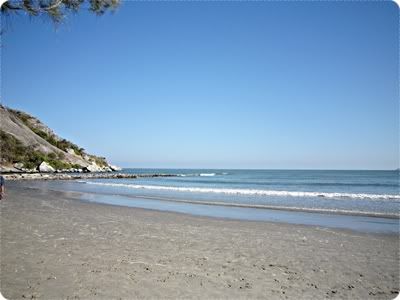 Taking a break while waiting for jet skis to be ready for our usage.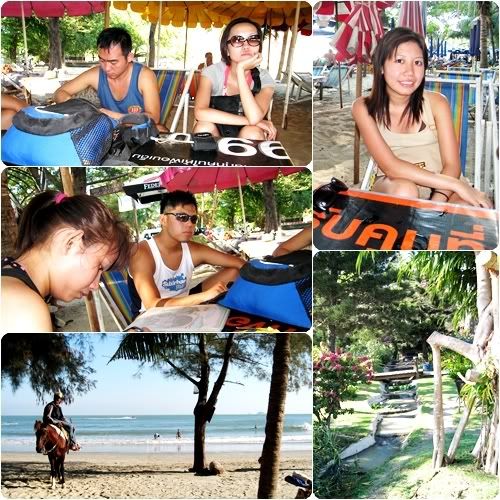 So the 4 of us got into our life jackets ready to hit the water!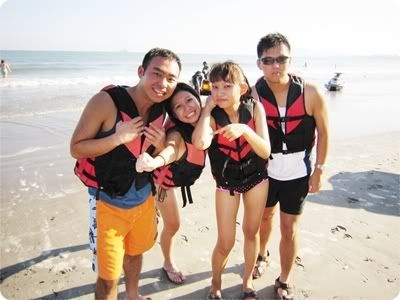 Our miss Maria of the day.


SzeHui had to take care of all our belongings while we were having fun in the sea.
Really appreciate that Ms. Poh. =)
Ready to go!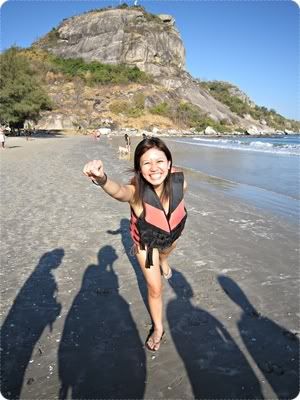 Me and the other 4 shadows!
Here we go!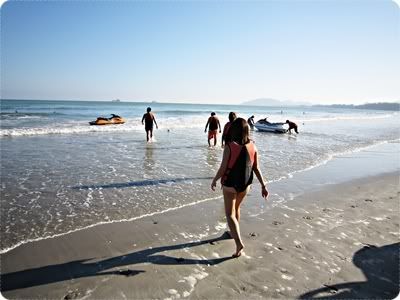 I paired up with York Lin,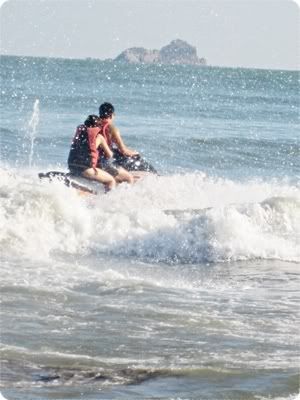 while Daphne teamed with Eugene.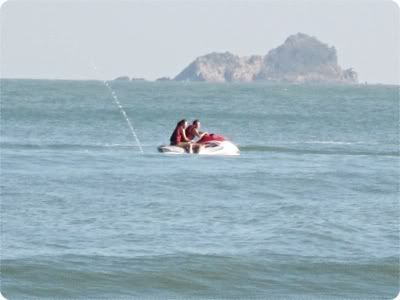 Usually Sze Hui is not prone to 自拍ing but she actually managed to capture the 3 shots of herself.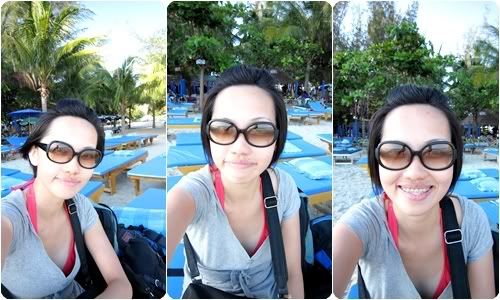 It just shows how bored she was waiting for us. Heh…
Half way though, Eugene&Daphne's petrol ran low however the people refuse to top it up for them.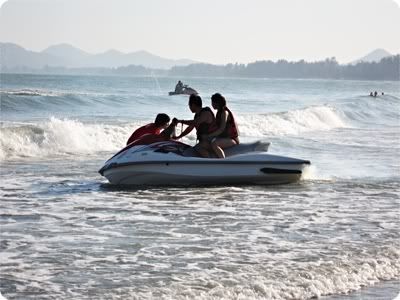 York Lin was nice enough to let me take control of the jet ski for a while. Ha…
It was an interesting experience although he is the one doing the steering most of the time. Haha… at least I get to control the speed! But then again, we were going on full throttle 95% of the time.
Was screaming with shiokness, especially when we hit the waves!
The area where we were allowed to jet ski was a tad small.
If only we could venture a lot further.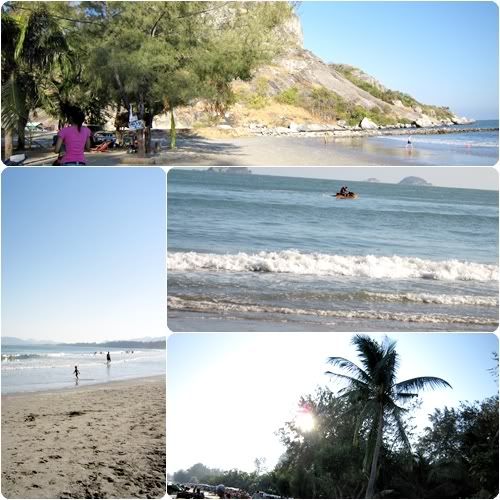 Daphne and Eugene were left stranded in the middle of the sea when they had no petrol left in their jet ski. =.=
So when our half hour was up, they took off in our jet ski to make up for the lost time.
Landed on the ground after half an hour of thrilling activity.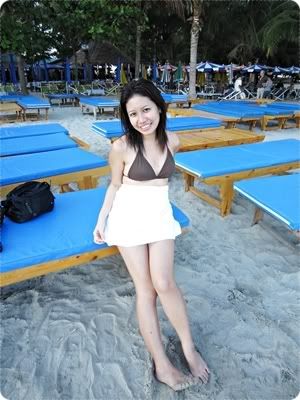 My high-waisted towel. =.=
The jet skiing partners.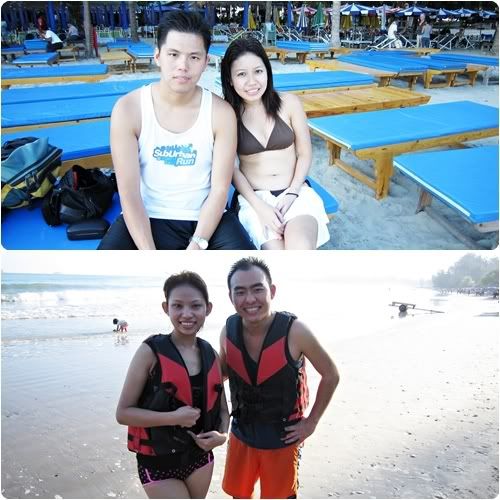 Eugene, looking very satisfied with the ride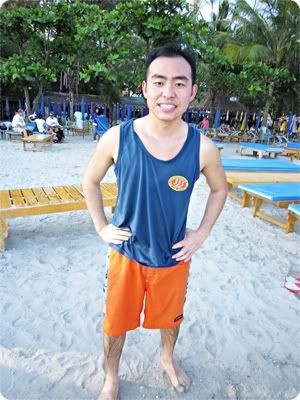 Daphne was still very much traumatized by her great fall.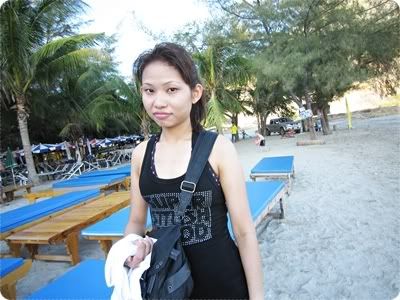 Really, I am very proud of her that she tried all the extreme sports which is so not her.
勇气可加!
Finally Maria signed off her duty. Heh…. so back to the hotel we went.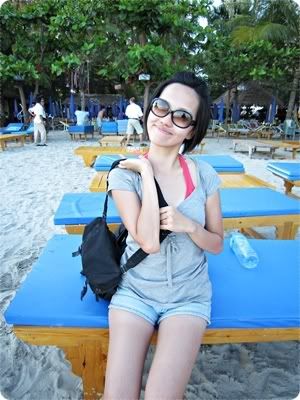 When we got back, the chefs-cum-worker were working on the lobby area, putting the real gingerbread piece by piece on the wall to create the ginger bread house effect!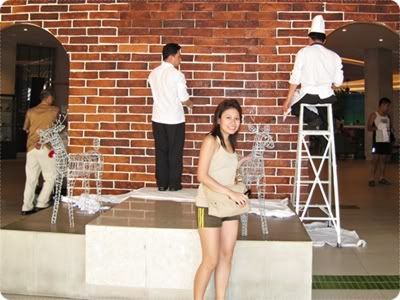 Me with the 'naked' reindeer.
While walking back to our rooms…..

The sun was ready to set….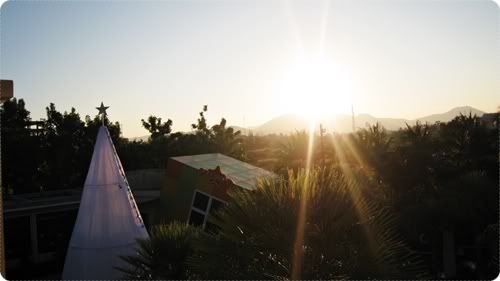 Washed up and got ready to travel to the town area for dinner.
We had not eaten anything since the A&W in the morning!
Some night shots around the resort.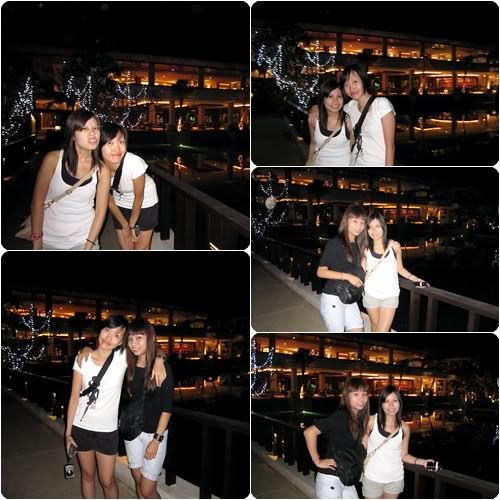 They have this area specially catered for kids.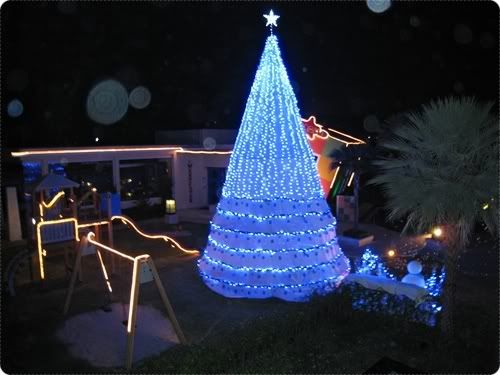 I like how they outline the playground with lightings.
SzeHui took this photo.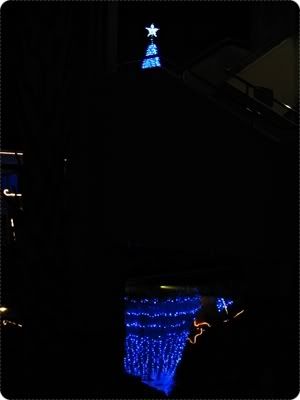 The bottom part is reflection from the water.
SzeHui and Daphne.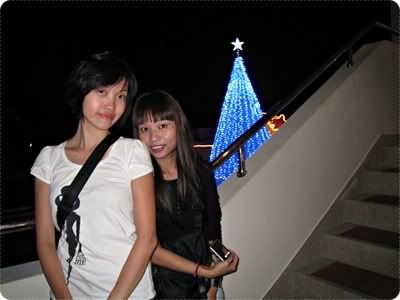 We posing with the christmas tree in the lobby while waiting for our driver to pick us up.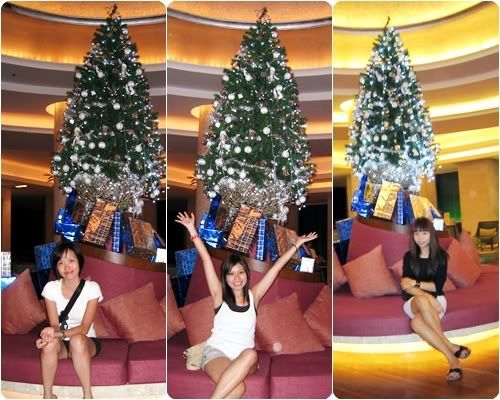 With York Lin's friend recommendation, we found ourselves to this place!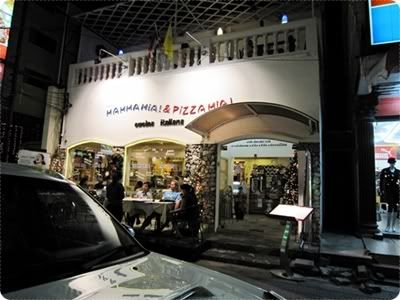 It's a Italian atas resturant.
Best part was, we were dressed in casual tees and shorts/berms.
Luckily they were not too bothered by it.
Mamma Mia! is the place!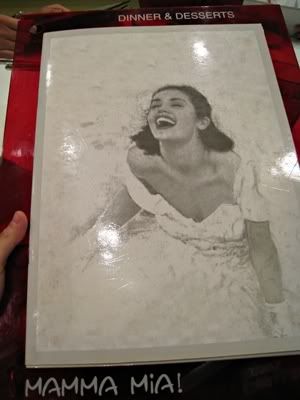 The food we ordered.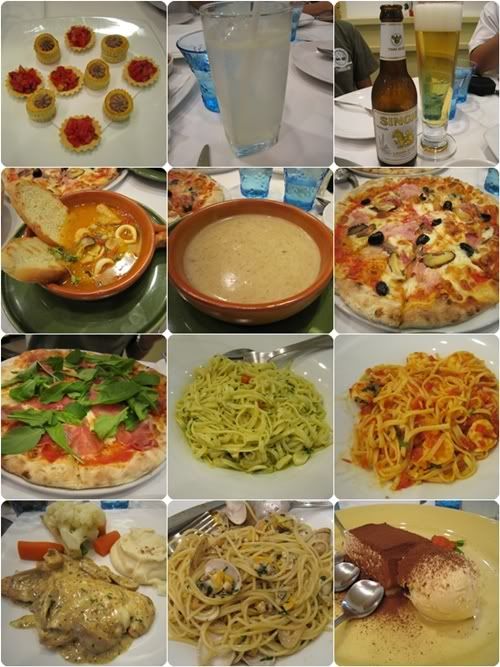 Had a starter, freshly squeezed lime juices for us and beer for York Lin, 2 soups and a pizza to share, our main courses as well as a tiramisu with ice-cream.
Us with our main courses.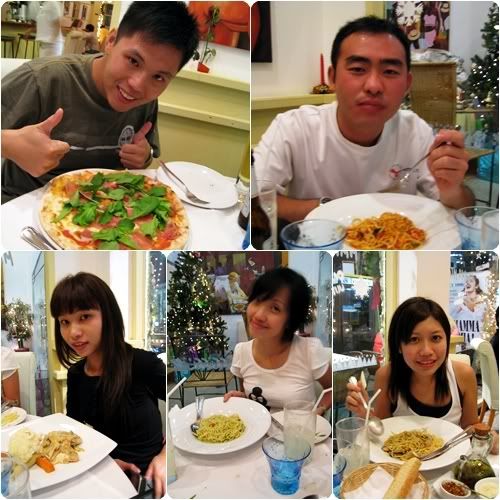 My spaghetti vongole and SzeHui's aglio olio sucks to the max.
Luckily the food the rest ordered were pretty good.
The whole meal cost us 3,900 baht.
Next up was the Hua Hin's one and only night market!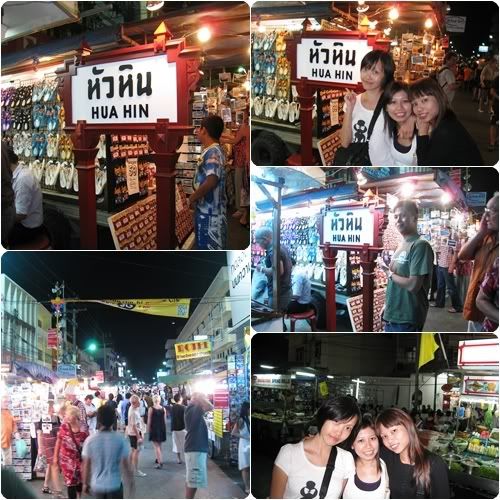 The 2 guys standing in front of a random zi char stall.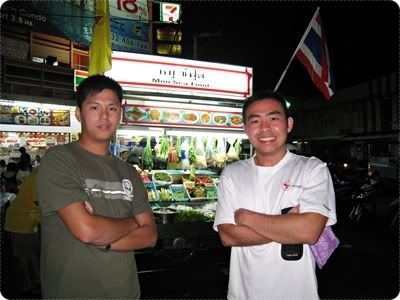 Don't they look like the 老板s?!
We like the colourful display front!
Me trying on a sunhat.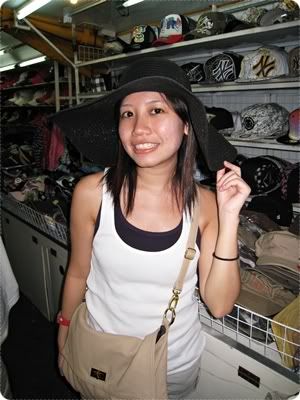 Just for fun. Heh…
Randomly walking down the night market and buying drinks.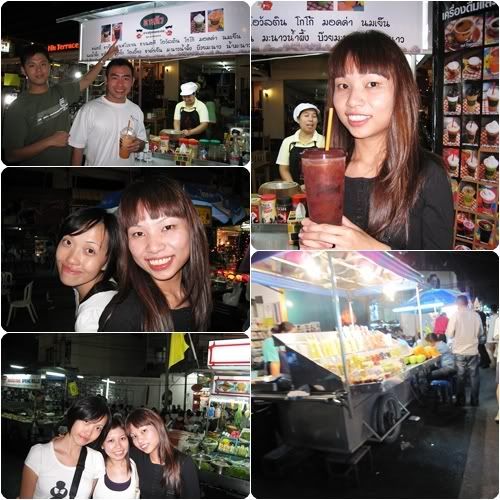 Random photo with some scary hands…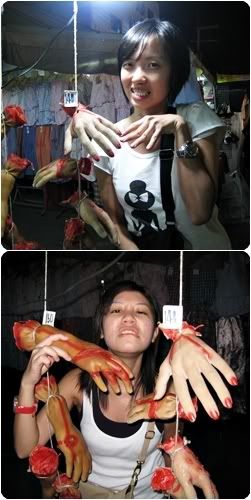 I think SzeHui's hand looked so similar to the fake one.
Using the 自拍 skill and wide angle camera lens.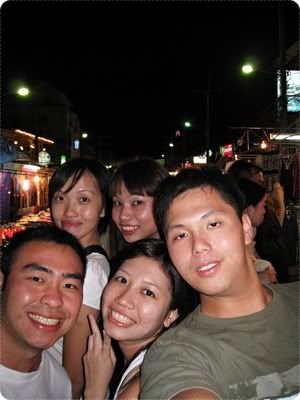 We in the street of Hua Hin.
Seriously, the night market was nothing fantastic.
It was just one lane with shops at the both sides.
The shops mainly sell clothes, food, drinks and other very tourisy stuff.
Nothing much to buy there because whatever we can get there, we can get at Bangkok for a cheaper price.
We combed the night market pretty quickly.
Across the street we saw Sze Hui's long lost BFF.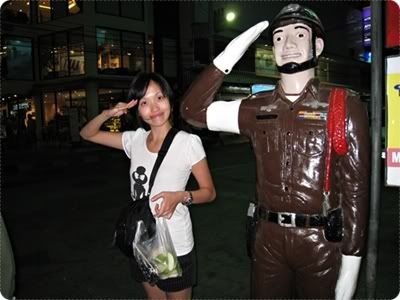 Don't they look somewhat the same? Hahaha…
Since there was nothing exciting in the town area we decided to call it a day and return back to the resort.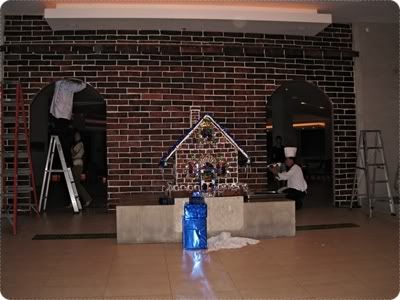 The chefs are still working hard on creating their giant gingerbread house.
They had to piece by piece pasted the gingerbread on the wall and outline them with sugar icing.
I must admit whenever we passed the doorway, it smells really good. Hahaha.
The completed mini gingerbread house!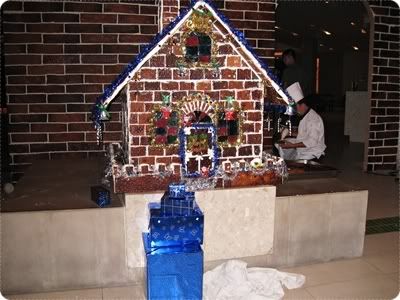 Very pretty hor?
SzeHui relieving childhood memories at the children's playground area.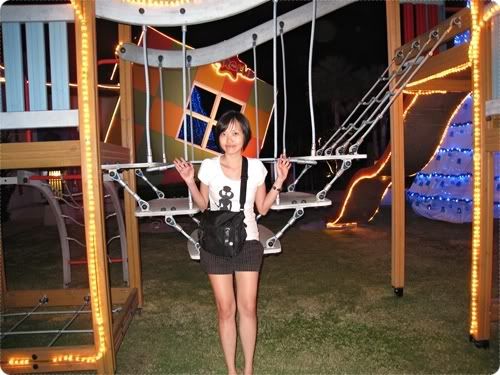 Me with Sheraton's blueish X'mas tree!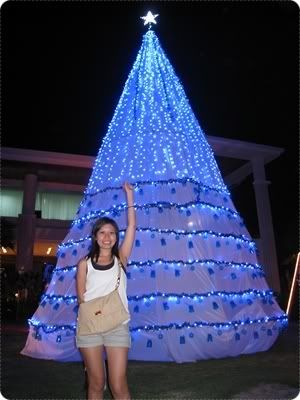 This was how Daphne's 美腿 looks at the end of the day…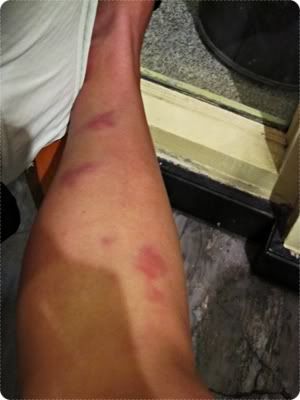 She self inflicted pain by rubbing on her bruises until they turn blue black and I could see her self satisfaction look when the blue blacks starts to show. Ha….
That's all for my day 3 entry.
Still in the midst of editing day 4 entry!
OMG… expect lots more photos than this entry.
Too tired out now.
Time for bed! Good Night!