Got myself all dressed up and waited for Daphne to pick me up in a cab.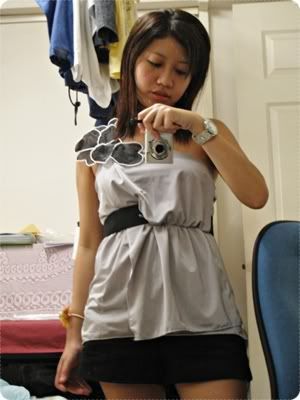 By-rovski ASOS inspired toga… I heart it! Heh.. =)
Our adventure begins right from the moment Daphne stepped out of the house!
Our flight was schedule to fly at 1355 hour.
The latest we need to be at the airport was 40 mins before which is at 1315 hour.
By 1230 hour, I was still waiting at home for Daphne to pick me up!
She actually dialled for a cab but no cabs appear!
In the end she had to call again for another cab.
1st time I heard of an on-call cab not picking up a passenger.
Lucky for us, the flight was re-scheduled to 1425 hour instead.
That half an hour delay saved our asses!
Queuing up waiting for our turn.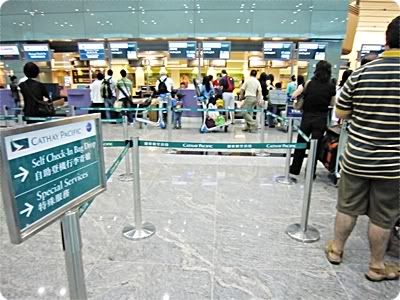 The line don't seems to move at all…..
Our 3 luggage.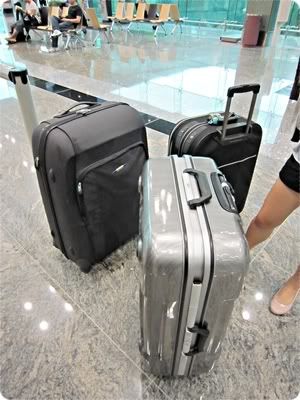 and yes, that is my 美腿 in the picture too. Ooops. *shy*
Pissed SzeHui who decided to join another queue that is equally slow.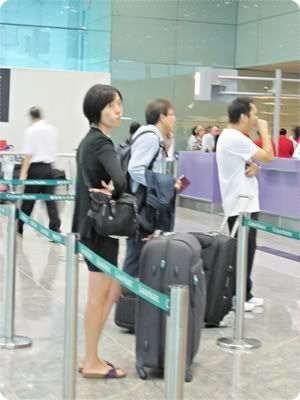 Daphne with her luggage.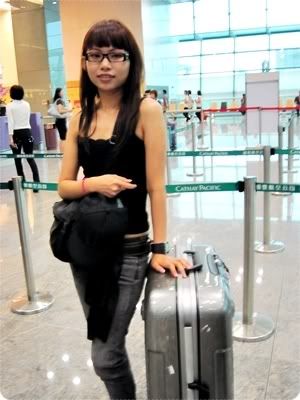 Me with mine! =)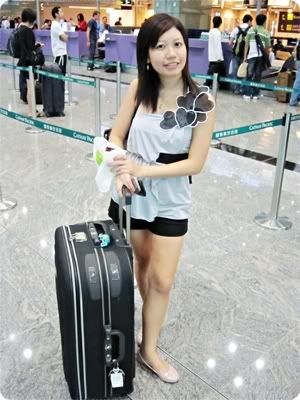 Finally we checked in our luggages and we were given the boarding passes.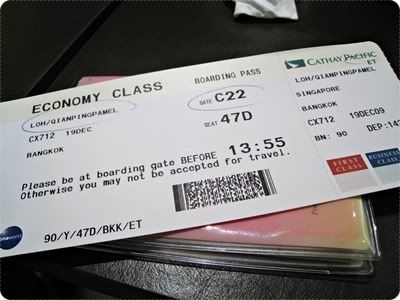 A super chop lunch at Delifrance before heading towards the boarding gate.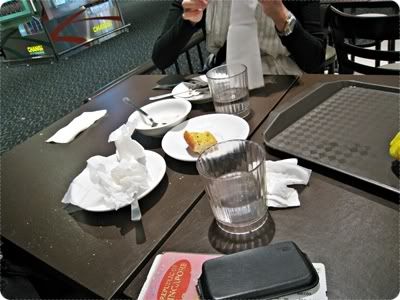 While waiting to board the plane…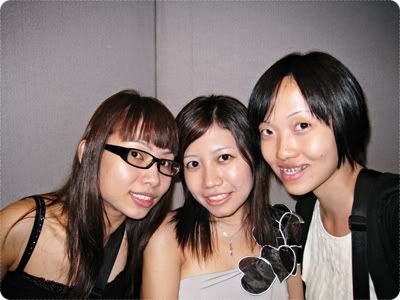 The plane that is taking us to the land of smiles. CX712.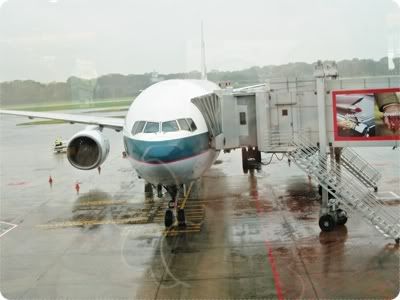 Our food on board the plane…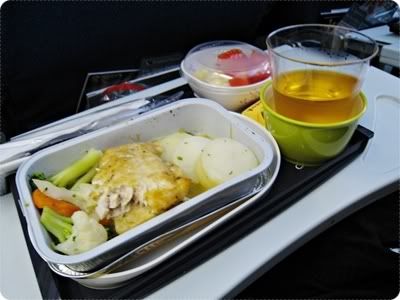 Fish with potatos.
I think it tasted not bad. Ha…
Yes, Daphne had a good laugh at me not knowing how to open the table. =.=
It was just that I did not have time to even go 研究 can! Plus… I was a little 慌张 since the air stewardness is about to pass me my food. Haha…
Some photos of us.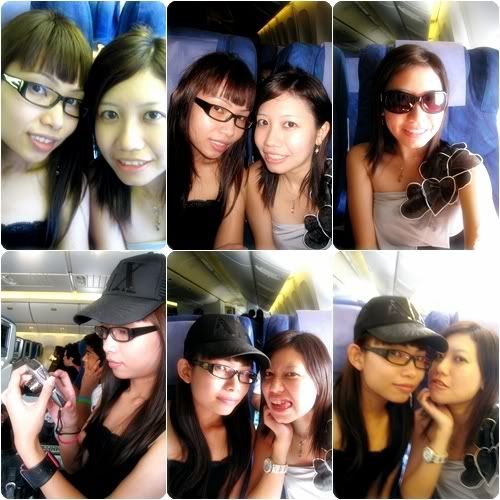 Yes, SzeHui was missing out from the photos above because she was sitting elsewhere alone as when Daphne was doing the online checking in, there were not 3 empty seats anymore.
After about 2 hours we touched down at Suvarnabhumi Airport.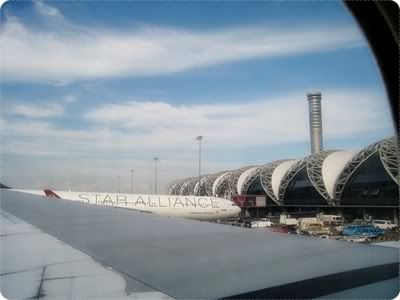 Took a cab from departure hall to our hotel.
This is my 'best friend' sitting between Daphne and I.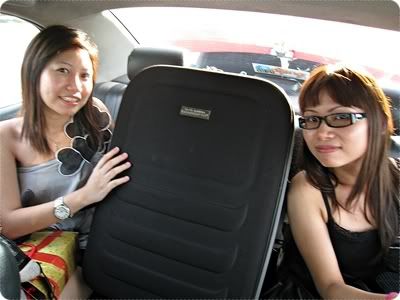 Checked into Grand Hyatt Erawan.
Our room…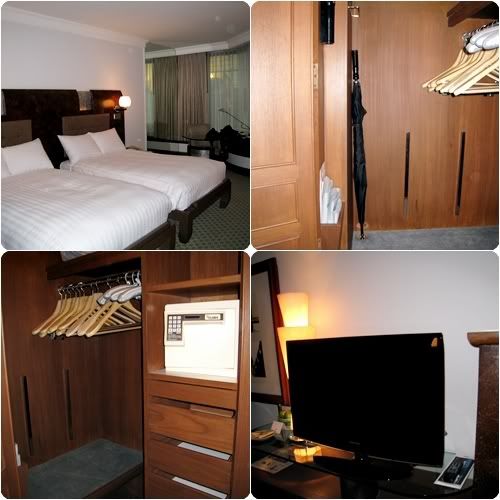 It's awesomely huge with 2 queen size bed. No need for an extra 3rd bed.
Mini walk-in wardrobe and a safe box plus a flat screen tv.
Our bathroom was really big too.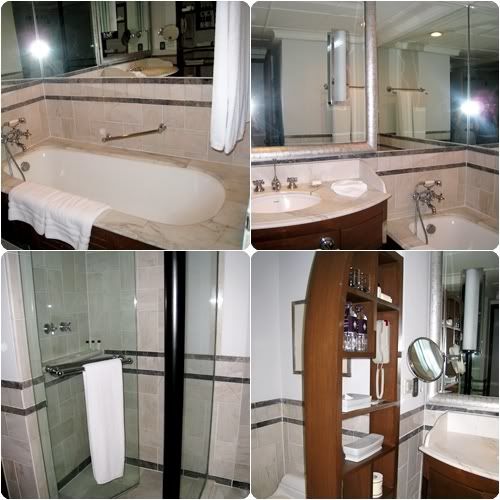 Bathtub, standing shower and they have this speaker in the bathroom that you are able to hear the television while showering. Haha… No more deafening silence!
1st stop was to visit the Erawan Shrine just right beside our hotel.
Heh… the street are decorated with many lightings to welcome Christmas and New Year!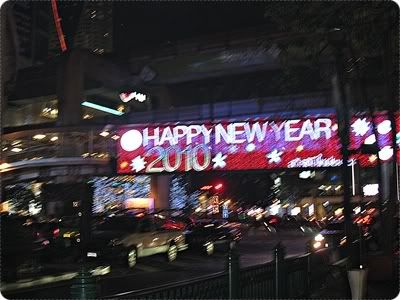 1st meal in Bangkok was at Fuji Japanese Restaurant that is located at Siam Paragon.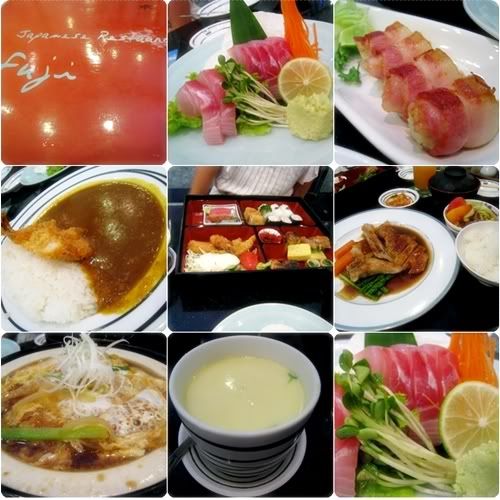 I heart the food at Fuji. Nice and not too expensive (relatively to Singapore prices).
Love the sashimi, bacon wrapped with bacon and of course my pork curry rice most! Heh…
Us posing with our food!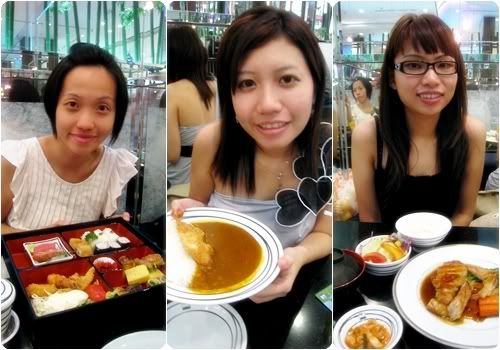 After the scrumptious dinner, we headed to the lingerie section of Siam Paragon departmental store.
SzeHui was so mad that she took an overflowing baskey of bras to the fitting room!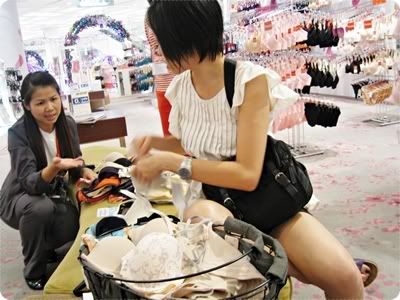 Well, carefully select the ones she is buying…
While walking around sourcing for bras, found this nighties that looks so SeXy!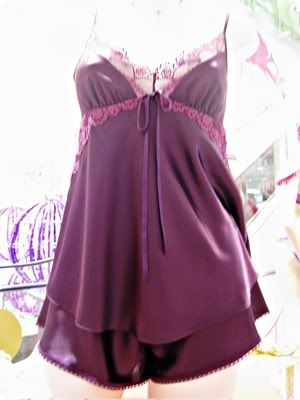 Gut feeling told me Daphne would like it as much as I did and so indeed the 2 of us feel in love with it.
About $50 plus SGD worth of Guy Laroche nightes which got us really tempted!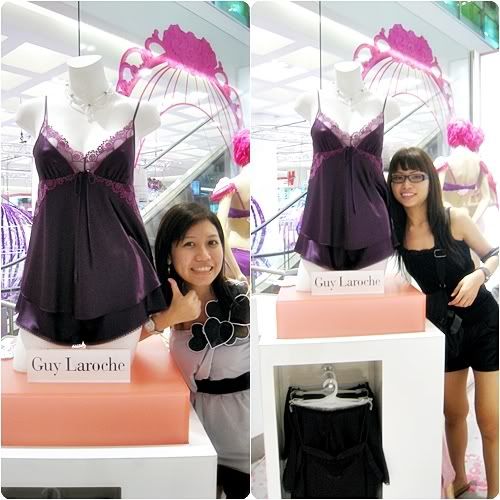 And so in the end we both got 1 each! Hahaha… Though the chances of me wearing is really low nonetheless it was a good buy! Haha….
I am mad about this!
The departmental store closes at 11pm on weekend night and we were their last customer of the day!
After a total mad rush from the cashier to the VAT refund counter, we were being 'escorted' out of the departmental store.
Headed to the cinema area to catch our midnight movie, Avatar (3D).
The theatre were rather cramp and we were seated quite near the screen.
Nonetheless it was a totally awesome movie!
Yes, it was one of the best movies I have caught in 2009. =)
The show ended at about 2, going 3am.
Walked back to our hotel from Siam Paragon.
Well, the road was really safe with no traffic.
This is how safe Thailand is! =)
My purchases of the day.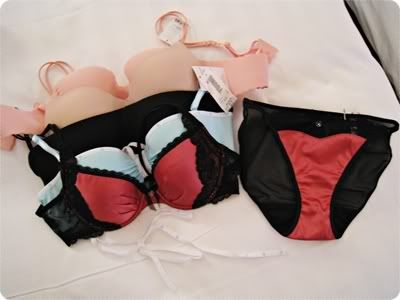 I really should stop buying lingeries.
I have overstock them each time I went Bangkok!
We pretty much KO-ed on the really comfy bed ready for another day of shopping the next day!
Shall continue with the Day 2 post soon.
Stay tune!