19 December 2011 – Monday
Woke up to a bright and breezy morning at 5am Brisbane time which means it was only 3am in Singapore!
The room was so brightly lit that it was so hard to me to go back to sleep.
If only I am such an early morning riser in Singapore, my parent will be so proud of me! Heh….
Forced myself to go back to sleep.
I put those eye mask given by the airline into good use.
I like how it gives a little pressure onto the eye area when you put them on.
After Dawn Jie left the house at 6.30am, I was still still nuaing in bed reluctant to get up.
It is another 人生真美好 day!

Anyway, woke up at about 8.30am, washed up, changed and walked to a nearby supermarket, Woolworths that was just round a corner to check out the similar or different products the supermarket carrys.
I am such a supermarket addict! Heh…
Bought a loaf of bread at AUD$1 & a Philadelphia cream cheese. I cannot find my favourite strawberry cream cheese in Australia too. I wonder did they discontinued the production or what. =(
Anyway, let me show you around the house a little.
Sorry, no picture of the whole house. Heh.. just the room I sleep in for the that 5 nights.
The view from my bed.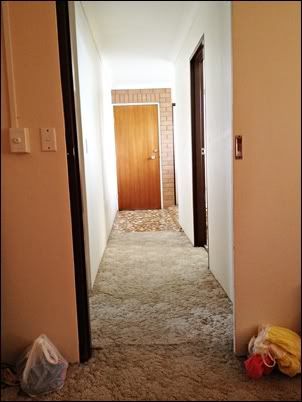 It leads to the back door and along the way there, there is the bathroom, washing area and toilet which is not visible from the picture.
The curtains did aid to block a bit of the sunlight unfortunately it was still rather bright!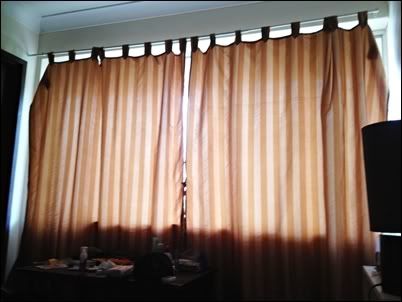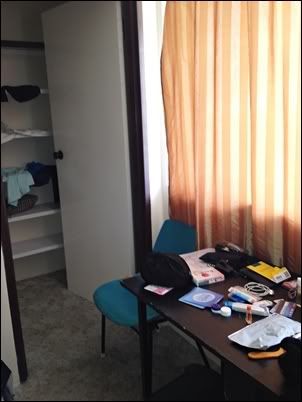 The table with my messy kuchi kurangs. There is even a little walk-in wardrobe! How cooool! 🙂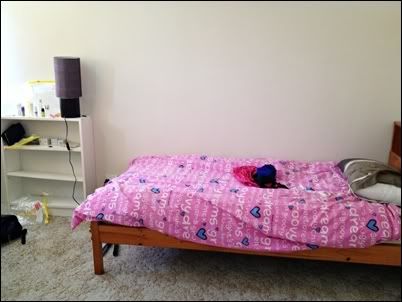 The bed I slept in. I love the comfy and girly comforter that keeps me warm on the slightly breezy nights.

My 战利品 from Gold Coast!
After my brunch which was the left over rice and curry from the night before….. got myself all dressed up and I am ready to start the day!
Took a train down to Central station. That is somehow like our City Hall mrt.
Except the shopping is less happening.
There was a group of people singing carols during lunch time.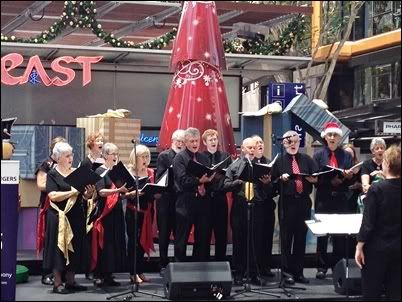 I wanted to get to the visitors centre to ask for some recommendation of places to go for the next few days in Brisbane.
Somehow no matter how 我穿梭在大街上, trying to locate it with the map app on my phone, I cannot seems to spot the visitors information centre!
Thank goodness to a helpful guy from the newsagency who gave me the direction.
I think I must be too pa jiao to see it at the beginning. =.=
Anyhow, the lady recommended me to go to the Brisbane museum that was just a few streets away and of course some other attraction spots which I did visit the next few days.
Inside the Museum of Brisbanethat was on Ann street. The museum is not that huge, it occupy 2 levels of a small but decent area in a building. It was free admission by the way.
Appreciating some arts at the first level of the museum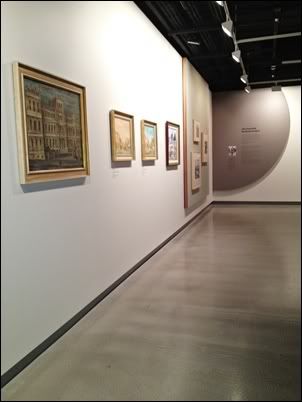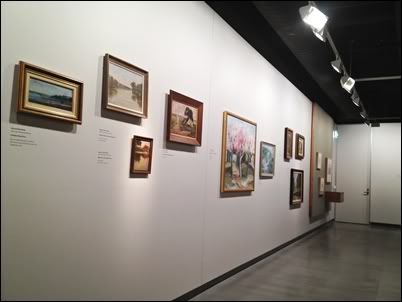 Attracted to this piece of drawing.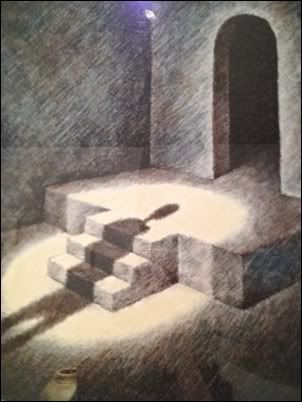 Pretty flowers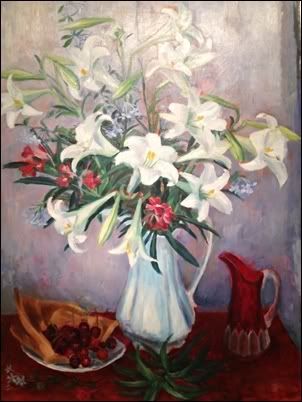 Still inside the museum.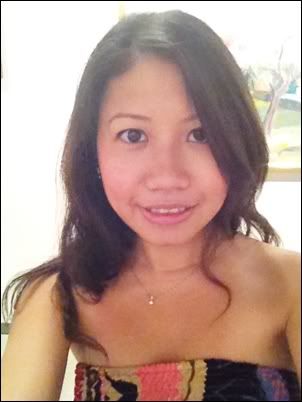 Although the first level was filled with arts and drawing, I like the 2nd level better.
It is the Cabinet of Curiousity and it is a alot more interesting.
Did not take any pictures there though. =(
The thing there which made the most impression on me was this Regimental Flag for one reason or another.
The 2/26th Battalion was an infantry battalion of the
Australian Imperial Force which was formed in the late
1940s and drew its recruits from Queensland and northern
New South Wales. They initially trained at Grovely, Brisbane
where their regimental flag was manufactured. They
moved to redbank, Bathurst Camp (NSW), then Singapore
and malaya prior to the start of the Pacific War.
In 1941–1942, the 2/26th fought during the malayan
campaign after the Japanese invasion of malaya. After the
fall of Singapore however, many Battalion members became
prisoners of war (POWs) held in Changi prison. In addition
to being used as labour in work parties, they suffered
starvation, dysentery, dehydration, vitamin deficiencies
and disease, resulting in enormous loss of life for the POWs
particularly on the Thailand-Burma railway construction.
The regimental flag of the 2/26th remained with the
Battalion members during the time of their captivity. They
had resolved to keep the flag and carried it in secret either
under their clothes or hidden in equipment used in the
construction of the Thailand-Burma railway. Discovery
of the hidden flag would have meant certain death.
At least one serviceman died while in possession of the
flag and his comrades risked severe punishment to retrieve
it before he was buried. The Battalion remained in captivity
until the end of the war in 1945. The regimental flag came
back to Australia with the returning members of 2/26th.
The flag here is displayed still bearing the sweat stains
of the servicemen who ensured its preservation
I guess I like history in a way no one understands.
I like to think how the people back then experience their lives and what happened then.
Although I may not be able to understand fully but I could feel it.
After the visit to the museum, it was lunch time all by myself at Queens Plaza food court.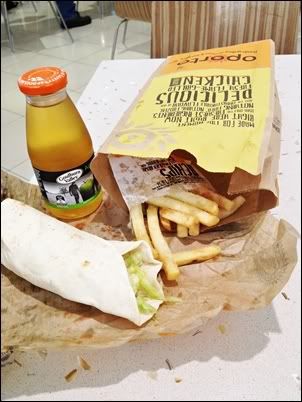 I can never understand why the Australian love such salty fries!
Imagine the salty fries and the person over the counter actually gave you a little sachet of salt in case you prefer saltier fries! BAH~
After lunch, went to explore City Botanic Garden that was just another few streets away.
It was nice to take slow stroll all by myself, enjoying the breeze and have the sun showering itself on me.
Another instant of me thinking 人生真美好! =p
Walking by the river….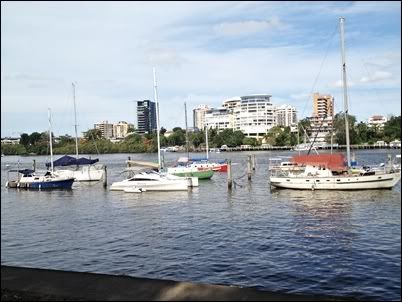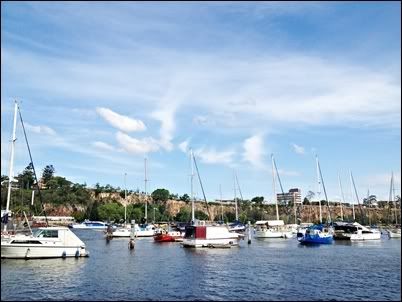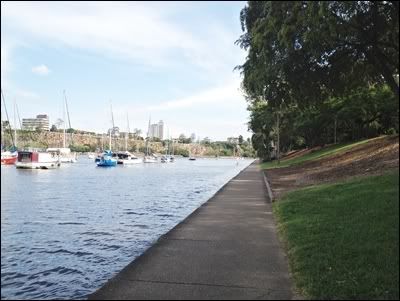 Life was indeed a breeze back then….. Enjoying the quality 'Me' time that I always crave for, only better because I am all alone in a foreign land and no work to think about!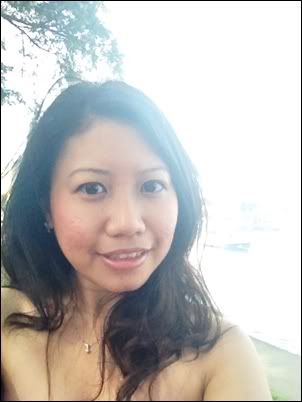 I was a very carefree and happy girl until I bump into this bugger!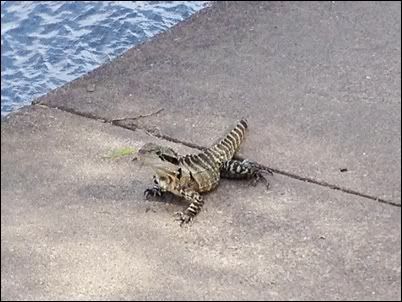 The path is not exactly that wide, probably enough for 2 person to walk past or maybe 3 to walk close together and that bugger had to strategically placed itself in the middle of the pavement!
I hesitated for a moment before walking past him crossing my fingers that it would stay put in that position and luckily it did. =.=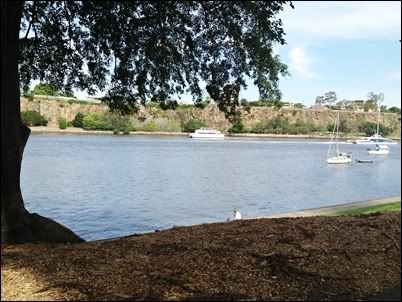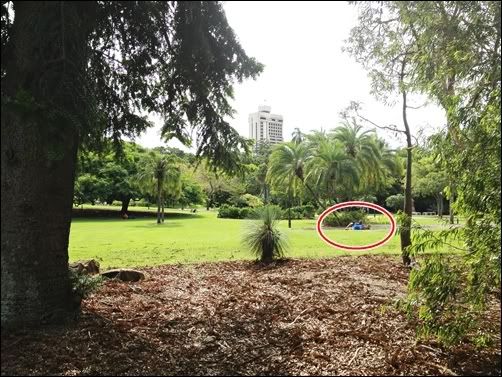 I love how people can just sit down and the grass to enjoy life there!
The only people that does that in Singapore are….. oh well.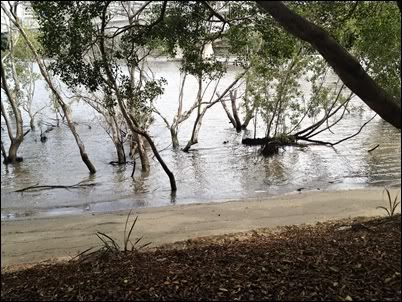 Queensland University of Technology (QUT) is smack right in the middle of the botanical garden.
Nice! Imagine you can just roll yourself on the grass after school and study on the grass. Aw~
That is very the kind of school life I wish I led. =(
Da-tah! QUT Art Museum.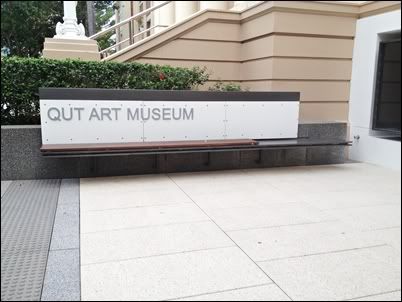 Unfortunately it was close on a Monday. How disappointing. I would love to visit it!
Sat down on a bench, checked the map app just to make sure I know where I am and where should I be heading to next.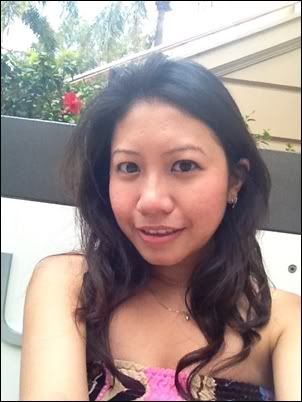 Continued my 逍遥快活的 journey…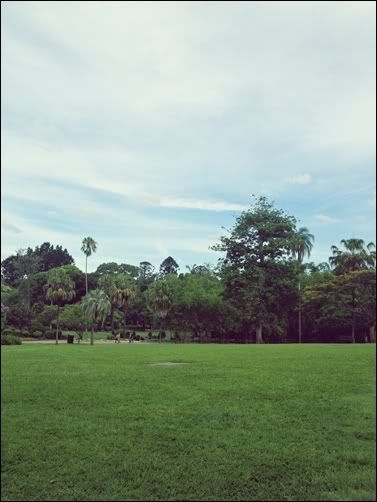 Asked a stranger to help me take this photo with my phone because I forgot to bring my camera out that day. =.=
Yes, all the photos taken on day 3 are with my phone.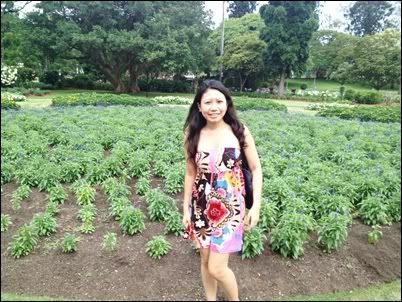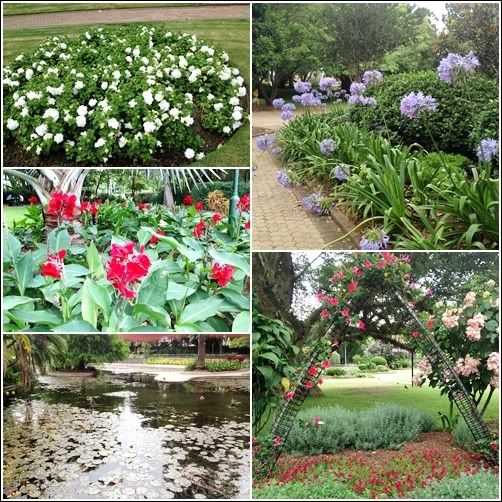 Brisbane Parliament House.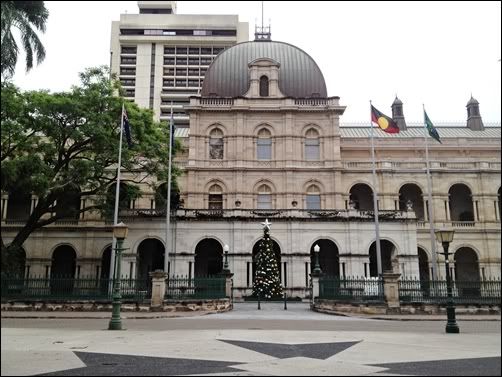 I love how it looked from the outside.
I did not know I can actually walked in and have a tour until Dawn Jiejie told me that night. =(
I wish I went in and explore. I hope I have the chance to explore the inside some day…
Walked past Treasury Casino.


Decided to walk inside and try my luck if I can manage to get in as I was wearing slippers.
To my surprise the security guard allow me in after seeing my passport.
He joked if I am sure the person in the passport is me as I look very different from the passport.
Hahaha, it was a compliment anyhow. 🙂
I guessed he knew I just wanted to in to see see look look, not your typical gambler.
It was just a pretty quiet Monday afternoon in the casino.
Not that many people, most of the tables are closed.
Came out after 15 minutes.
Walked across the Victoria bridge to South Bank.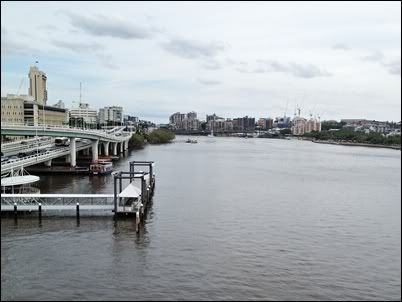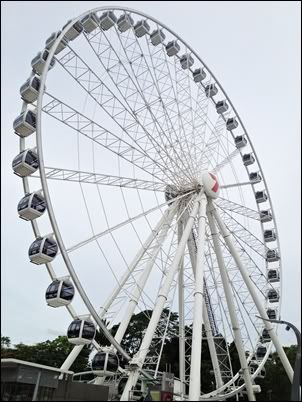 The Brisbane wheel.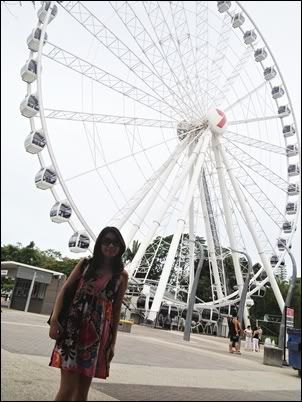 Managed to ask a Japanese girl to help me snap this shot because smart me took the initiative to help she and her friends to take a picture first!
No proper camera, blame the iPhone4s's camera quality. BAH~
Walked, walked, and walked a little more, I finally reached the man-made beach at about 4.30pm.
That was where I wanted to go because I brought my bikinis and a beach towel in case I wanted to get a tan.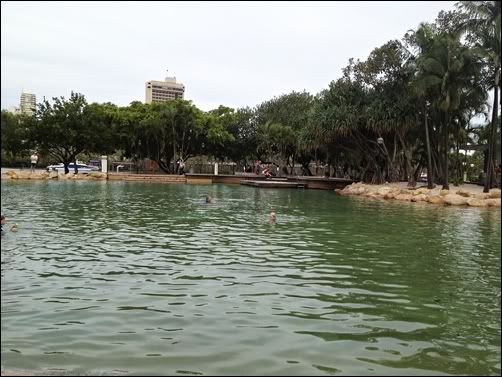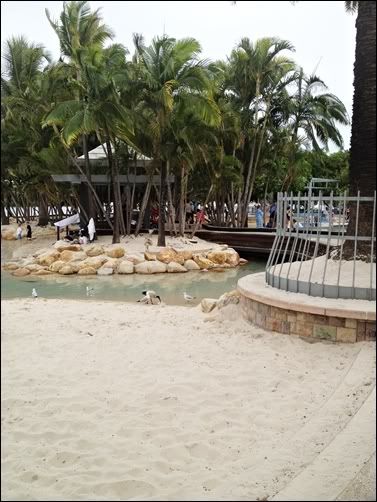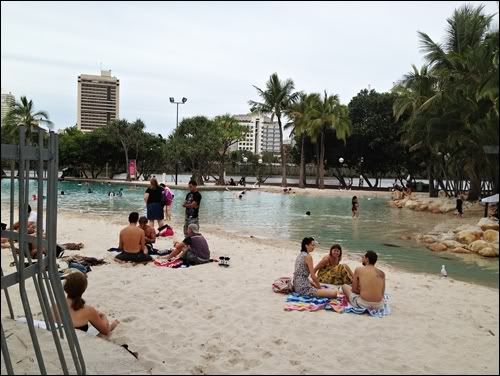 Honestly, I was kind of disappointed with the size of the man-made beach.
I was expecting something bigger. I was hoping for something that is say, half the size of the man-made beach in Sentosa but I think this is like 1/20 of the one in Sentosa!
They have got a couple of lifeguards on duty as well.
The sandy area were not that big and it was already pretty occupied.
In addition to that, the sun has decided to hide under some thick clouds and the wind was cold.
Abort the tanning plan in the end. =(
I sat on the downslope path of grass where some people sat. Looking down at the pathetic man-made beach.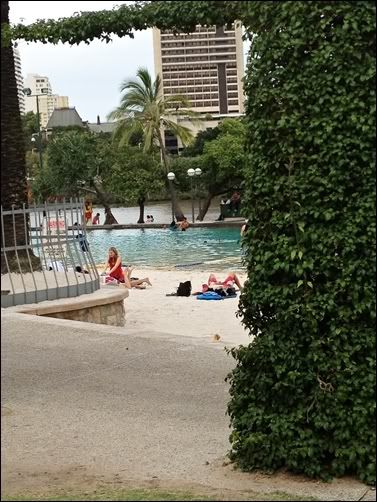 There was this little boy which did what I always yearn to do when I was there but never plucked up the courage to do….
[youtube http://www.youtube.com/watch?v=K_e2I7S-gDk]
Rolling on the grass!
So I sat there, reading my book, listening to mp3, sucking in the good moment.

Stayed until Dawn Jiejie called me after she knocked off from work.
Walked back to where I was in the afternoon, that bustling street.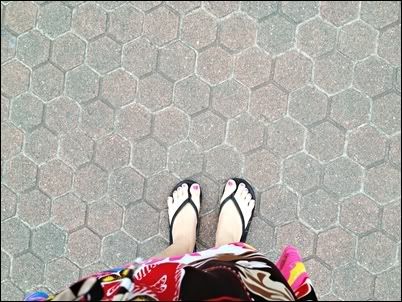 Met her and her boyfriend, Christian for a pint of beer at Pig 'N' Whistle to chill before dinner.
It was my first time meeting him and he is the same age as I am, only that he looks older. Hahaha.. Chao (Lau) Ang Mohs!
He was sharing with me about the places and things we could do with in Sydney and stuff.
Proceed to have Mexican food at Rosa Mexicano which is of walking distance from Milton train station for dinner.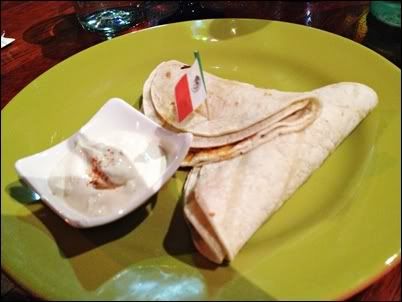 Tacos which was an entree for dinner as I was afraid a main would be too filling for me!
We shared a bottle of white wine to go with our food.
Bumped into a couple friends of theirs and we went for ice-creams at Gelateria Cremona after dinner.
I had the Christmas pudding ice-cream.
Something very different from the usual selections.
It tasted pretty good!
Bid them goodbye and back home we head after the yummy ice-creams
It was a nice brief session with her boyfriend and friends.
Did you realise something?! No pictures during the night.
I think I was too shy and lazy to take out my phone and snap photos of everything. So not me I know.
*Well, I thank my foursquare which I religiously checked in while I was there as it gave me the exact name of the places I went for easier blogging and it did helped me with recalling some memories. =)