4 January 2013 (Friday)
Rise and shine rain to the morning. Judging from the gloomy sky, it must have rained the whole night through.
Woke up to a simple yet delicious breakfast provided by the B&B, sandwich and choice of drink.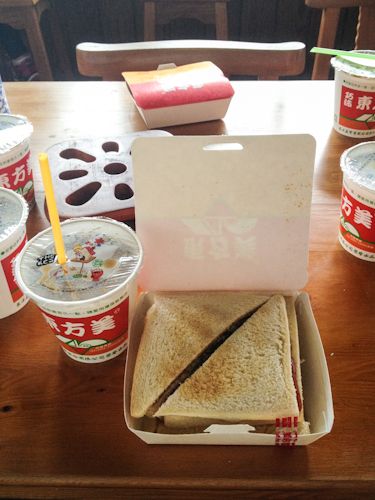 After breakfast, we splited into two groups and hopped onto 2 separate cabs we arranged the day before and towards the last leg of the trip we sped.
It took us about an hour to reach Taipei, the capital of Taiwan.
Left our luggages at Go Sleep hotel Han Kou (No.54, Sec. 2, Hankou St), a boutique hotel at Xi Men Ding. They have another branch at Xining.
While Sze Hui went to meet her Taiwan friend for lunch, we ventured to Xi Men Ding hunting for food, you know you will never be left hungry for too long in Taiwan, always spoilt for choices! Lurve it! 😀
First was to the all-time favourite and famous store you can never miss in Xi Men Ding, Ay Chung Flour Rice Noodles (阿宗面线).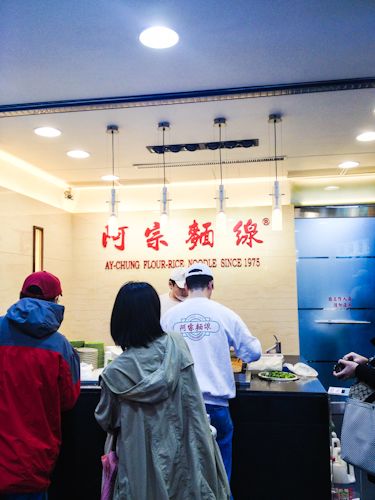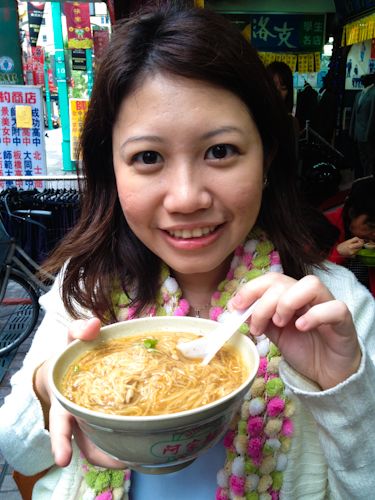 Heavenly~ This one is putting the one which Sicong and I frequent at Pasir Panjang Taiwan Porridge's dish to hall of shame.
We ordered 2 bowls to share among us in order not to over-stuff ourselves. That's what friends are for, sharing food (and fats)  so that we would be able to sample many different food all at one time! 😀
Next, Sicong brought us to a store which is at one of those back alley in Xi Men Ding you will hardly notice that sells really yummy pork chop, 金轩排骨 (Jin Xuan Pai Gu). This hidden treasure is out of Trip Advisor's radar!
This, is their signature dish!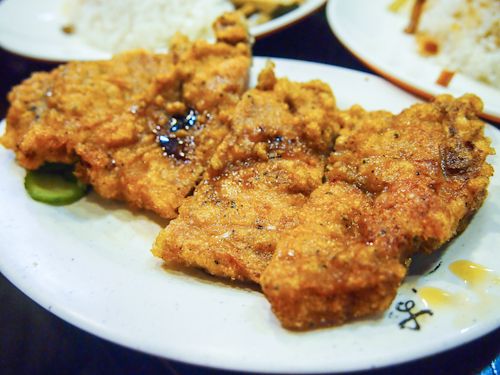 Look at the meat…The outside is fried to perfect crispiness and the pork inside is soft and tender. It was sooooo good!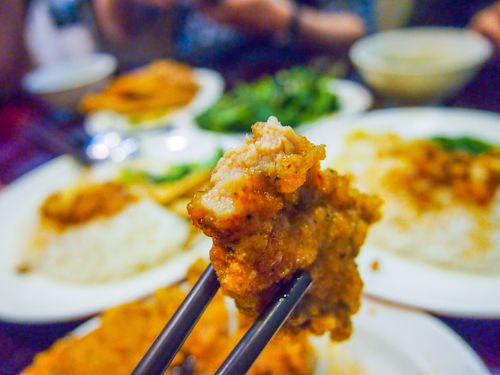 Really, looking at the way Sicong is eating it without putting his bag down, you know it's good! *grin*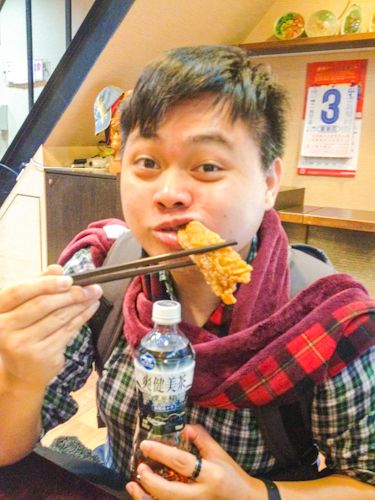 Highly recommend this to anyone who is heading to Xi Men Ding, not too sure of the direction to the shop though but fret not, just ask around, I am sure there will be people who can help!
I hope I get a chance to pop in next week!
Ordered 卤肉饭 (braised pork on rice) as well as other dishes to go with our star dish.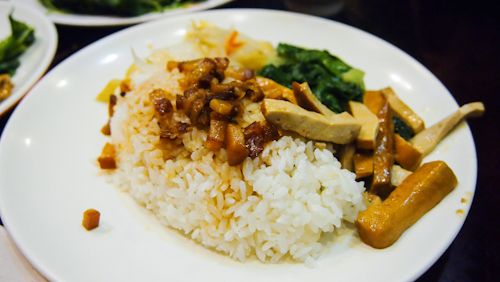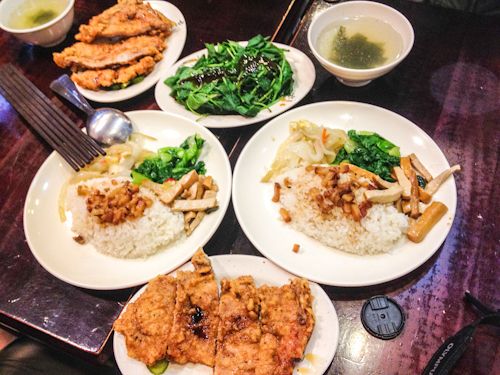 After our super satisfying meal…..roamed around to digest the food!

Left the vicinity of Xi Men Ding and took MRT to 新北头 (Xing Bei Tou) to reunite with Sze Hui.
新北头 is the place to go if you are looking for hot spring to soak and relax yourself, they have the whole stretch of hotels offering the service.
We went hotels scouting before settling for 百樂匯 溫泉飯店 (Broadway Hot Spring Hotel).
Shared a room with Bao Xin for the 2 hours session.
Dim lights, comfortable bed welcoming us with a small flat screen tv to keep ourselves entertained while soaking and while taking a break from the hot spring.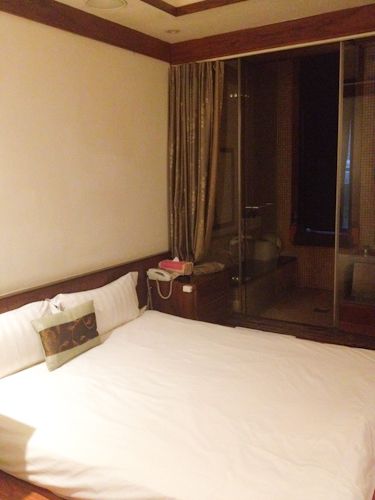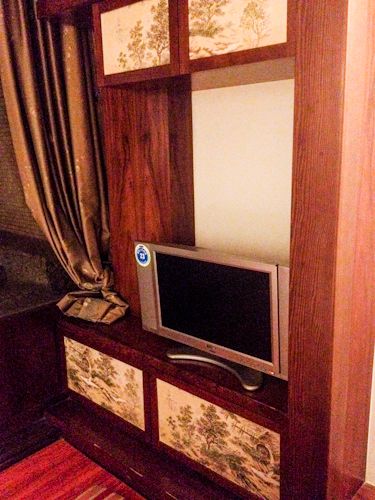 The water is not clear, it is a little whitish because it contains sulphur.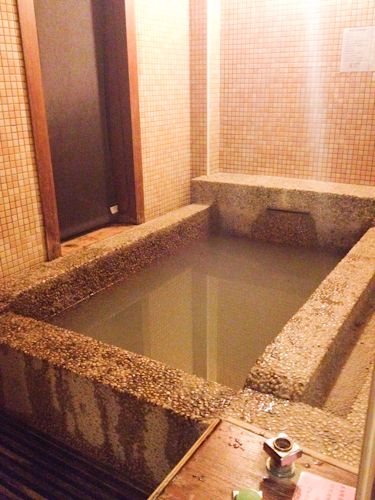 We had our clothes strewn on the bed while taking our turns at the mini pool!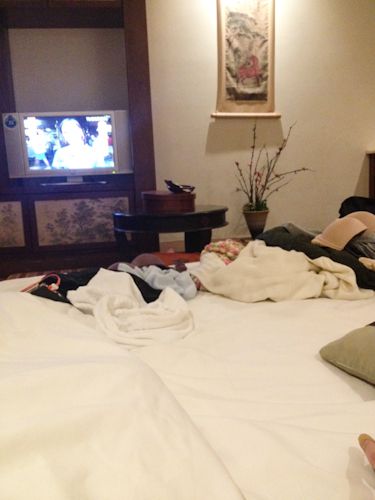 It was super rejuvenating and yes, please make our skin youthful again! The sky was already dark as we checked out from the hotel at 6.15pm.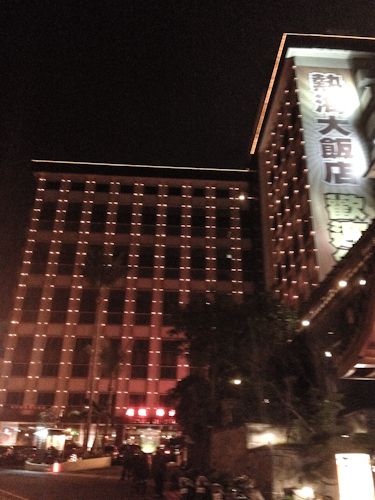 Our next destination was 淡水 (Dan Shui).
We were self entertaining on our way there in the train with an iPhone app Sze Hui discovered.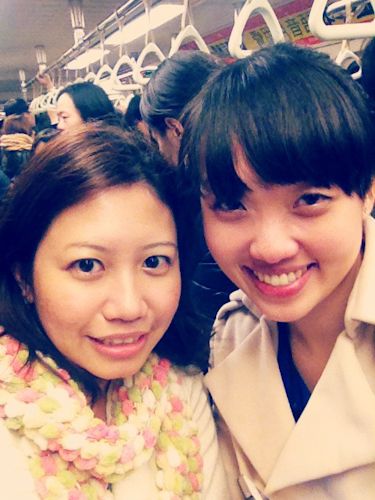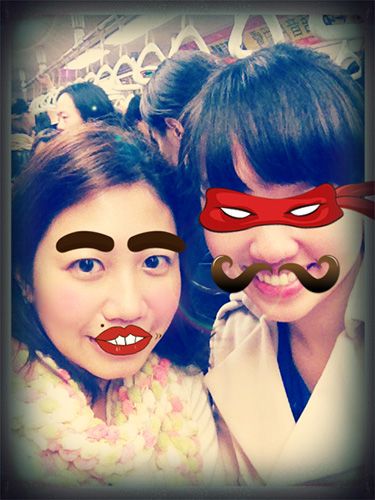 Really, can you recognise us?! Ha….
When we reached 淡水, street foods on both side welcoming us. I only had one mission in mind.

With mountainous backdrop along 淡水老街 (Dan Shui Old Street)

The mission was to purchase fish crackers from the famous 阿婆铁蛋 shop. No doubt their 铁蛋 (Iron egg) is one of the best but another recommended products from them are their fish crackers. It tasted different and better than other brands out there.
Sicong insisted that we should eat this because this is one of the famous and delicious food from Dan Shui, 啊给老店.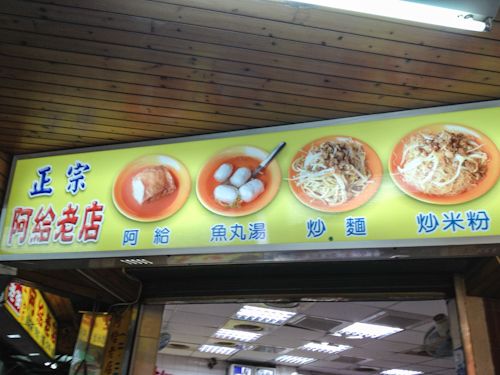 What is thie 啊给 (Ah Gei) food?
It is actually fried bean curd where they will empty the inside, stuff it with fried vermicelli that was soaked in some braised sauce and covered the opening with minced fish meat and steam it.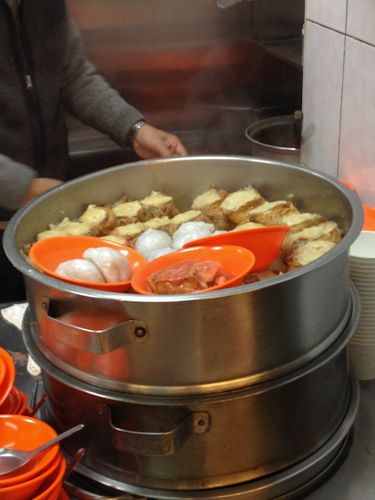 Ordered a bowl to share, it was not too bad, warm our stomach on a cold day.
For all Hello Kitty fans out there, there is a shop there which sells Hello Kitty wedding cookies and cakes.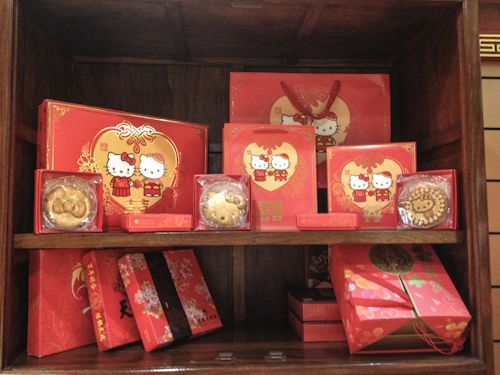 Mission accomplished in 淡水老街 so we moved on to a night market, 师大夜市 (Shi Da Night Market).
Anthony and Ailing in their own world.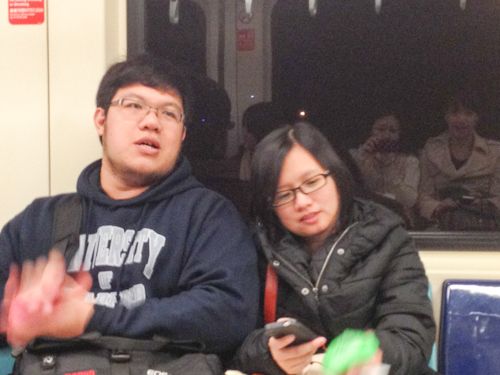 Really, this Sicong is very vulgar. *tsk*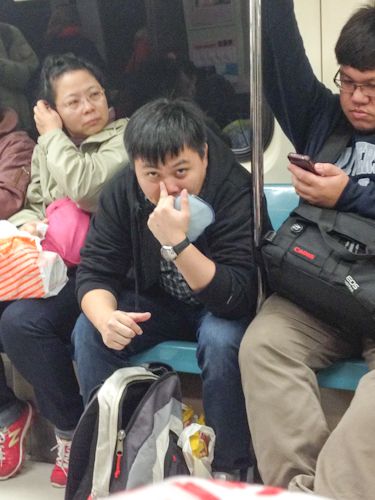 Bao Xin, Sze Hui and I, playing with the iphone app again! Teehee~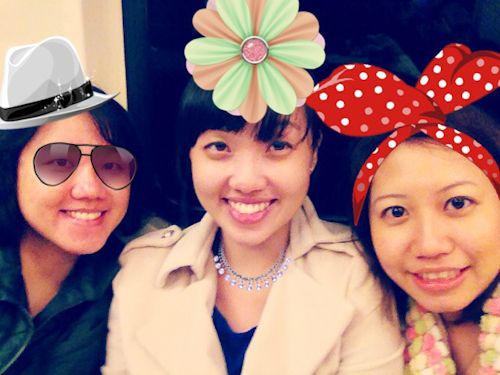 We made a bee line to one of the famous stall, Lantern Hot Stew when we reached 师大夜市 (Shi Da Night Market).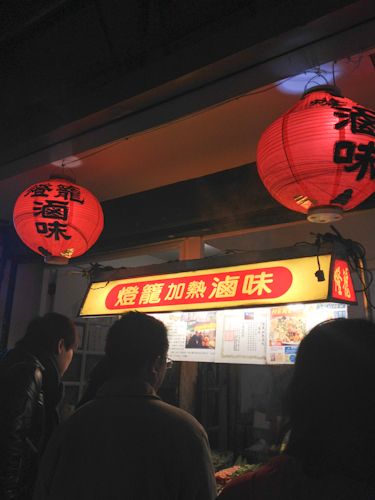 It is basically food which they mixed and cooked in soya-based sauce. They have many items to choose from different type of mushrooms, vegetables, noodles, toufu, meat etc and they will thrown all the things you picked into a plastic bag and you just have to eat from it.


It tasted pretty good, goodness, I am salivating right now! (I am hungry as I was typing this.) So good that Anthony decided to buy a bag for himself. Although he had no one cooking his birthday longevity noodle, so he replaced it with instant noodles.
A plate of oyster omelette.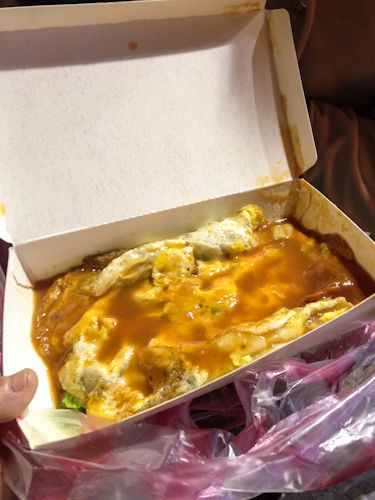 and… Hello Stinky Toufu! I miss you so much! Counting down to the day I have you again! 😀

It was such a fulfilling night with all the night market food!
It was Anthony's birthday the next day so while the rest of them head back to the hotel, Sicong and I went around Xi Men Ding searching for a cake shop at 11.30pm with all the shops either closing or are closing. We were walking around asking people, suddenly there was this old lady who overhead us asking someone, she volunteered her comments.
Initially she mistook us and gave us a name of an eatery thinking we are looking for a place to have supper but we told her we are looking for a cake shop that is still operating at that hour. She suggested 85 degree cafe at Wanhua District. Asked her for direction there and thanked her. Sicong was quite skeptical! He thought the old lady will not be well-informed enough to know of any cake shops, especially one that opens till late.
We decided to go hunting for the shop because it was not as though we had any other choices with Starbucks and other places closing. 7-Eleven does not even sell Sera Lee cakes which was our last resort! Indeed, the old lady proved him wrong! 85 degree cafe was open and we bought a slice of cake for Anthony, not an easy mission.
We made it back just before the stroke of midnight! It was time to 'surprise' Anthony! Why I put 'surprise' was because he could guess it immediately when we were acting suspicious. Hey! It's the thought that counts and going around Xi Men Ding hunting for a cake shop at that hour is no joke.
The wife had the honour of bringing the 'surprise' to birthday boy.

Happy birthday Anthony, you are one year older!

So we sang him a birthday song, he made his wish and blew the candle.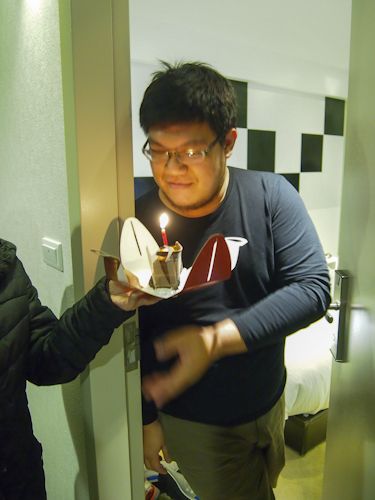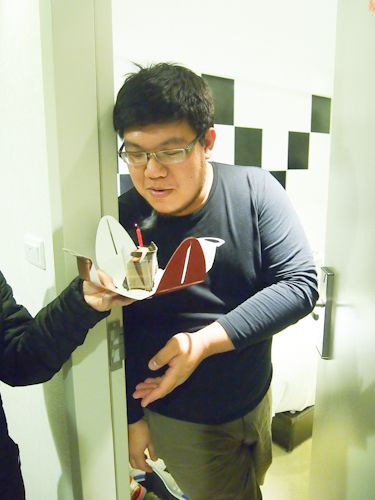 Sze Hui, was standing right in front of Anthony looking embarrassed and apologetic because she forgot it was Anthony's birthday, well, she even bow to apologise. I guess she is forgiven! (And I do hope the date is imprint into her brain now!)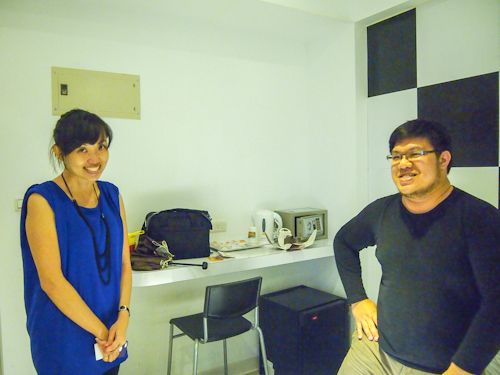 We took turns to take photo with the birthday boy.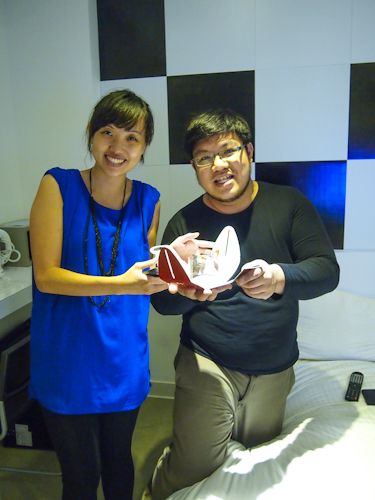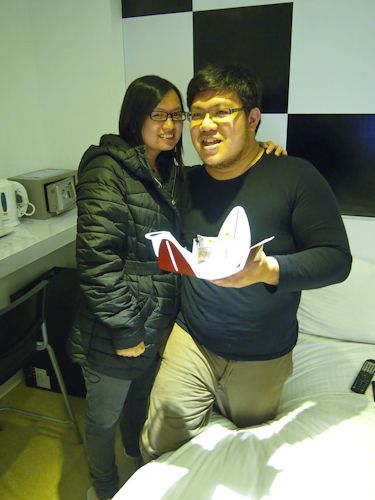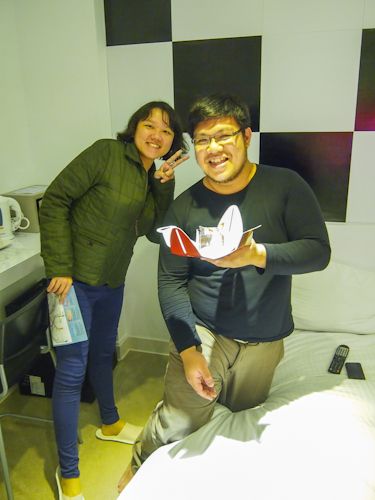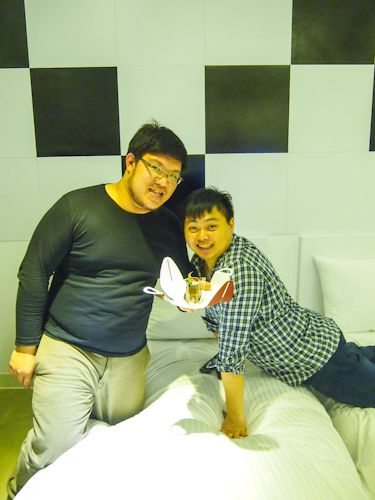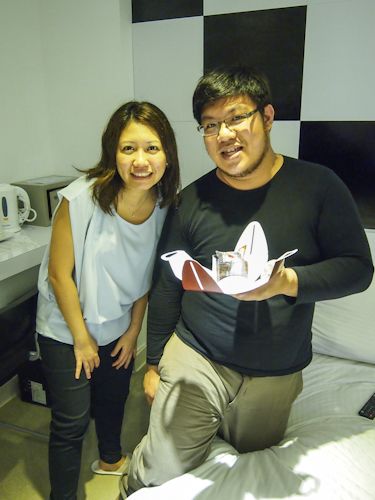 Lastly, a group shot together in the boys' room.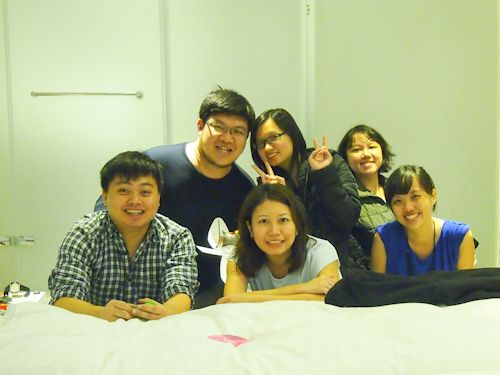 Before we left their room… I was not sure what caught all their attention, they looked so engrossed in the tv program.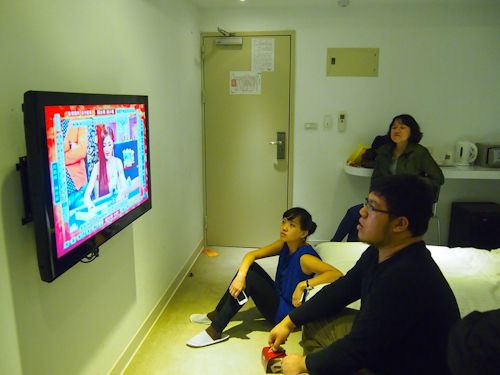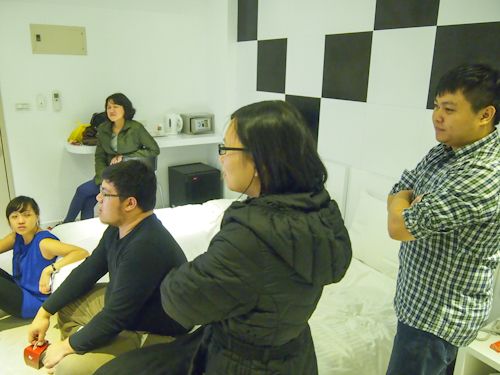 A short review on the boutique hotel.
The rooms are clean and neat with adequate amenities. I am pretty satisfied with it. 🙂 Point to note for those who are uncomfortable in a room with no windows, this hotel is not for you.