3 January 2013 – Thursday
We bid goodbye to our lovely bed and breakfast accomodation which housed us for 2 nights.
It was indeed a wonderful stay and I would love to stay here again next time I visit Hua Lien.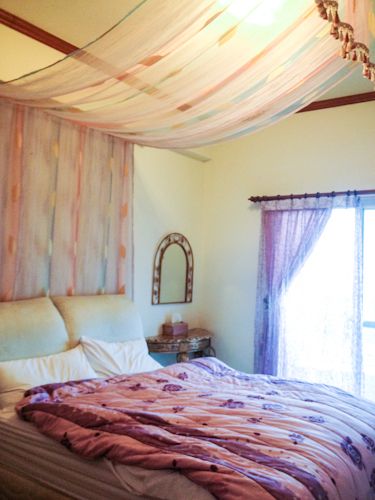 How could I ever forget Chocolate (巧克力), the most adorable poodle that belongs to the 刘阿姨 (lady boss). She is extremely friendly with all the guests, she can charm anyone with her playful character. I wish I could bring her home with me. We enjoyed our brief moments with her since the day we reached.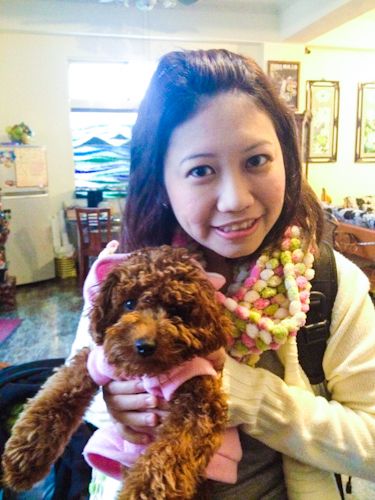 I am missing 巧克力 already as I am looking at this photo.
Again, due to our early train ride, 刘阿姨 packed us our breakfast and gave us girls a bracelet each as souvenirs. She is a really sweet lady. 🙂

We had a little saga before left Hua Lien. Initial timing I booked online before the trip from Hua Lien to Rui Fang was ridiculously early and 刘阿姨 told us that was another train at a later timing is has 6 available seats so we went to make the change for the ticket on the night we reached Hua Lien. We forgot to verify the date and timing.
On the day of departure, we confidently walked into the train carriage and to discover some Japanese occupying those seats. Upon verification, we realised our tickets timing and seats were correct but the date was wrong. It was meant for a train ticket on 6th January which was 3 days later. We managed to get off the train seconds before it made its way to Rui Fang. Thankfully we managed to change our tickets at the counter for a train to Rui Fang with no cost at all (It was written on the website that the first amendment of tickets will be free but subsequent amendments will need an admin fee). We waited at the platform for about an hour and had our breakfast while waiting for the next train to arrive.
On our way to Rui Fang. It was a cloudy day.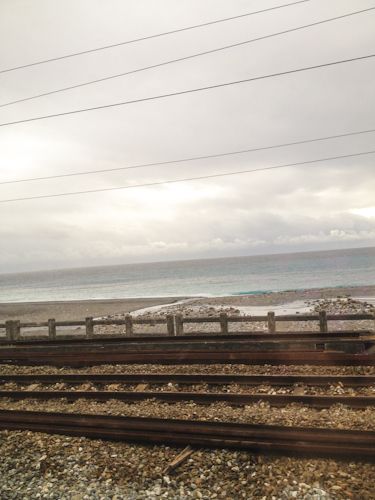 Selfie!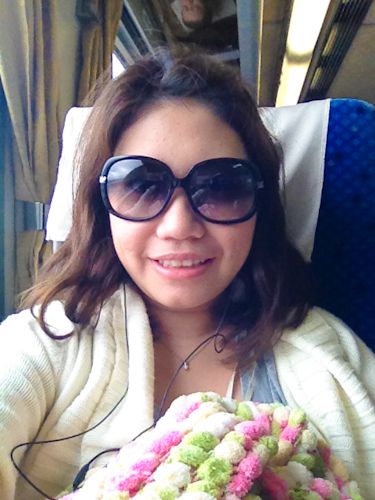 It took us about 2.5 hours to reach Rui Fang station. There were a lot of staircases in this station so if you are not good at carrying the luggages up and down stairs, it may pose as a little inconvenience.

It was drizzling when we reached Rui Fang.
We arranged for the guy from our bread and breakfast inn to pick us up and send us to 龙门客栈 which we stayed for a night.
We had a floor all to ourselves occupying the 3 available rooms.!
This is the room which Sze Hui and I occupied.
The bed was as hard as a plank of wood and we had an awesome view of the whole town from our room which unfortunately was wasted because of the rain.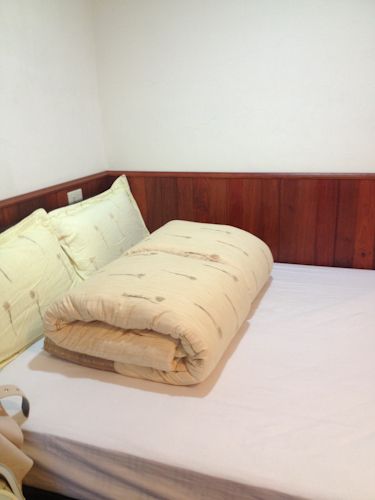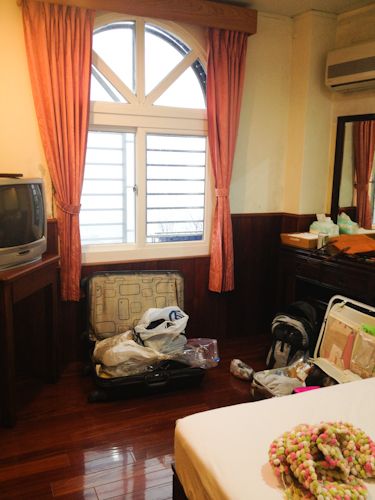 The common area outside our rooms.

We ventured out for our lunch with our ponchos and umbrellas.
We finally settled for Chiu Chunt Dint which was at a corner of the street. The place was cozy with their dimmed lights on a rainy day and I ordered myself a bowl of noodles which was the last to arrived on the table.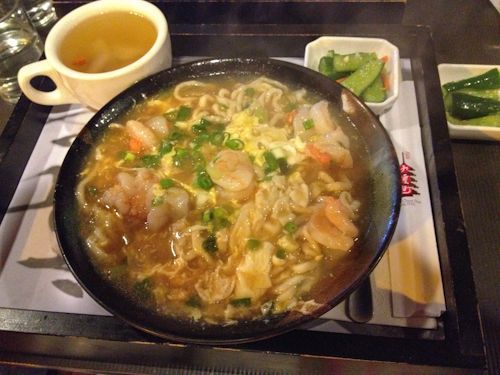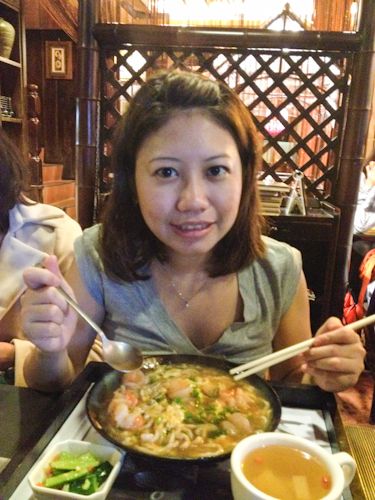 After lunch we took a bus to visit the nearby Jin Gua Shi Gold Ecological Park(金瓜石).
It used to be a gold mine and during those Japanese occupation days, it was ruled by a japanese corporation which explains why the buildings and architect looked so Japanese.
They tried to retain as much of the structure to showcase their living conditions of those days.
Here are some evidence.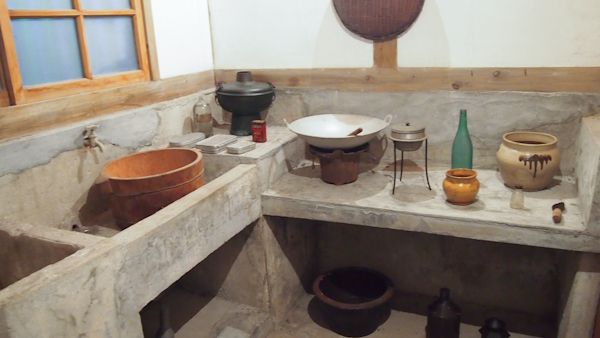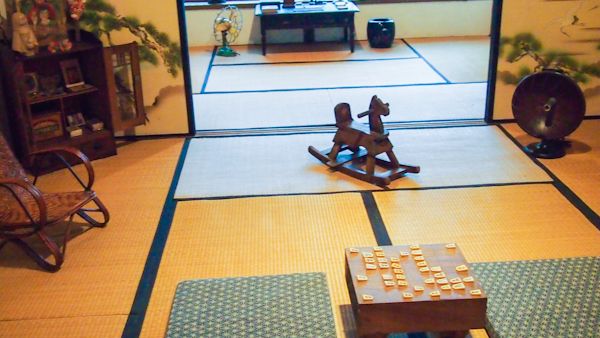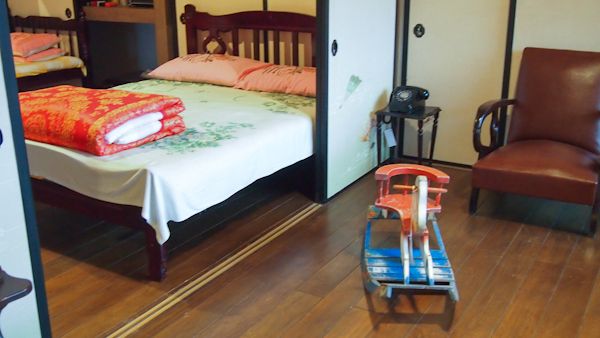 The couple!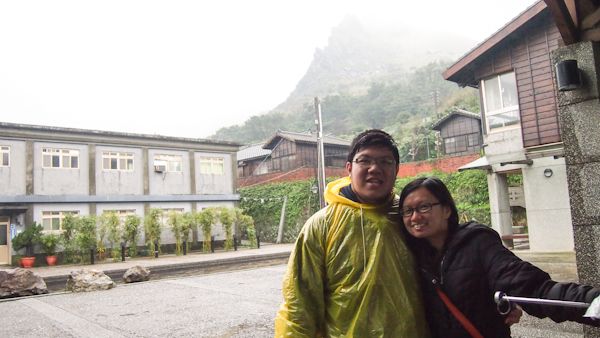 Gold miner and I.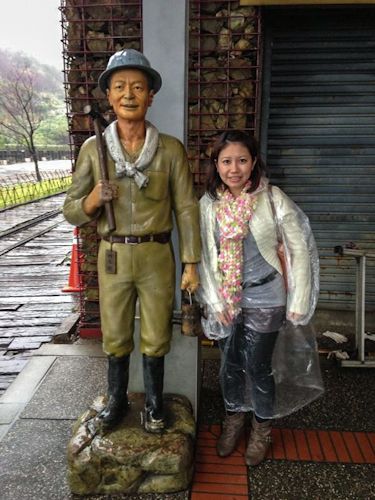 In 2012, there was a movie made about this gold mining town and a love story. They had a floor which exhibit some behind the scenes on the movie.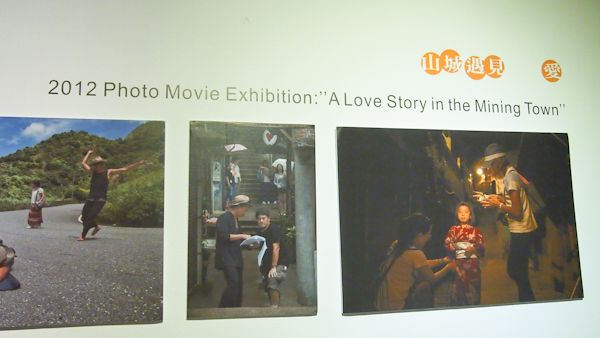 Hello there HUGE GOLD INGOT!!! :D:D:D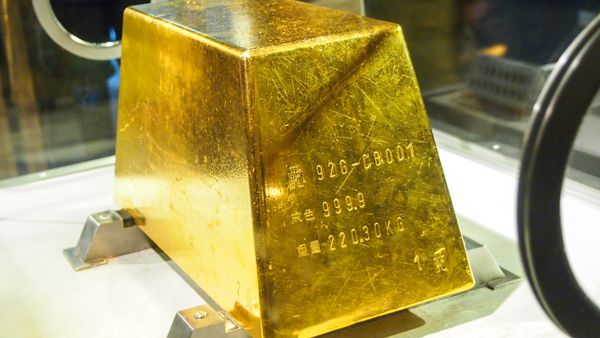 How could we miss the opportunity to touch the large gold ingot?! Huat ar!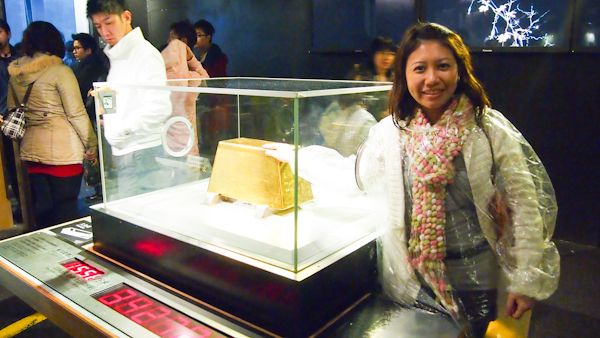 Do you fancy a gold tooth?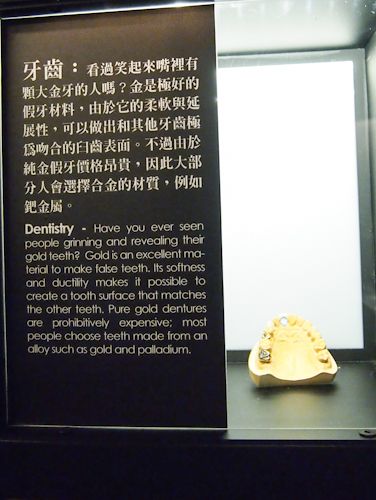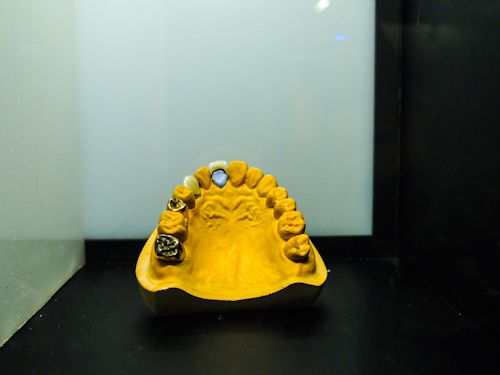 We had one of the staff explaining to us on the difference between Jin Gua Shi and Jiu Fen. We learnt that both Jin Gua Shi and Jiu Fen were gold mining area but they operate differently. Jin Gua Shi operates like a company which people are assign to different plot of land to mine. The gold the mine belongs to the company and salaries are given to the staff. While in Jiu Fen, those people can 'rent' a plot of land and do their own mining, they can even outsource to others. Some will strike lucky if their plot of land have gold and yes, they will be rich and those who are unlucky, they will never find any gold.
There is another name for Jiu Fen, City of Sadness (悲伤城市), it was described that it was a place that either you strike it rich or you don't. Those who did not got demotivated and wasted their life away, and even for those who made it, if they did not have the discipline to look after their wealth, they will waste their money smoking and on women hence which brought them back to ground zero too. It seemed like a complicated town back in those days, suicide, murToo many sad stories in the town of Jiu Fen hence the name.
Due to the rain, we did not explore the whole Jin Gua Shi, we decided that we needed to leave some areas unexplored for future visits so we headed back to Jiu Fen.
The constant rain made me sang Jay Chou's song, 雨下一整夜 the whole day, I thought the song really suit that atmosphere.
Ventured into the streets.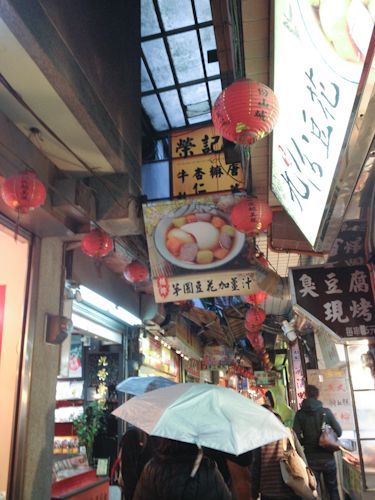 Yeah, another day of stinky toufu!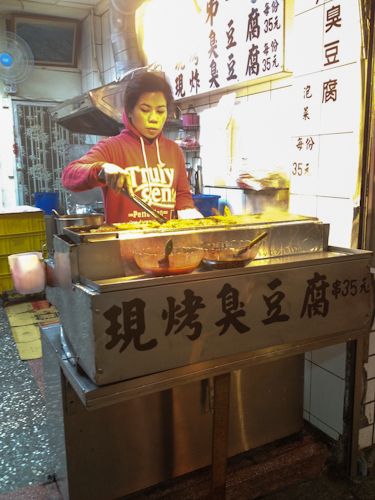 Hot food make us happy on a chilling cold day.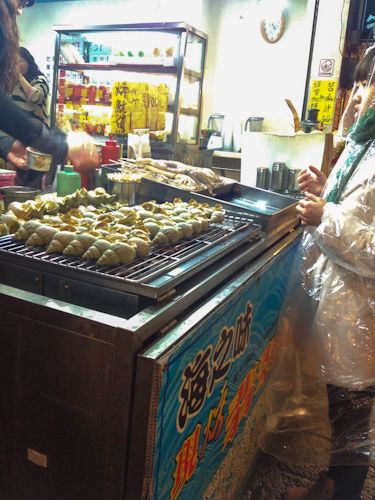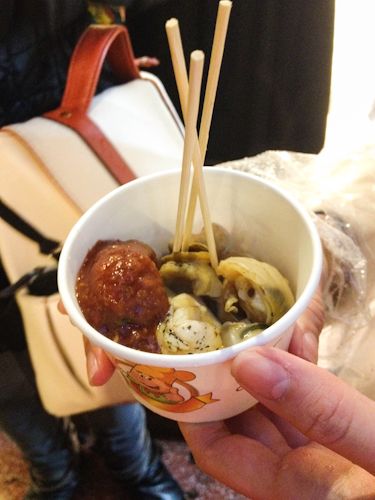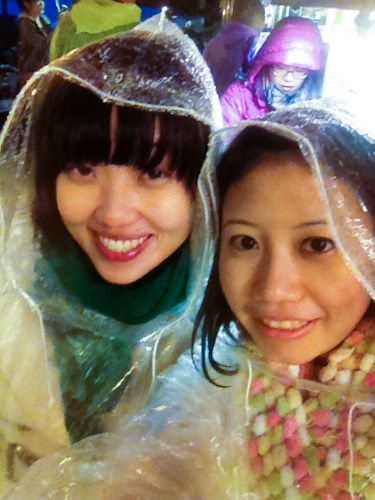 It was said to have fantastic view from here overlooking Jiu Fen… no such luck for us.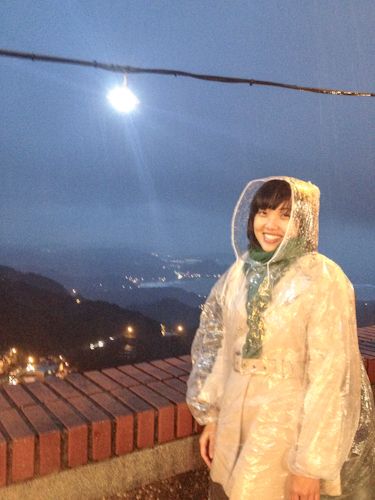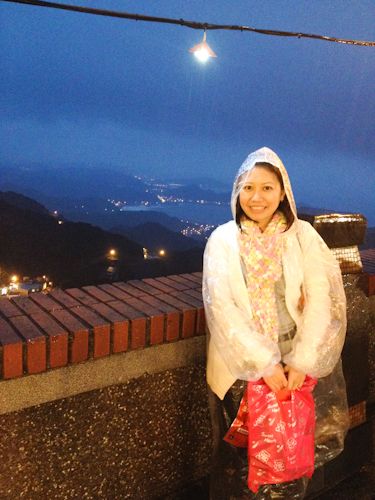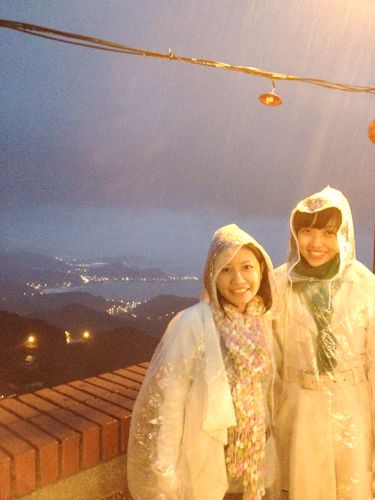 It was the best we could capture on a rainy and foggy evening.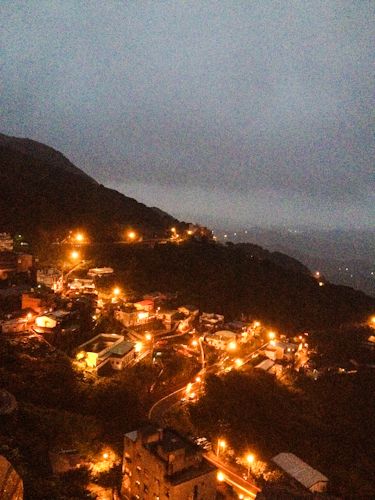 It seems that everyone who visit Jiu Fen must eat yam balls from 赖阿婆芋圆. Famous shop with long queues.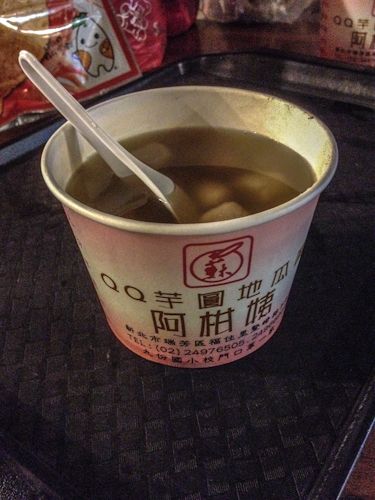 Hmmmmmm Yam and yam balls are not my kind of food so I thought they were alright.

Sze Hui had to take a photo of herself enjoying a hot bowl of yam balls.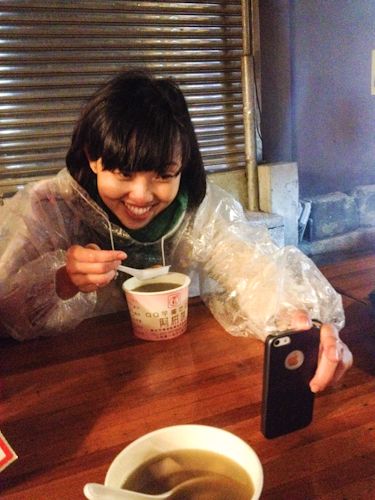 After our bowls of yam balls, we returned back to our B&B inn to bathe and then it was dinner time!
Guess what's for dinner? Yeah, instant noodles from convenient stores! Always spoiled for choice in their convenient stores, too many varieties to choose from so I settled for this!

Had my favourite dessert, yummy mango pudding after dinner.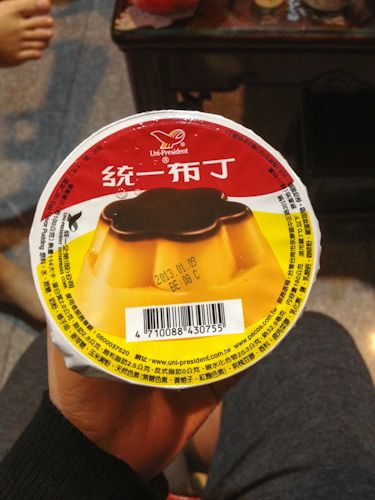 I wonder if they are still selling this (maleic acid free version) in Taiwan because in recent report of meleic acid food which can cause kidney damage if consumed large amount over long term., this was one of the products.
We spent the rest of the night chilling out together, it was an awesome bonding session in the common area on a chilling down where the rain continued to pour and there was no sight of other guests as well so it was like having the whole place to ourselves!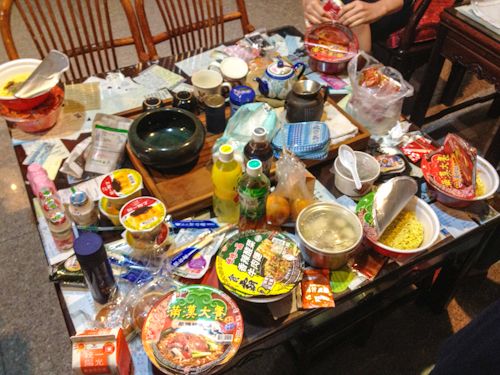 Turned in early that night, ready to head to our final leg of the trip.