Hi there, I bet you thought I have long given up blogging about my winter Taiwan trip? It's better late than never though they are entering summer while I am still blogging about winter.
31 December 2012 (Monday)
Outfit of the day before checking out from the comfy Holiday Inn Express at Taichung heading to Taipei.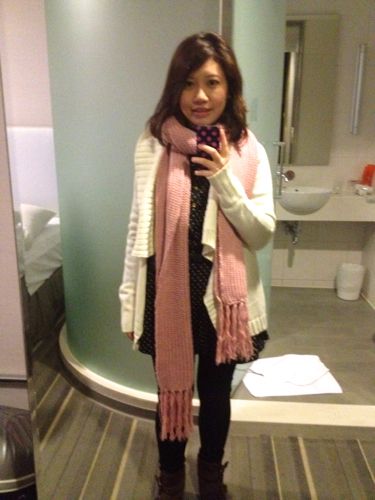 On the way back to Taipei, received news that there was an earthquake the previous night.


Nope, we were not affected and I doubted the earthquake did major damages since I did not received any other follow-up news on the earthquake and it certainly did not dampen Taiwan's mood for the countdown later that night!
Because we were in a rush that morning to the train station due to a saga (like how I manage to make Sze Hui cut a hole in her sister's new top. Ooops!) we had no time for hotel's breakfast so I packed some to eat on our way to Taipei to keep hunger monster at bay.
Once we reached Taipei Main Station, we cabbed to our hotel which was just round the corner. Walking to our destination was not an option as we are on a move in a group and there are 5 luggages to handle.
Check-in time was 3pm, I booked 3 rooms and we were lucky that 1 room was ready for our use so we moved all our barangs into the room and the we agreed the guys should take the room.
Spent some time in the room trying to get ready our gears (e.g heat pads) for the night and ate strawberries we bought from our previous day trip to strawberry farm.
The strawberries were amazingly sweet.
I could not resist a couple selfies with the tasty strawberries.

Then we split into 2 groups.
I had an agenda to hunt down Jay Chou's 不能说的秘密 (Secret) themed restaurant so Szehui was kind enough to accompany me there while the others decided to just wander around town. We agreed up meet at Hyatt hotel about 5.30pm to catch the countdown concert together at Taipei City Hall area later that night.
Weather forecast for the day.

From the street near our hotel, we could see Taipei's landmark. That was where we wanted to head towards.

So near yet so far so we decided taking MRT there will be much faster.
When we reached Taipei City Hall, we saw all the TV stations setting up their satellites getting ready for the countdown concert for the night.

Now, Taipei 101 was much closer to us. 🙂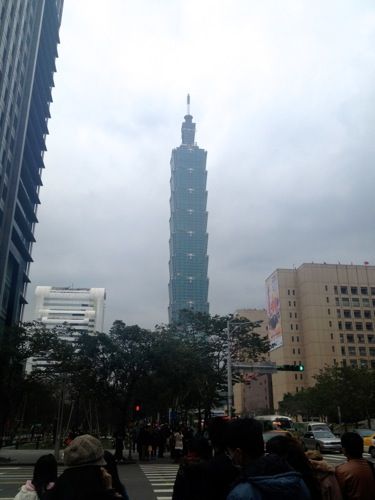 We were on a quest to locate 周杰伦's Secret themed restaurant, Mr.J義法廚房-不能說的秘密主題式餐廳 located at No. 250, Wúxìng St, Xinyi District, Taipei City, Taiwan 110 (台北市信義區吳興街250號) which was 1.7km away from Taipei Cityhall station.
We decided that it is a good idea to navigate our way there by foot to burn off some calories before lunch.
Never did we know that was the beginning of  hardship we put to our feet within next 12 hours.
We finally found Mr J which was located inside Taipei Medical University.
There was a sign right outside the university.

Thankfully it was not crowded so we got ushered to our seats immediately.
The menu.


Due to the fact that it was a New Year's Eve, they only offered limited set lunch courses to choose for.
No pizza or ala-carte meals then, which was fine with us.
Meddling with the camera functions while waiting for our food to arrive.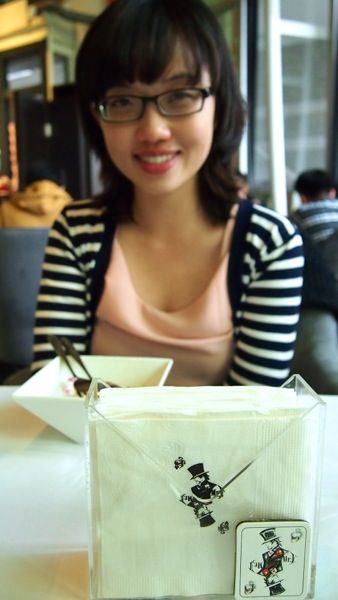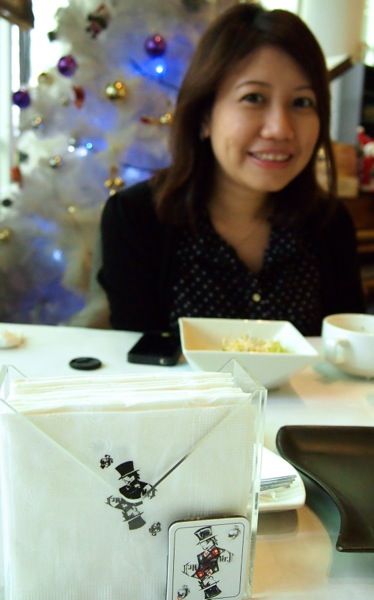 It was a 3 course lunch.
First came our appetizers which consist of salad, soup of the day and garlic bread.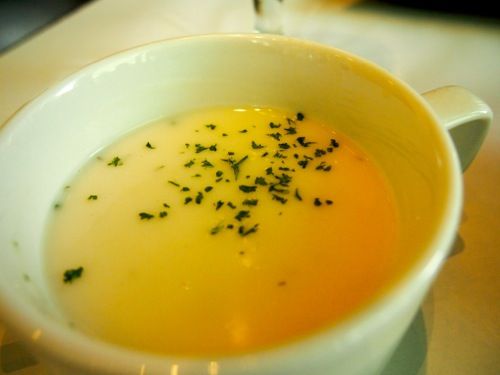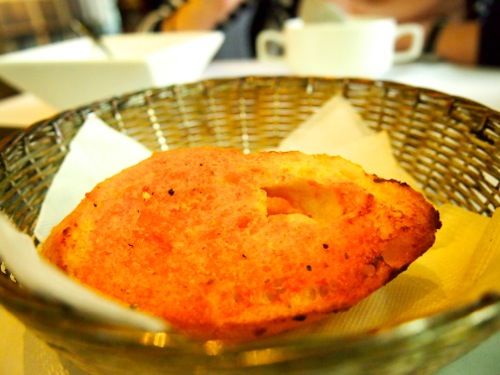 Szehui ordered Smoked Duck Spaghetti with Pesto Sauce.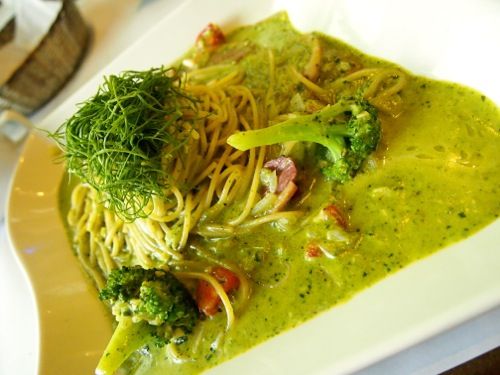 While I settled for something a little spicy, Scallop Spaghetti with Spicy XO Sauce.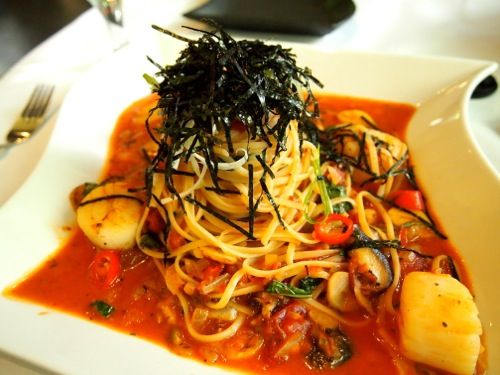 Last but not least, we ended our meal with a tiramisu and a drink of our choice so I ordered milk tea.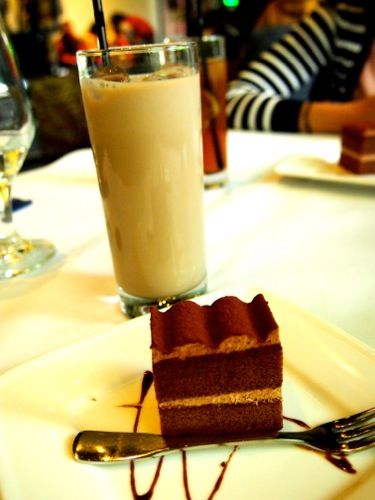 This is how the setting looks.
You felt as though you have walked right into the movie set.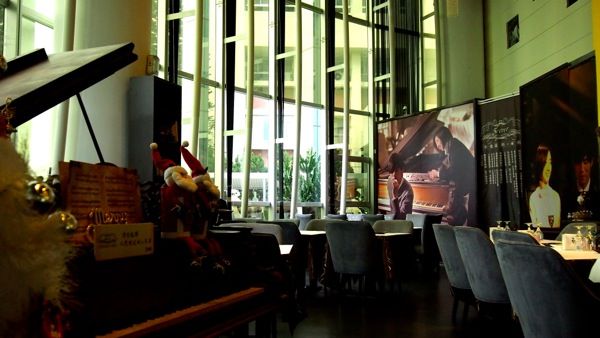 Posters bringing back memories of the movie.

This was totally a candid shot!

The piano that can make you fast forward or go back in time.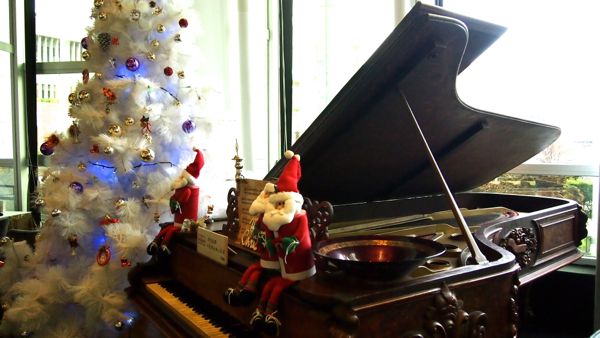 Here's the master piece.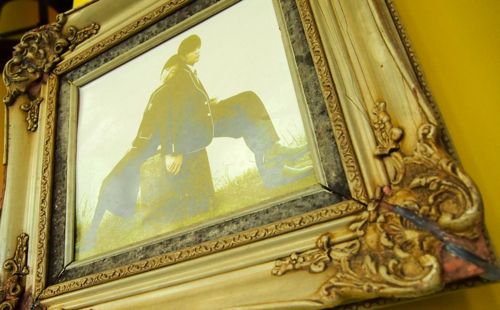 I bet the seat already have thousands of asses keeping it warm. Heh….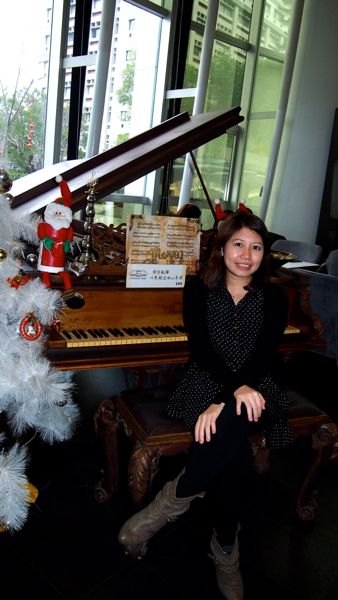 Well, all in all, our bill came up to 957NT (380NT from Szehui while 490NT belongs to me + the 10% service tax.)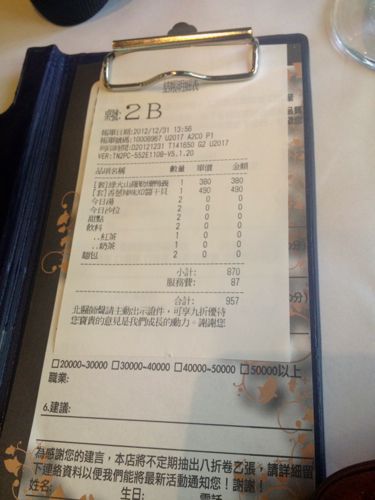 It works out to about SGD$43 for 2 pax for a complete lunch set course.
I must say, it was value for money. In Singapore, with that kind of price, it can probably get us a main course plus a value added soup of the day or salad. In term of taste wise, it was rather mediocre. I felt that this restaurant is more of selling the idea of the movie theme and ambience and experience.
Szehui was freezing!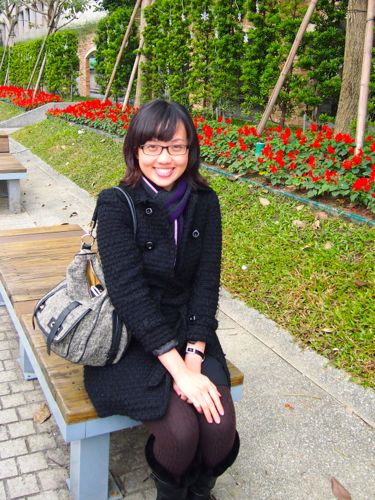 Initially we wanted to walk back (yes, that 1.7km back to City Hall!). Thankfully Sze Hui spotted a shuttle bus at the Hospital which was just beside the University. Thus we ended up taking the shuttle bus back to City Hall which save our feet from the unforeseen torture ahead of us that night.
The other 4 of them were getting a little kiasu because crowded started forming near the countdown concert stage as early as 3pm.
Our original plan of meeting at Grand Hyatt was scrapped, we decided to meet there, right at the crowded audience area.
Well, Szehui and I had no sense of urgency at all because we actually went to a nearby shopping mall and started shopping a little.
We walked out of the mall with an Agnes B wallet I eyed for about a month or so and Szehui with a Agnes B ID badge holder with lanyard.
We were heading for the crowded audience area.

This was where the 4 of them were situated.


Harlem 庾澄庆 rehearsing.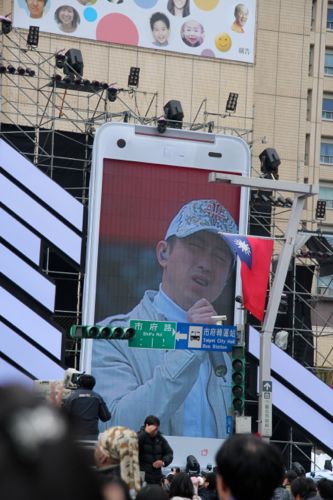 Although it was still 2 hours before the concert starts, the place was already pretty packed and it was difficult to push through the crowded to locate the 4 of them. Even with those additional cells provided by different telcos are not sufficient to support a large crowd that night. It explained the lagged Whatsapp in our group chatroom and unable to upload photos to social media and refresh newsfeed.
In the end Sze Hui and I settled for a spot with this view.

The sky started to turn dark.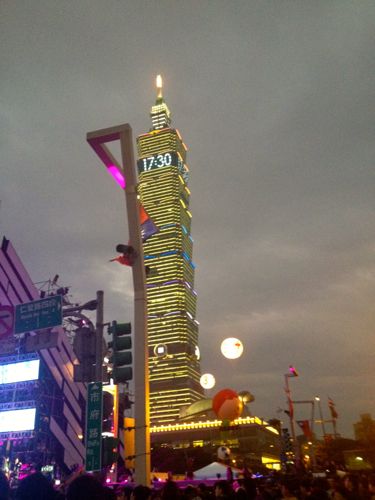 Feeling extremely ecstatic while waiting for the concert to begin!

First to appear and kick start the countdown party was 谢金燕, a 台语 singer. She was sexily clad that I wondered how she endured the cold weather. Then again, she looked sexily HOT.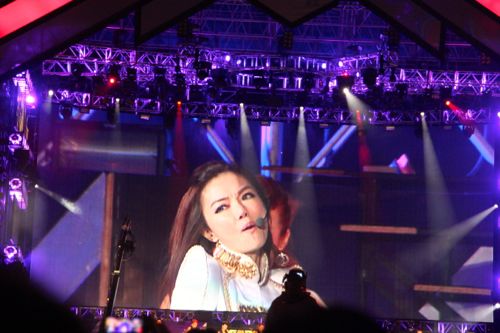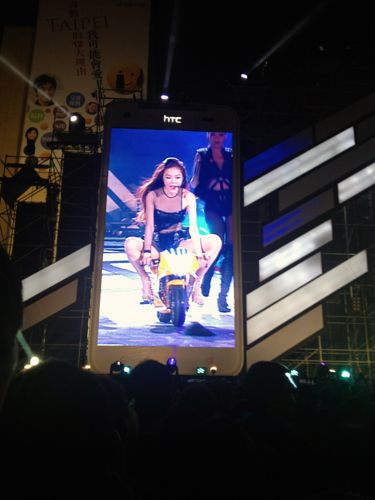 幸福, Blessed. 🙂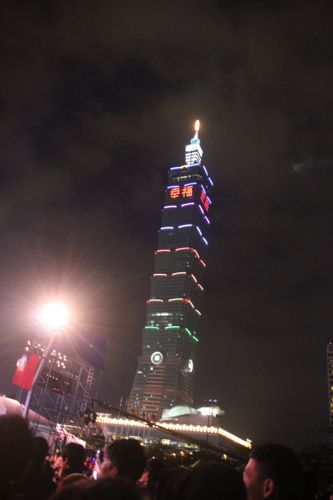 Next up was Harlem, 庾澄庆. He really brought up the atmosphere. I am impressed with his energy despite the age, not that age matters anyway. Ha… I loved the interaction between the crowd, him and the host. We had great fun singing 情非得已 together!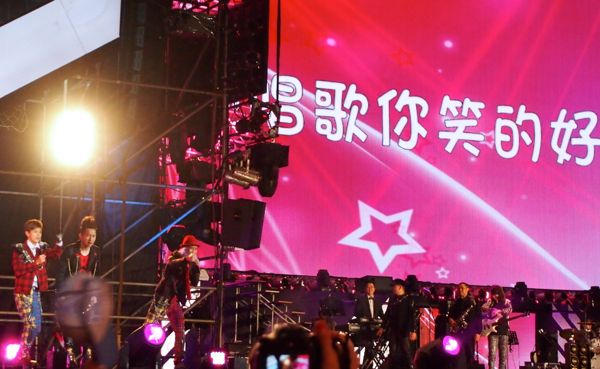 4 hours to 2013.

Counting down with Taipei 101!

Loving the effect of this photo!

I love you. 🙂

Good to know the rest of the gang are enjoying the concert from another viewpoint, freezing their asses off I might add. Despite the temperature of 18 degree celsius, the area Sze Hui and I were standing at felt as though it was plus 6 more degree celsius to that. We had the warmth and soon, we took off our jackets and scarves.

We stood there for 5 hours straight and we had 3 more hours to go before saying hello to 2013! Our legs are started to ache enduring our (heavy) weight for many hours and the neck and back started to protest as well. Occasionally we took turns to squat down, dive down into the seas of legs praying nobody in the area fart to relieve the aching legs and back while massaging each other sore feet. It was actually a sense of peace when you are down there, away from the booming stereos.

信 was up next.

Continue to countdown at a half hour interval. There are some other performance by other singers along the way.

One of the performance was by this group of 53 teenagers from 5 different schools who composed this song, 风筝 (Kite). It is a rather inspiring song with their air on innocence. This song made an impression on me and it did touched me that night.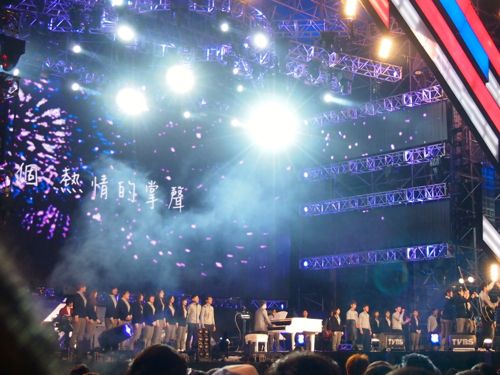 View their MV here.
[youtube http://www.youtube.com/watch?v=BMqvtUt6SPw&w=560&h=315]
One of the 压轴, Aaron Kwok. The one Sze Hui had been waiting for the whole night and he is the reason why Sze Hui had no complains about squeezing with the crazy crowd and enduring hours of standing!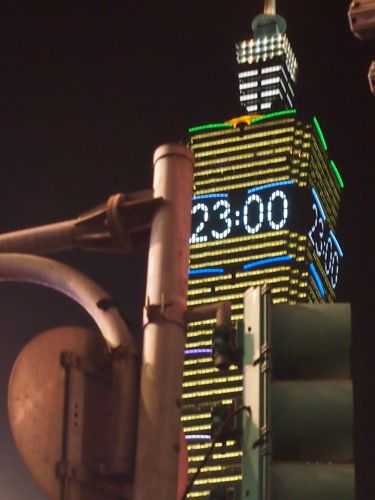 You can see how delighted Sze Hui was!

Sze Hui was happy, I was happy too. Haha… It was the first time I watched him perform. Although I am not much of his fan but I must say his 舞台魅力 is 无法抵挡!I enjoyed his performances throughout and he sang 对你爱不完! You just have to love his signature hand signs to the song. Goodness, he still look good after so long.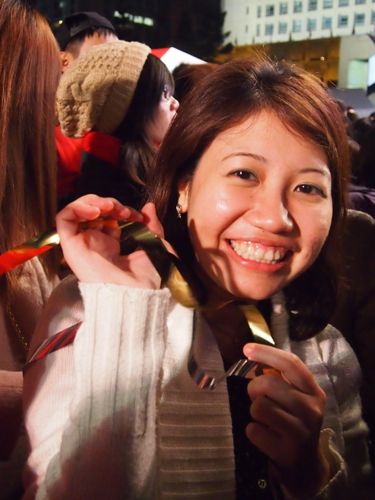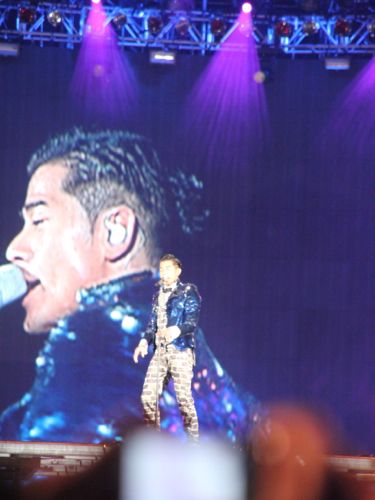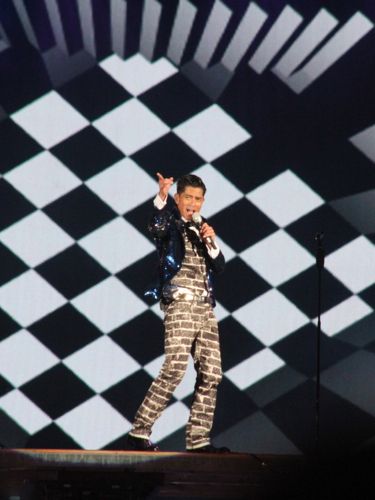 It was time to count down to the new year so they gathered all the performers who were at site.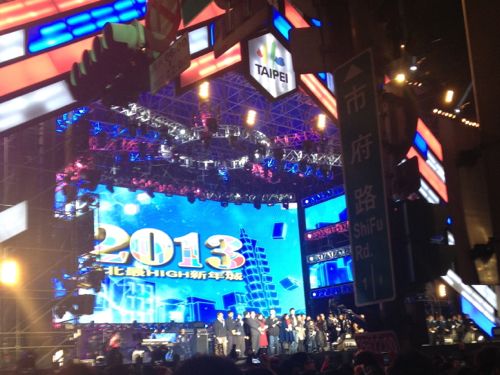 Even President Ma was there! <3 He is a very charismatic man.

5-4-3-2-1!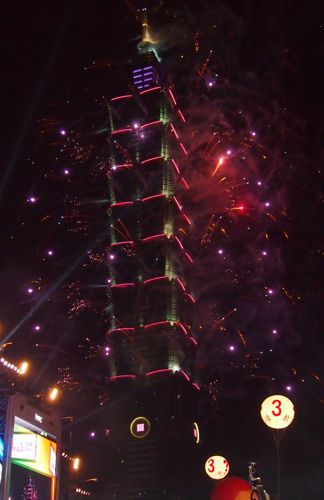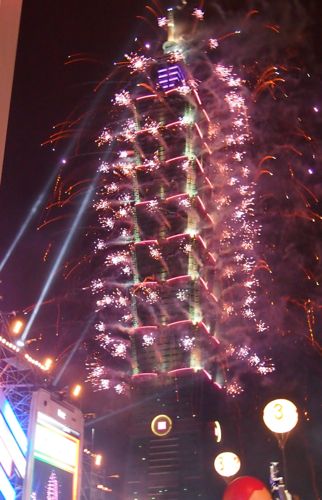 That was it! The fireworks lasted for 118 seconds and the only fireworks came from Taipei 101.

I felt a little cheated because I had been awed by countdown concerts in Taipei on TV over the past years, they all ended up with magnificent firework which lasted way longer than 118 seconds and they had fireworks all around, not just at Taipei 101. Not that the fireworks was not nice, just not impressive enough. Are they really on budget?
Aaron Kwok wishing us a happy 2013 and said his last goodbye.

The mega star of the evening was A Mei! She was the homegrown singer that everyone in the crowd seems to love!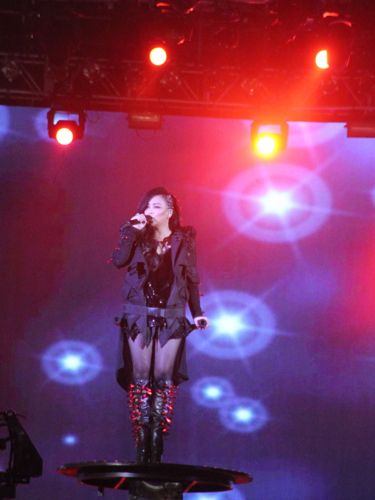 She is one of the artiste whom I admire for her voice. She is an awesome performer however after standing for 8 hours, empty stomachs, heat from the crowd, getting squeezed constantly being pushed together with the powerful stereo took a toll on us hence we decided it was time to leave.
We spent 5 minutes squeezing out of the crowd. It was THAT bad.
Finally out of the crazy zone!

The rest of them stayed on to enjoy A Mei's performance.

Sze Hui and I bought a sausage each to shut our growling stomachs up.
Although public transport system was in operation but there were thousands of people rushing to catch trains back.
We made the decision to walk back to hotel.
Our hotel was (just) 5km away.
To me, 5km was nothing. Really. We had not much options either. No cabs in sight, trains are going to be just as bad.
We took an hour to walk back and our feet were so terribly sore that we were both wearing black faces.
Oh boy, we were extremely relieved to reach back to our hotel.
Early that afternoon, we only did the check in to one of rooms because the other 2 are not ready.
So upon returning, I mentioned the room number of the one which we occupied to put our luggages and told them we still have to check into another 2 rooms. The staff at the counter just handed us 3 bunch of keys without even verifying our identity.
The guys room which we went to retrieve our stuff are at one end of the corridor, Sze Hui and I decided to occupy the room at the other end of the corridor as the 3rd room was on another floor. As we wheeled our luggages to our room, I realised our room door was not shut properly. It was not even ajar, it was just sitting at the latch. I was too afraid to open the door to check out what is inside. Seeing that I was too terrified to do so, poor Sze Hui had to put on a brave front, knocked the door really loudly and take the lead.
The first thing I did was to switch on the TV while SzeHui checked underneath the bed and inside the cupboards and toilets.
Upon making sure I was ok to stay in the room for a while, she went down to return the other keys and confronted one of the front desk staff on the door incident. The staff insisted that the cleaning lady left it open because she wanted to air the room.
In my opinion, it was very dangerous, considering that the front desk staff did not do identity checks and our room are near the emergency exit, anyone could creep up and hide in the room or something. Thankfully nothing unusual happened.
Anyway, this is how our room looked like. It is a pretty spacious room.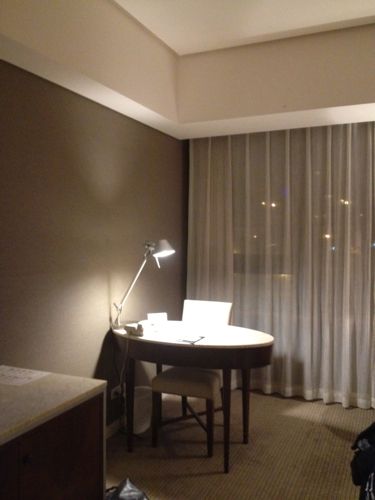 We filled the bath tub with warm water and soaked our tired feet inside. That felt really rewarding!
Took turns to bath, shared a bowl of instant noodle (that's our dinner) while watching the repeat of countdown parties at other places in Taiwan before falling asleep.
What a way to start 2013. Survived the massive crowd, hunger, heat, squeezing and standing for 8 hours. Got out alive from the concert with stiff and aching neck all the way down to the back plus walking 5km back to hotel in our swollen and fatigue feet. Ultimately, we made it, in a memorable way definitely. Pushing the human limit to another level.