Pardon my snail-like updates for the trip.
There are 1001 things to do (don't ask me what are they for I cannot tell you specifically but you know, all those nitty gritty everyday drama stuff?) and yes, laziness do creep in frequently as well. Without further ado, presenting to you.. the 2nd installment of the Taiwan Trip.
~*~*~*~*~*~
30 December 2013 (Sunday)
By the time I got down for our complimentary breakfast, Bao Xin and Ai Ling were already having their breakfast.
We ate while waiting for the guys and Sze Hui to get ready.
The guys had a bit of trouble waking up that morning.

The breakfast buffet spread..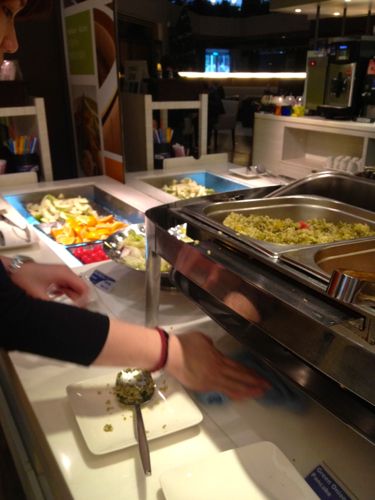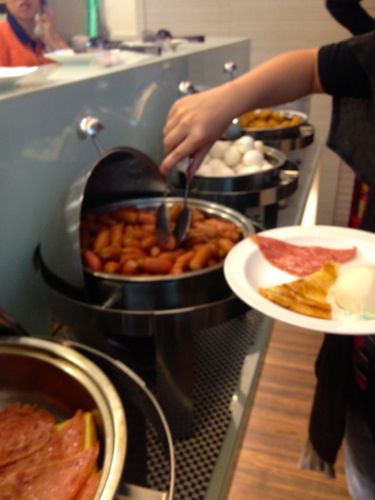 I know the pictures were not very clear and not a well representation of the spread.
Not fantastic but decent enough.
We scheduled 锺先生 to pick us up from Holiday Inn Express at about 9.30am.
We barely made it in time…
Instead of going on one of the common "must see" place, 日月潭 (sun moon lake) and 清境, we opted to go another way instead, according to this website, it took us 30 minutes to reach Miao Li but I felt like we travelled more than 30 minutes by taxi.
It was extremely cold that morning with a temperature of 18 degrees and light rain.
We were all decked in thick clothing and all however coming from a tropical country like Singapore, our resistance to cold is extremely low.
We reached 六合草莓休閒農場 at 大湖 苗栗 for some strawberry plucking experience!
苗栗 is famous for their strawberries.
There are many strawberries farms in 苗栗, the one our driver brought us to had the strawberries planted not directly from the group so that we do not need to bend over to pluck them.
I was not into the strawberry plucking because I had done so in Cameron Highland many years back and from experience, the best ones were already plucked by the owner to sell and lure people to buy that experience.
It was raining for a while so we stayed indoor waiting for the rain to simmer down.
Bought a few piping hot sausages to share, tried their sweet and yummy strawberries.
Anthony bought a bottle of strawberry wine. Interesting stuff I say!
They charged the strawberries you plucked by their weight.
They were only left with quite pathetic ones and we just 意思意思 plucked a few out of fun.
After the rain had stopped…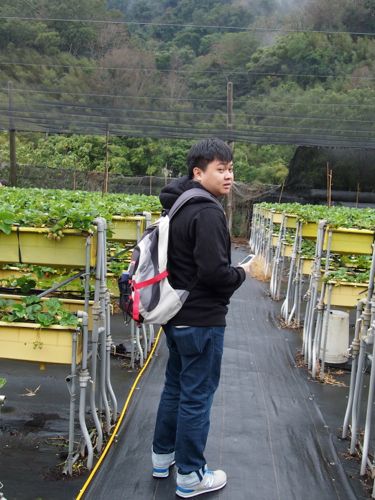 Our strawberry hunter begin his hunt…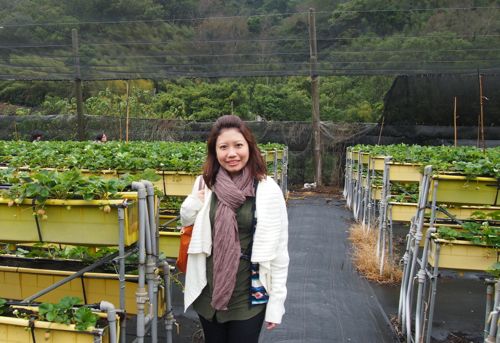 I was being photobombed!
One of the few 'can make it looking' strawberry.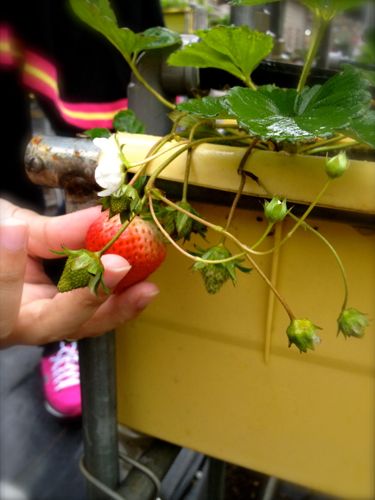 Looking just like a 采草莓贼!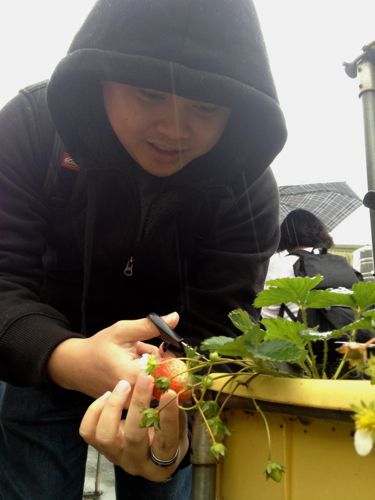 We soon got bored hence did not stayed long at the place.
Next up, our driver, 锺先生 as seen below talking to Sicong drove us to 大湖酒庄 which was  nearby.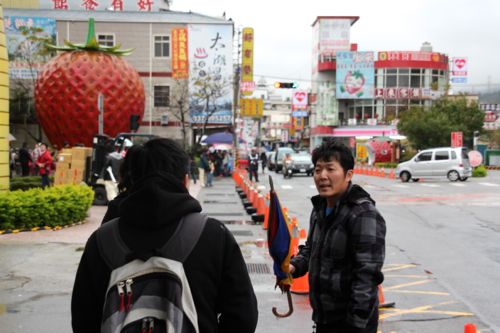 While walking there… I could not resist but to take a couple of 自恋照!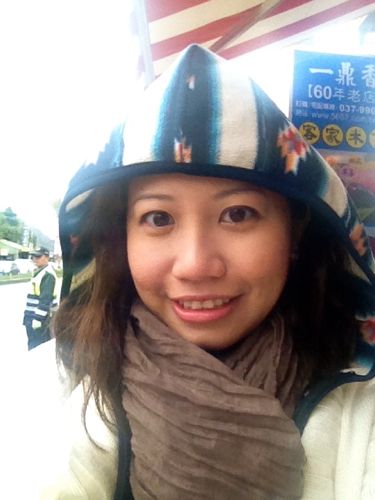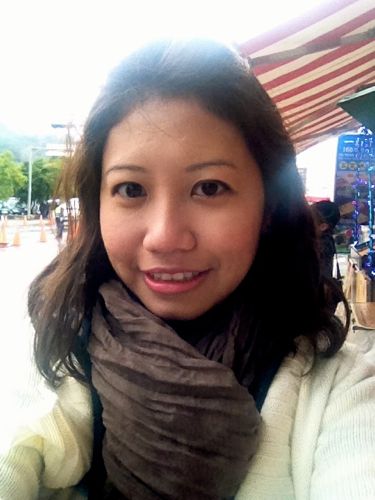 Well, the nice cold weather certainly made the makeup nicer and more lasting.
Their iconic huge strawberries and bottle of beer.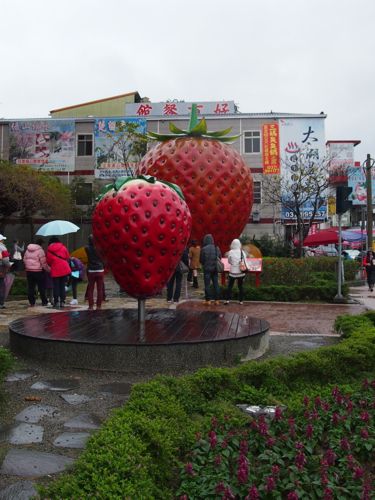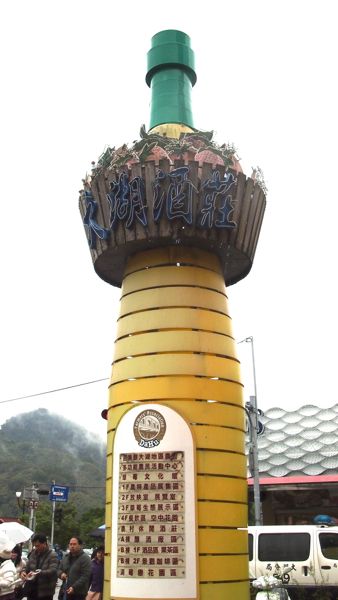 An individual shot with the huge strawberry!

Group shot with the girls, courtesy of Anthony.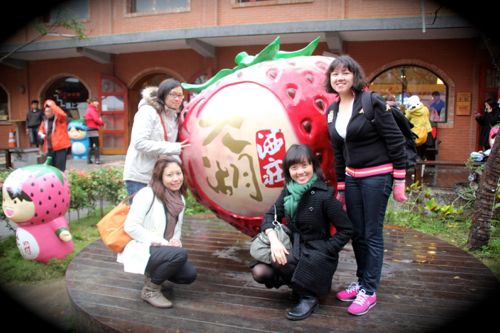 Guess what are these they are growing on the ground???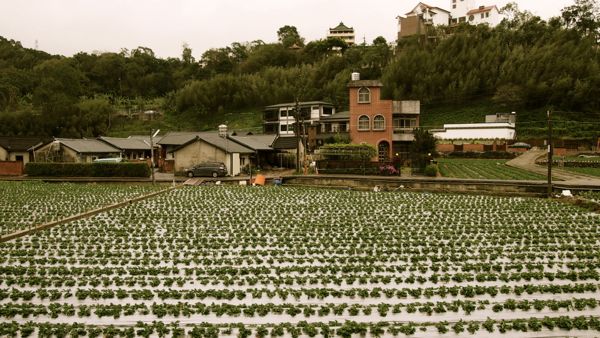 More strawberries!
Outside the souvenir shop…..


The photo look very dreamy.
It was so cold and wet that I was delighted to see a stall selling 热腾腾的草莓贡丸汤.
I bought a bowl without any hesitation….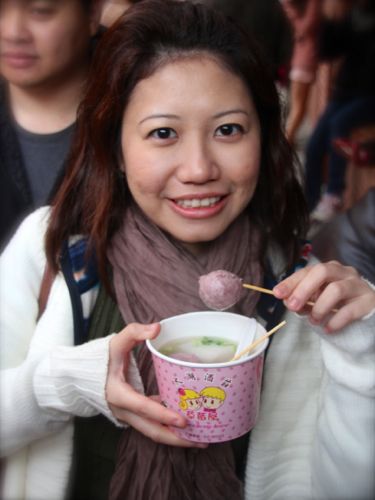 I was under the impression that there will be strawberry jam inside however to my disappointment, the only relation between this 贡丸 and strawberries are just the colour that's all.
I felt so cheated. T_T
Jumpshots!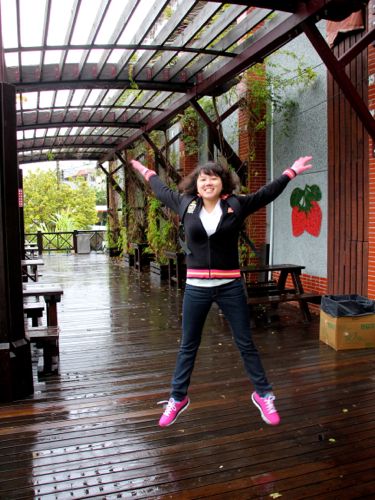 Group shot.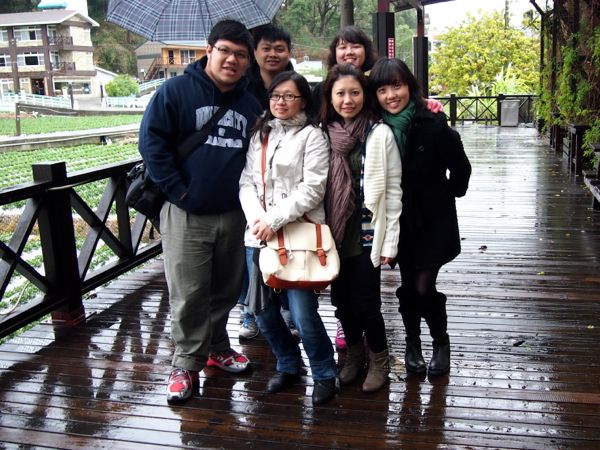 There was nothing much except e left 大湖酒庄 after a short while, it is basically a tourist spot with the strawberry theme, selling souvenirs, food and drinks.
It was very windy…..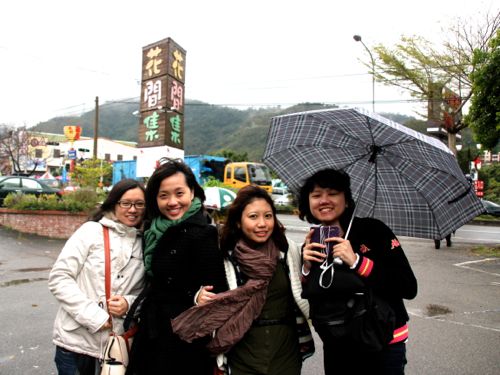 We decided to rest our feet (not that they are tired with the minimum walking) and get a little warmth indoor at a little cozy and cute looking cafe nearby.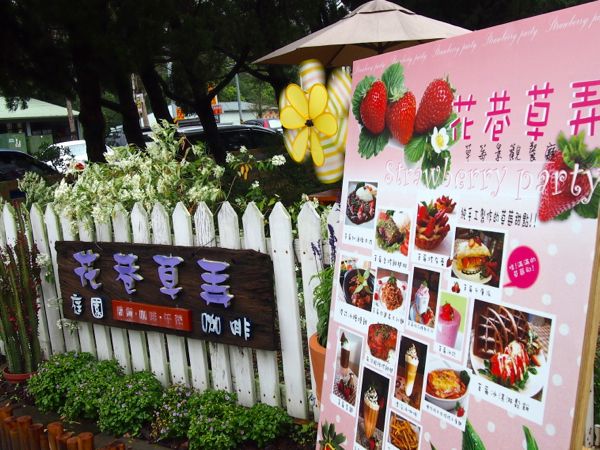 花巷草弄…
To me, it looks like one of those 偶像剧场景.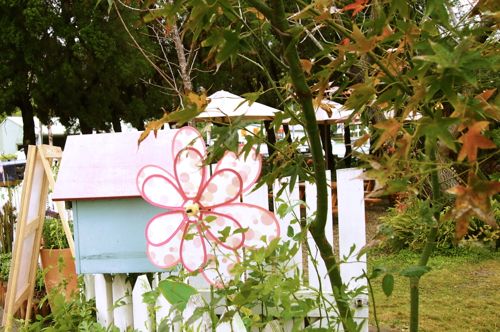 A flower wind mill…
As we enter the little garden into the cafe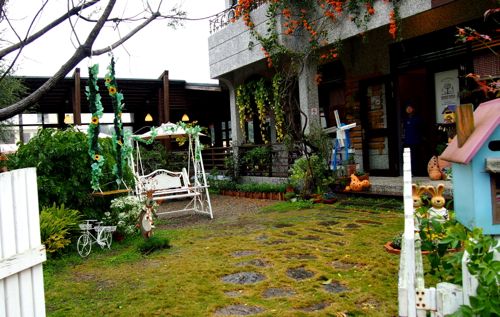 Pretty swing!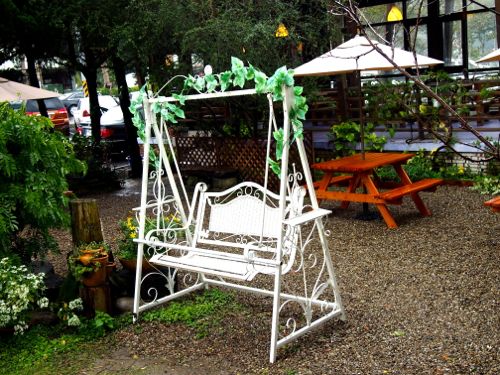 Even the table by the window with curtain looks so romantic and cozy.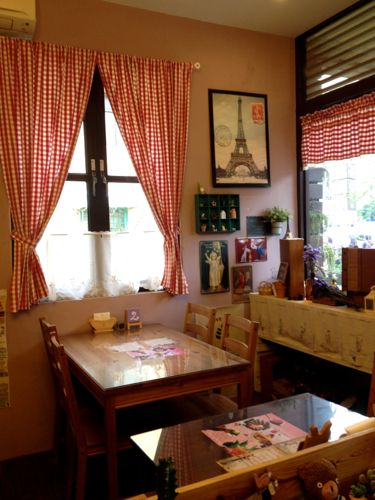 We were their first customers of the day!
Sitting by the window… Gazing out…


It would be perfect if we had the whole day lazing there.
Bao Xin's drink.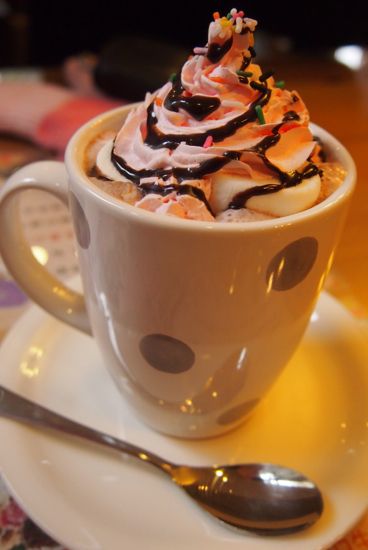 A cuppa hot chocolate with strawberry flavoured marshmallow.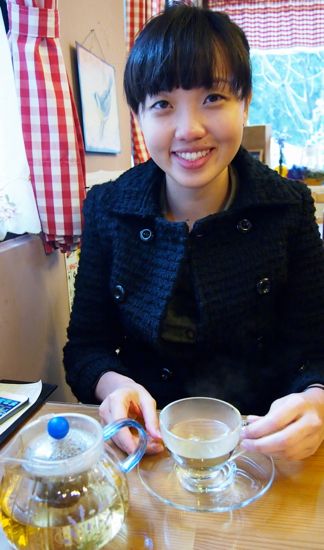 Sze Hui with her cup of tea.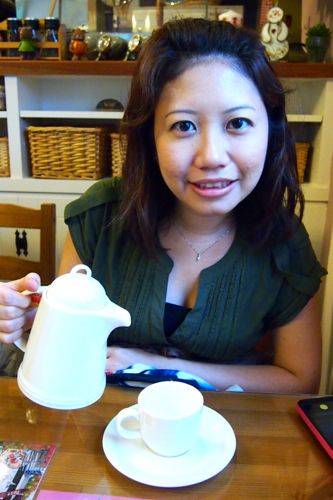 A cup of hot tea on such rainy and windy day is <3!
Ai Ling's drink…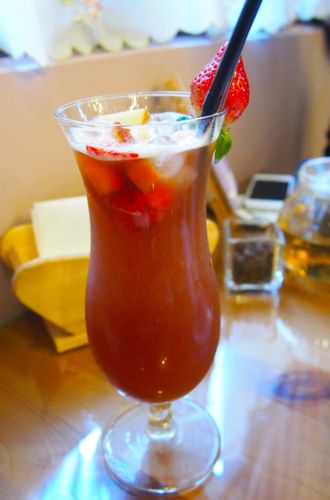 Sitting at table 4.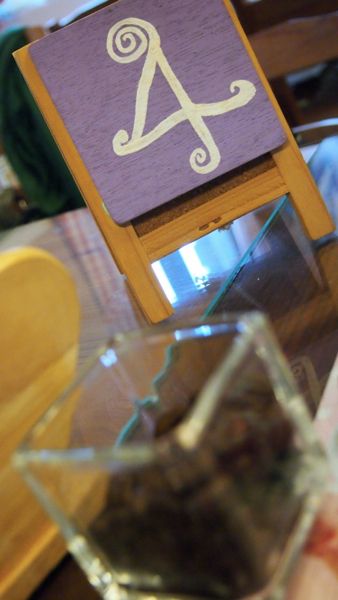 I love all the little decorations at every corner of the cafe and the lightings.
Taking the little efforts add the personal touch to the place.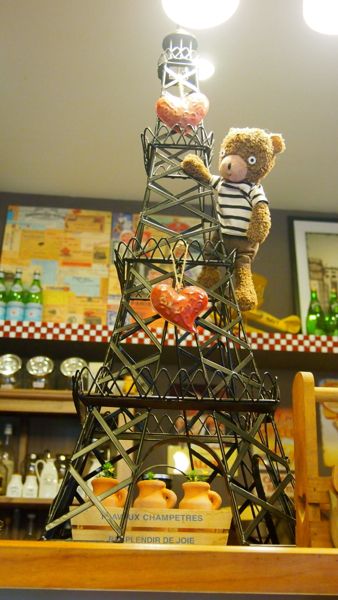 Teddy climbing the Effiel Tower!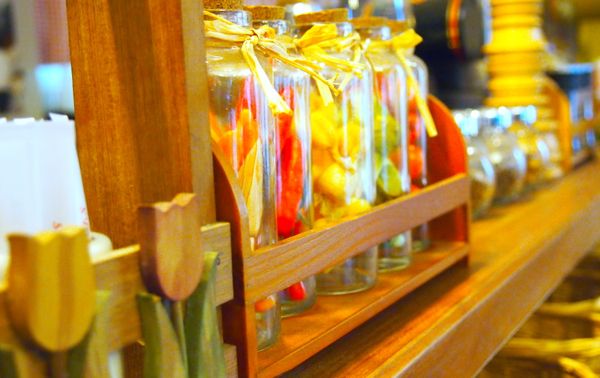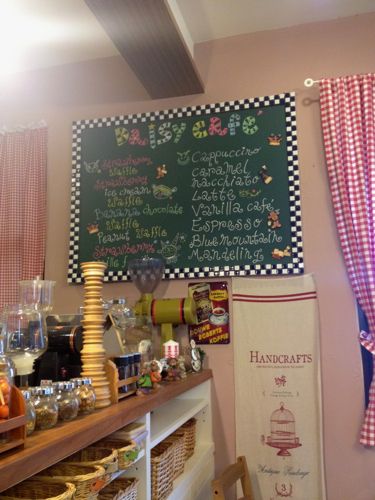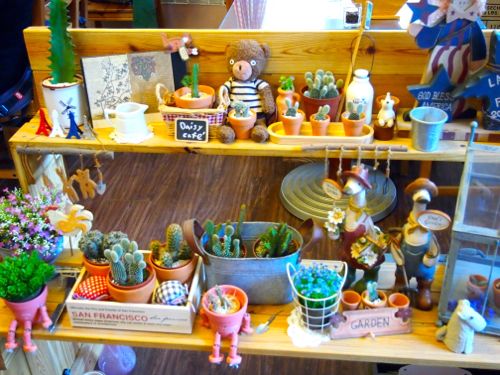 Pretty little cactus everywhere!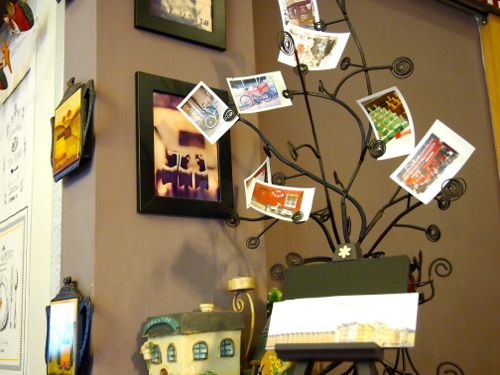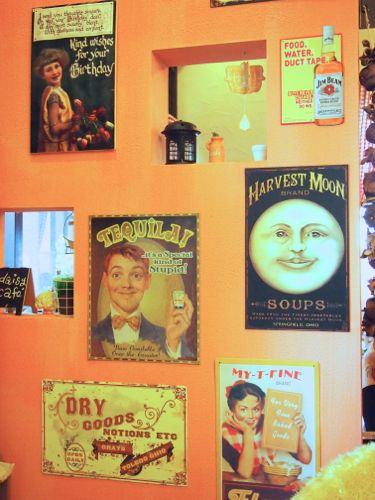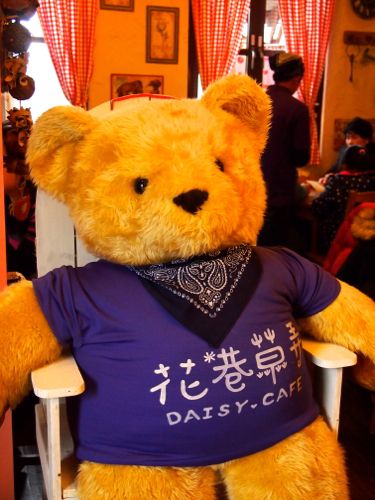 This bear looks exactly like the one we saw at Lavender Cottage the day before.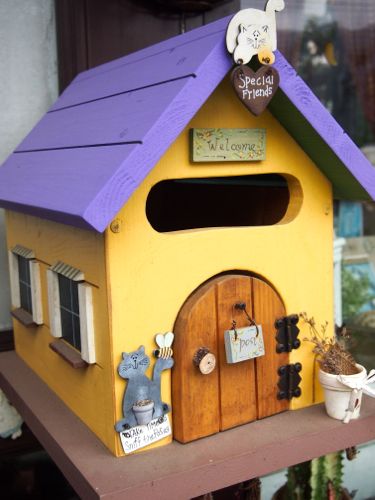 More cactus outdoor.
Before we left the place….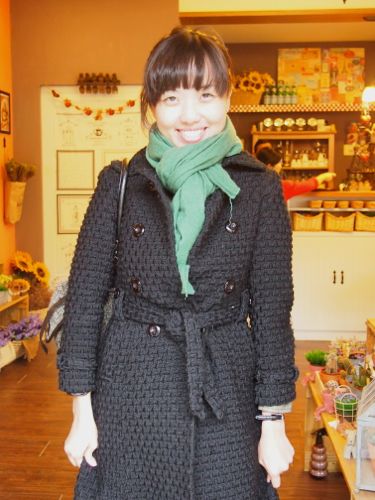 Ms Poh made sure she is all covered and looking good before heading out to brave the cold.
We board the cab and made a spontaneous trip to drive up a mountain to 泰安警光山莊 to 泡温泉.
Along the way up, there are plenty of hot spring outlets however those would be more expensive and private (i guess) than the one we went.
According to 锺先生, the one that he brought us to is meant for civil servants however it is also open to public as well.
For civil servants, they are charged at 50NTD per entry while we were charged for 100NTD per entry.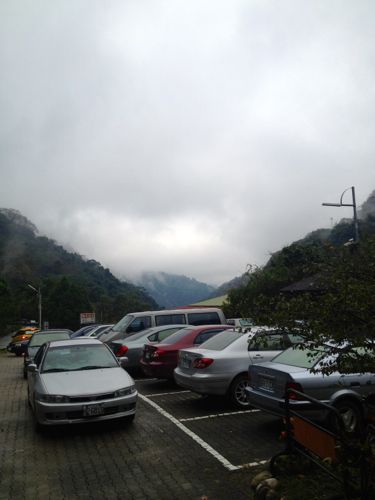 Ok, because the place is at the top of the mountain, we are surrounded by clouds, not a very good picture of how the view from the outside.
I know this is really small but these are the things to note before going in to soak ourselves.

They were separated into female and male area.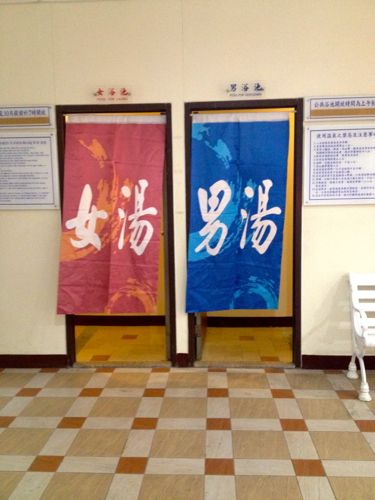 Inside, everyone just strip naked, washing themselves before going into a pool of water that is of approximately 40 degree celsius.
There are different type of hot spring in Taiwan and the one we visited do not contain sulphur. I am not sure what elements the water contain but there is no smell and is clear water.
We felt a little weird initially stripping ourselves naked but to those other women, they are so used to such sceneI guess.
There are those old women, who are probably in their 60s or maybe even reaching 70s to even as young as 6?
Thankfully it was not crowded and we manage to have a little corner of our own.
The 哦巴桑s were very particular about us not letting our hair and towel touching the water.
It was a very interesting first experience I must say….
We spent about half an hour in the area with the occasional dipping in and out of the pool so as to ensure we do not get dehydrated.
After the whole session, I felt so fresh and rejuvenated. Haha…. so my inner power generator started working again.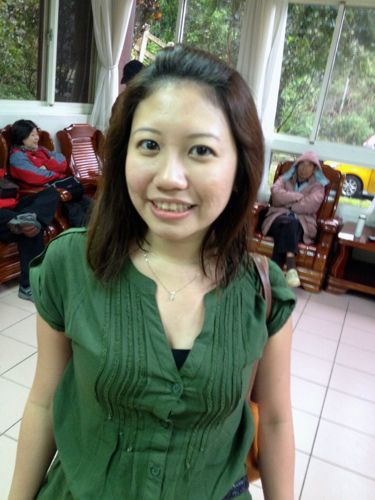 We were starving after the shioking good soak!
Our driver drove us to 清安豆腐街 (Qing An Toufu Street) which was not too far away from where we soaked in the hot spring water.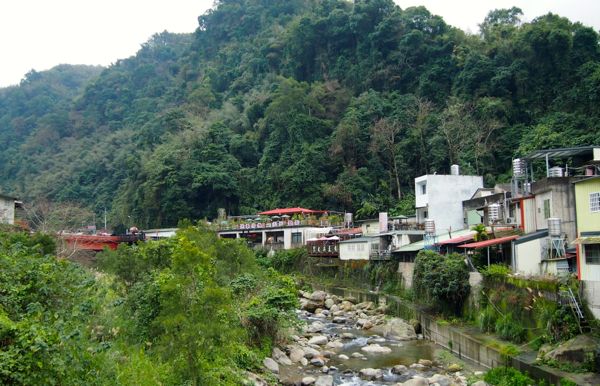 Yes! 豆腐街 really exist and it triggered us to sing Mediacorp's successful drama 豆腐街 家喻户晓的主题曲, 城里的月光…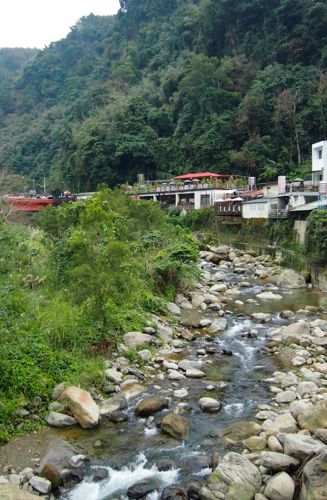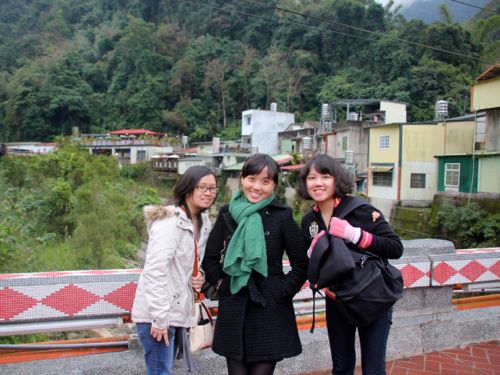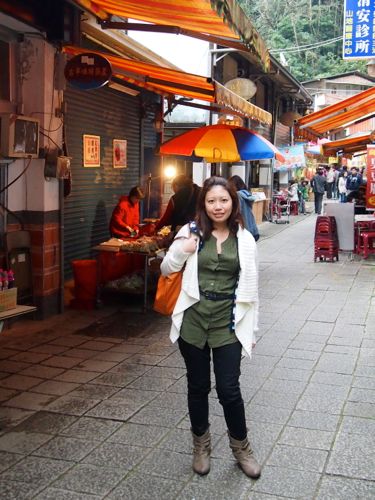 Walking down the street in search for an eatery for lunch…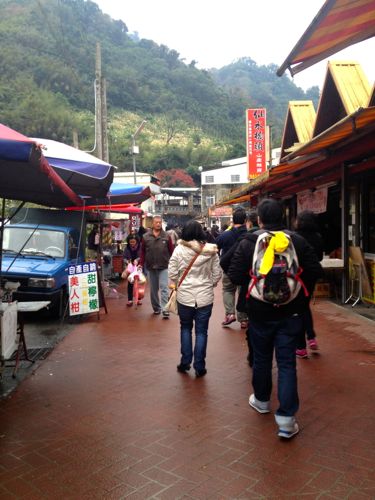 Then we finally agreed to settle in one of the eateries along the street for lunch.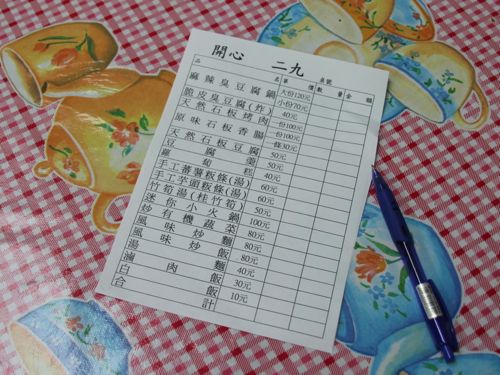 Since we are at Toufu street, how can we miss out the fried smelly tofu which is Sicong and my favourite of course!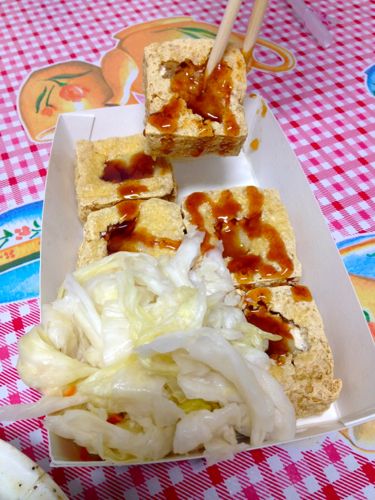 Pork with spring onion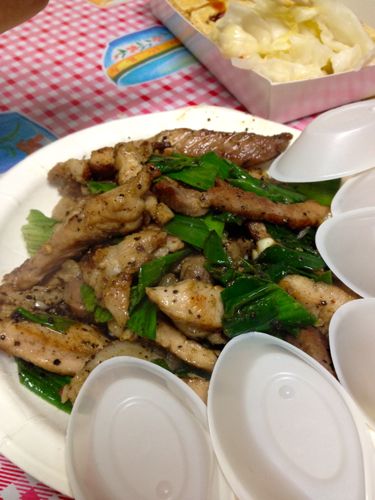 A rather blend soup to share.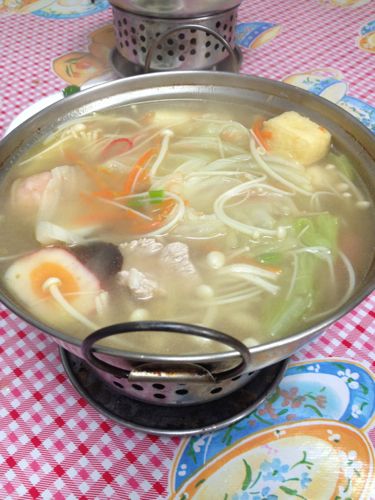 Sze Hui's sweet potato noodle soup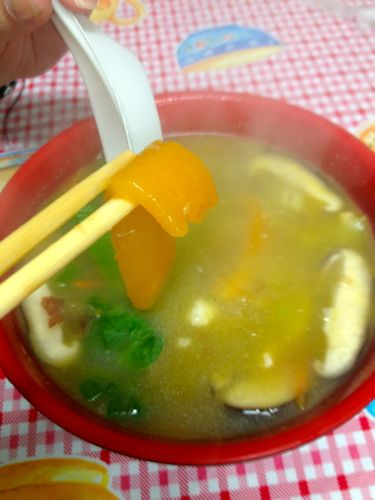 卤肉饭 for the rest of us.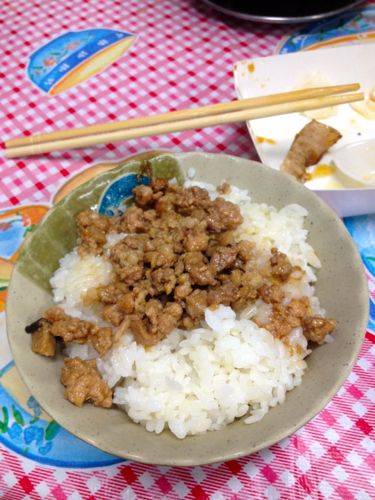 After lunch we bought other street food along the way to share among us.
It did not take us long to complete the street….
Next up, our driver drove us to 巧克力雲莊 (Schokolake) located at 苗栗縣大湖鄉富興村水尾坪49-2號.
Looking at the name, it must be a happy heaven with tons of chocolates, like charlie and the chocolate factory!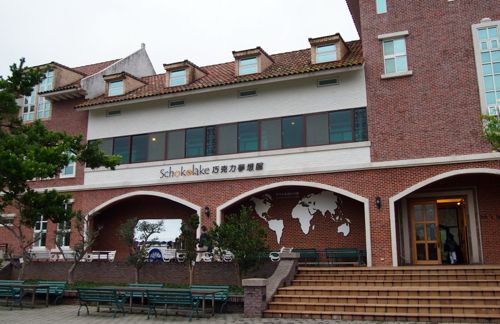 The map of the place….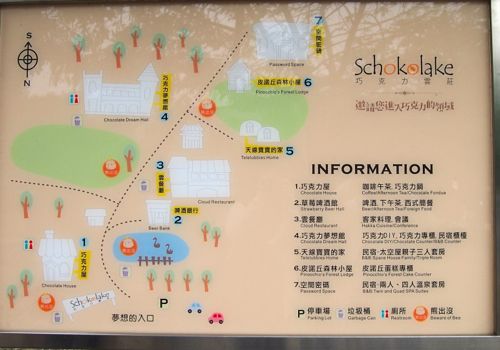 Cocoa of the world unites!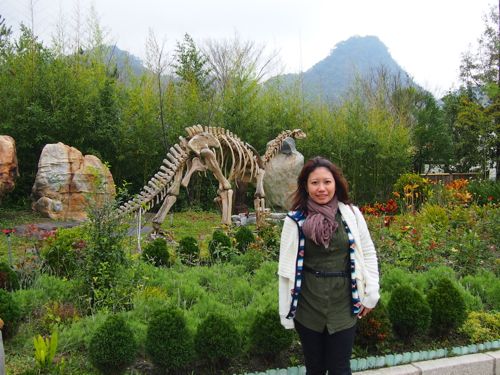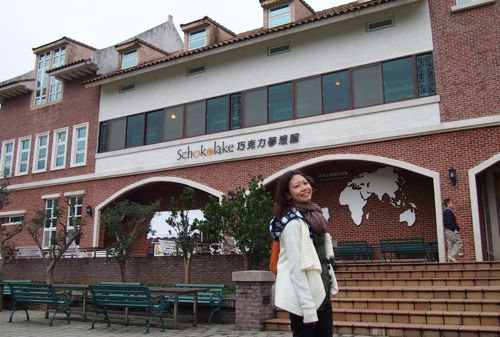 Inside the schololake building….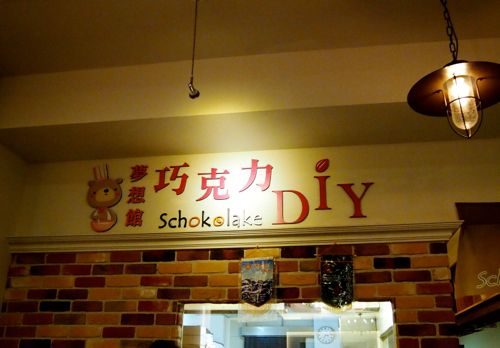 Saw a family who brought their 3 adorable dogs with them.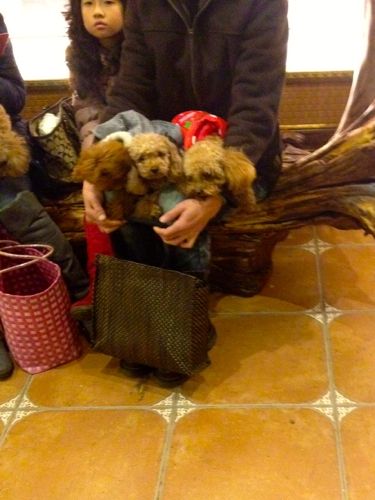 With a cuddly bear….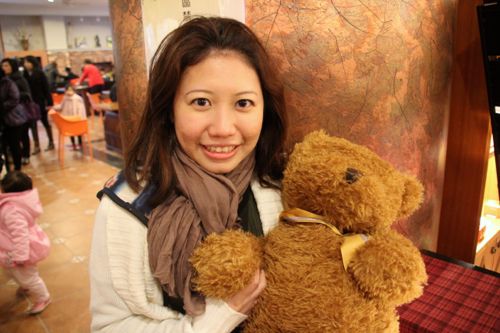 Girl power!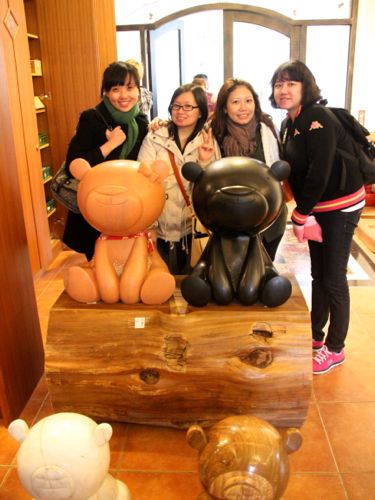 To my disappointment, it was rather boring place. It is either you sit down and have some chocolate dessert snacks or buy different brands of chocolates where some of them can be found in Singapore too. Not much incentive to buy.
The reason why we stayed for quite a while in the building was because it was too cold for us to bear….
Finally we decided to brave the wind and had some photos taken while heading back to the car.

Ducks and swan swimming in the lake. The water in the lake must be really cold. Br~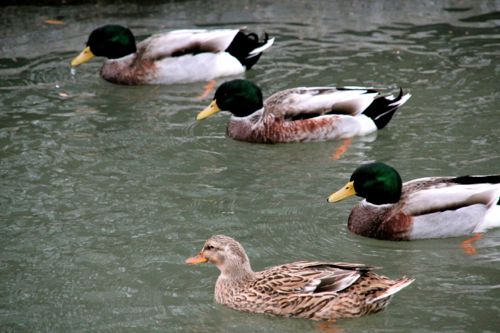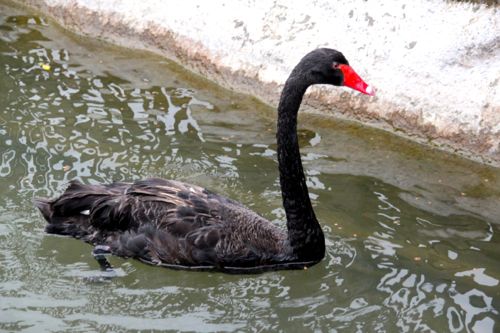 Love this candid photo!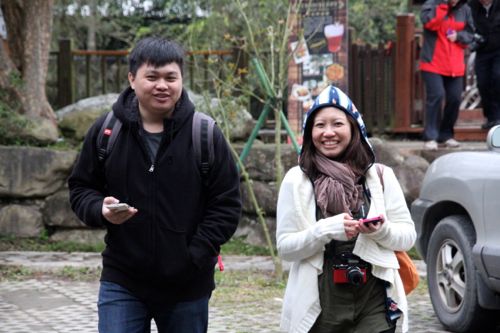 We were pretty much done with our day trip to 苗栗 so our driver drove us back to 台中 before the sky turns dark. (FYI, sky starts to turn dark at about 6pm during winter in Taiwan.)
锺先生 dropped us off at the famous night market in Taichung, 逢甲夜市.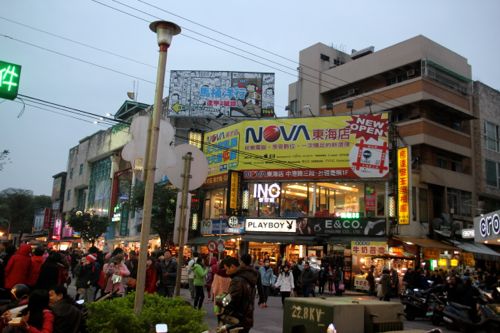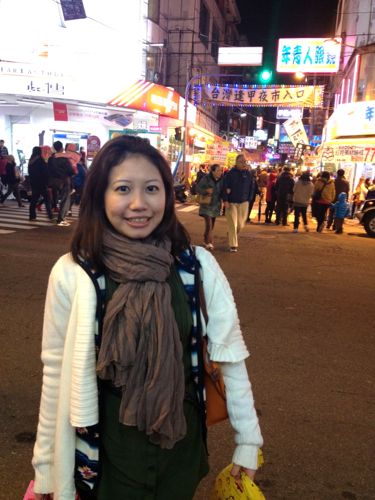 We were told it was one of the coldest day the whole winter.
We bought additional gears such as scarves and gloves.
What amaze me most was that as we tried to keep warm by making sure we are thoroughly covered but some of those Taiwanese ladies are able to brave the coldness with skirts or shorts with stockings.
Goodness me!
Tried one of the 臭豆腐 along the street recommended by 食尚玩家。 Queued for quite a while before my turn.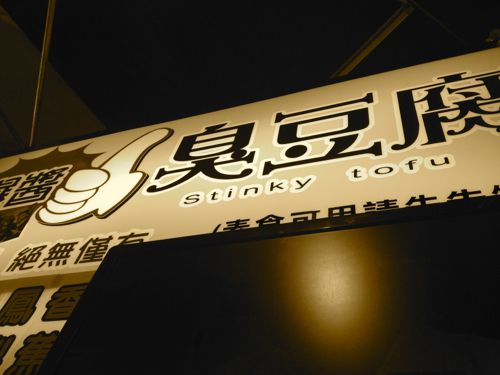 I think this one is not bad! As usual, Sicong and I were task to finish it, something which we are happy to do!
After a whole day of sightseeing…. Anthony and Sze Hui spotted a massage parlour so we (as in Sze Hui, Anthony and I) agreed that massage is an essential need for the day.
While Sicong and Bao Xin went to do more shopping on their own and Ai Ling just resting her feet in the massage parlour with us.
All the masseuses there had some form of handicap with mainly most of them who are blind or have extremely bad eyesights.
I had a neck and upper body massage to relieve the aching shoulder.
One of the masseuses, a blind old man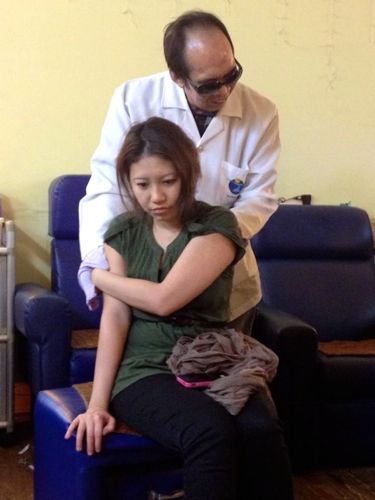 After our massage, we head over to a Watsons store nearby and I came out with a 3M mask because the cold wind was too unbearable!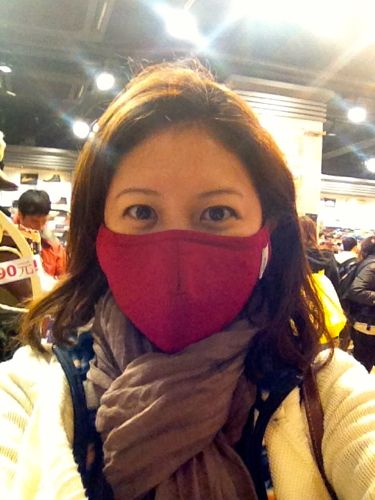 Guess who's that girl with Anthony?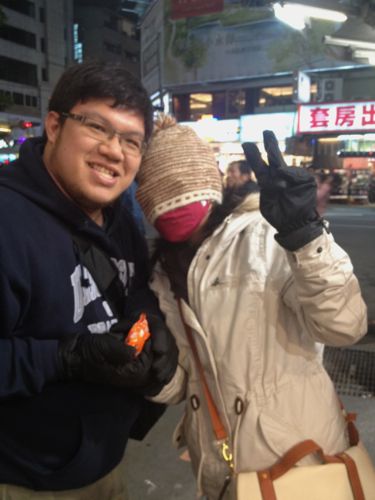 Datah~ Of course it's nobody but Mrs Choo…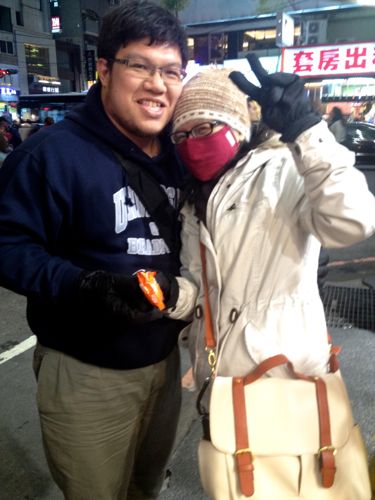 Sicong is very happy with his neck cushion which he bought for 150NTD and he poisoned Ai Ling and I to buy 1 as well.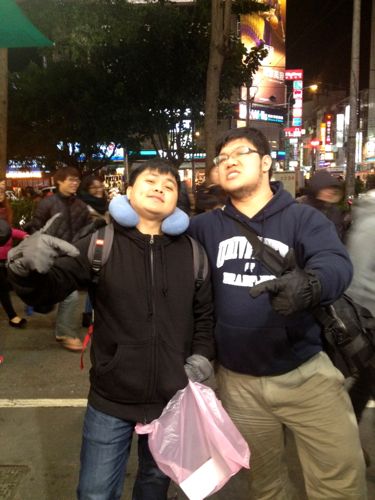 After we are done with 逢甲夜市, we splitted into 2 cabs and went for supper at 鼎王麻辣火鍋 漢口路 branch past midnight.
It was highly recommended by Szehui.
Taichung is where 鼎王 originates.
We shared a 鸳鸯锅, one side is 麻辣 and another is 酸菜汤.
The 麻辣 was fantastic, not like those 麻辣 I have tasted in Singapore before, those overpowering chilli oil.
Even the 酸菜汤 tasted very unique and good too…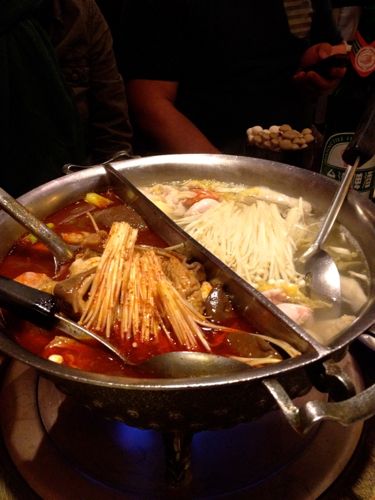 We were all equally happy and bloated after dinner.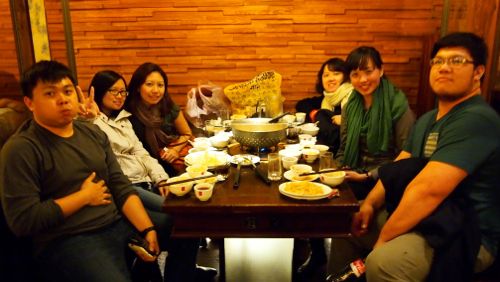 After the satisfying yet guilty meal, we went back to our hotel and hit the sack…..
We had to rush off in the early morning to the our next destination.