Into the 4th and very last day of the trip!
Again, we woke up early in the morning not wasting any second that we had left in Bangkok.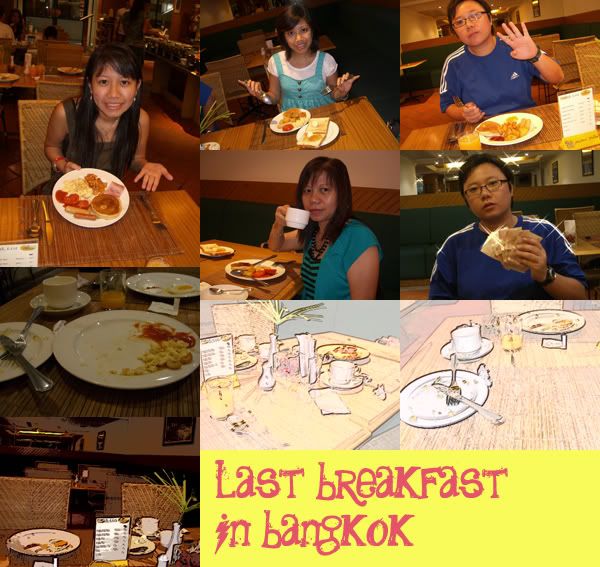 Straight after breakfast, headed straight back to Platinum Mall.
Not forgetting stopping by the A&W which we had lunch 2 days ago because we forgot to take photos with Mr A&W bear the other day. =.=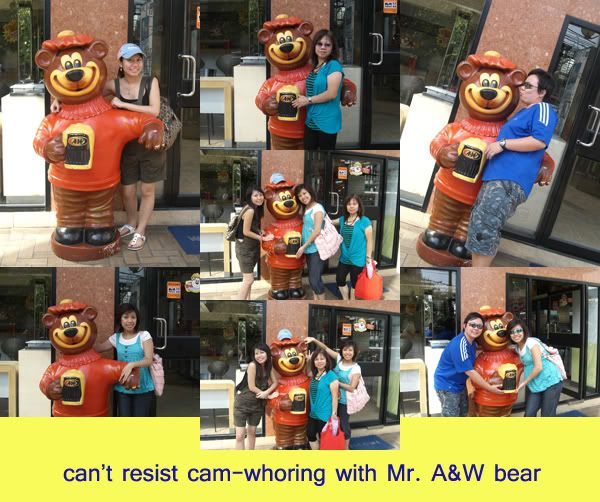 Splurt all the money in Platinum Mall again.
Lucky for me, I managed to find back the shop which sells my pink top which I lost while shifting campbase from shops to shops.
Too bad for my sister, she could no longer find her suspender shorts.
Oh man, I feel 心痛 for her too because I won't have a single chance to wear it either.
Armed with only 200 Bahts in my wallet, went to Paradise to pamper our feet for the very last time.
Again, we lunched in Steak & Thai Food.
The place we had our dinner the day before.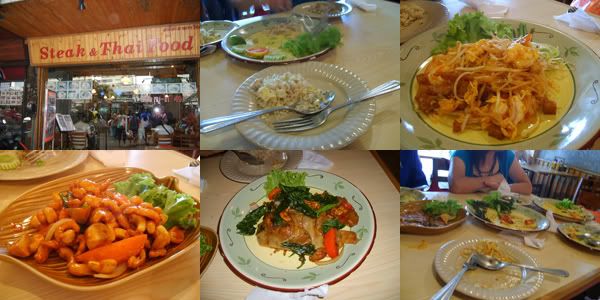 The food are irresistable and cheap.
For all those above, it cost us about 250 Bahts just to feed 4 mouths.
Tell me, worth it or not?
I dig their padthai lah.
Rushed back to the hotel for a late check out at 2.15pm.
Initially we thought we could hail a cab to the airport.
I think we underestimate our shopping spree. Haha.
Lucky we rent a van from Paradise (the place we did our massage) which ferry us from the hotel to the airport for 800 Bahts.
It was a 7 seater van. Spacious for everyone!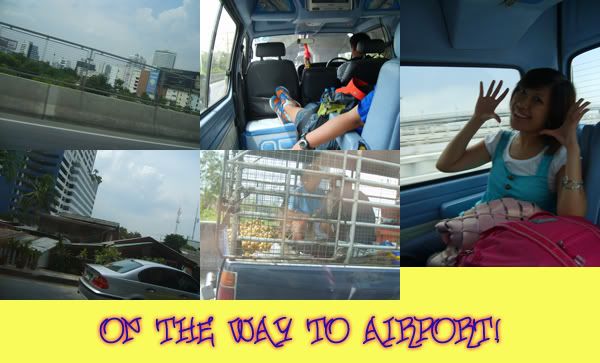 On the way to the airport, the Thai driver actually switched on the music in the van and it was playing 周杰伦's songs lor!
Wah lau!
杰伦 famous until the Thais also play his songs.
赢了咯.
Super shiok lah ok. Heehee. =)
Waited for quite a while at the luggage check-in counter with bags of loots.
We were the 1st in queue.
Singaporean spirit. Haha…

After we check-in, it started to rain heavily with thunder and storm.
Had a quick dinner in Burger King.
One meal for 199 Baht. Add cheese add another 30 Baht.
杀人放火.
Still, I tell you, that's the most delicious Burger King I've ever tasted.
The meat is tasty and juciy enough with the cheese oozing out. *Slurp*
The 30 Baht of cheese is definitely worth it.
Not like the Singapore's version which is dried and tasteless.

Finally, we went into the waiting area.
However, our flight was delayed for about an hour.
Due to the heavy rain earlier.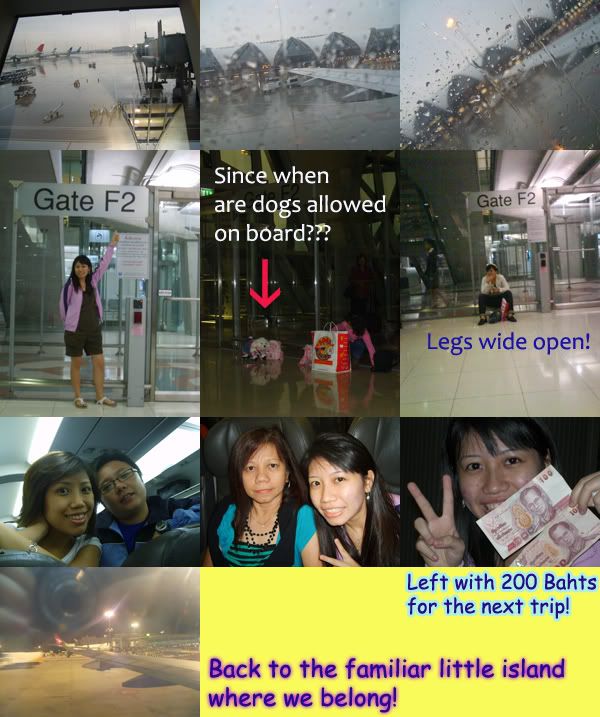 Thank God Patrick came to pick us up and send us home.
I don't think Mama and I were able to drag those loots back home man.
I actually did the unpacking at the fastest rate as possible before zooming my way out of the house again that night. Hahaha….
Finally, I'm done with my Bangkok Trip entries.
Next up will be the Sentosa spent with my beloved Brudders and Sistaz.
I MISS BANGKOK!
Can I go back there again soon?