2 January 2013 – Wednesday
On the 5th day in Taiwan, we decked ourselves in our thickest apparels! Piling on layers of clothes because we were heading to He Huan Shan (合欢山) via Taroko George. Since it was winter, there are possibility that He Huan Shan's  temperature may go down to less than the freezing point and it may even snow! Living in a tiny dot along an equator, I had never experience snow in my whole life! Gosh~
We were all excited and crossing our fingers!
Upon knowing our early schedule, the aunt from 石头之家 packed our breakfast to bring along for our trip as our driver, 吴先生 picked us up in the morning.
We drove past Hua Lien Seven Star Lake (七星潭).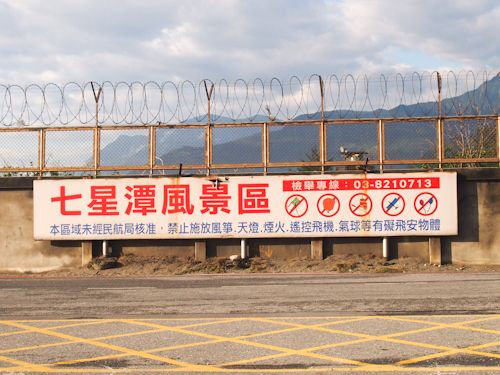 It was such a beautiful place.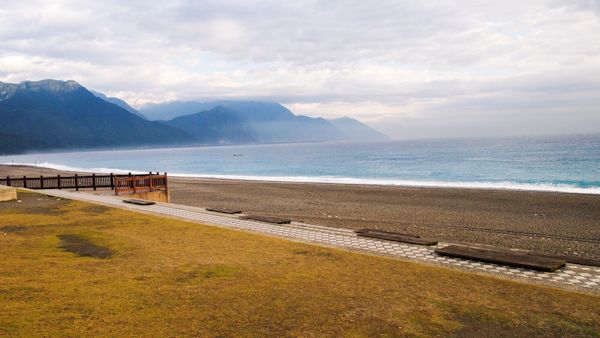 Hua Lien's air base is just behind Seven Star Lake and we caught 2 fighter planes soaring up into the sky! It was just amazing!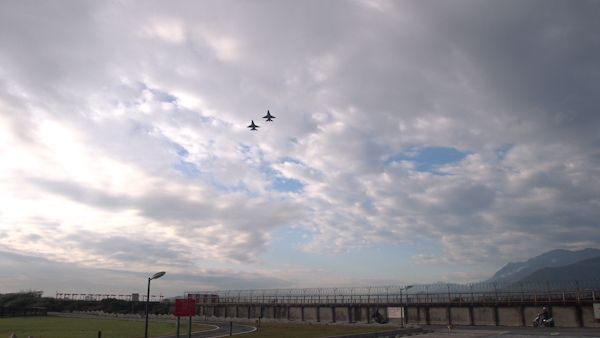 Life was PERFECT at that moment!
Group shots before we continued our journey to Taroko George.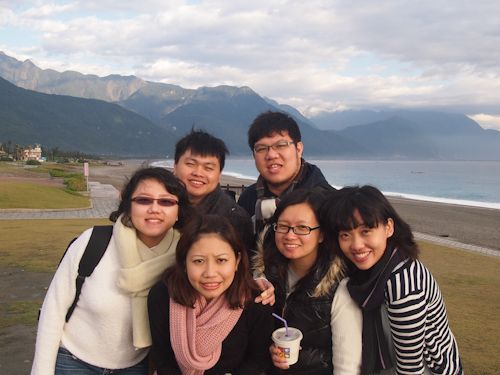 Soon, we reached the entrance of Taroko George… ready to begin our journey.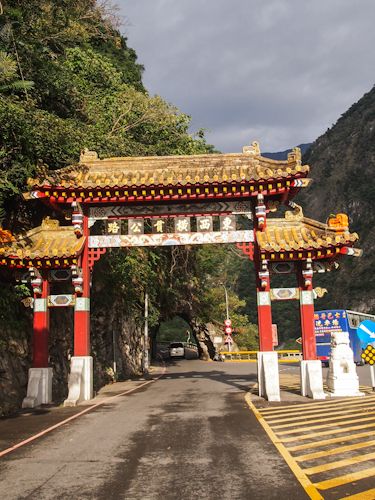 There is a pretty temple on the other side.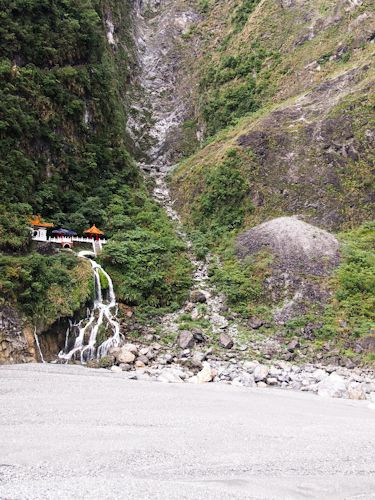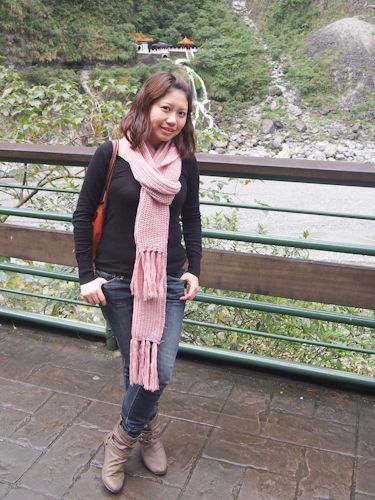 What a pretty scenery that can make one smile with contentment.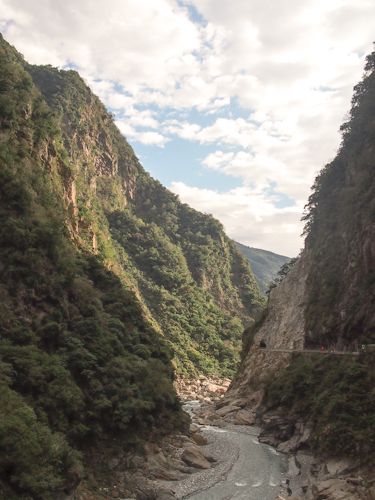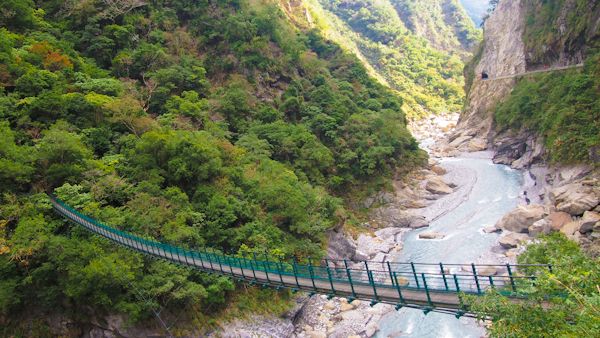 The last thing you want is for people to destroy such natural beauty. As we were walking along this stretch of road, there were other tourists who got down from tourist buses and as this certain nationality group of fellows filled me with disgust because I heard those *ka-pui* spitting sounds! Seriously!!! Why is it so difficult for you to control the urge to spit at such beautiful place?! I could only look at them with disgust and walked carefully so as not to step onto their spit.
All these holes contains swallow nests. So that is where swallow nests are harvest each year.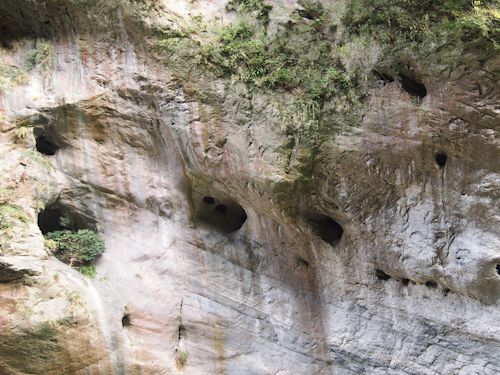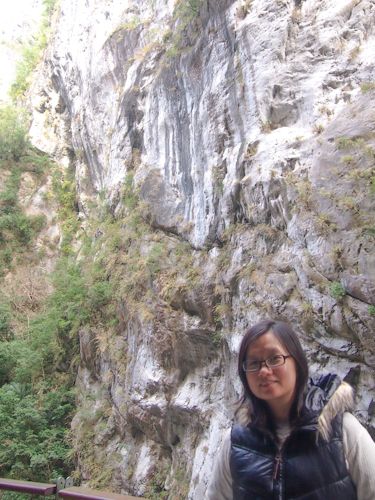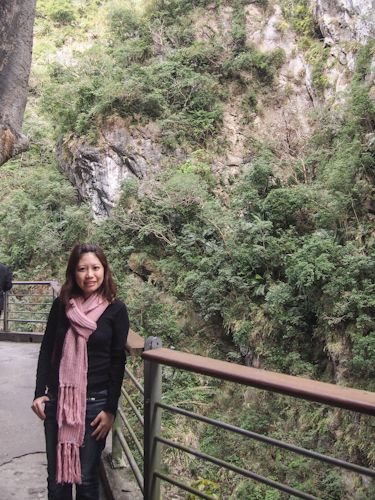 See how clear the water.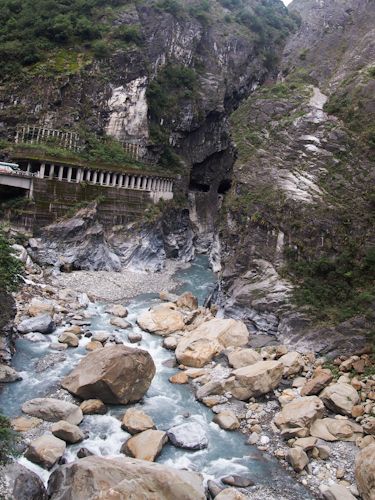 After hopping back into the car after some viewing, 吴先生 brought us to a stopover point to pack our lunch for the road later that day.
Spotted Taiwan's national flower, plum flower (梅花),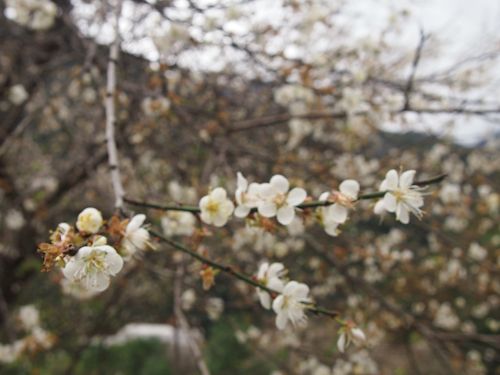 As we continued our journey to higher altitude, made a pitstop at Bliv Divine Tree for toilet break, grabbed some hot drinks and did some stretching while enjoying the scenery.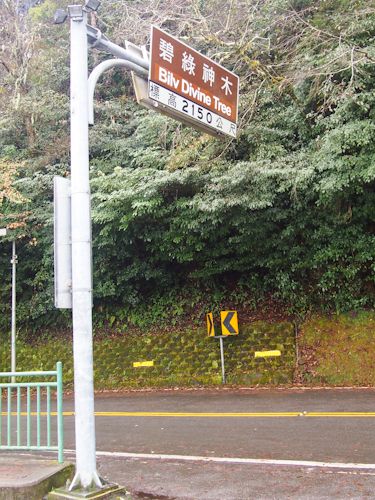 I was playing with the filters of my camera thus the dramatic feel. The clouds did not look as threatening as this picture.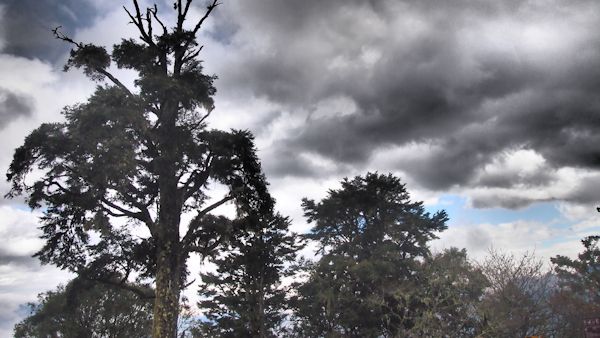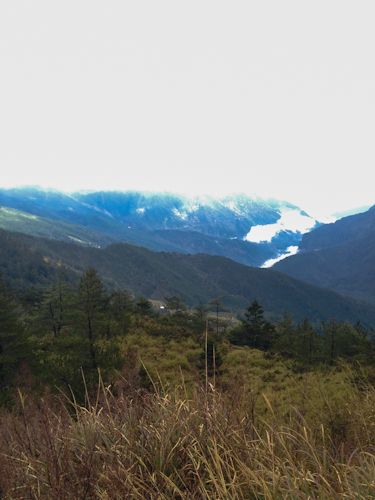 Anthony, caught on the camera for eating non-stop! He looked as though he really enjoyed his snack though.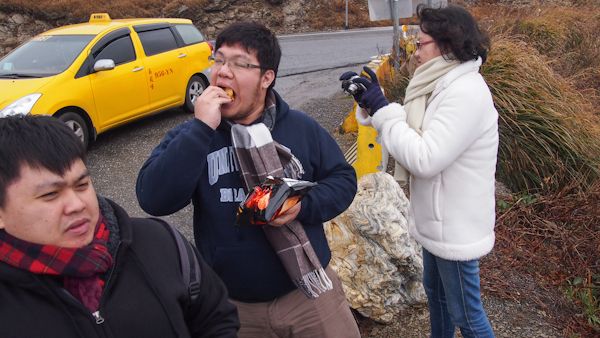 The temperature started to drop as we venture to higher altitude and it gets more windy too.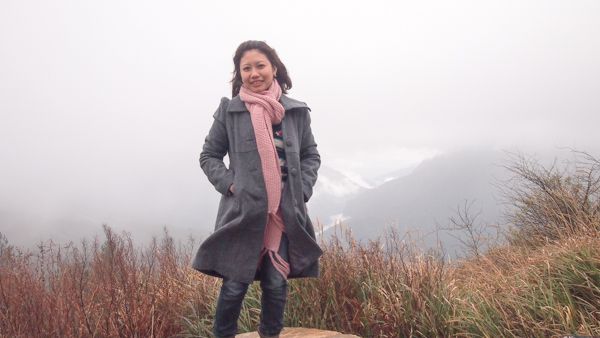 A group shot before we continued with our journey.

Not too long after our journey, we realised the back left tyre got punctured, it had a really large nail inside it.
There was no way we could carry on with our journey. Although our driver had a spare tyre at the car boot, he was not equipped with the right tools to change the tyre. In the end, he had to call for help to get the right tools to change the tyre however to no avail because the weather was pretty bad hence no one wanted to come up and rescue us. By that time, the temperature had dropped to 2 degree celsius and it was extremely foggy on the windy road.
We then decided to have the lunch we packed on our way up.
Bamboo rice was among one of the item!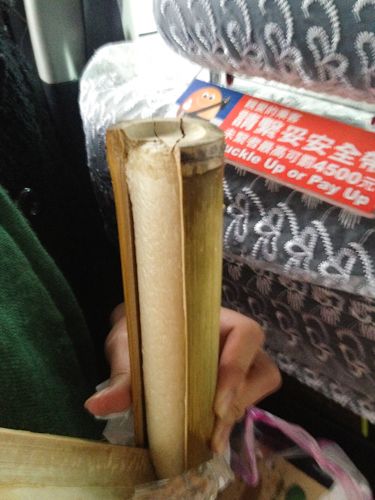 Apparently Sze Hui seems to be delighted that she finally got to eat it!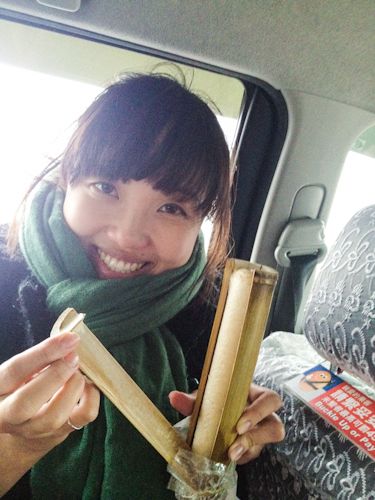 After our lunch in the car, we had to resort to brave the weather and flagged down each and every passing vehicles on the road asking if they had the right tool for us to change our tyre.
Yes, you can hardly see beyond the safety railings.

We could see some leftover 'snow'. It roads are pretty slippery with the melting ice.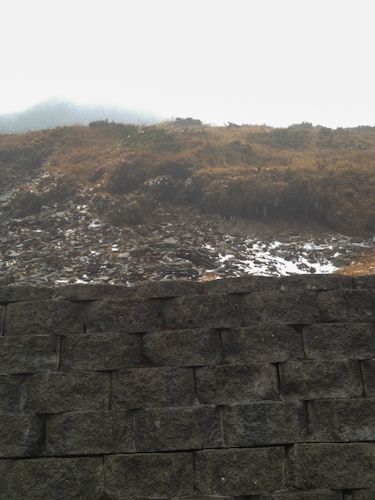 After many failed attempts, a van stopped and a German guy who was wearing an orange t-shirt, jeans and slipper stepped out pulling along a jacket with him. He immediately got the tools from his van and helped the guys to change the tyre.
The road managed to cleared up quite a bit.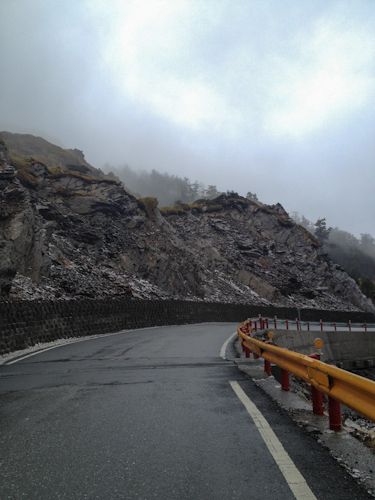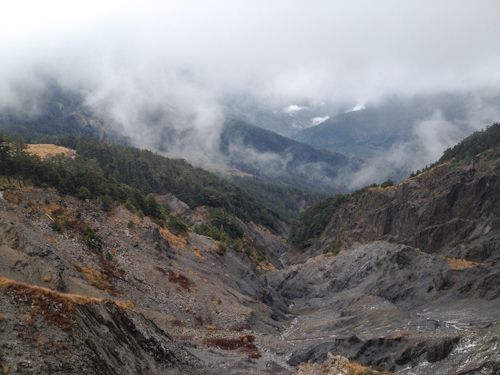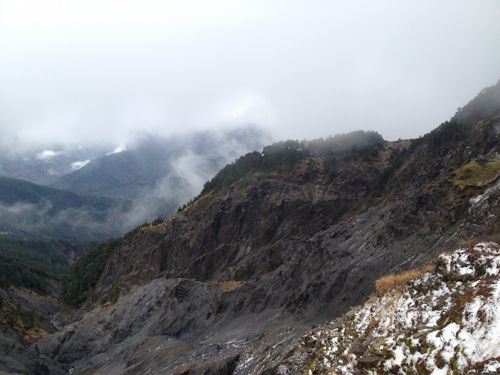 The guys got busy changing the tyre at a temperature of 2 degree celsius, what we we girls doing then?
Directing the traffic!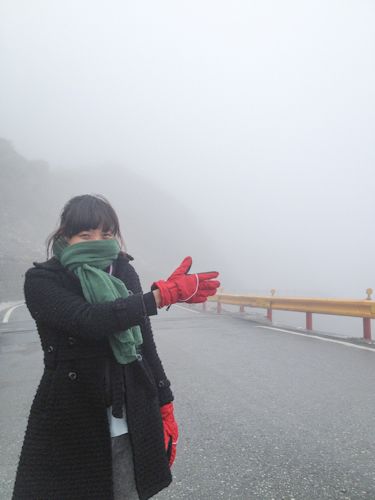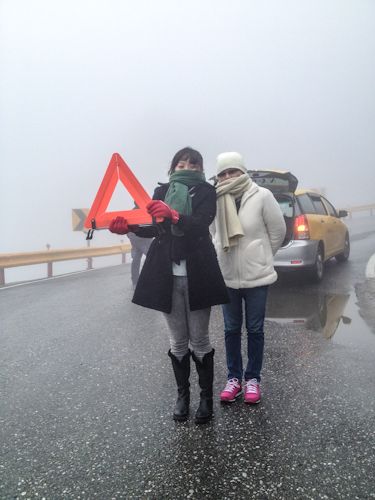 Finally the guys got the tyre changed and we were damn impressed with the German guy who did not seems to be affected by the 2 degree celsius temperature with his t-shirt, jeans, slipper and jacket! We learned that he was a German who has lived in Taiwan for about 20 years. He was on his way to Hua Lien from Taichung. We were so thankful that he had save our day!
We then continued with our journey up to He Huan Shan. Our driver was very careful when he drive because afterall it was only a spare tyre, it was not meant for long distance drive.
Then… we finally reached He Huan Shan!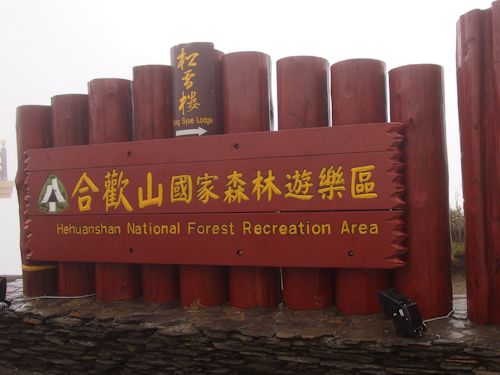 We have 2 ninjas with us!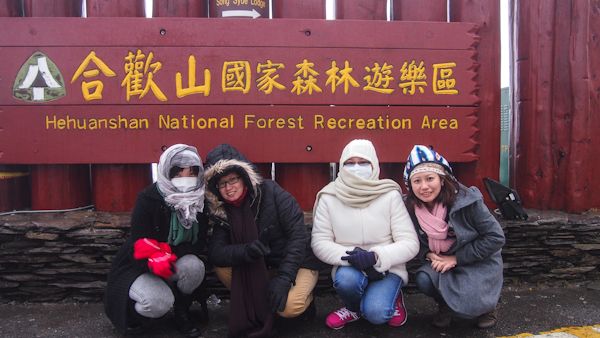 It was extremely foggy when we reached there and the temperature remained at 2 degree celsius hence not likely to drop beyond zero and snow.
According to another cab driver, it would take about an hour for the fog to clear up, we decided that we had enough of the coldness for the day and we only stopped for about 15 minutes or less before making our way back!
On our way back…. 6 of us were napping and you can hear the occasional snores! We do wake up occasionally to looked outside, take a few shots, awed by Mother Nature and go back to sleep. Haha.. right, I am not sure if there are any other groups that sleep as much as us during the ride. We practically slept at every opportunities we had!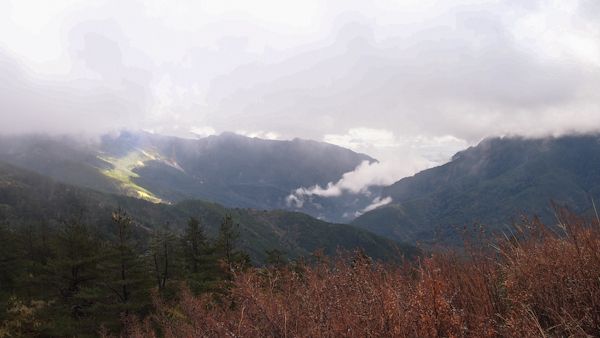 吴先生 dropped us off at Zhi Qiang night market before sending his car to a workshop to get the tyre changed.
Here, we begin our dinner feast!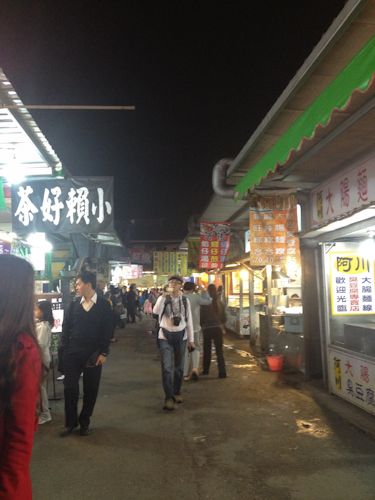 This stall had a long queue and we put our Singaporean instinct in place, if it has a long queue, it must be good so we queued up too.


It is basicall bread with different kind of stuffings inside. Forgot to take photos of the food but I remembered they were pretty good.
Tried the Taiwan style oyster omelette. Nothing beats the kind we have in Singapore. They are just different definitely.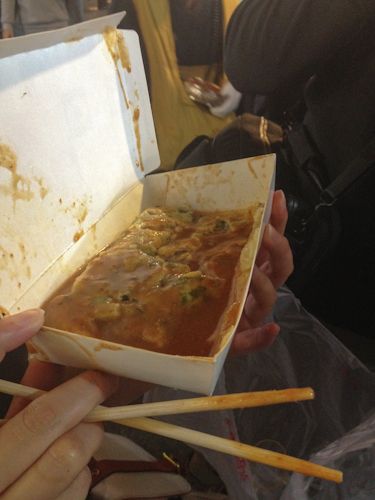 How could we miss out on our stinky toufu?

We packed along some food and 吴先生 sent us back to 石头之家.
We sat in the dining area with our food and drinks to chill out after an adventurous day.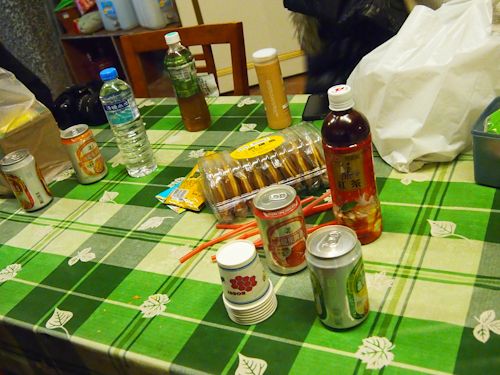 We bought Taiwan fruit beer from a supermarket, awesome way to chill on a cooling night.

One last thing we had to do in Hua Lien, before 10pm.. that is to play with fireworks we bought the day before!
Excited overage kids!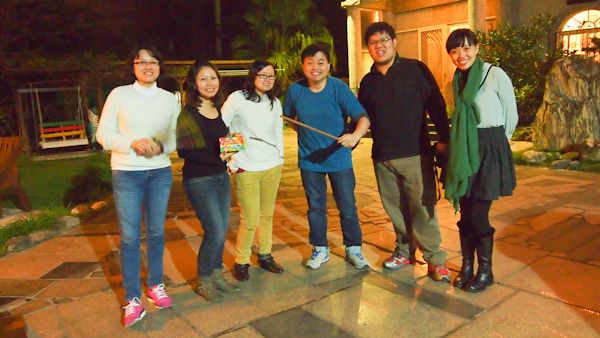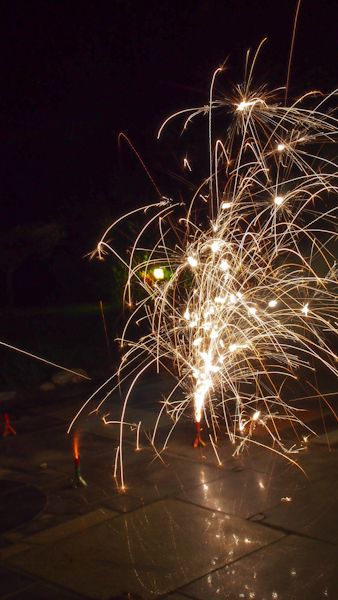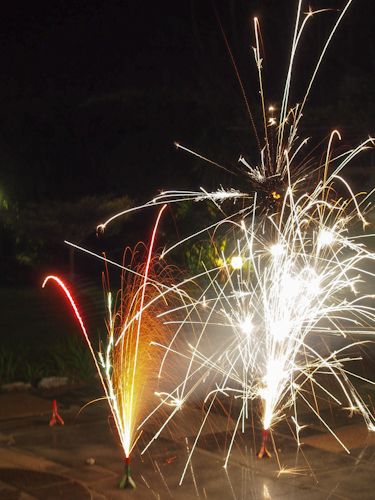 It was our last night at Hua Lien, I felt a little sad leaving the quiet little town, it is certainly a beautiful place I would love to return again.