24 December 2011 – Saturday
Woke up early in the morning on Christmas eve.
We found our way to Central railway station by foot.
As we reached the ticketing counter, we realised we missed the train by a few minutes, the next departing train was an hour later.
So we sat down for breakfast at Hungry Jack's before we start the day.


An expresso to kick start my day!
There were not many people hanging around the station in the early morning.

Here is the miniature size of the train I took!


A double decker train!
There we go, starting our 2 hours train journey to Katoomba station.

Was going through my bag and guess what I found?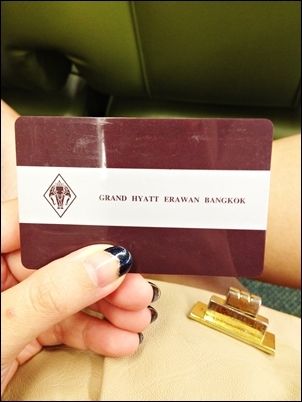 Key to Bangkok's Grand Hyatt room that had been in my bag for 2 years!
It flew from Bangkok to Singapore, went Malaysia occasionally and flew to Australia with me! Haha… A very well-travelled card!

I am finally going to see the Blue Mountain!
Thank goodness for the excellent weather!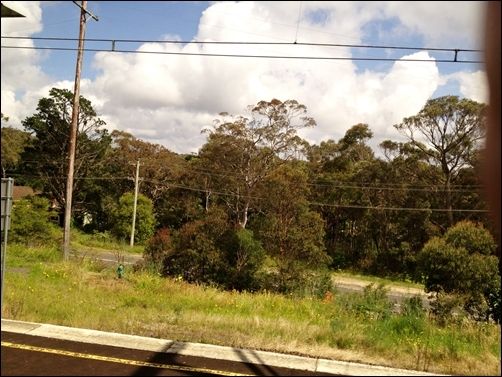 When we reached Kootoomba railway station, we purchased Plus Explorer Bus ticket that goes round Blue Mountain, it allows us to hop on and off the stations as we like. Very flexible.

Here is their Explorer bus…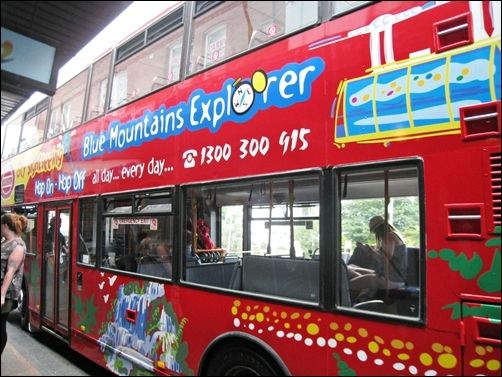 Does it reminds you of….
Our very own hippo bus!


I sense a familiarity when I saw that bus.
My first breathtaking view as we travelling on Scenic Skyway.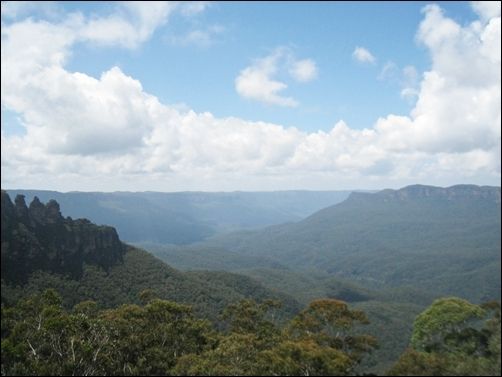 The flooring of the skyway is made up of transparent glass which allow you to look right below.
Not too thrilling for those afraid of height I think.
We only travelled for a couple of minutes before we reach our destination.
At one of the lookout point.

It was a pity part of the land was burn off due to a recent bushfire.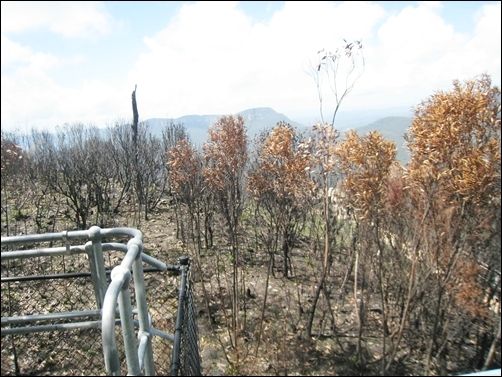 Everytime I see those chao da trees and plants, I had this 莫名的 sadness.
Then, we dropped by the souvenir shop.
This is how the 3 sisters legend came about.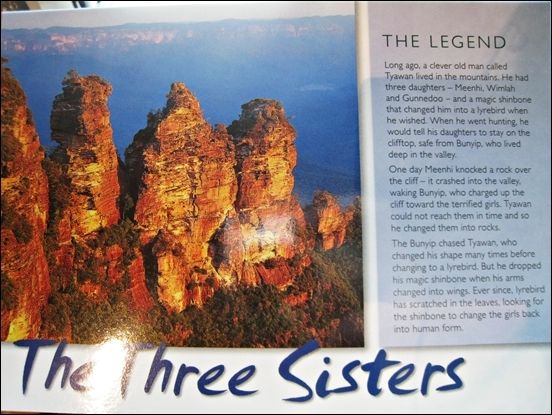 Dawn Jie were telling me how these 3 characters are like Jie, Dawn Jie and Me when we were young. Always hanging out together. Aw~ I miss the cousins time!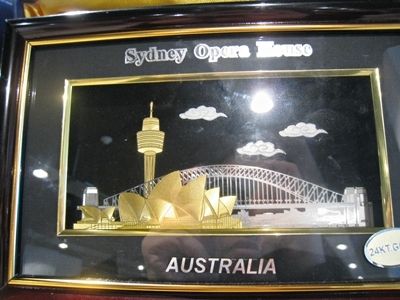 The chocolates would probably melt if you bring it along to the whole day of trekking!

Next, we went to take the Scenic Railway which was part of our package.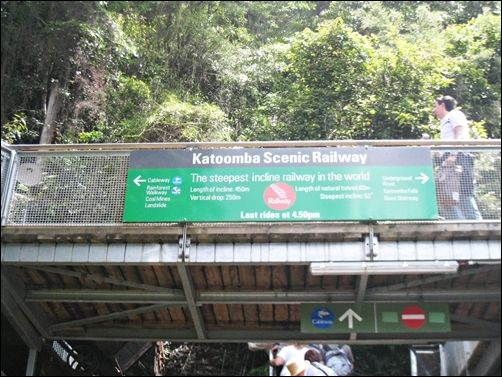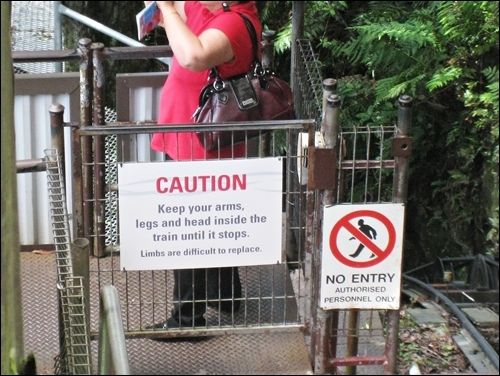 Waiting for the railway to arrive.

Ready to start our ride on the world's steepest incline railway at 52 degree!


Excited!
This is how inclined we were.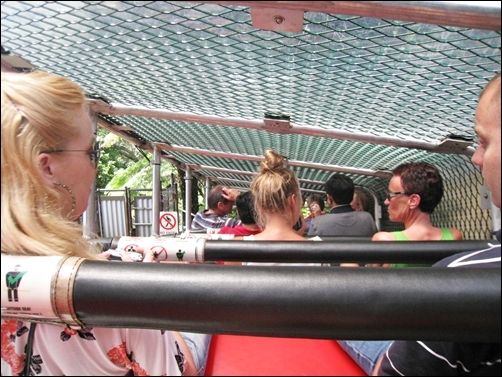 A mock railway we sat in.


Now, can you see how steep is it when coming down?
I was telling Dawn Jie, nobody told me it is like a roller coaster. Haha..
But nahz, it is way milder than that!
One of my 人生真美好 moments when I see views like this.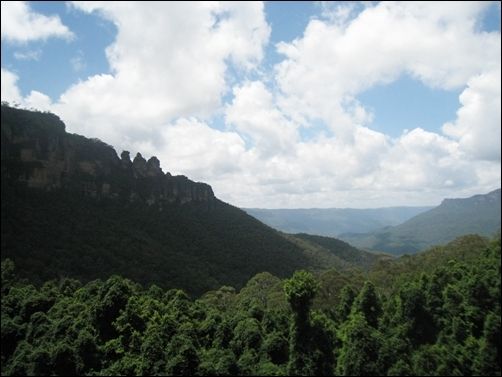 I had many of those moments that day!
Checking out the lives of people back then when they were mining coal in the area.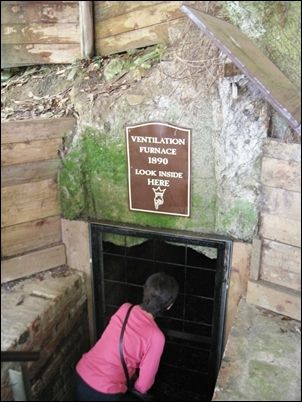 Picking one of the 'coal'…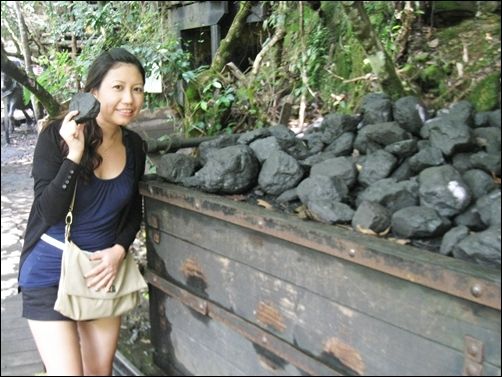 Sitting in the 大自然!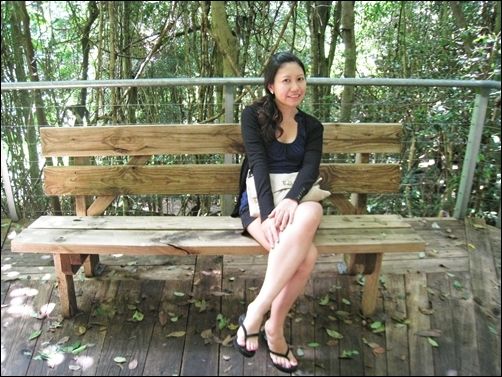 Thankfully I brought my cardigan along because it was a little cold up the mountain.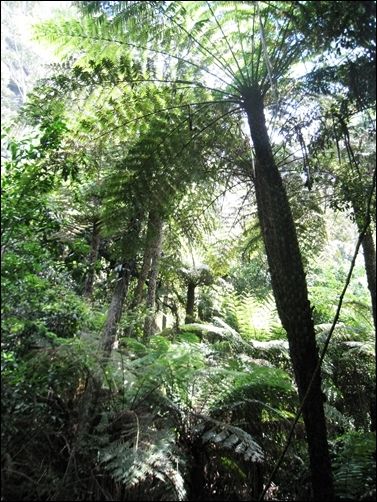 Do you think this tree reminds you of the ones you see in Malay weddings?

My vainpot cousin.
I am always fascinated by Mother Nature.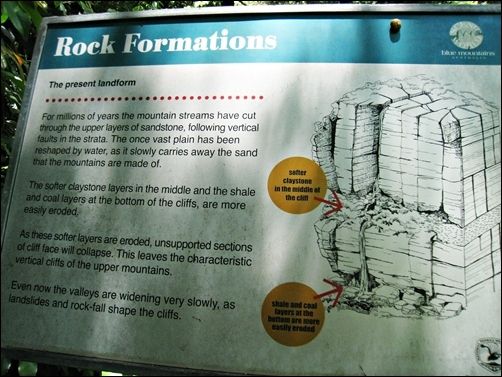 That is why I love Geography so much!

This is one of the photos I love best!
I love how the leaves of different trees frame the piece of cloud nicely as I took the picture.
It makes me happy. =)
Guess what we discovered?

A mini waterfall!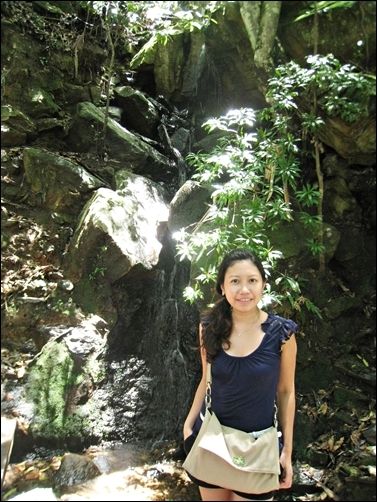 Yay!

I love how the clouds cast a shadow over the mountains below.
The air you breathe in are the freshest, free from pollutions.
I felt as though my lungs were a lot cleaner!

Ok, just me.
Took a break at the souvenir shop and I started to imitate one of the legendary sister.


Retarded me.

Sigh~ I wish I am back there right now.
I would be a lot happier!
Spotted a river.


Dawn Jie tried to cross over to the other side using a fallen tree trunk as a bridge.
Unfortunately it was too steep and dangerous, so she aborted the idea. Phew~
We had to settle for photos here before moving on.


Honestly, it did scare me a little by just standing near the edge.

Another burnt portion. Sigh~
I know it is not easy but I hope it will grow back its greeneries soon.
As we were bush walking, we spotted a waterfall!
It was way more magnificent than the one we last saw!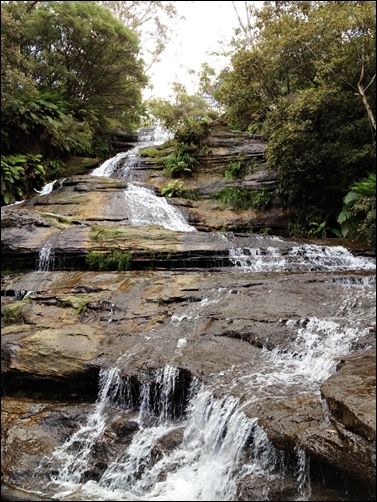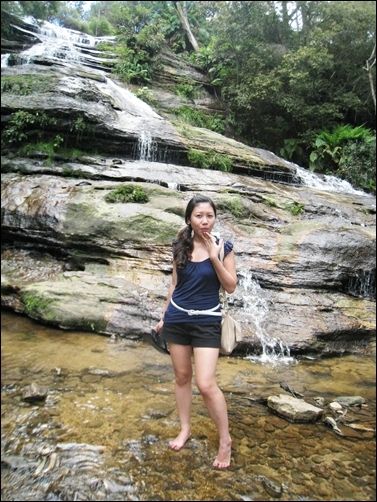 Ooooh… first step onto the cool and refreshing water!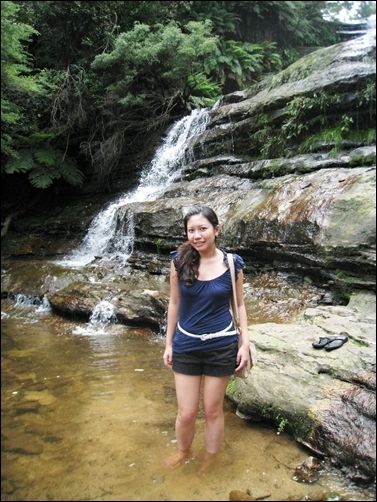 Awesome awesome!
It was indeed awesome to be there experiencing that for my own!

Cousins!
[youtube http://www.youtube.com/watch?v=sQ5kBGQ1QxQ&w=420&h=315]
I really love the waterfall…
Next up, trekking along the track and one of the cliff walk was closed due to the recent bushfire.


=(
A close up of burnt trunks.

Overlooking other side…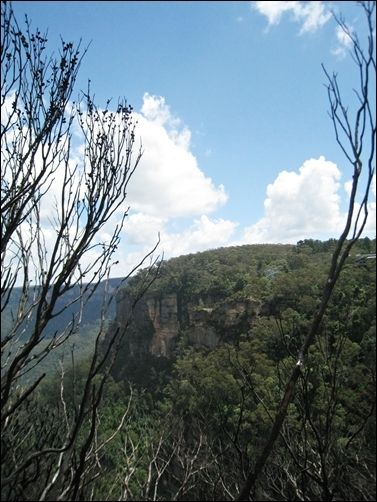 Hours of hiking and the occasional hopping on and off the bus, we reached Blue Mountains National Park!

At Echo Point.


[youtube http://www.youtube.com/watch?v=jTww2Dfjtm4&w=560&h=315]

Can you see the 3 sisters?
If only I can wake up to views like these everyday.
I will be happier, more smiley, less agitated and carefree.

It is a real mail box if I am not wrong.

Another fantastic lookout point!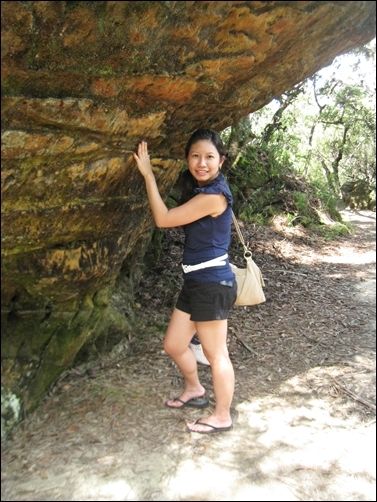 Bush walking in my pair of slippers!


有山有蓝天….

还有水… 又不由自主的惊叹… 人生真美好啊!
Here is another lookout point.


Too many of photos that look like these… Well, views like this surrounds me there!
I felt so loved by Mother Earth. Aw~
We found another waterfall.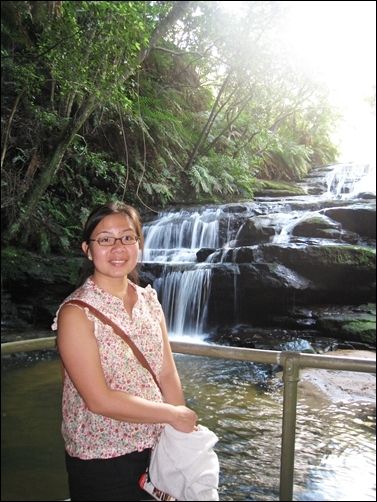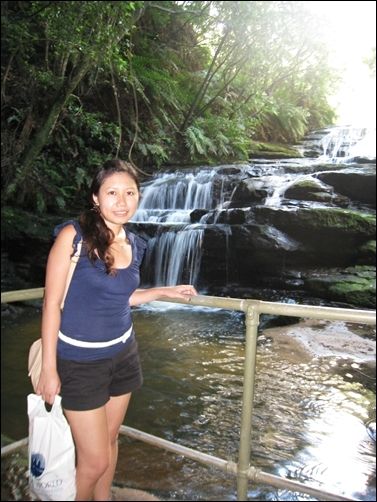 Unfortunately We are not able to get down to enjoy the rush of cooling water on our feet.

I love the sound of the waterfall. It is music to the ears. =)

Say YAY!
It was getting late and we were getting a little lost trying to find the bus-stop for the hop on and off bus.

We had a little adventure of climbing up a slope because we thought that it was a path. It was kind of scary yet exciting.
By the time we climbed up the slope, we saw the winding road in front of our eyes.
We still could not find the bus stop so we decided to see if we can hitch a ride to the town area or something.
Unfortunately, there were very few vehicles that pass us by.
None stopped for us until this helpful big and burly tough looking guy who was riding on a bike u-turned back for us.
After we told him we were lost, he told us it was too dangerous to try and hitch a ride on the winding road, anyhow he manage to direct us to the correct path which eventually lead us to the bus-stop.
So here is point 17 on the map we were given.

See, it's a bus-stop!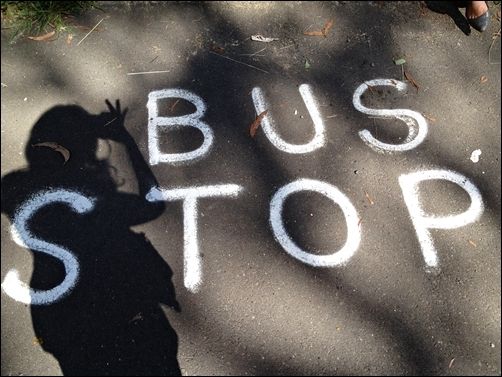 While waiting for the bus to appear…


Somehow, I really like this picture a lot. Like a never ending road.
When we reach back to the town area, we missed the train that was suppose to sent us back to Sydney Central Railway Station by few minutes.
As the next train was in an hour, we roamed around the little town area.
Most of the shops were closed at about 4 or 5 that day because it was Christmas Eve.
Some of the shops have pretty interesting window displays!
Spotted this at one of the shops window display.

From a shop selling lingerie…


Putting up all the knickers making it into a tube dress!
Very clever marketing!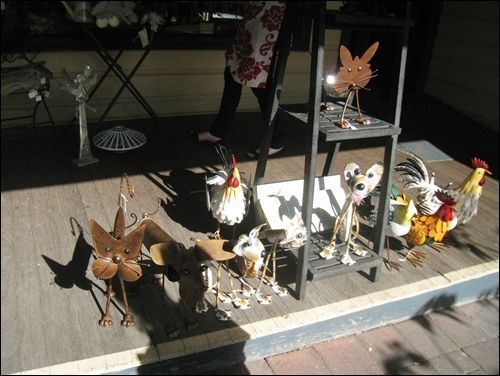 Animals!
After an hour of roaming, we finally caught the train and our 2 hours journey in the train feeling hungry, cold and tired.
We were craving for Korean food, we had a hot bowl of kimchi soup in our mind.
Too lazy to search the net for nice Korean food plus Korean food are expensive there.
So we decided to abort the idea and settle for food court in Chinatown.
This bowl of Japanese spicy ramen soup was the closest we would get to our crave for a hot bowl of kimchi soup.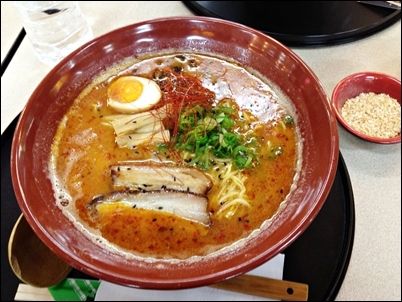 Unfortunately, this was the worst food I ever tasted throughout the whole Australia trip!
Major disappointment.
Still feeling very unsatisfied after our dinner.
Being a very 节俭 person, even I could not bring myself to finish the bowl of ramen.
Jinja!
Although most of the shops were closing early on Christmas eve, there were some shops that opened till a little later.
Thank goodness, else the Singaporean me would feel very deprived!
Bought a cup of milk tea from Easyway to share.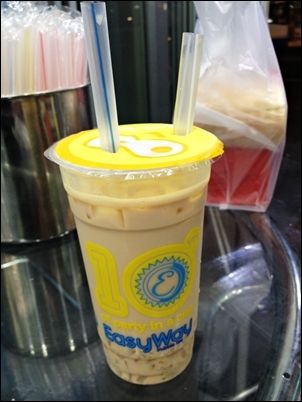 It was pretty good actually.
I think they only have this in Sydney, Canberra and Melbourne.
I did not see this brand in Brisbane and Gold Coast at all.
Next up was to the Coles Supermarket to stock up some food for Christmas day as the supermarkets would be closed as well.
Guess what I found?


Oh well… =/
Colourful lightings were shone on the town hall.

Can you feel the X'mas spirit there?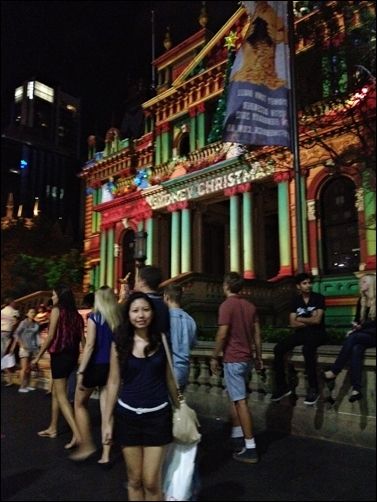 Happy Christmas . Sydney Christmas!

Looks pretty good yeah?

Under the huge Christmas tree. Too huge that it went up to 2nd or even 3rd storey high!
Took this at Queen Victoria Market which is of equivalent to our Paragon.
An atas place.
That was how we ended our Christmas eve in Sydney.
Walking back with Dawn Jie leading the way…
I could totally rely on her for directions! Heh…
I need not do any research on my part unlike the Brisbane leg.

Night view from Darling Harbour.
That building with the lightings outlining it is Novotel.
My slippers gave way as I was walking back to our hostel.
I ended up having to walk barefooted.


The journey back was not so bad in the beginning as the roads were not as rough, however nearing the hostel, I was walking really slowly, taking every step carefully because it was so painful that Dawn Jie gave up and offered her shoes to me while she walked barefooted back.
Aw~ I do have a very nice cousin who took care of me don't I?
At least it broke while we were walking back to hostel, not when we were bushwalking in Blue Mountain, if not it will be more troublesome.
What a way to end my day.