23 December 2011 – Friday
On the X'mas eve eve, Dawn Jie did not have to get to work!
We nua-ed a little in the morning before packing our bags for my next destination, Sydney!
I had a hard time packing squashing everything into my luggage. T_T
Especially with the light and space consuming paw cushions from Movie World. Haha…
Had yet another (leftover) meal of curry from Dawn Jie and Christian the night before, this time it was from another Indian restaurant
That was my 3rd curry dish and 5th curry meal in Brisbane!
Scary~

All packed and ready to leave Dawn Jie's house.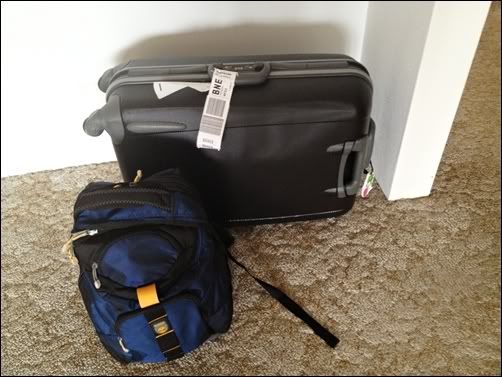 I like her place, it was bigger than what I expected.
I love the privacy of having a room all by myself because at least I know I would not disturbed her with my night owl character.
Dawn Jie who was as excited about the Sydney trip as me!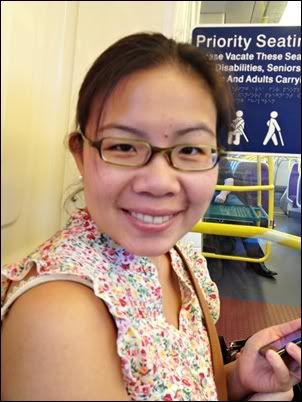 On our way to the airport via the express train.
It started to pour when we were approaching the airport!
For the 6 days I spent in Brisbane/ Gold Coast, the sun was out to play!
Very lucky for me indeed!
Self-checked in with my luggage which weighed 21kg!
2 more kgs before I exceed the weight limit!
I unloaded 4.5kg to Brisbane and I really cannot understand why it became heavier drastically! Madness~
It did got me a little worried.
Finished off the last bit of the leftover curry before shopped around at the airport.
I swore I had enough of curry for the rest of the year!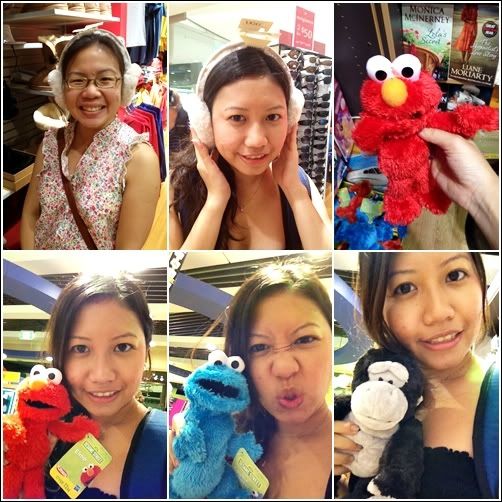 Self-entertained while waiting for the boarding gate to open.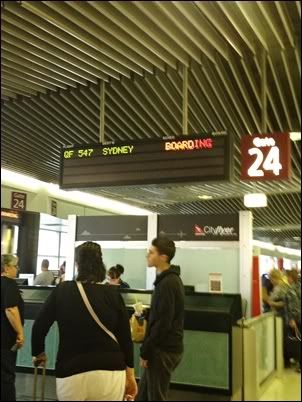 Finally, that was our flight!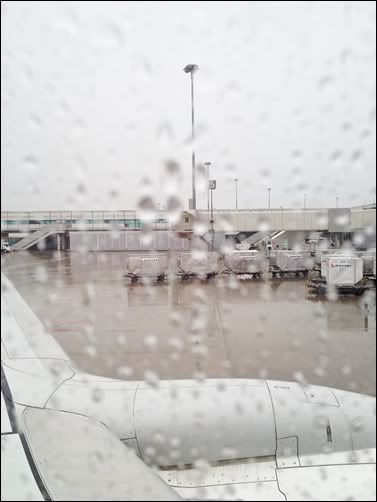 It was still raining when we boarded the plane.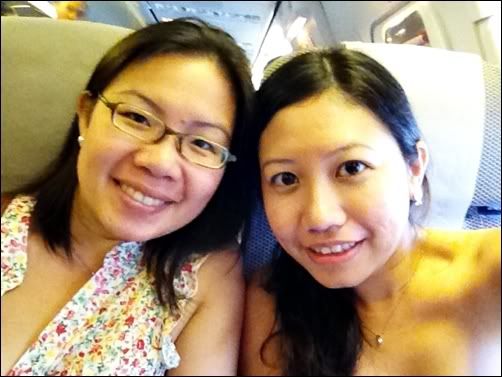 Yay! Goodbye Brisbane, Hello Sydney… Here we come!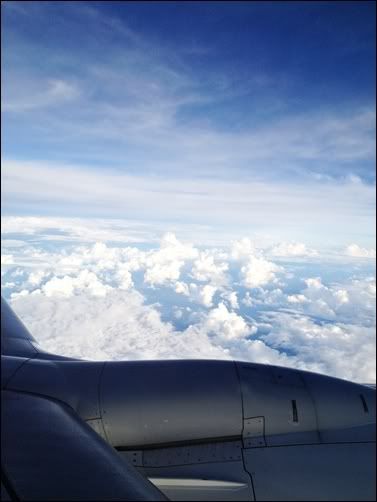 Just how beautiful the clouds looked!
Unfortunately, that was like the most uncomfortable flight ever in my life.
The turbulence was really bad, so bad that the air-stewardesses had to stop their distribution of snacks half way.
Not long after, we manage to get our snacks too!


Biscuits with curry dip (so much for no more curry!), pretzels and a bottle of red wine.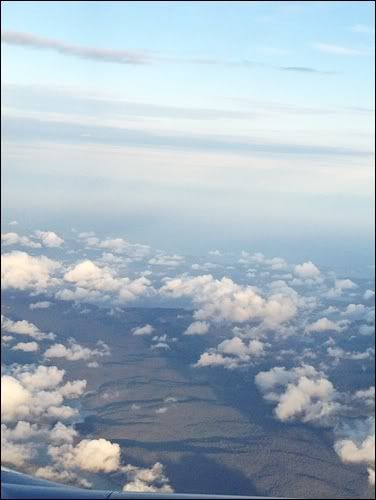 The clouds casting a shadow down.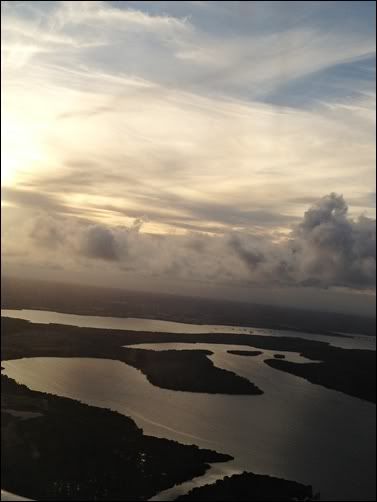 It's amazing how the sky change so much as evening was approaching.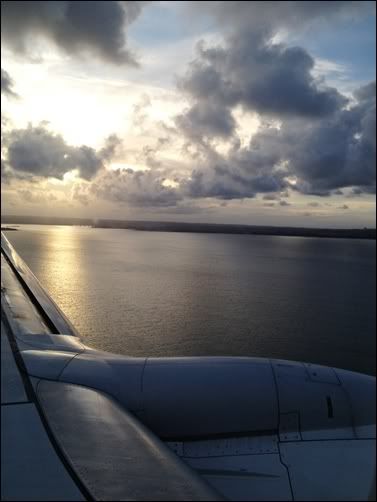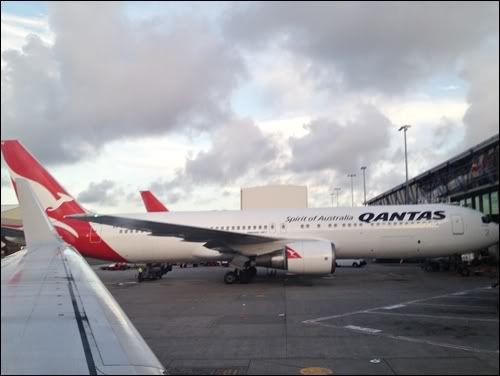 Finally, we landed in Sydney! Woot~
Took one of the airport transfer which dropped us off at Woolbrokers Hotel which is located at Allen Street.
Although the name mentioned it being a hotel, I prefer to call it a hostel as they do offer like 6 or 4 bedrooms kind where you get to share and meet other travellers. Plus no attached toilets to those rooms. There are only common shower rooms & toilets.
Thankfully they were clean enough though.
This is the room Dawn Jiejie and I stayed in!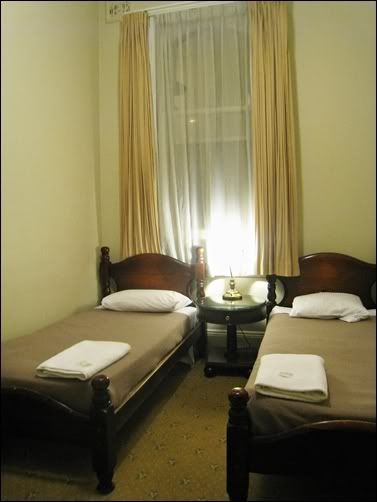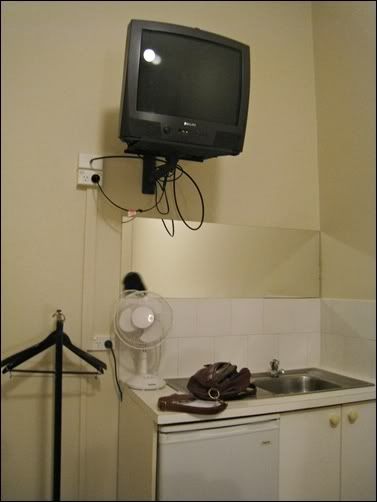 Just a very basic & small room with no air-con.
It is not exactly that cheap to stay here too but well…. I guess everything is expensive in Sydney. =/
The TV does not comes with a remote control too.
After we settled down, out we went to hunt for food!
Dinner was at Stars on the Run.
Ordered 2 dishes to share.
Rocket Salad & Parmesan.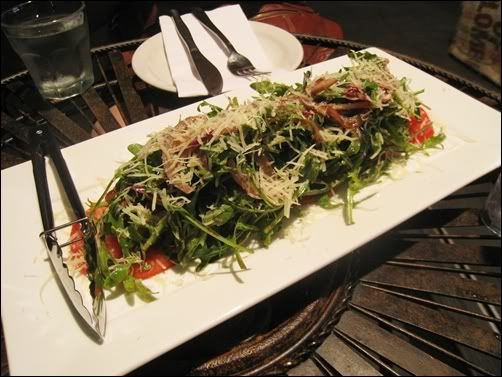 A generous serving of wild rockets!
Boscaola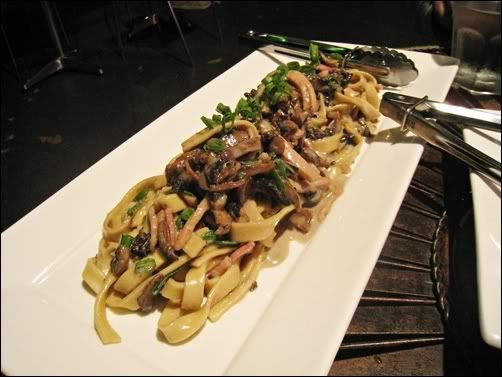 It was delicious too!
It was a very satisfying meal!
We decided to venture to Sydney Fish Market after dinner!
Luckily it was not too far away!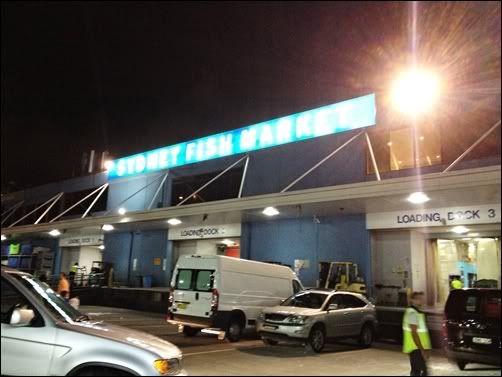 It was packed with people!
It felt almost like our 年货市场!
You could feel the festive mood.. to me, it felt like CNY came early!
Christmas in Australia is a rather big thing. Just like how we celebrate CNY here in Singapore!
It is a day where families will gather together to wine & dine.
Most shops (including supermarkets) will be closed on X'mas day!
The usual opening hours for Sydney Fish Market are from 7am to about 4pm daily
However due to the Christmas season, it was opened from 23rd Dec all the way to 24th Dec 4pm then close on Christmas day itself.
Some pictures of the really fresh seafood!


Salmon! Think Sashimi! Yumyum!!!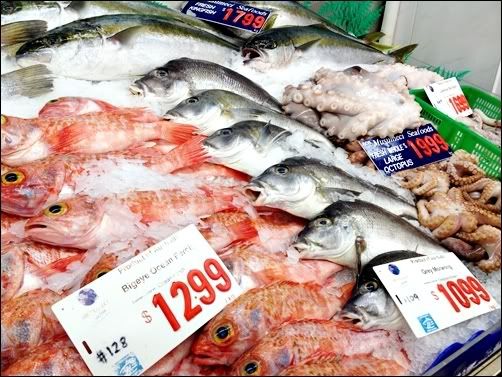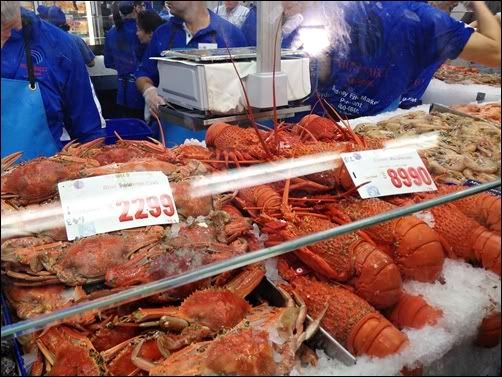 Lobsters! *slurp*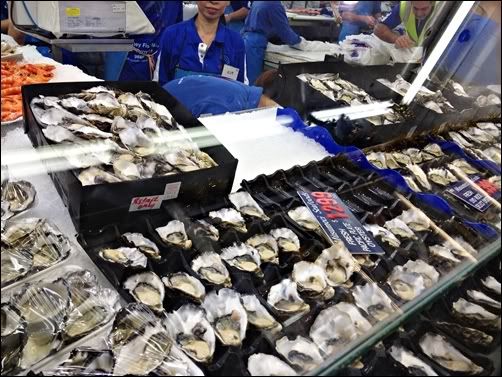 FRESH oysters! Wooooot~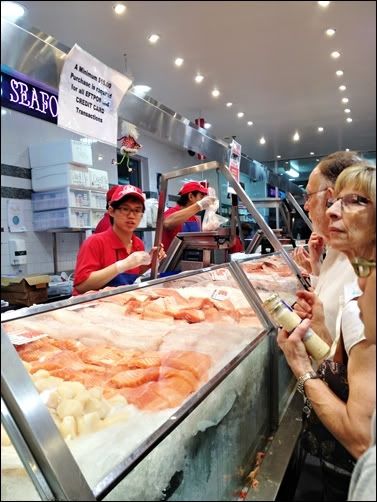 People picking their the best bargain!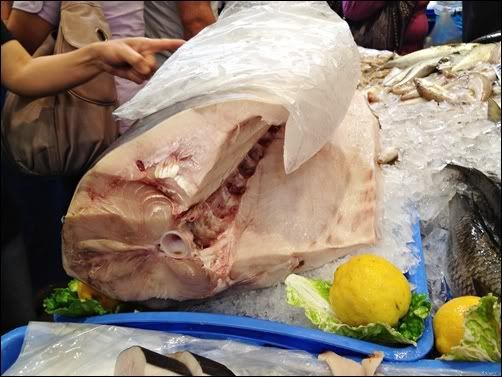 Guess what kind of fish is this?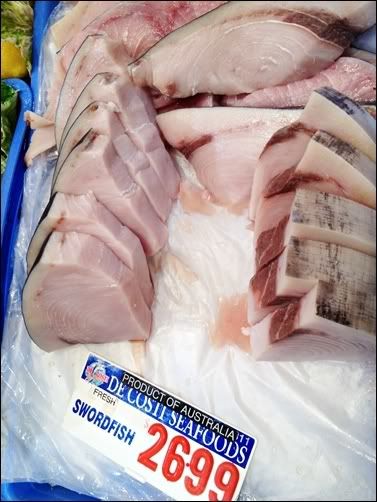 Ta-dah~ Answer revealed!
See how thick each slice is??? I want to drool already!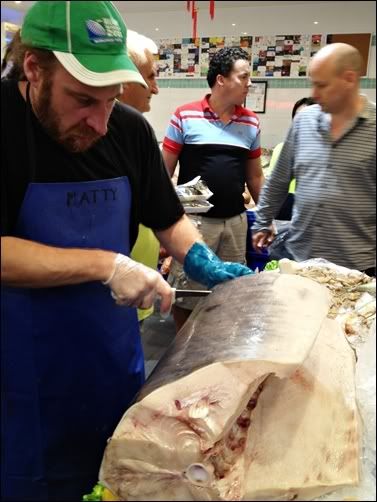 See how skillful he is slicking each piece with a thin & sharp knife.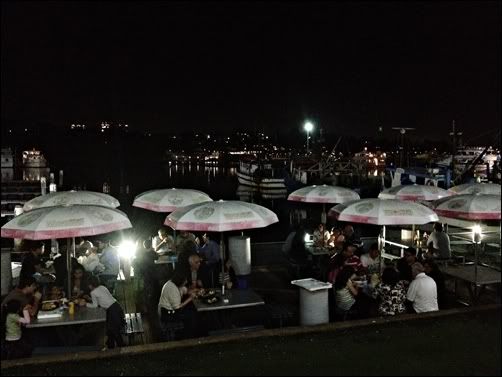 This is where people could just order their fresh seafood and sit down for a meal.
Entered into a fruit shop looking for a lemon.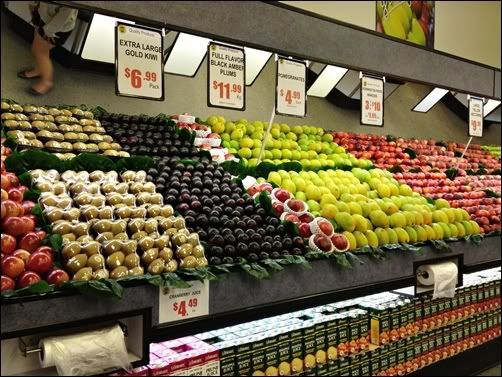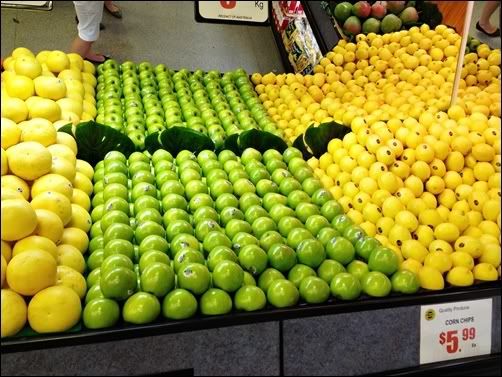 I love the colourful vibrant display of fruits!
It makes them looks really good!
Shopped for our X'mas dinner and bought some wine before returning back to our little 'hotel' and call it a day!