30 December 2011 (Friday)
We woke up fairly late on that day.
So late that the housekeeper opened the door at 9 in the morning and found us still asleep inside.
My outfit of the day!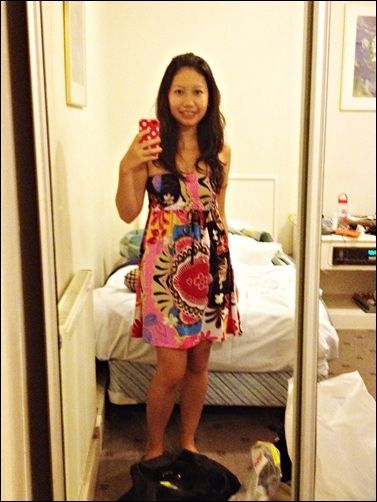 We were hurried out by the responsible housekeeper because she wanted to clean the room! Haha…
Here we start the day…..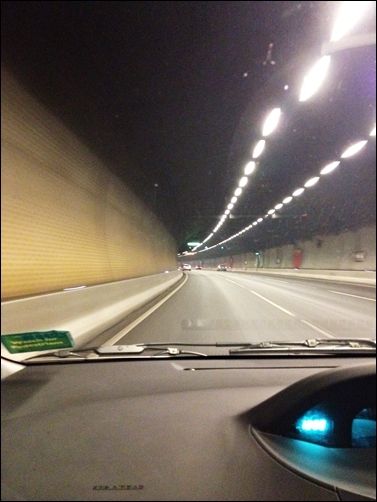 Went through the long tunnel that reminds me of KPE.
Still driving…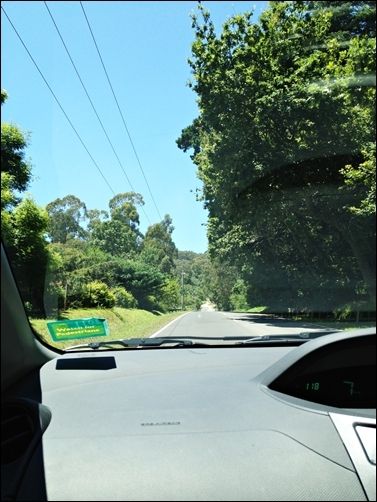 On the road.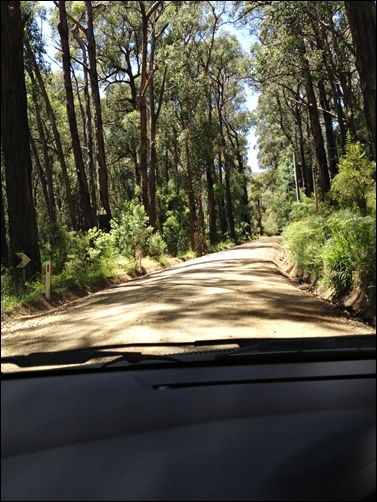 Uphill drive.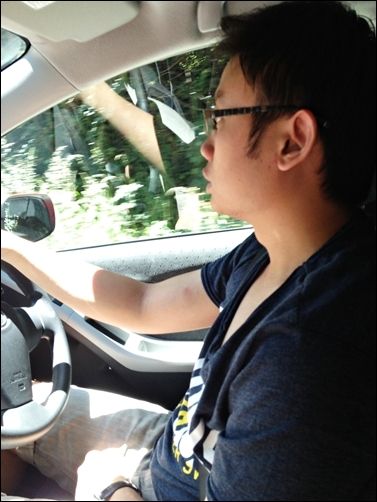 My very 称职的 driver.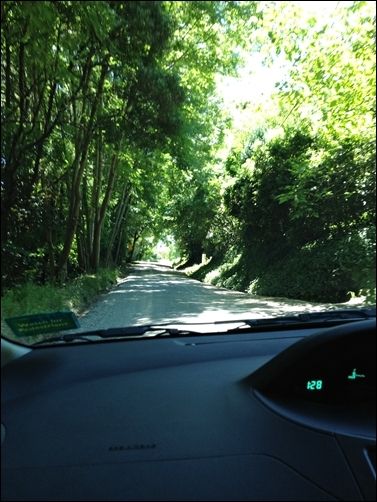 It was a pretty long road going up to Mount Dandenong
First, we had to fill our growling stomachs.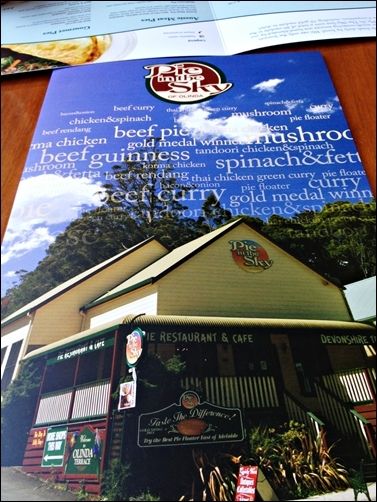 Had our brunch at Pie in the Sky.
It is a highly rave homely cafe with a countryside coziness.
I absolutely love the place!
We were given one of the best tables in my opinion, a table next to the big pane of window.
We had the natural lights shining in on us!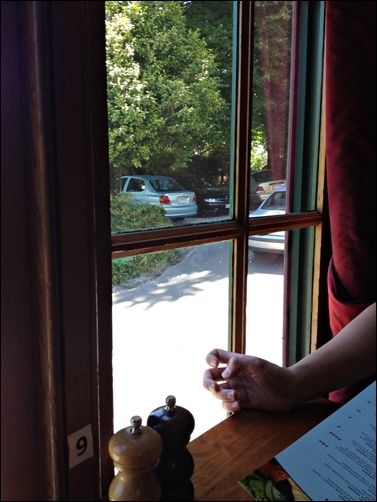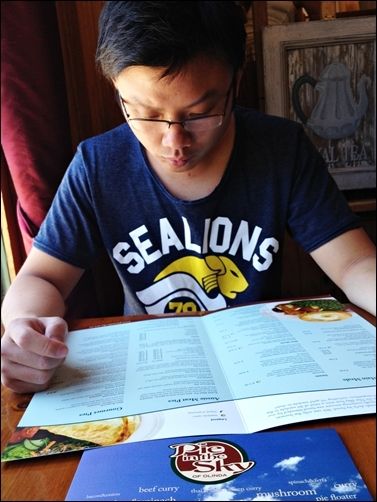 Had a hard time decided what to eat.
Spoiled for choice!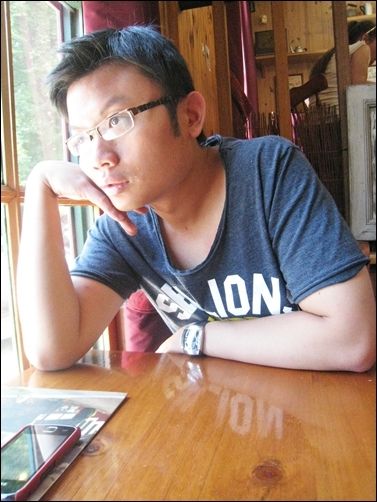 Aha~ caught Mr Chua daydreaming!
What was on his mind leh?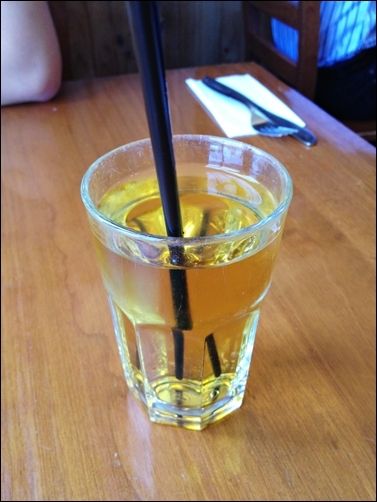 My apple juice… I know, it looks like… but well… Haha..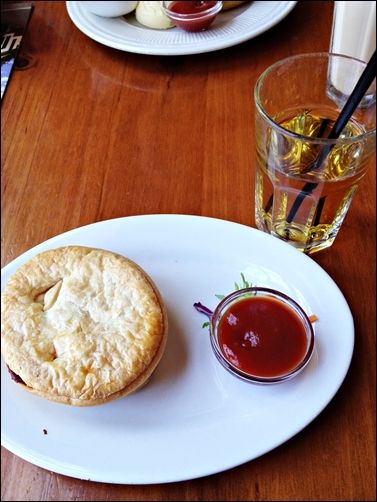 A pie for me.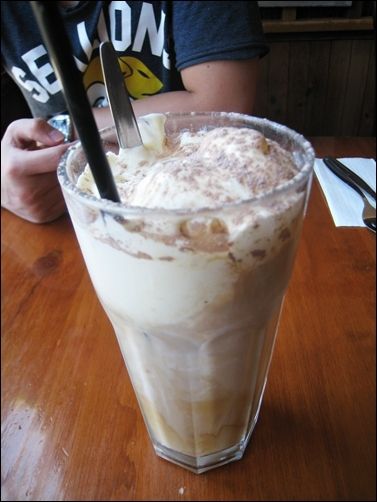 His drink, cannot remember what was that though.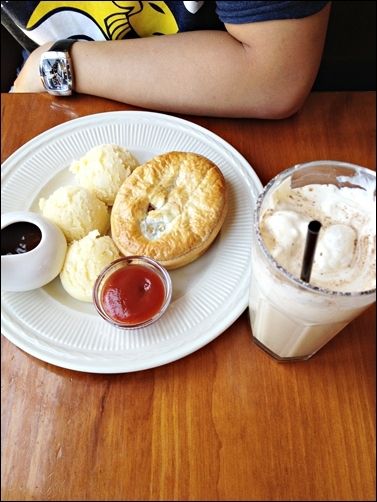 His pie with potatos as his sides.

One shot before I attacked the food.
Pie in the sky was definitely worth the go.
I wish I could go back there right now!
Anyway, after our delicious brunch, we went exploring in Mount Dandenong.
Or rather, he took me to explore since he went there before.
We had to pay admission fee of AUD5 to go in.
This Australiana tree that I leaned on is a 5 metre masterpiece .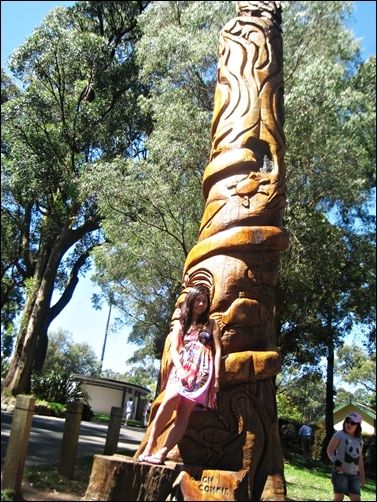 It was initially a 8 metre high but the top 3 metre were chopped and use for a nearby seat.
Here is the top 3 metre….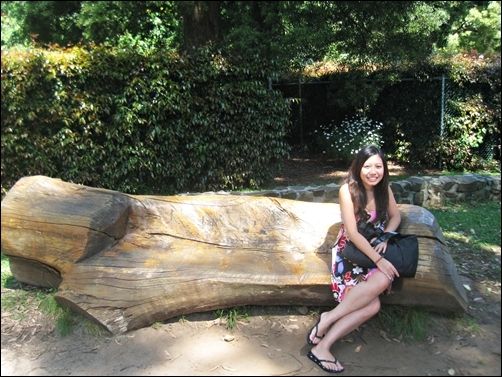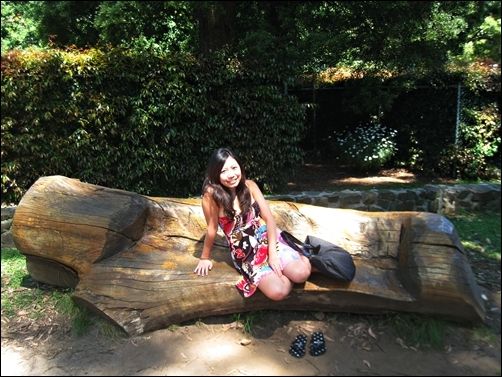 Thankfully the sun came out to play and the weather is perfect!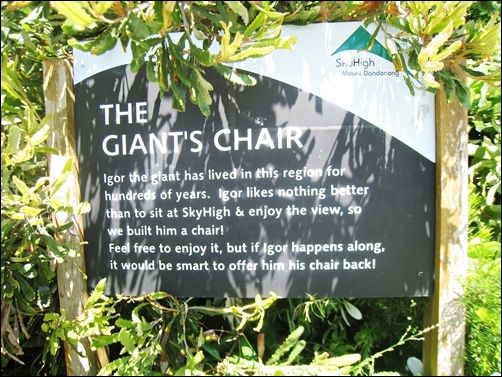 How big can the Giant's chair be?
It is this HUGE!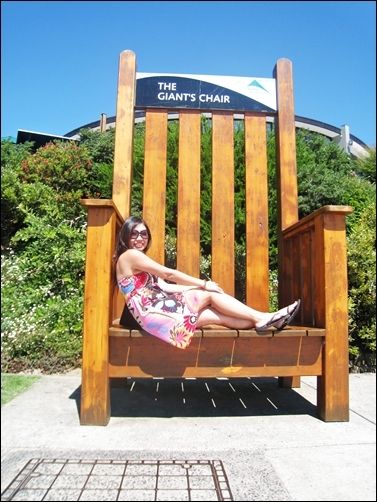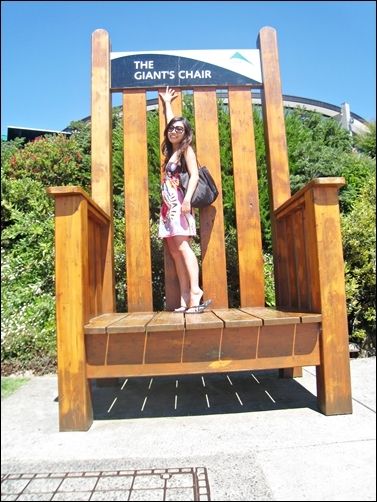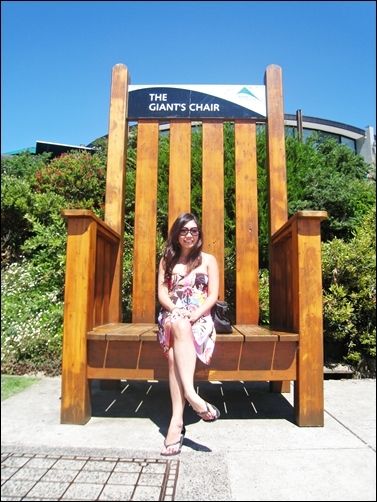 Well, you could probably fit like 10 to 15 people on the chair together!
Next, we went up to the Sky High Observatory.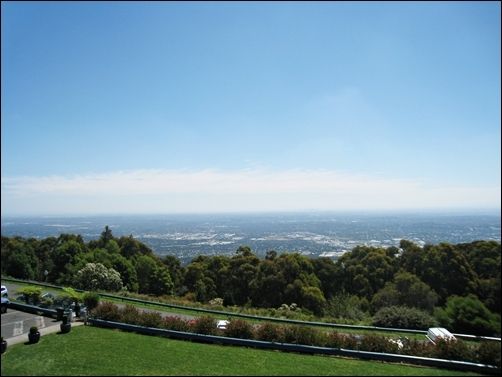 Overlooking the whole Melbourne!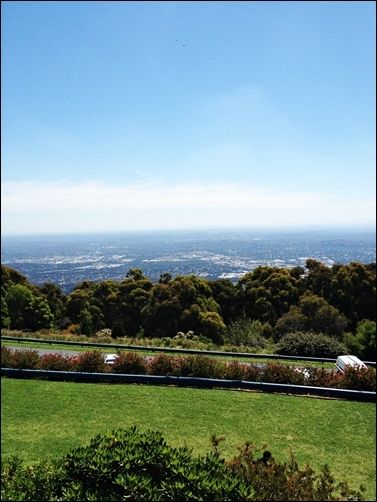 Spectacular view……
It made me 不经意的又惊叹着人生多美好啊!
I was on top of the world!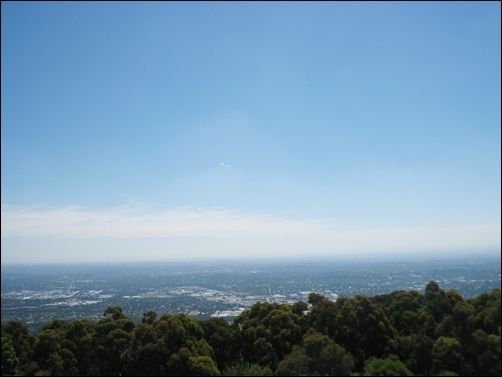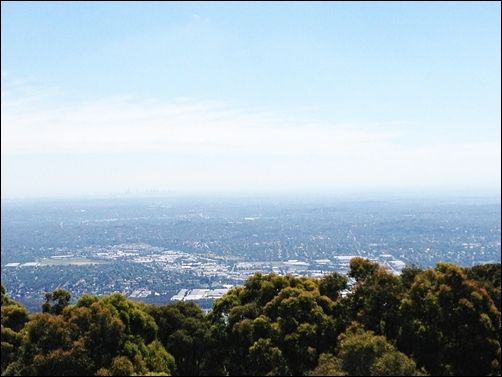 My 4th and last view overlooking the whole city in this Australia trip.
1st was the overview of Brisbane at Mount Cootha.
2nd was the fantastic view of Sydney's greeneries at Blue Mountain.
3rd was the cold and gloomy view of Canberra at Black Mountain.
I was very lucky!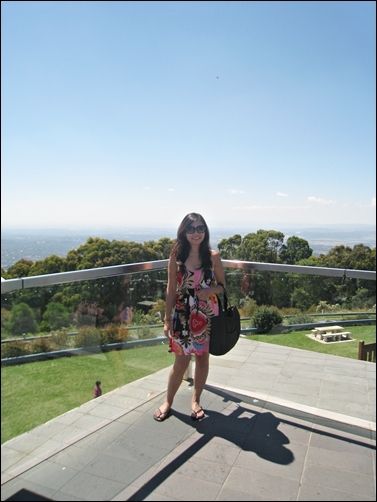 A photo is definitely needed before we left the Sky High Observatory.
We went to explore English Garden.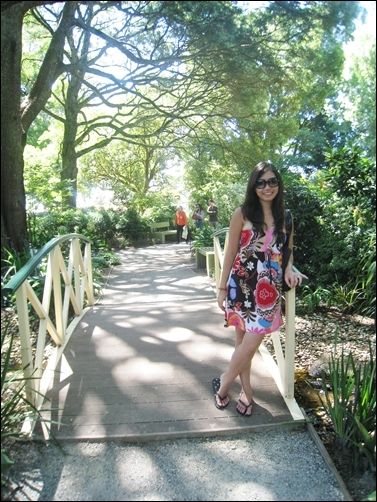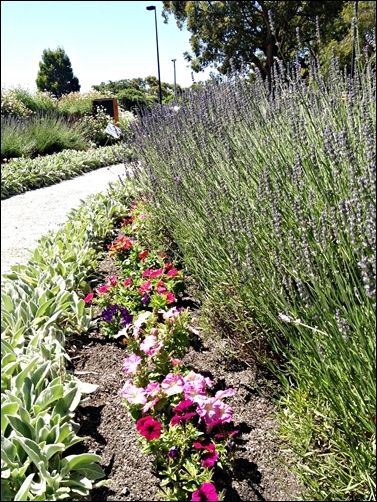 Pretty!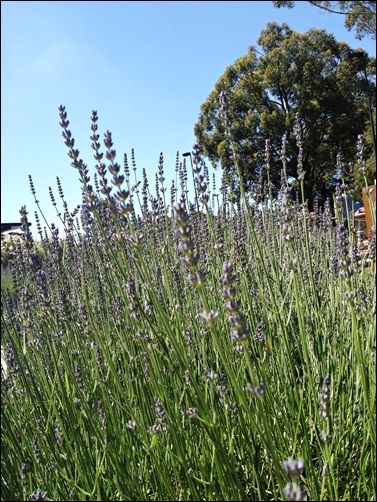 Lavender…. Love!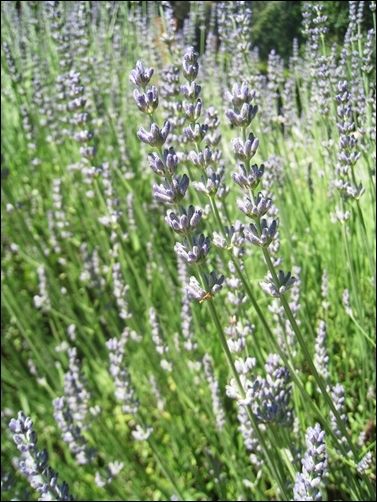 Close up.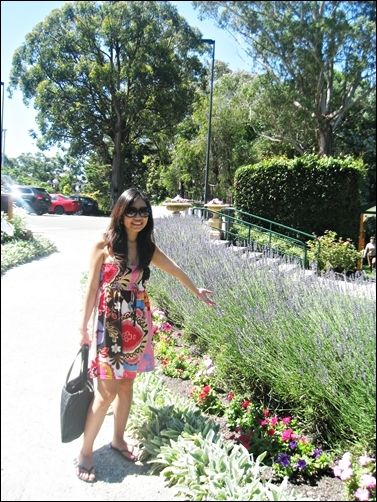 I love how vibrant they looked.
Next, we moved to Secret Garden.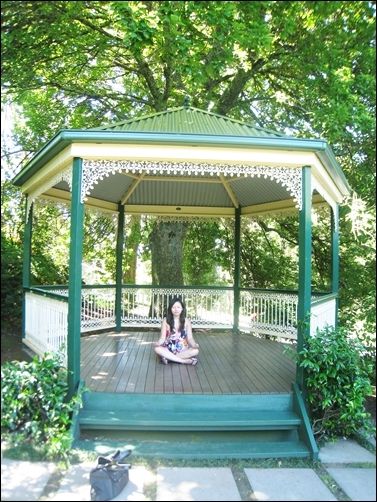 Well, trying my best to meditate in such quiet and tranquil place.
After many attempts of jump shots.
Well, these are the only presentable ones… others turn out to be quite horrid.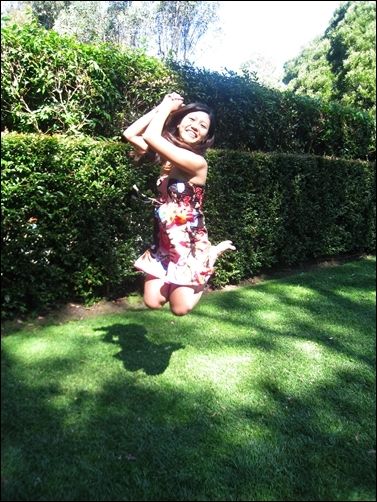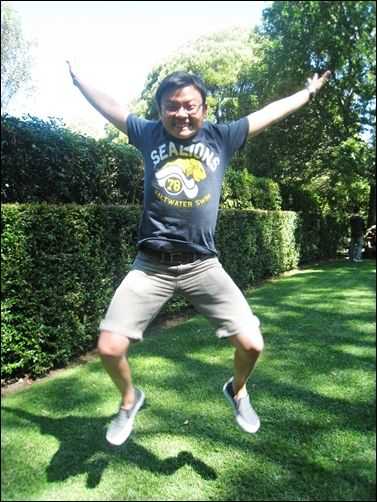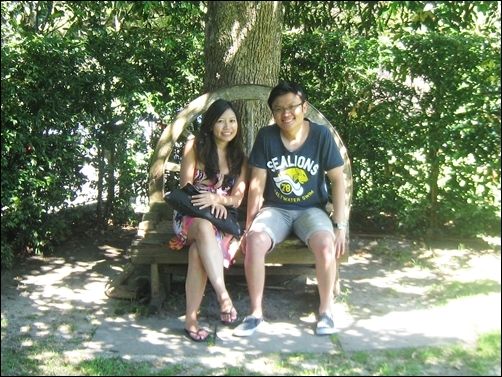 Our one and only proper photo taken together during the trip (minus the money-making attempt at the aquarium the previous day. Haha..)
Well… Zong Yao asked me to be a peeping Pam! =.=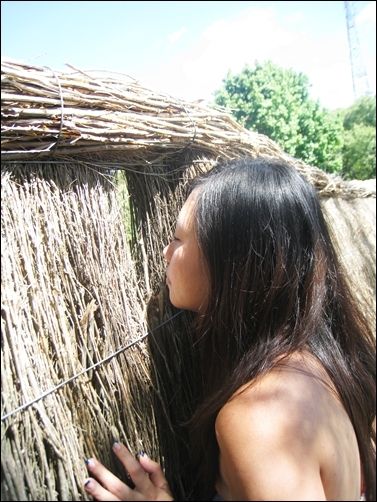 Was peeping right through a hole…
What was on the other side?
Nothing. Just grasses and trees lor. =.=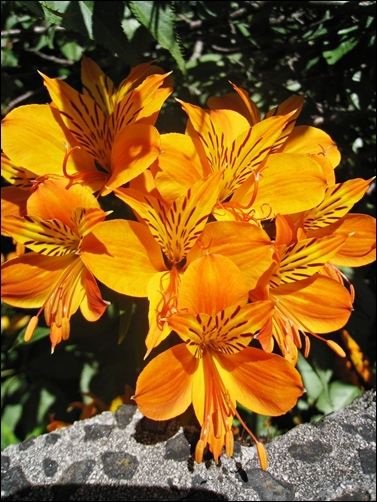 Pretty bunch of flowers…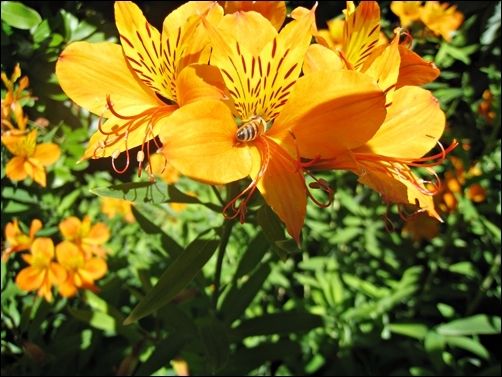 Even the bee came to collect pollens.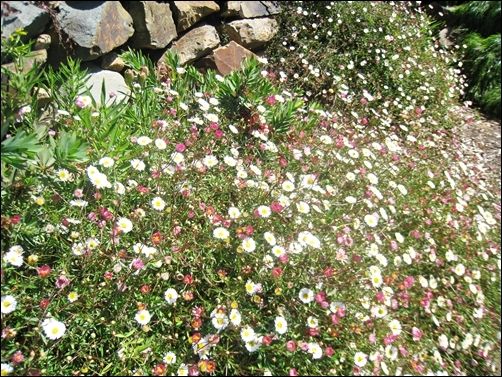 More colourful little flowers everywhere…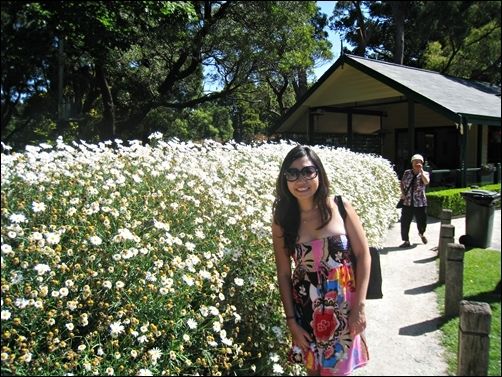 Last but not least, we returned to the wishing tree.

Had wanted to take photos here before that but it was crowded with adults with their kids.
How to fight over the wishing tree spot with kids. =.=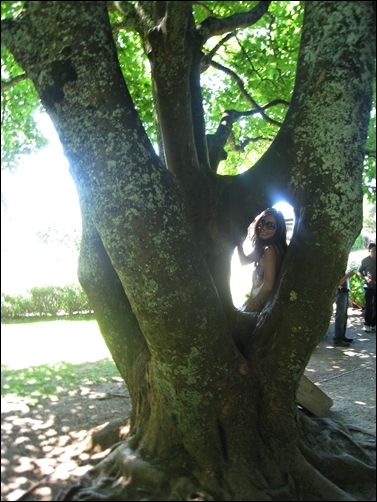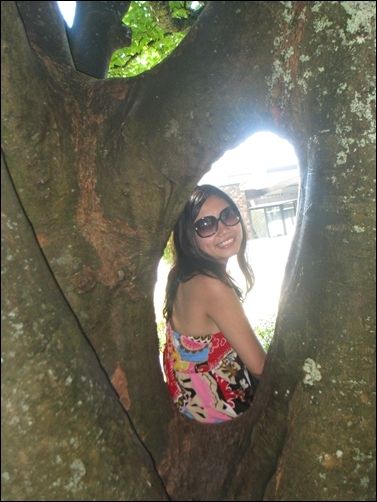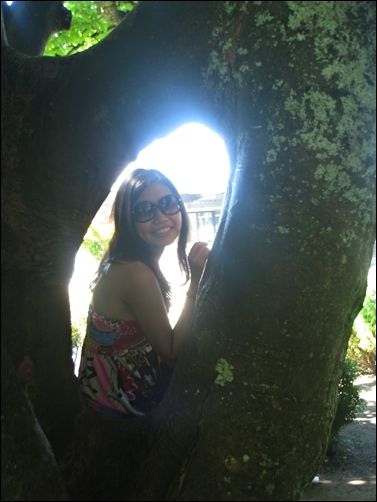 What did I wish for?
Nothing… Ha..
Wanted to get lost in the Skyhigh Maze but we abort the idea because cheapo us refuse to pay AUD6 to enter. Haha…
Then we left Mount Dandenong and next destination was… Harbour Town Shopping Centre.
It is where Brand direct outlets and speciality stores are located.
It was in the Levi's store that the very lame Zong Yao came up with a extremely lame game and yes, the very lame I ended up playing along. =.=
We had an agreement that in each shop that we entered, we can only try out the apparels only if the other party is trying on stuff as well.
If one had to try on something, the other party had to find something to try as well.
I think we created a little havoc in one of the shoes store!
Constantly wearing and putting the shoes back on shelves. =.=
Anyway, we had a good laugh at the store.
Ridiculous. Haha..
Some fun taglines we saw at one of the souvenir shops.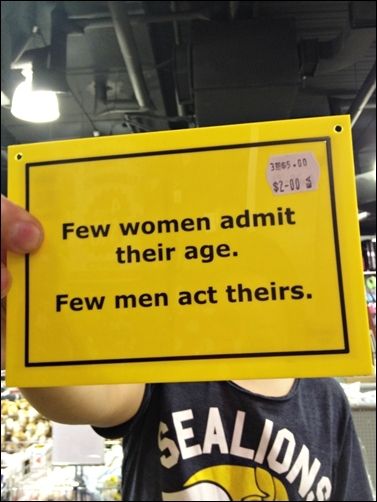 We returned back to our hotel for a nap before dinner…
The hotel is split into 2 parts.
One is the normal hotel area which has more lavish decoration and other area is the budget corner where we stay.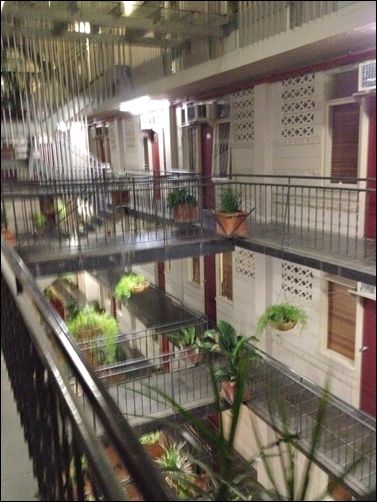 This is how it looks like outside our hotel room.
Pardon me for the lousy photo.. but it kind of reminds me of Hong Kong drama serials. Ha…
By the time we woke up and dragged ourselves out of bed for dinner it was already about 8 plus at night.
As promised, the Melbourne Hwaro Korean BBQ located at Little Bourke Street.


It is a pretty popular place with nice authentic Korean BBQ food.
While getting the fire started, we were served those little plates of appetizers.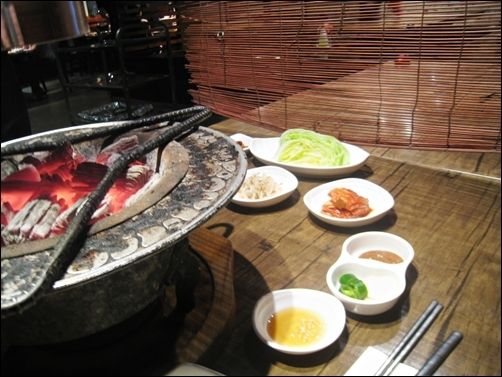 We had the staff barbecuing our ox's tongue.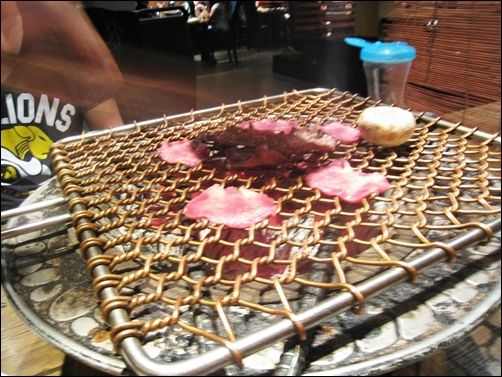 It was my first time eating it.. it tasted pretty good. Ha…Not springy as what I was expecting.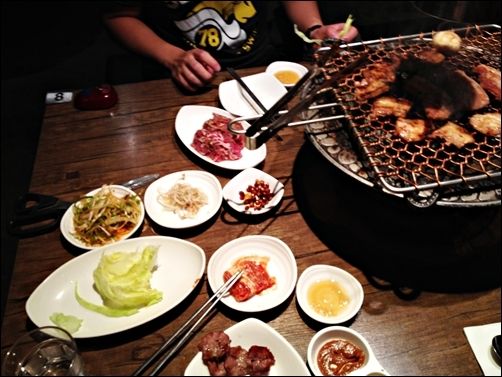 We only ordered a plate of ox tail and a plate of pork to share.
The portion was just right for the both of us.
Well, this delicious meal do not come cheap as well.
The meal set us back by AUD55.
After we filled up our stomachs, we took a stroll to Crown Melbourne.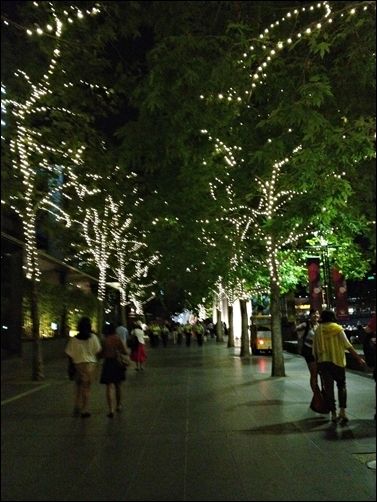 Fwah! What is this?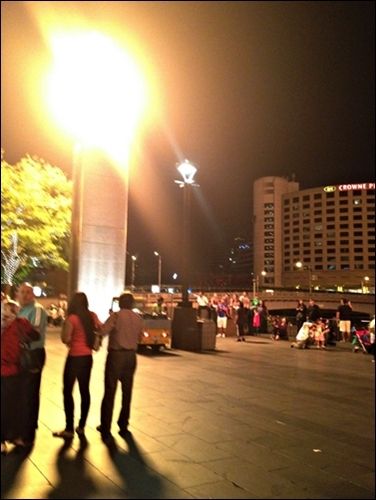 Did something caught fire?
Well, that was their hourly fire display outside Crown.


[youtube http://www.youtube.com/watch?v=d2nEX3HK_44&w=420&h=315]
After the fire display, we went to explore the Casino.
The casino is huge…. they have a poker area.
We did not play of course.
After casino touring, returned back to our hotel.
We attempted to watch a documentary on Mother Earth but was too deadbeat to continue….