Woke up in the wee morning of 3.35am.
Did not manage to get enough sleep. *shrug*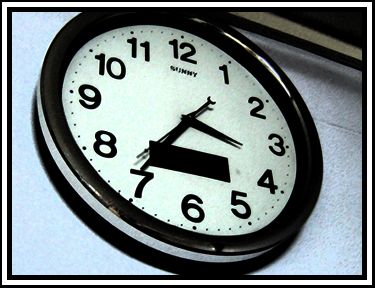 Got ready and did a last minute check to make sure I brought all my things while waiting for Daphne and Szehui to fetch me in a cab.
I checked in a luggage that weigh 10.5kg.
Hey, my luggage itself was not too light you know.
My luggage was only 1/3 filled.
Had our breakfast at McDonalds before checking in.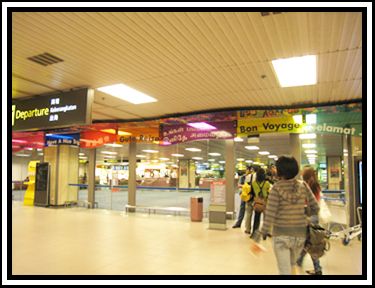 With the pathetic piece of boarding pass.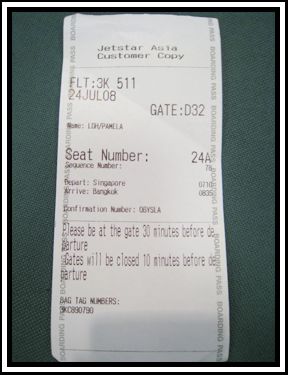 SzeHui, Daphne and I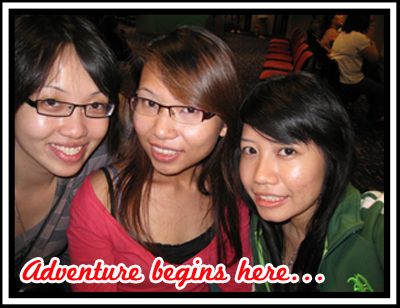 Finally, our long awaited trip is here!!!
The beautiful blue sky.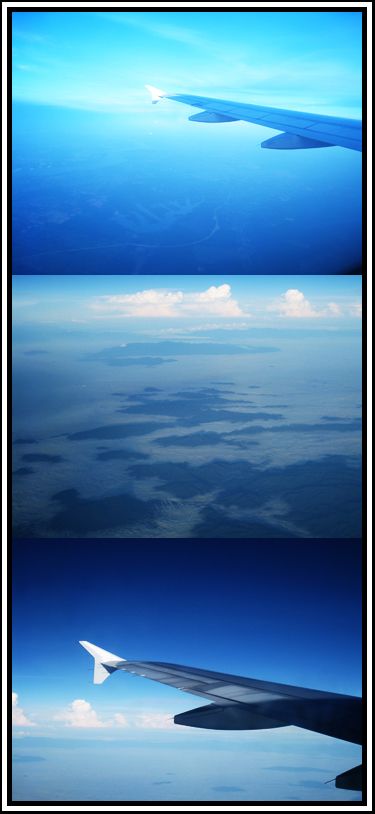 Too bored, so I meddled with the camera's features.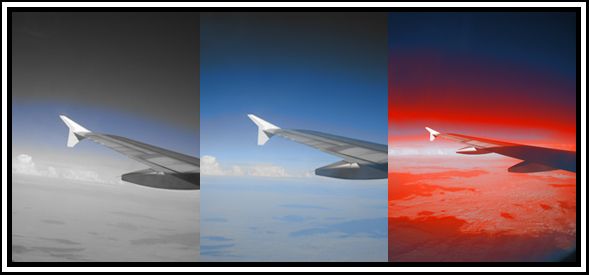 Books, Ipod, Tissue to keep me accompany throughout the flight.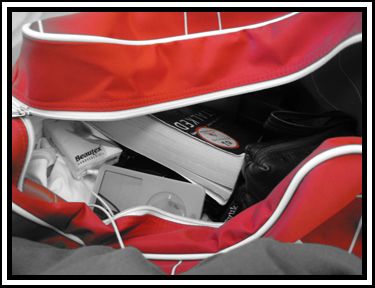 A small trail of cotten candy.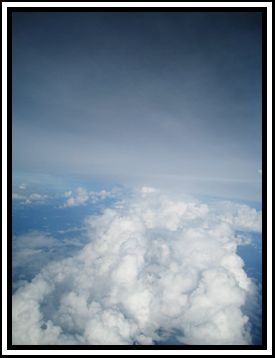 After about 2 hours… we see the land of smiles beneath us.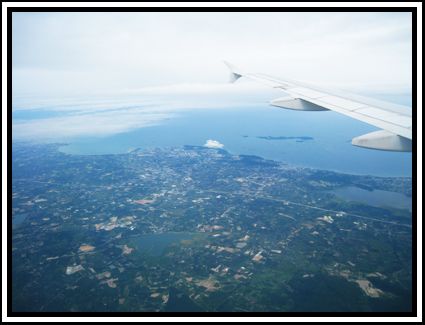 Pretty. =)
Touched down! Woohoo~~~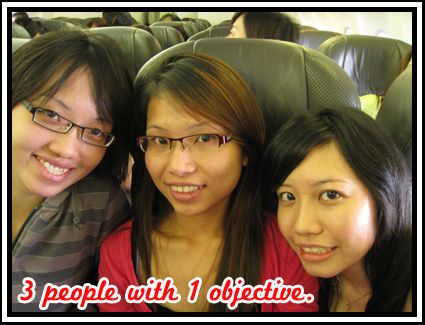 We took quite some time clearing the custom because there were some… indians people in front of the queue and they jammed it.
Oh well~
Ok, we kind of poke fun at the people who jammed up the queue.
I am not racist, just being mean ok!
So from there, we actually made friends with 3 girls from Singapore.
Ha… interesting…
After we cleared the custom, headed straight to the departure hall and lucky us managed to hail a metered cab.
From airport to our hotel was just 280 baht away (inclusive of tolls)
Dirt cheap when you are not con.
Ok, the hotel we stayed in was not as well-known because it only opened last November so it is pretty new.
A small boutique hotel that is just beside Bangkok Palace and adjacent to Bangkok Rama Hotel.
The really cosy room we had. =)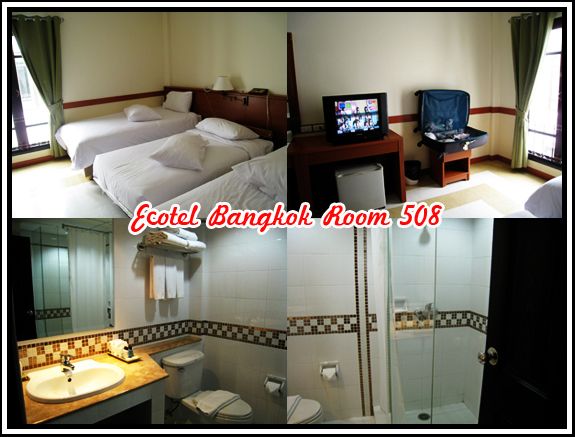 Simply love it!
it's only S$68/night for 3 person.
Look at the amount of toiletries we had!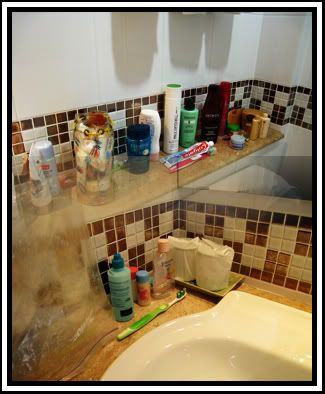 Madness~
Daphne's Dad actually passed her this mp3 to play in the room for 'safety' purpose.
So high-tech now right? MP3! Ha… Amazing!
A shot before we painted the town red!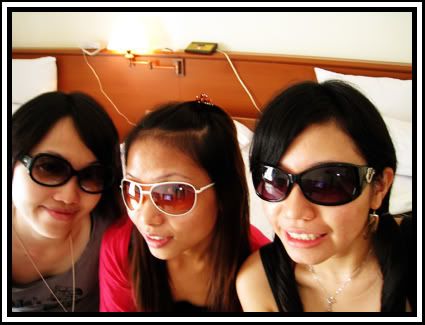 Took a cab to our first stop, Erawan Shrine aka 4 Faced Buddha.
Ok, it was specially requested by me to make it the first stop.
Just did the normal praying before we walked a few buildings down to International Plaza for lunch.
Provence, it was highly recommended by SzeHui's colleague.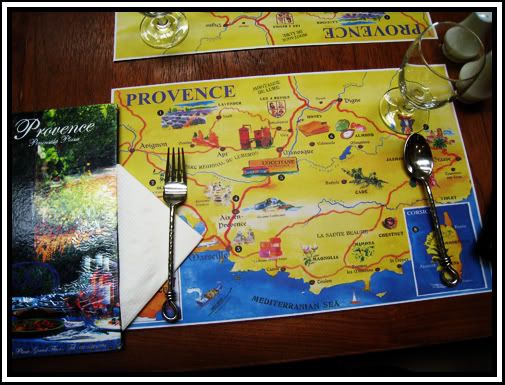 While waiting for the food to arrive….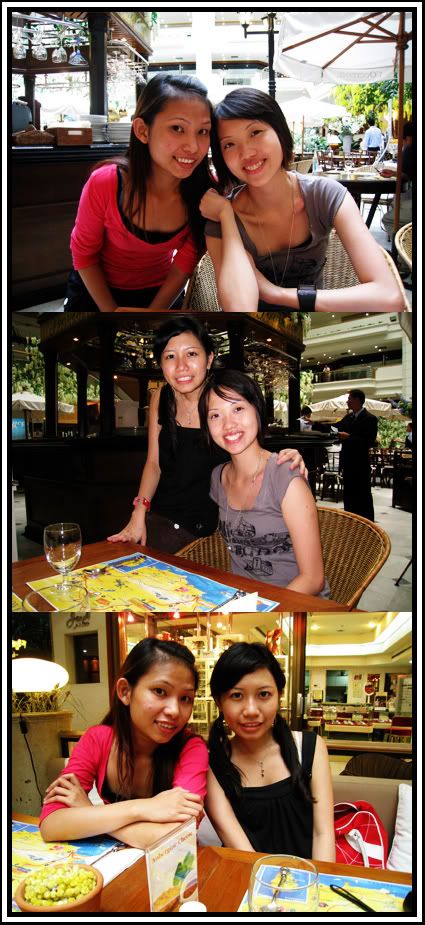 Szehui and I ordered Spicy Beef Kway Tiao while Daphne had Spicy Pork Kway Tiao.
Plus our 2 side dish, Spring roll and…… Cheesy something. Cannot recall what is it called, but it tasted like eggplant to us.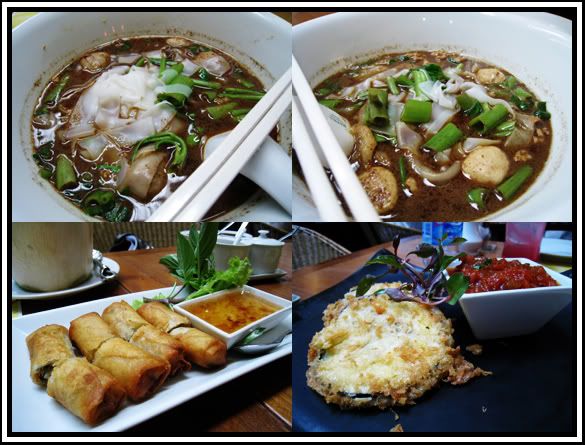 Us with Food!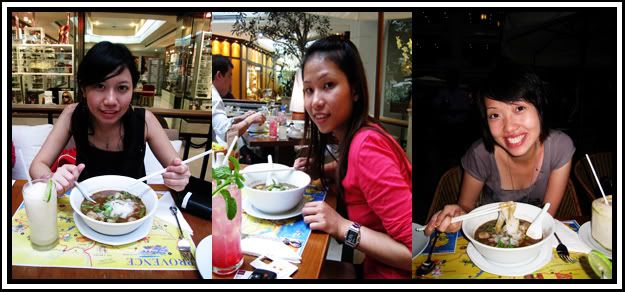 It was really delicious.
If you really love spicy food you will be so in love with this because the shiokness of the soup base.
The spiciness actually goes straight down to your stomach and your stomach will feels hot (in the spicy way).
Aw man~
I am missing it now.
I simply don't understand what's with the Thais and their chinese parsley.
They just had to put them into practically every single dish!
Their chinese parsley seems to be bigger than the kind you see in Singapore.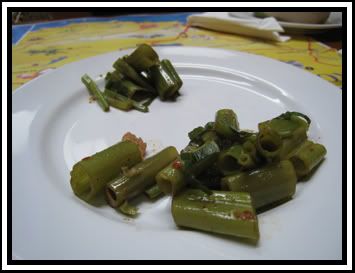 I hate the smell and taste of chinese parsley. Yuck!
After our stomach was filled, we walked to Central World where our atas shopping began.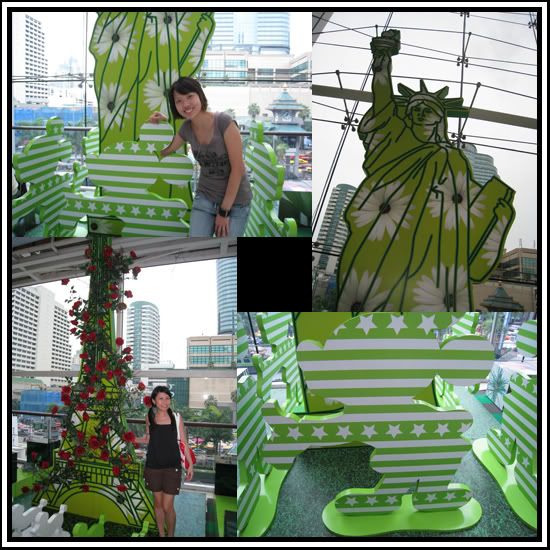 Bought truckloads of Naraya goods.
Aw man! It was cheap and too pretty to resist!
It is a tourist attraction spot.
I ended up swiping my card.
1860baht worth of damage!
After Central World, we headed down to Siam Paragon.
Booked our movie tickets for The Dark Knight at 8.45 bangkok time.
Had a mini argument with Daphne due to the time difference and how long we had to get each thing done. Haha…
Rested our feets at Swensen for our hi-tea session.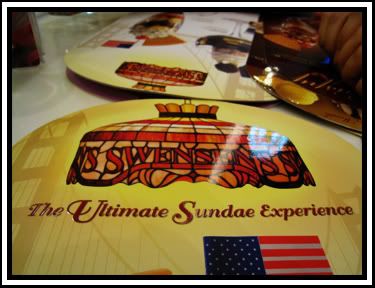 Look at the kawaii cups.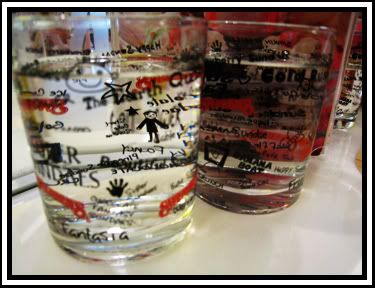 Ready to be served.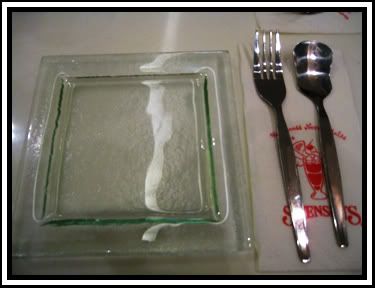 Spoiled for choice.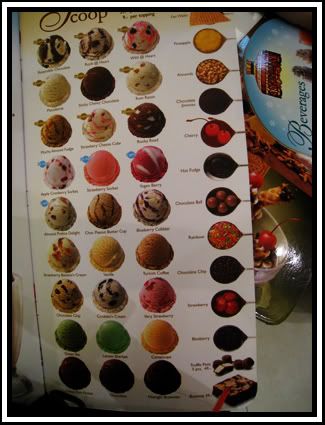 Aw, it's tough making up our mind.
Finally, our 9 flavours of ice-creams.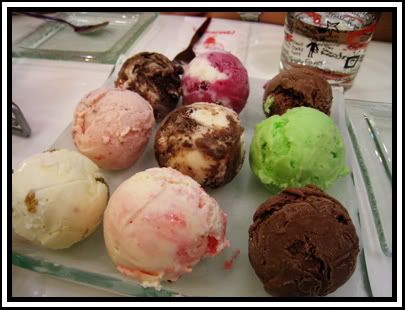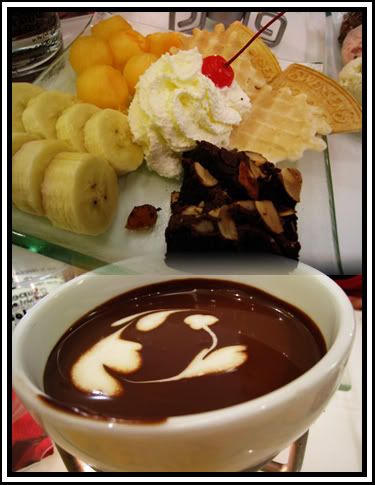 Yay to our chocolate fondue! Yumyum.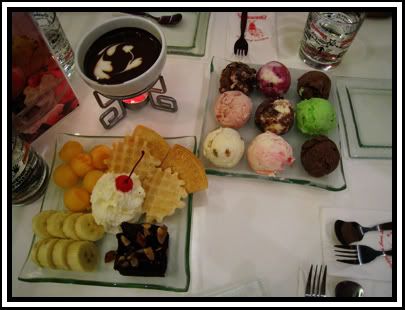 Us with food again!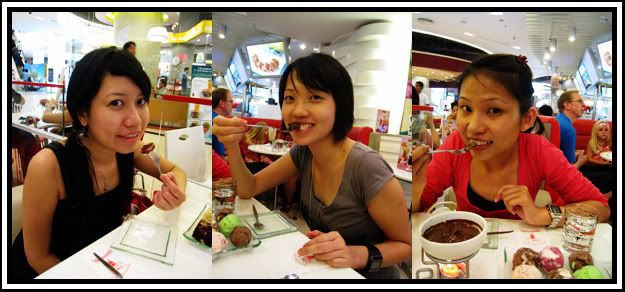 The ice-creams were delicious, no doubt.
However their choclate were kind of sucky because the choclate just can't seems to melt.
Look at the heart candle.
So pretty… Hee….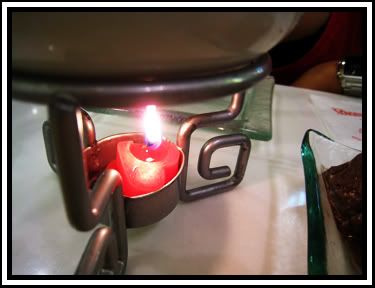 After we regained enough energy, we went for a bra hunt.
It's a bra paradise in Siam Paragon. Haha…
We were like taking the bras off their shelves as though it's free!
We were terrible shoppers.
After many rounds of fitting rooms, we narrowed down our choices.
I bought 5 bras and 3 panties and it only cost be roughtly about S$106.
Cheap can! Considering I bought brands like Triumph and Wacoal!
Ooh, I bought the Triumph Deep-V for about 30 Singapore Dollar (With a 30% discount and 7% Vat refund)!
I think have stocked up enough undergarments to last me for the next 5 years or so. =S
Daphne and Szehui were bigger spender than I am in the bra section.
Hahaha……. 2000-3000bahts worth of bras. Scary!
After our bra-shopping, wanted to have Fuji Japanese Restaurant for dinner however there was such a long queue.
We bumped into the 3 girls we met in the morning.
Oh well, there are still limited places we can go in Bangkok.
In the end, we settled for Ramen at this mini restuarants.

I must say they do have excellent customer service.
Thumbs up!
Us with food again…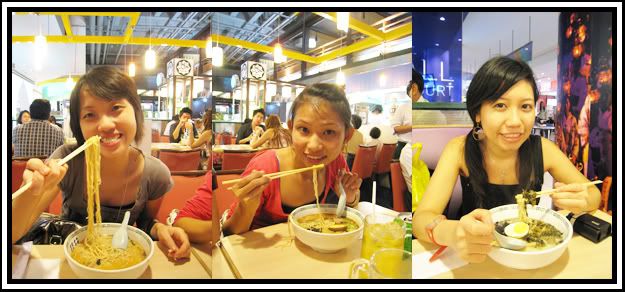 Lucky we still had sometime before our movie starts.
Was walking around aimlessly.
Spotted this Lamborghini in a showcase room.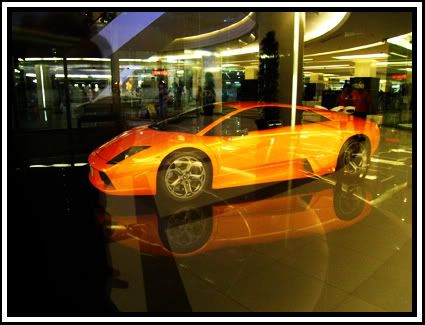 The kind of car that is so beyond my reach. Ha….
Welcome to Paragon Cinema Theatre.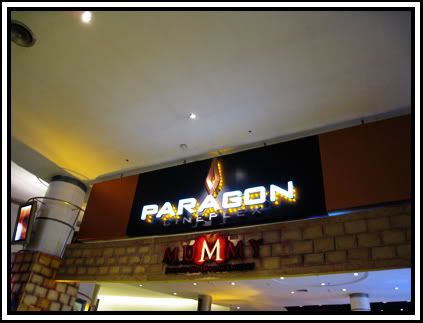 From the Mummy 3.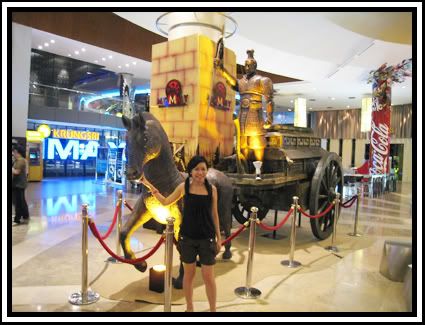 The show we caught.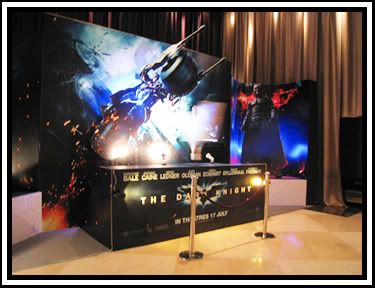 Lamer with Joker. Ooops. =X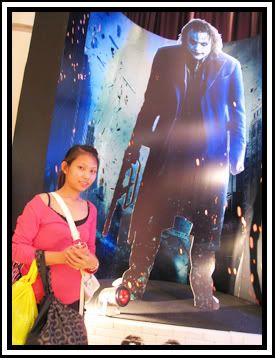 Their cinema toilet blew me away!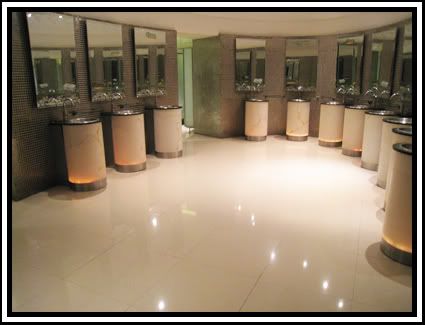 It is so spacious and clean that you feel that you've entered a 5-star hotel's toilet or something.
World class. =)
The seats in the theatre were so much better than the seats we have in Singapore.
It is extremely spacious!
After putting our big shopping bags in front of us, we still had quite abit of leg space.
The seat itself was really comfortable too.
Rocking chair rocks my world!
Their national anthem have this quite 慈祥 feel in it.
Seriously, I do not find the movie fantastic at all.
In fact, it is like the worst movie I have watched in 2008.
It is just not my type of movie.
There were parts I thought I got it already, the next minute, I was confused again.
Need to use brainpower and I had absolute zero at that moment too.
I almost fell asleep on the comfortable seat. So were Daphne and Szehui.
I think the only part that excites the 3 of us was when Edison made a 3 seconds appearance. Hahahaha… So bimbo.
Conclusion is, no point watching movie when your energy level is running low.
Especially a super long movie!
Waste of money however it is still an experience lah
The shiok-ness of the theatre you can never get in Singapore unless probably you pay premium price for the Gold Class seats.
Back to the hotel after midnight.
We got a shock when we saw a cacausian woman staggered out of this hotel room 2 doors away from us.
She did not seems very sober.
While we were talking to our room, the indian guy who was standing by the door was actually eyeing on us as while we were opening the room door.
Scary lah, it just did not seems very safe at that point of time.
Mah chaim he would pound on us anytime.
Heng we came back in one piece, unharmed.
Ok, here come our loots for the day!
These are mine!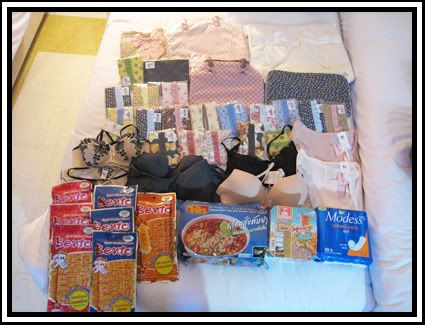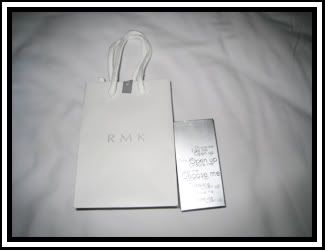 RMK make-up base from Isetan.
Szehui's.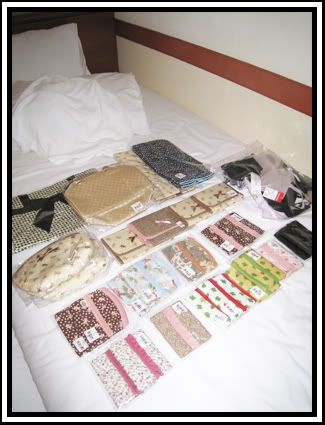 Daphne's.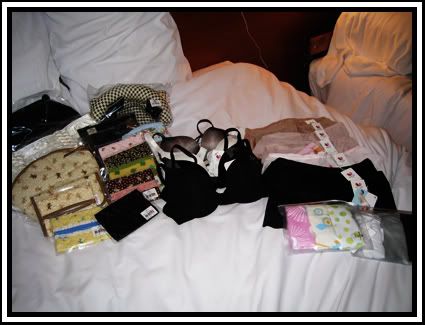 Hey, do not think I am the only person in this trip who is mad enough to purchase instand noodles and sanitary pads ok!
It is just that the 2 were refuse to take photo of them.
They bought sanitary pads like their menses would overflow anytime!
Madness! Hahahaha……
According to them it was cheaper in Bangkok lah!
See, the cost of living in Singapore is driving everyone crazy.
Finally, the first day of my almost a month ago trip is blogged!
Day 2, 3, 4 and 5 coming up.
Stay tune!