Phew~ I finally finish editing Redang trip photos for the blog! It took me exactly 2 weeks to it.
I hope you enjoy them as much as I do. =)
It's a trip for the Tus!
There is Tu MianYi, Tu Mei Qian + Tu brother-in-law, Tu Pa + Tu stepmum and Tu Dai Zi which is me!
Day 0:
We met at 6.15pm, Kranji MRT Station.
Surprise of the surprise I was the 2nd to arrive after RiFang!
Why I was on time was because Rina threatened to ask me to go in all by myself if I am late.
I am a total 路痴 out of Singapore!
Anyhow we travelled in the sardine-packed bus no. 170 to the customs. Get our passport chopped before continuing our ride to the bus terminal where bus no. 170 brought us.
In the rather empty bus on our way to the bus terminal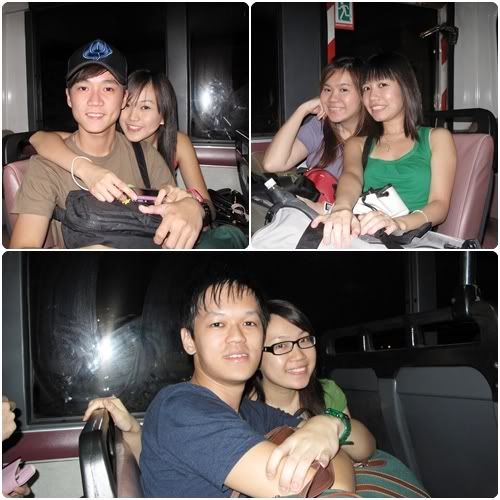 Upon arriving at the terminal, we were overwhelmed by the people who approached us.
Are we Singaporeans so recognisable across the causeway?
Probably due to the big bags we were carrying.
Anyhow, our coach tickets were well taken care by Rina and Tu BIL weeks before the trip!
Dinner was at this Rasamas Roasters.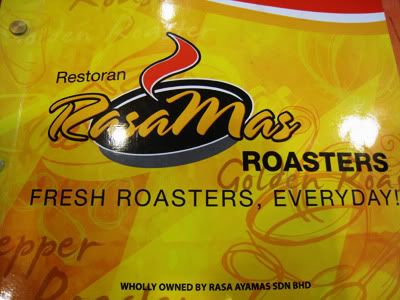 Doesn't the picture looks tempting???

We could not wait to tuck into our meals.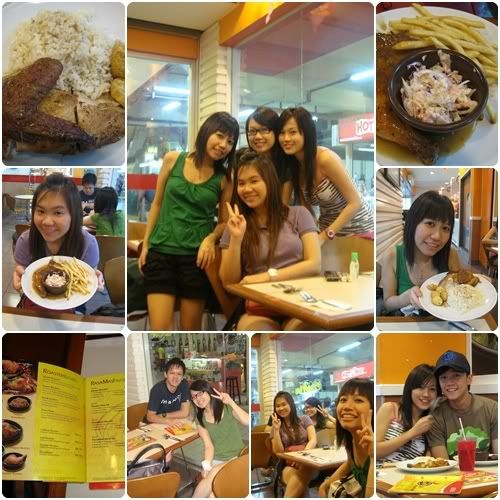 Oh well, all I can say is… don't be deceived by the pictures.
The food was really oily and tasted horrible.
When you are travelling overseas,when in doubt McDonalds is always the safest choice. Heh…
We got the timing of the coach mixed up so we ended up waiting an hour longer before we board the bus.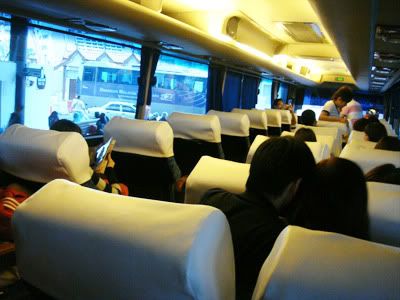 There are specific seats numbers allocated to everyone on board.
Initially RiFang and I were suppose to sit right in front.
Lucky us manage to swop seats to join the rest at the back with not much trouble.
Thank God for the other passengers did not insist of having their seats back.
At one of the stop over in the middle of the night.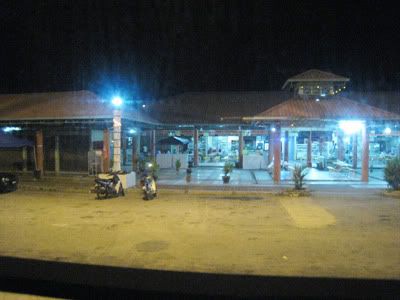 Day 1:
After 8 hours of bus-ride, we arrived at Kuala Terengganu Bus Terminal in the early morning of 6.15am!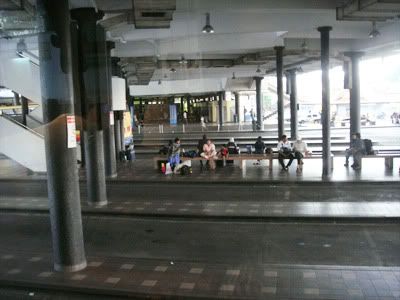 I thought I could slowly savoured McDonalds breakfast, Rina kept hurrying me to finish it.
Remember, despite the big mouth I have, my throat is really small ok?
So there is a limited of the amount of food that can be pushed through that tiny pipe.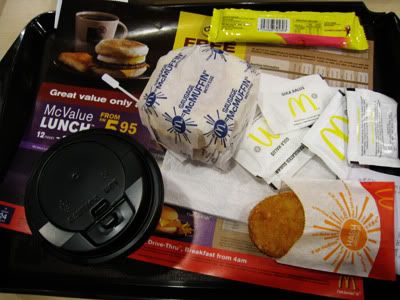 Oh, they played fantastic english songs in the McDonalds.
Songs from 'N Sync, Backstreet Boys, a1, Mofatts, Britney Spears, S Club 7 etc.
Ok, those songs were almost 10 years ago kind!
Brought back all those memories. Heh…
We boarded a bus provided by the resort to bring us to Merang Jetty .
The scenery along the way…
It looks like a nice peaceful country side.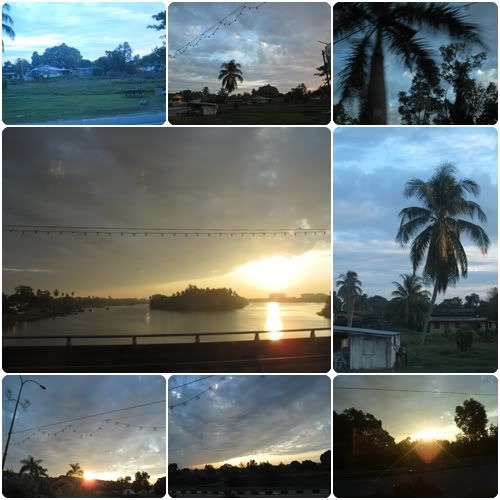 After about an hour bus ride, we finally reached the jetty so we camwhored while waiting for nearly 1.5 hours before our ferry came to bring us over to Redang island at 9.30am.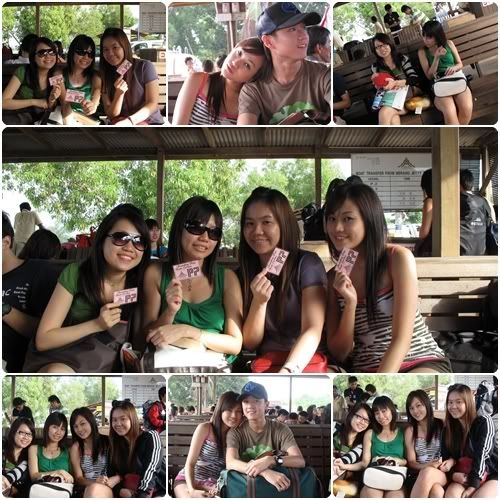 Holding on to the 'boarding pass'.
After another hour in the ferry, we FINALLY arrived at our resort.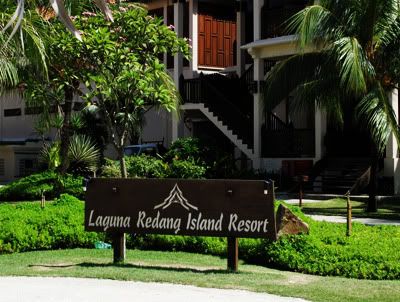 We went through a short briefing before we begin our little adventure on the sunny island!
All in all, it took us about 12 hours from Johor Bahru to reach Redang island!
For all the travelling, please tell me the place is worth a visit!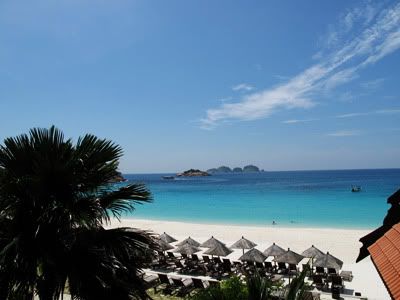 Walking on our twos to the reception area for registration. We had the complimentary welcome drink which is a refreshing lime with sour plum drink.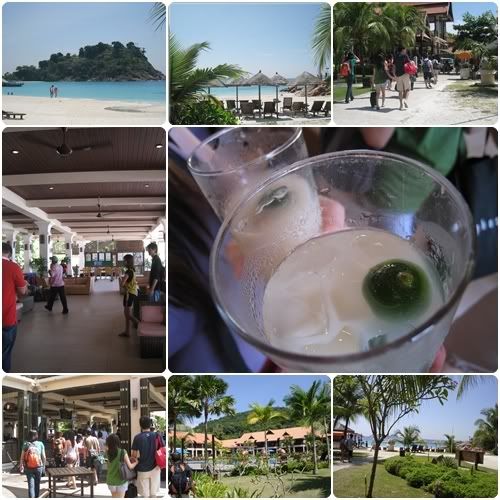 Unfortunately the rooms were not ready to be checked in yet therefore we headed for our buffet lunch at a huge dining area above the reception which we had all the rest of our meals during the trip.
All you had to do is to present the coupons and seats will be allocated to you.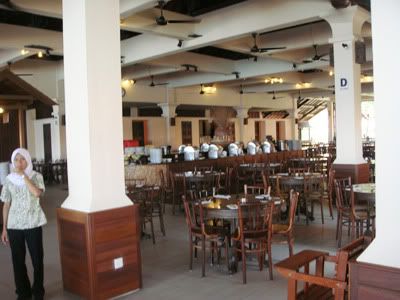 The spread of food, ranging from a mini salad bar to a wide variety of food to desserts and fruits.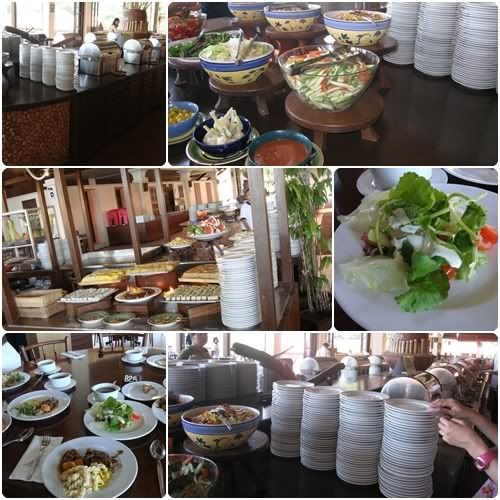 My lunch.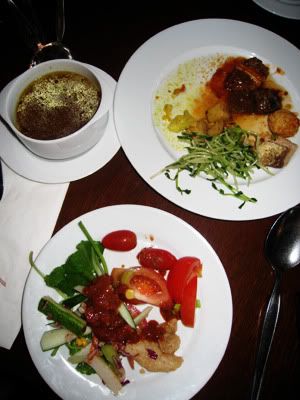 Played smart by taking a little of everything. Not to be too greedy.
Seriously, the lunch of the day was not fantastic and the only thing that could make it was the dou miao.
After lunch, we proceed to check into our rooms.
We were extremely pleased with the room!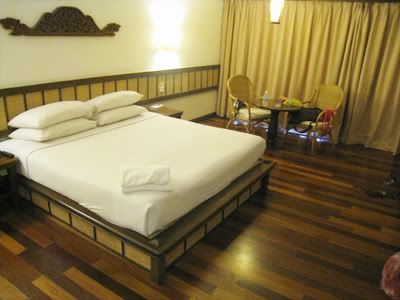 We have the double bed all to ourselves for sleeping and on top of that we had 2 extra beds by the side for us to put random stuff. Very cool!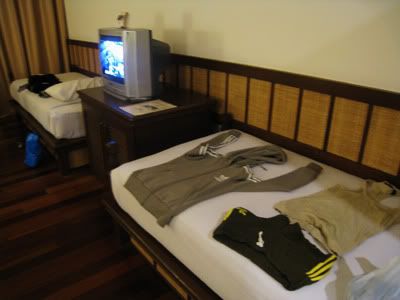 The TV channels were rather limited. They have this channel which was named Summer Special or something along the line and the only show which was shown was 夏日摸摸茶 and nothing else!
The toilet area is also seperated into the shower area, the toilet area and a common area which has the basin, mirror and not forgetting a hairdryer which Rina totally digs and that is the reason why we stayed in this resort.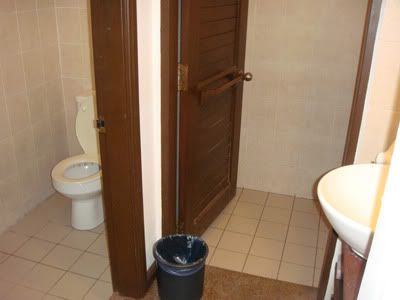 Changed into our attire to kickstart our snorkeling adventure in the deep sea.
My 1st snorkeling session ever that is.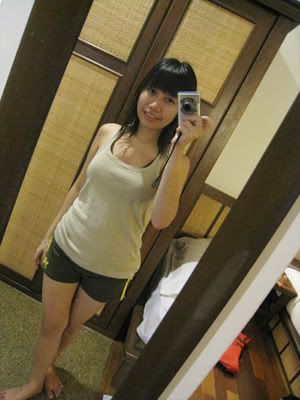 A shot with our make up on (yes, we are vainpots!) before we went out to the deep blue sea…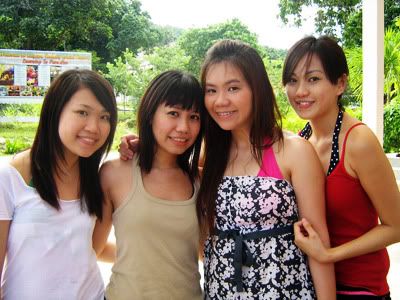 On board the boat with many other random strangers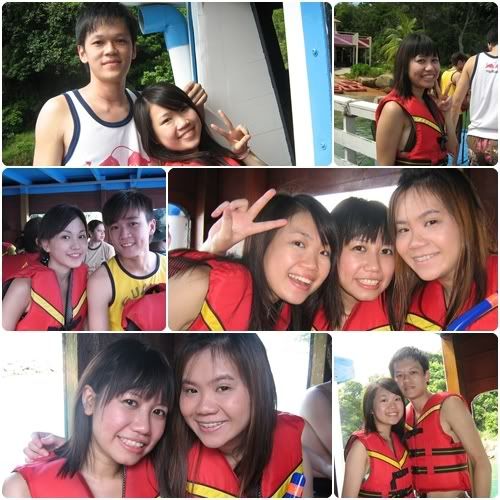 While snokelling in the deep sea, I somehow got myself drifted away from the rest.
I ended up snorkeling on my own, fighting with other people for the space as I did not want to get myself too far away from the boat for the fear that I could not swim back in time.
Seriously, apart from the pretty fishes, there was nothing fantastic in the deep sea for most of the corals have already died.
We came back rather early from the deep sea snokelling so we went to take photos with the cut out boards and the momo tea inn.
The evidence that we had set our feet at Redang!
It's as though if you have not taken any photos with those, you have not been to Redang.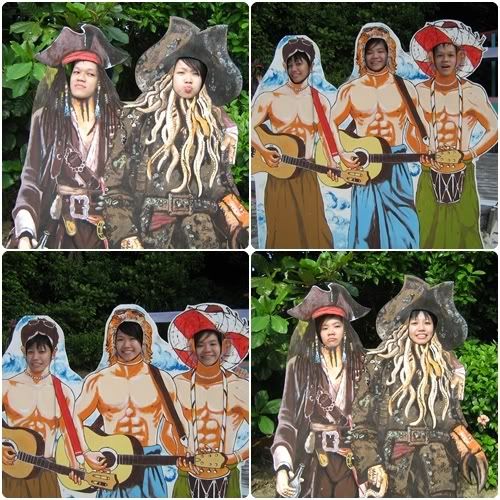 The remake from the original Mo Mo Tea Inn which they used for filming the show which made Redang famous. Too famous that the place is kind of exploited in my opinion.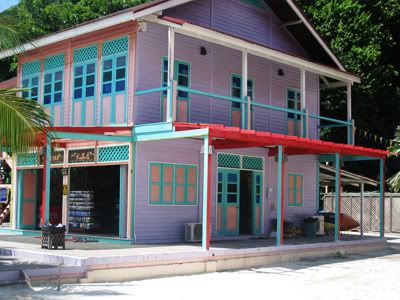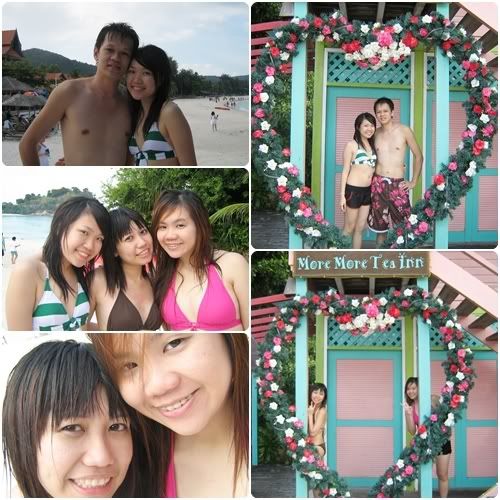 Went for our own snokelling by the seaside before getting back to our rooms to bathe and freshen up before dinner.
In the very summer-feel dress.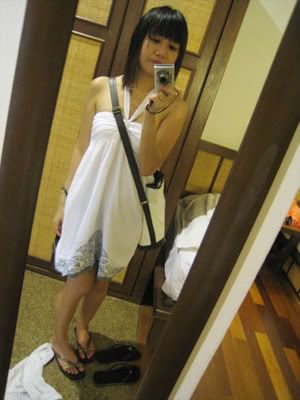 While waiting for the rest to be ready.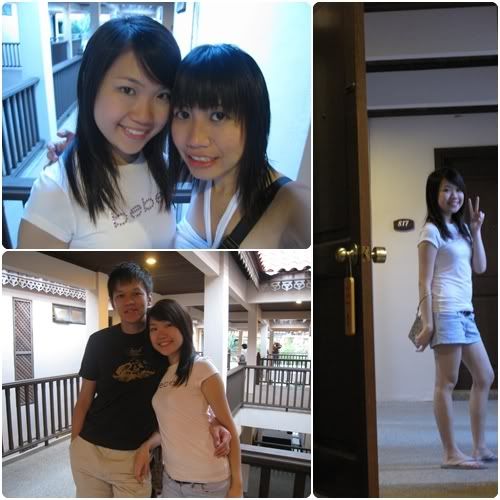 We had BBQ Buffet dinner. The dinner was much better than the lunch.
I like their satays and beef. =)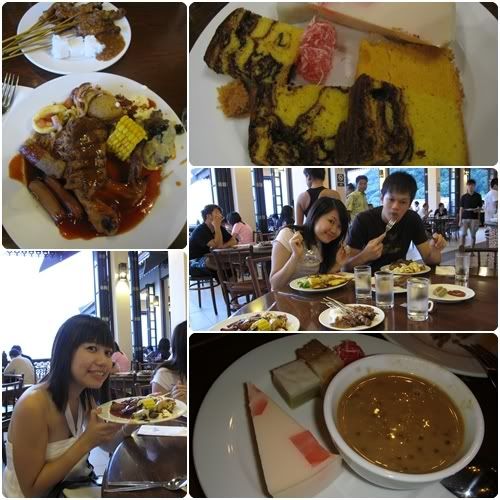 Since Redang is not a place for shopaholics for the only have the one and only 'gift shop' which is the Mo Mo Tea Inn that has practically everything from snokelling gears, to tidbits to drinks to bikinis to clothes to toiletries to souvenirs.
The pretty lights from the Mo Mo Tea Inn.

We ended up walking by the beach, enjoying the breeze, looking up at the starry sky and camwhoring along the way.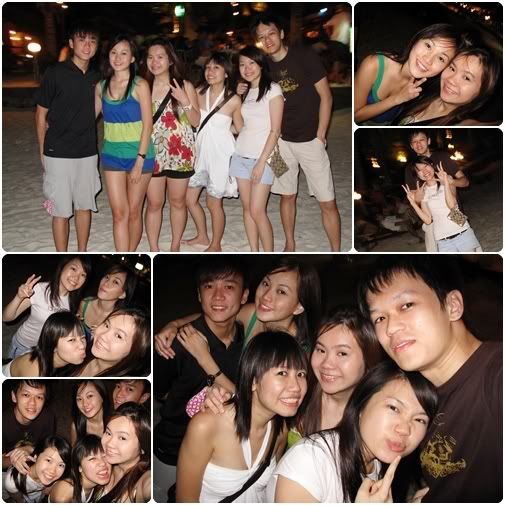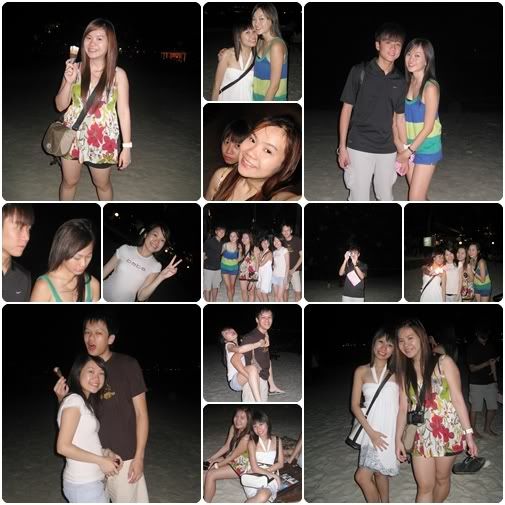 I really love the stars there. If only we had a mat that we can lie on and just look up at the sky all night long. Perfect!
Headed back to the resort after we decided that we had enough of the beach.
Did my mask with RiFang and had our little talks before falling asleep.
Day 2

Woke up to a crystal clear sky and everything was just perfect.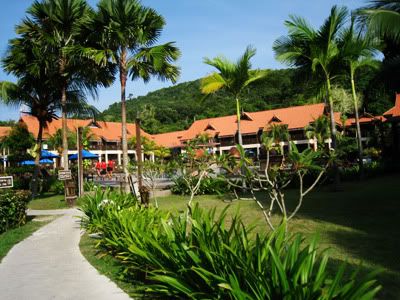 A patriotic Pammie for the red and white combination to start the day!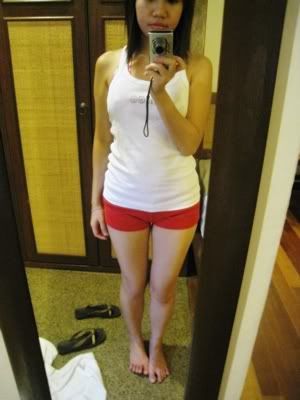 Ok, I was a slowcoach that morning because RiFang and I were the last to reach the dining area for breakfast.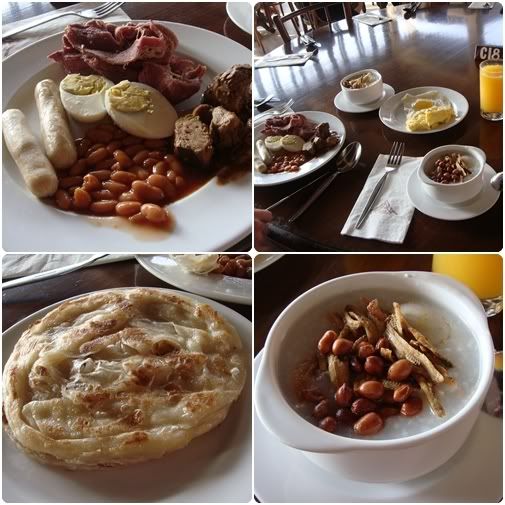 The breakfast was rather good.
I totally dig the roti pratas. Sinful but good.
Too bad I did not had a lot for the fear that I will vomit and pollute the sea with my breakfast plus that unsightly bulge at the tummy. =(
That morning was a Marine Park snokelling session.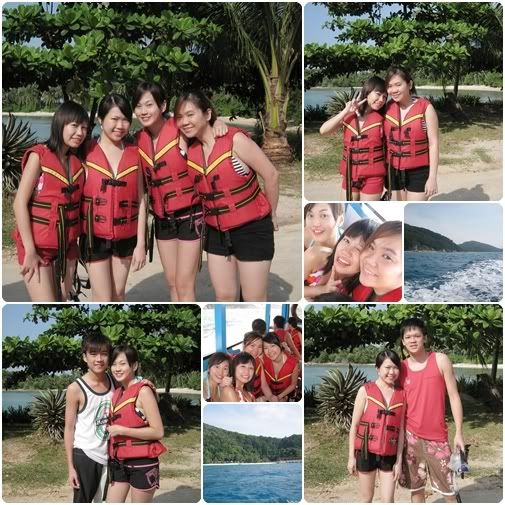 The sea is clear, the sand is fine, the fishes are pretty unfortunately most of the corals were dead as well.
Took some photos by the beach.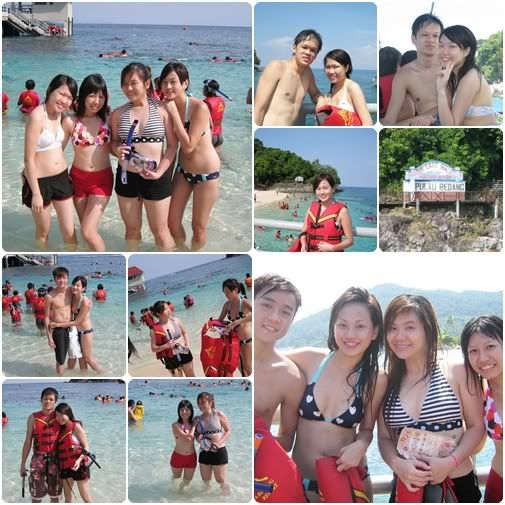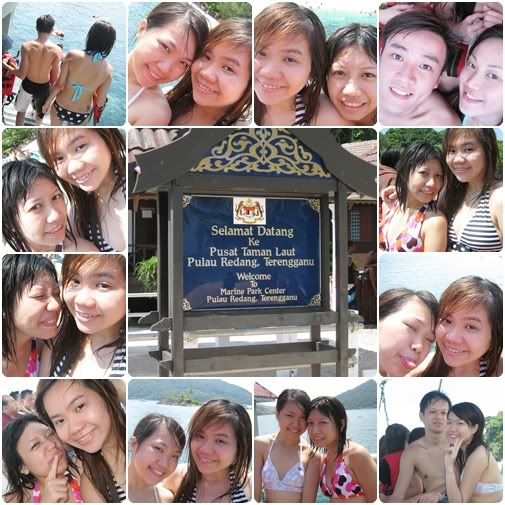 We really swam hard to get to shore because the current was too strong and kept carrying us further away from it.
It was rather funny how I mistaken a random stranger for RiFang.
All thanks to the mask, everybody looks the same!
Took underwater photos with the fishes.
XiuPing and Fabian in their very cute superman pose.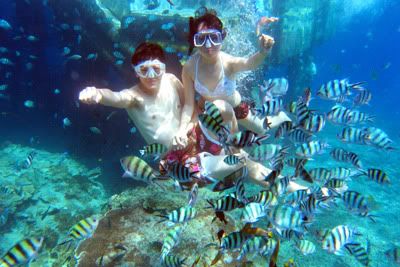 RiFang and I!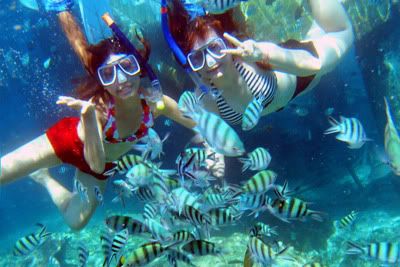 1 group shot by the staircase which leads us to the sea.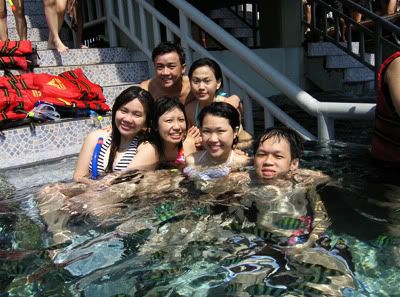 Those underwater photos were taken by the divers from the resort.
It was going at 5rm per photo which I thought is reasonable.
It was not a total rip-off lah.
It was also an experience and memory worth keeping right?
After we came back from Marine Park, we were starving so we headed for lunch.
Thank God the menu was different from the day before for the food taste better. Heh…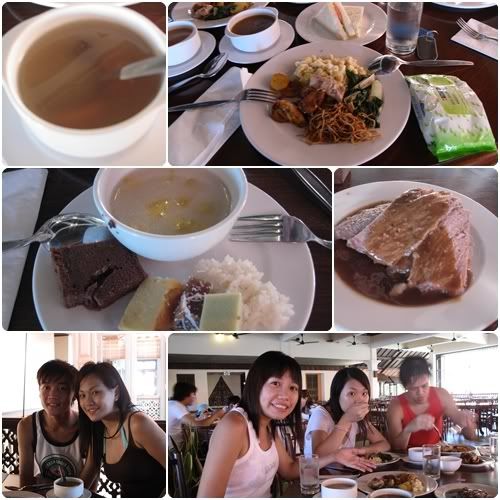 I love the dessert 'soup' which contains mango that you pour over the glutinous rice.
How could you not fell in love with the place?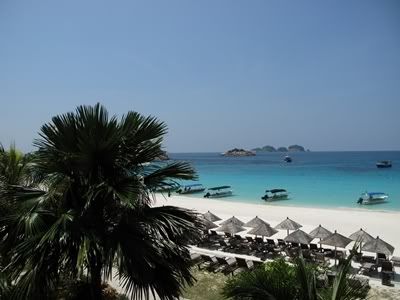 Perfect shot!
Too perfect that it looks as though we were standing in front of a backdrop. Heh…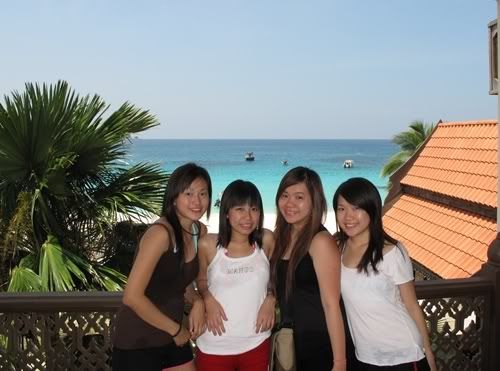 Walked by the beach and we attempted to take nice photos by the sea.
Unfortunately the sun was glaring too brightly at us that we could not manage to take pretty pictures.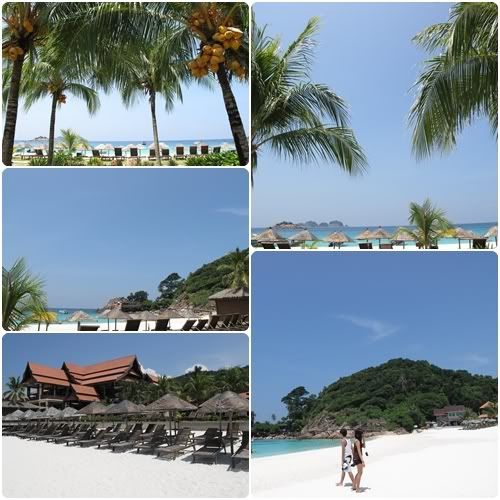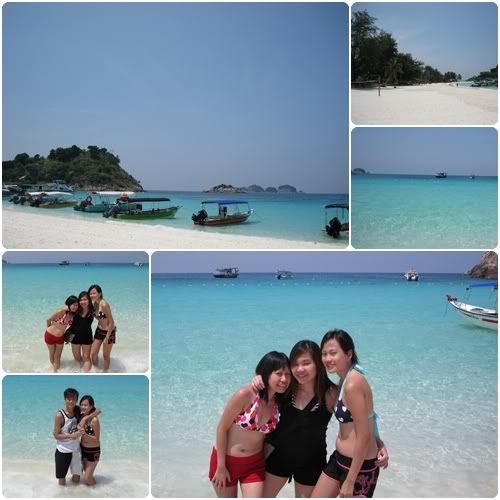 Decided to skip the deep sea snokelling session in the afternoon and get our own R&R.
Laguna resort has this really nice pool and a jacuzzi.
Decided to make use of it and oh boy, it was shiok to just let soak ourselves in the jacuzzi.
RiFang attempted to teach me how to thread water. A very bad attempt. Haha…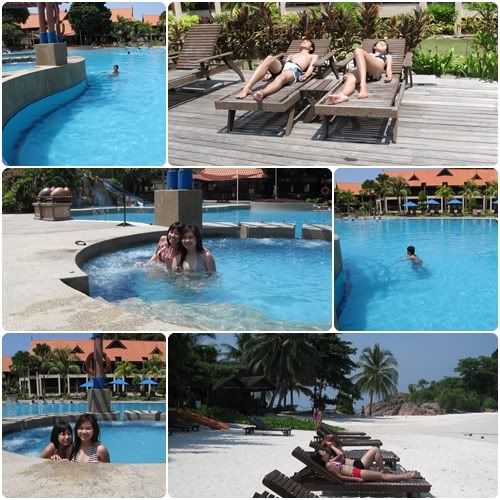 After lazing by the pool RiFang, Rina, Jeffrey and I headed down the sea side.
The deck chairs courtesy of Redang Beach Resort were too good to give it a miss.
We ended up baking ourselves under the sun for some time before our very last snokelling session by the sea.
Jellyfish was spotted by the beach. (photos courtesy of Rina & Jeffrey)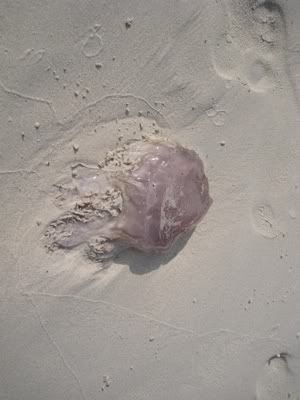 Though I did not manage to spot any by the beach or swimming in the sea.
We saw this group of people lifting a jelly fish with a t-shirt and was swinging and tossing it in the air near the shore!
My gosh, that was really inconsiderate of them.
RiFang and I were still snokelling after Rina and Jeffrey decided to head back to the pool.
Lucky us manage to spot a mini shark in the water!
Too bad no underwater camera.
After returning our snokelling gears, we headed back to the rooms to get ready for dinner time!
Another very summer-feel dress which double a top as well.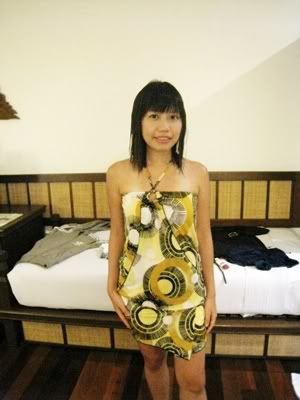 Though it was not BBQ dinner, it was still not too bad!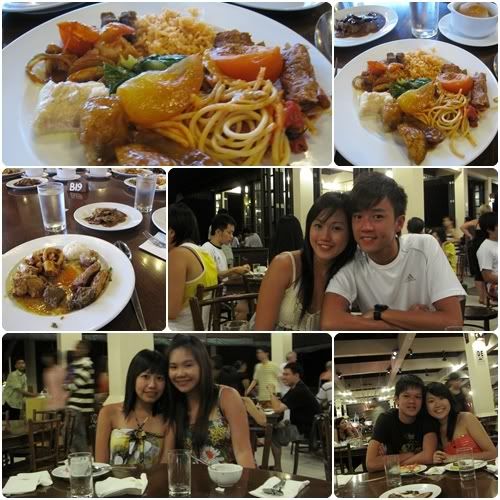 Ha… all thanks to the wrong info given by Rina that I almost gave the black glutineous rice a miss! It was only at her 2nd serving, then she realised it was black glutineous rice instead of red bean soup. =.=
Bidding goodbye to the place with excellent service staff.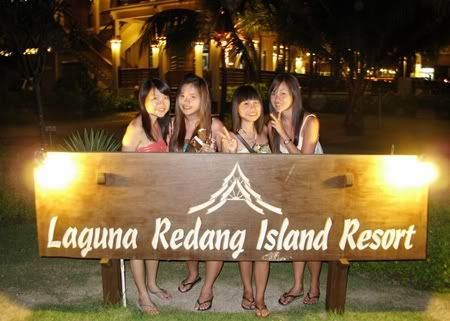 While XiuPing and Fabian headed back to the room after dinner, we decided to hang out by the live band area.
Ordered a jug of Heineken to share.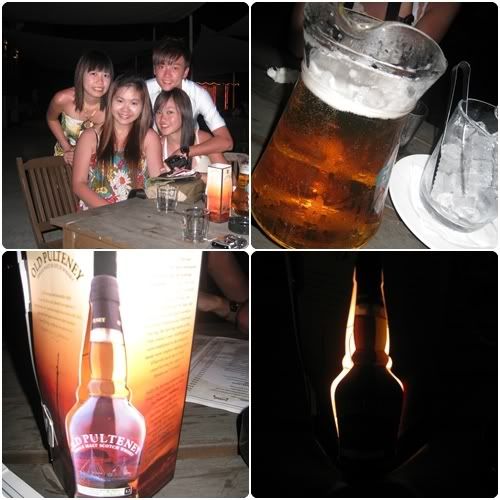 The live band was… er… ok, their dance moves were really BAD!
Their singing was… erm… can be better.
Anyhow after the mini chilling out session we returned to our respective rooms.
That was when I started to develop a sore throat. Sigh~
My sunburnt shoulder.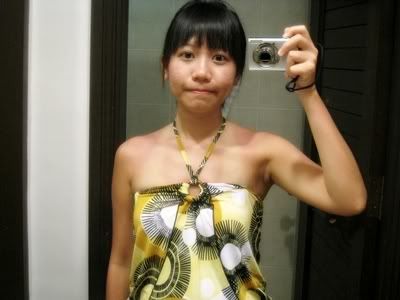 I should not have worn a thick band bikini to sun tan. Very bad tanlines. =(
Guess what? Even my scalp was sunburnt as well because it was really painful combing the top part of my head.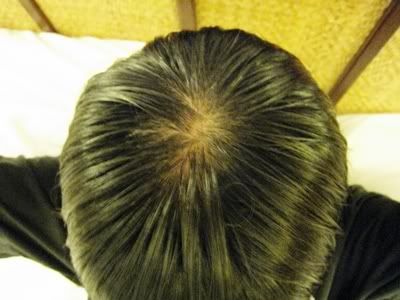 Ok, the photo looks as though I am balding but i assure you that I am not ok!
I took the photo with my hair still wet so that explains for the 'balding' effect.
After packing my stuff, I actually KO-ed at about 12 plus while RiFang was still watching 夏日莫莫茶 up to about 1am because she had never catch the show before.
Day 3:
Woke up bright dark and early when the whole resort was still asleep at 5.30am in the morning.
We had to check out by 6 in the freaky morning!
We just look dead tired at the reception area…

Due to our coach timing, we were unable to take the ferry provided by the resort to the main land.
Therefore they actually made a fantastic arrangement for us.
Not just that, we would not be able to have our breakfast in the usual dining area, they actually packed 6 of these what i call the 逃亡 breakfast because we looked as though we were trying to escape when the skies are dark. HAHA…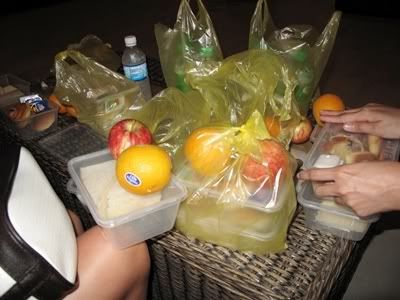 It consist of a few muffins, 4 slices of bread spreaded with butter and cheese in between, an apple, an orange as well as a bottle of mineral water which comes in handy.
By 6.30am, we were taken on a speedboat to where a Berjaya resort ferry was waiting for us!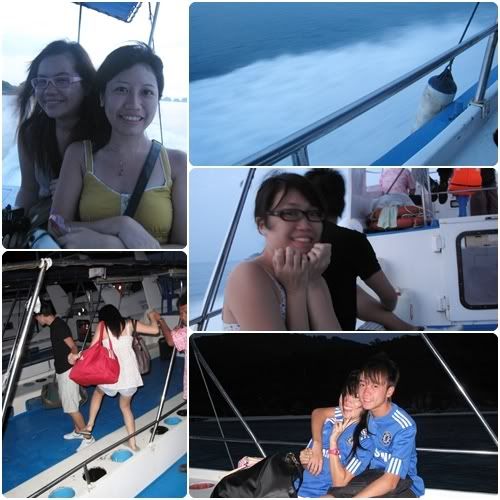 We manage to get on board the ferry before 7am and caught the sunrise too!
The ferry was too freezing cold to have a good sleep.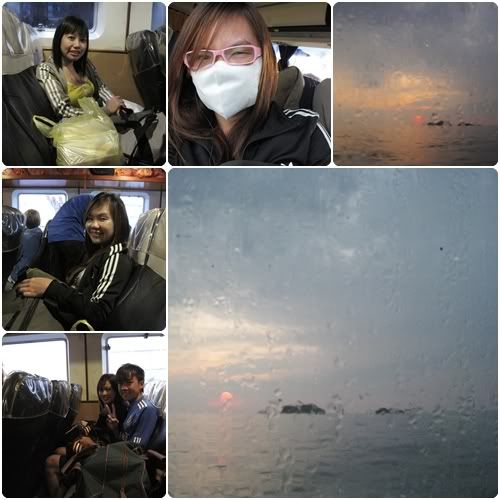 After an hour of ferry ride upon reaching mainland, Laguna resort service was so good that they actually arranged someone to pick us up from the ferry terminal and send us to Kuala Terengganu Bus Terminal which was about 5 mins drive away to catch our 9am coach.
The journey back was rather torturous for the journey back to the custom took us 11 freaky hours!
Which added up to a total of 14 hours from Redang island to home sweet home.
With that 14 hours, I could actually travel from Chicago to Hong Kong on a plane. =.=
Anyhow now, after 2 weeks I am done with peeling over my shoulders, now my arms, thighs are peeling.
Though it was just a short trip, I really enjoyed the sunny island and the companies.
A very big Thank You to Rina for organising and doing all the coordination work for the whole trip, really appreciates that! Love love!
Ok, next time I would like to conquer a nearer sunny beach!
Next year perhaps?