19 August 2012 – Sunday
Rise and shine!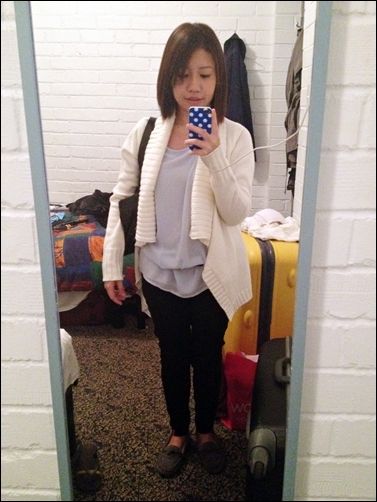 My outfit of the day.
The weather looked great!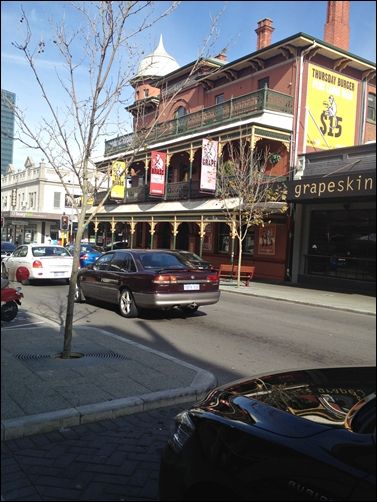 Walked from hostel to Perth Cultural Centre along James Street.

Decided to spend half the day being cultural. Haha..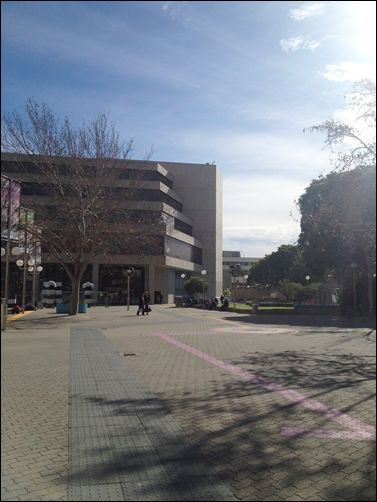 There was a play going on in Perth.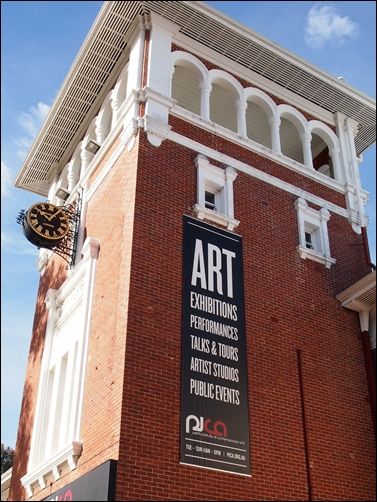 Even the structures in the area look so arty farty.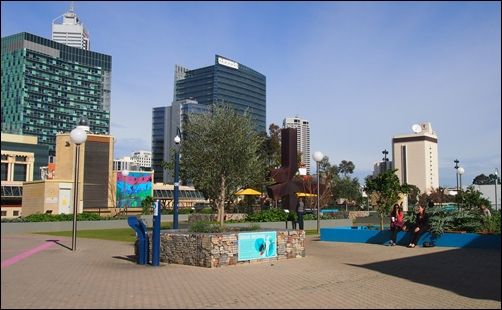 Love this picture.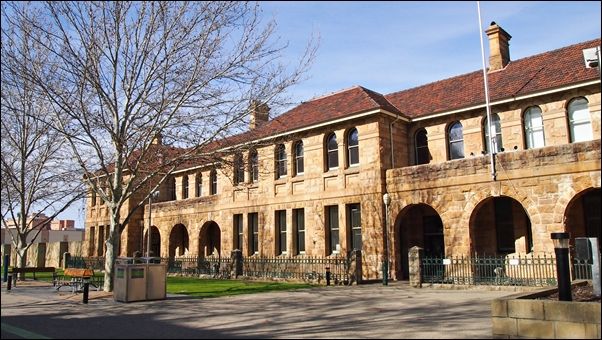 Leafless tree and the building make me feel very European. Somehow.
State Library of Western Australia that is beside the Western Australian Museum.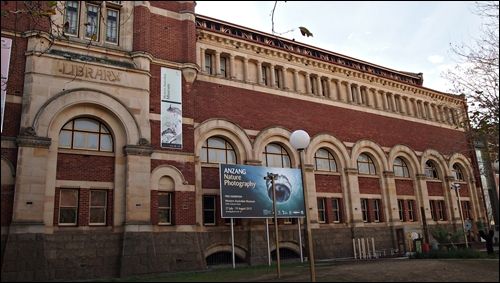 I entered the Western Australian Museum.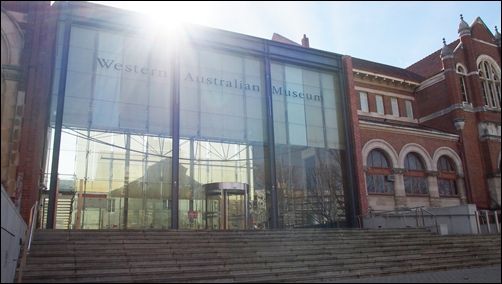 Free admission! Heh…
The first exhibition I went to gave me some background and history about Perth.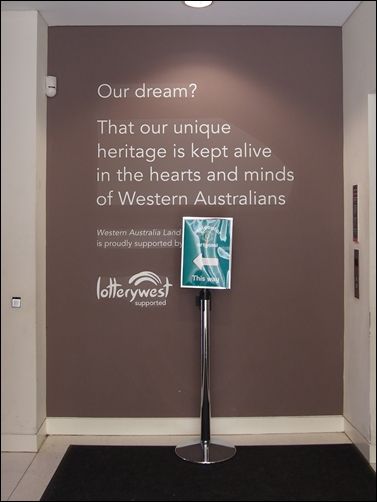 You got to find the perfection beyond all the imperfections.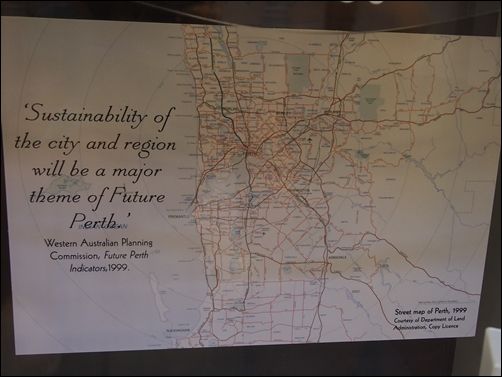 Next up, visited the Diamonds to Dinosaurs exhibit.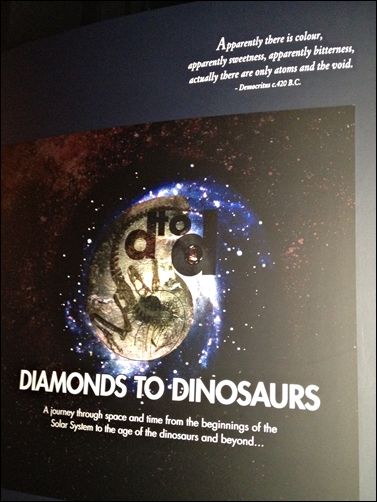 Can you still remember the periodic table?

Interesting fact.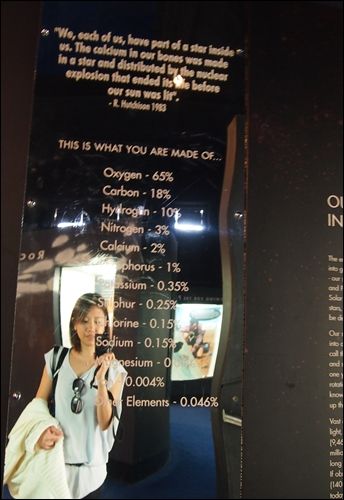 They say diamonds are girls best friends.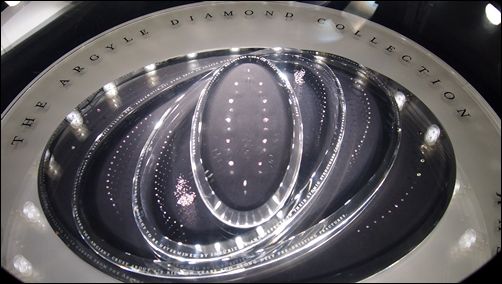 Give me gold any day please.
Went to the Aborigines exhibit to understand a little more about them and their culture.
Interesting and sad at the same time.
After finishing my round in the Museum, headed to the Art Gallery of Western Australia which is also in the Perth Cultural Centre.
You need to pay to get into some of those exhibits.
Lesson learnt from the previous Art Gallery I visited in Brisbane.
None of those paid ones seems to interest me much hence I only went to those free ones.
Somehow, I thought this is a pretty interesting picture.

This is known as suspended stone circle by Ken Unsworth.

Suspended stone circle is one of a series of suspension installations in both
sculpture and performance begun during the 1970s by Ken Unsworth to explore the
physical and spiritual properties of natural materials.
In this work, the smooth river stones, suspended improbably by wire in a circular
formation, embody Unsworth's preference for 'making art that is timeless or ancient',
because he just likes 'to make these strange things'. Defying their weight and origin,
the stones appear to be floating in the air, creating a work about equilibrium,
balance and formal relations, hovering between the material and immaterial worlds.
After all the exhibits.. my stomach was growling so I settled for Arts Cafe inside the Arts Gallery.
Ordered a beef patty burger and latte to go with it.

I took a counter seat which overlook the bridge leading to Perth train station.

I spent an hour, almost two in the cafe.
I took time to savour every bite of my food.
Took the time to people watch and think about my life…
Although it was not one of those breathtaking moments but it was certainly one of the 人生真美好 moments.
At that very point of time, 我知道我是幸福的. 🙂
I would not want to trade that moment for anything else.
I was really contented and at peace with myself.
Got a dental postcard and it is now sitting in my office cubicle.

After my really long lunch.. I finally got my ass moving.
I had to walk past the Perth train station.


Karma certainly has its way to hit you back.
When SMRT had a major breakdown last December I was travelling in a train from Brisbane to Gold Coast thinking how lucky I am to escape the shit.
But well…. You can run but you cannot escape!
Commonwealth of Australia.


Pretty majestic building yeah?
Walked from Perth Station all the way to Wellington where Harbour Town is located.
You could take the Yellow CAT but the waiting time was too long for an impatient me.


That is my shopping paradise!!!
The apparels I tried on…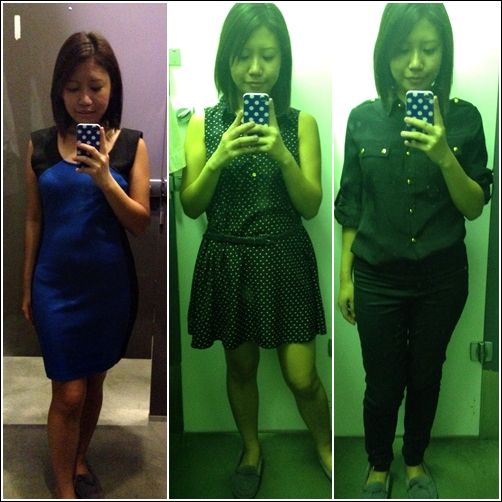 Well, of all these, I only bought a hearts polka-dot dress.
Got it at AUD$9.90 from Valley Girl.
I was really tempted with the shirt in the last picture however I was not able to convince myself to buy it. I think it was at AUD$24.90 or something.

This shoe resemblance my string string.
I was tempted for a very short moment but decided against it because I knew it will get dirty real fast.
Prices for those who are interested to get Havaianas in Australia.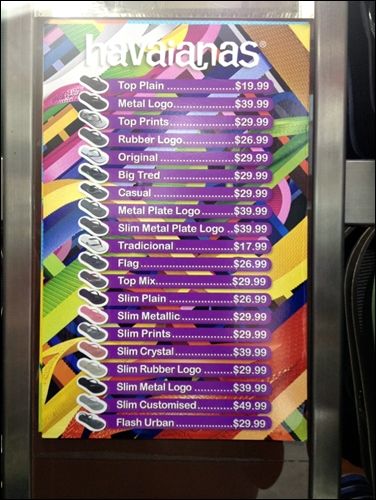 With conversion and such, they are not that cheap after all.
The shops in town are closing at 5pm thus I left Harbour Town at about 4.15pm just to make sure I had enough time to rush to the Valley Girl in Hay Street to get myself a pair of jeans I eyed on 2 days ago.
Valley Girl at Harbour Town sells off-season clothes at cheaper price and since the pair of Jeans I eyed on was new arrival, I had to get from their store in town.
I was their last customer of the day!
The shops are very prompt with their trading hours. By 5pm, I was left with nowhere to shop.
Then I suddenly remembered that I want to visit a Church in Perth!
No, I am not a Christian but I thought it would be interesting to visit one.
There you go, St George's Anglican Catherdral.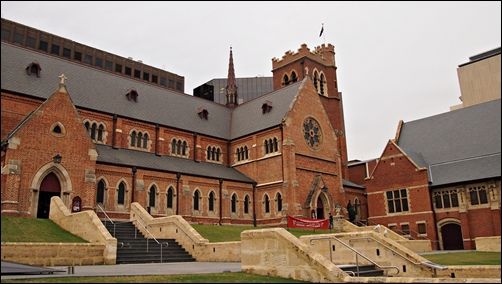 The Church is pretty big.
I liked how grand it looked from the outside.
Stairway leading to the entrance of the church.

I guessed I was lucky that they were having a service right there and then.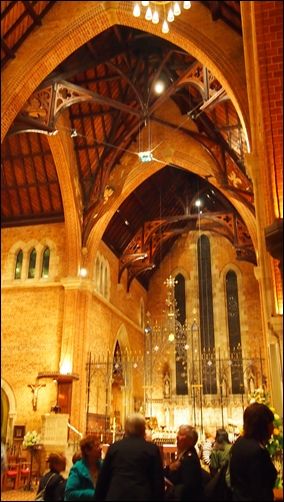 It was in remembrance of Willian Booth who founded Salvation Army.

It is my first time attending a proper Church service (the Christmas edition which I attended once in City Harvest when I was 16 year old is not counted ok!).
This is the kind of Church I always like since I was a child.
This is what I call a proper church, high ceiling, ancient and holy looking typical Church building with tinted glass.
Being a non-Christian, it was definitely eye-opening.
Although I do not understand much about the prayers and songs but I enjoyed the music and performance by the Church musicians.
Took some photos in the church after their service.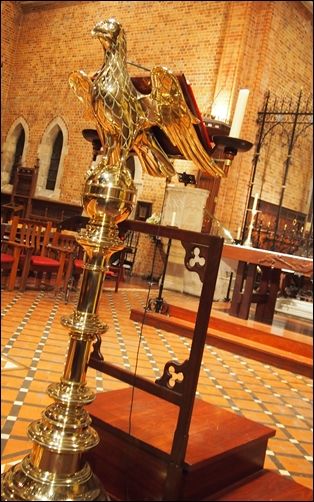 The Golden Eagle.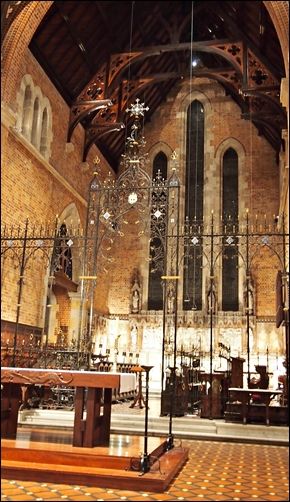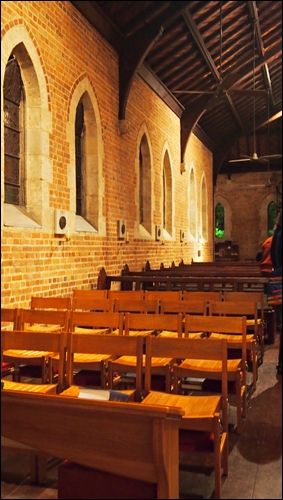 Rows and rows of seats for the people who attend the service.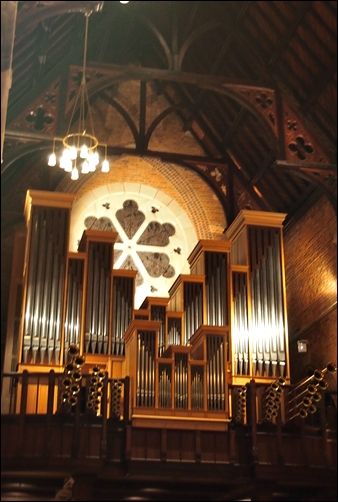 Pipe organ makes beautiful music.

Jesus Christ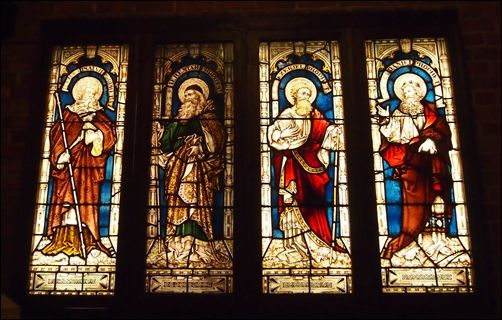 Tinted glass are beautiful. There are one of the reasons why I love those traditional Churches.
I suppose all these tinted glasses are suppose to tell some stories?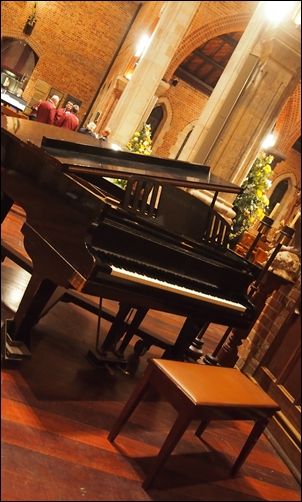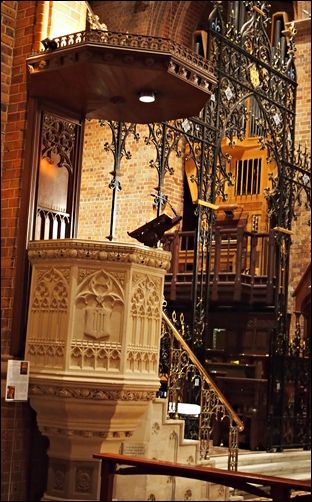 As I was done with the photo taking in the Church, I was being ushered to a reception area for some drinks where people mingle with one another.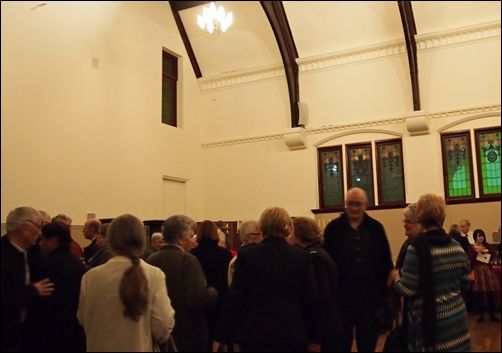 They served white wines, red wines and some juices I think.

I was really thirsty by the end of the service I was thankful there was a drink reception.
I helped myself to a glass of wine.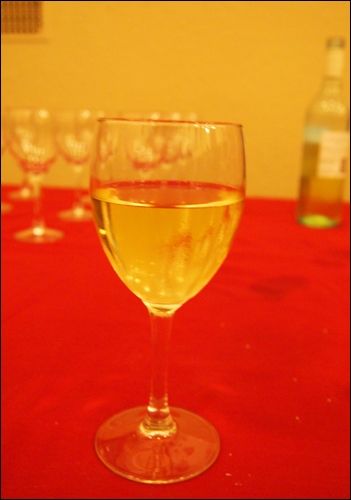 I was kind of surprised that they served alcohols there.
I suppose there are no rules saying Christians cannot drink right?
Anyway, I did not 白吃白喝 ok! I even talked a little to the priest before making my way out.
The building that was opposite the Church….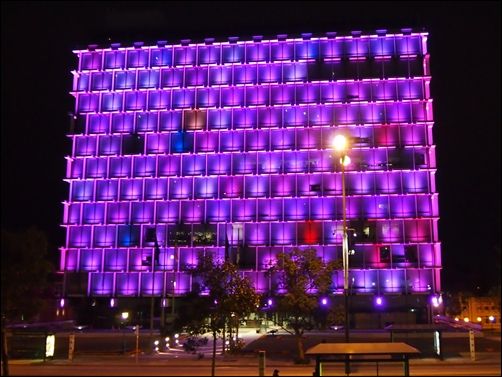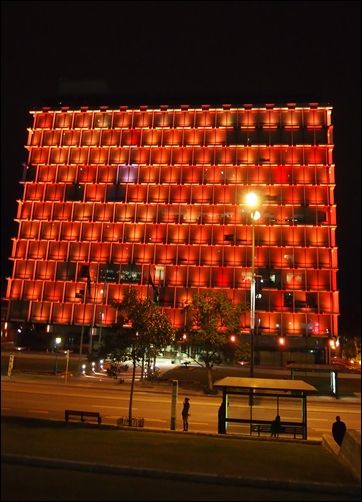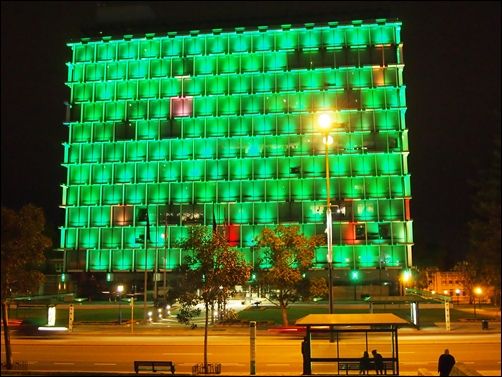 The ever changing colours.
One last shot from the Church before I head back to the Hostel.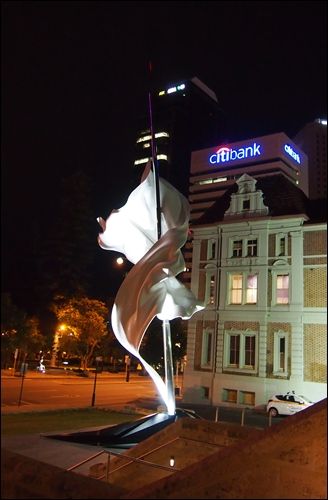 I walked past this little short little street known as London Court.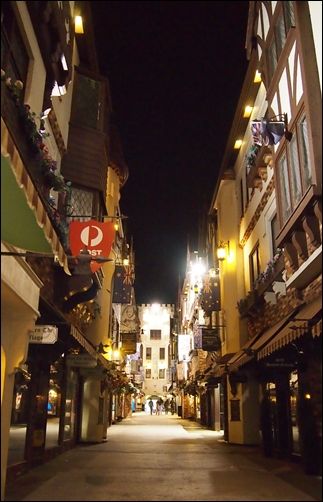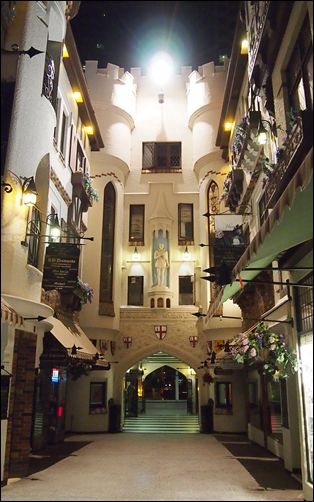 I guess the name just says it all.
The architect and all are very British.
This is one of the tourist attraction in Perth City, I can imagine it being one of those bustling stretch of road where people have to walk past to get from one street to another as well as tourist posing for photos in the day.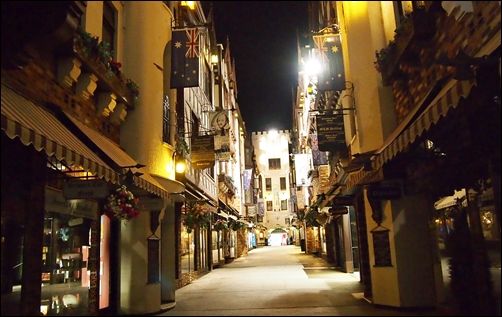 I was glad I managed to catch a glimpse of this place with no bustling crowd.
Judging from the look from all those stores, I am pretty sure the prices of items they sell are definitely not cheap at all.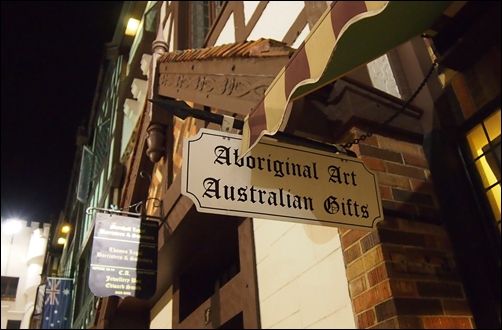 Goodbye London Court.
I liked our brief encounter with each other.

Look at how empty the streets are at 7pm after all the shops close.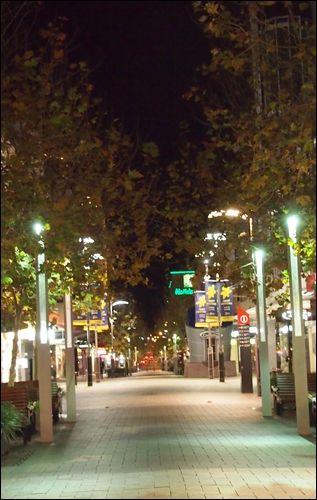 Like a dead town.
Still pretty thirsty which explained why I had that smoothie from McDonald's in my hand.
I was sitting on the bench, waiting for the Blue CAT to arrive and send me to Russel Square.

I sat there for about 10 to 15 minutes or so before realising that the bus has ended its operation for the day.
The last bus ends at 6.30pm from Saturdays to Thursdays.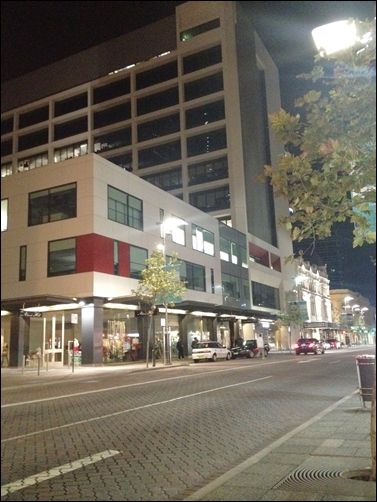 Too bad for me.
I had to walk all the way from William Street, past Perth station then to Northbridge before taking the usual quiet route back to the hostel.
I heard many stories about how unsafe Northbridge is hence I crossed my fingers and quicken my pace.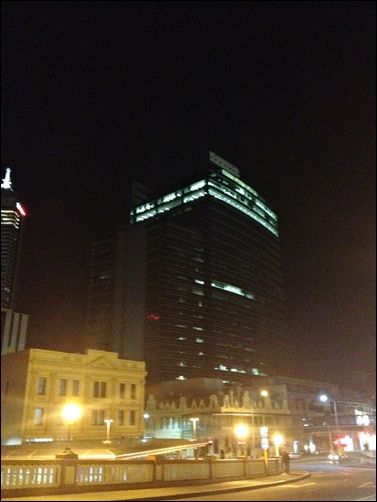 Good night and goodbye Perth.
It being my last night in Perth, it was the dreadful moment of making sure I am able to stuff all my things in my luggage and an extra bag I brought along.
I was reluctant to pack as you can tell, with my clothes strewn on the bed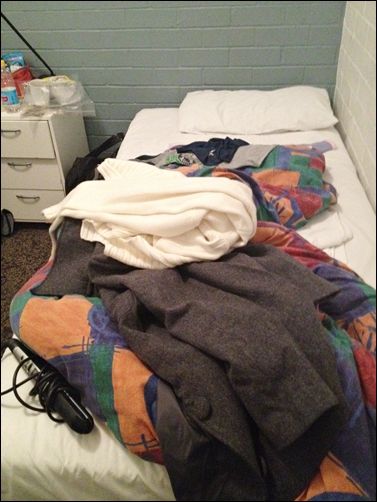 The art of fitting everything in.

By the time I was done and feel comfortable enough to venture out was at 10pm when the courtyard is close.
I was trying my best to finish the chocolate chip muffins I bought on the first day.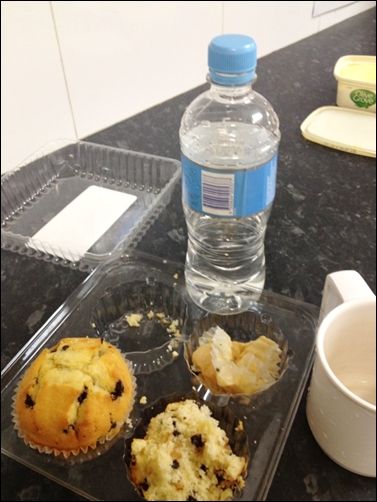 Well, I guess 10pm is the time where most start to feel hungry because Neil and Euan came into the kitchen looking for food too.
When they saw my dinner, they shook their heads and start to offer me some of theirs. Haha..
This small sample bite size of crumpet that has some jam on it is from Euan.


That was because I was kind of fascinated by this crumpet I had never seen before in my whole life.
How they explained to me was that it is a mix in between bread and pancake.
It was not bad yeah..
Then, Neil offered to share his pastas with me.


It was not bad actually.  He added some grated cheese on top.
After our supper, we hung out together at the front porch talking, drinking and them smoking.
Occasionally, we do have some smokers joining us there as well…
The 2 guys that I had been hanging out with, Neil and Euan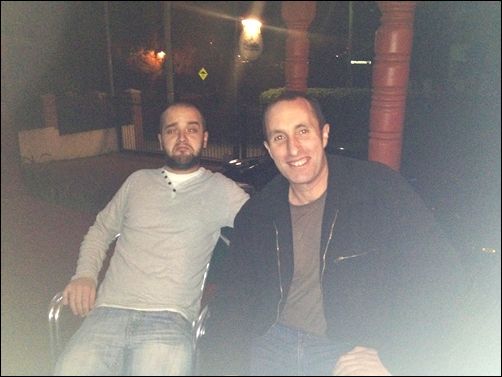 That's Euan and I.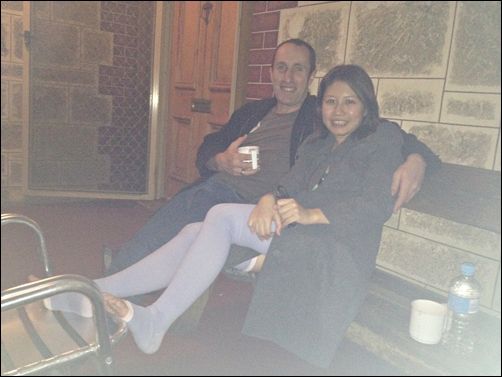 Neil and I.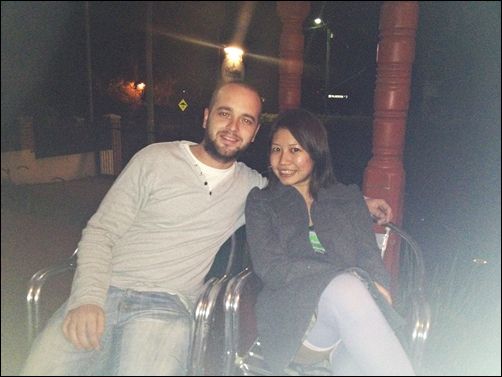 I was very fascinated by the carton of wine…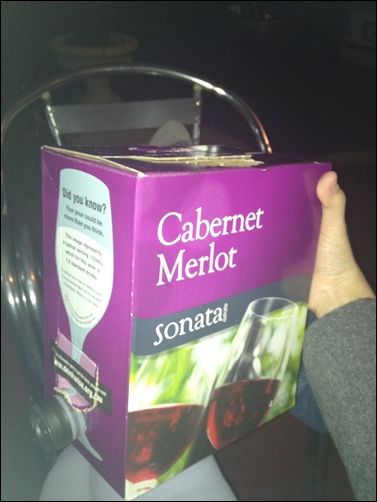 This is how it looks inside when you remove the carton box.
The wine is contain in this aluminium bag with a knob that you can twist and pour the wine out.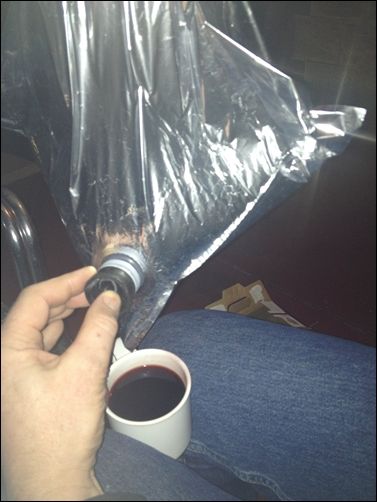 Interesting I say. Ha…
Not to mention, the wine is really cheap too!
You know, the guys were amused by how flexible my toes are… then we started having a mini toe wars…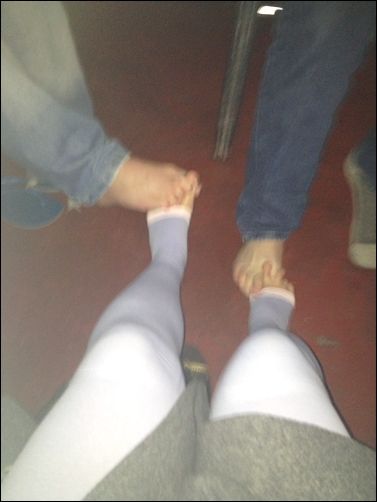 two against one, yours truly won of course! 😉
Comparing the size of our feet with Neil.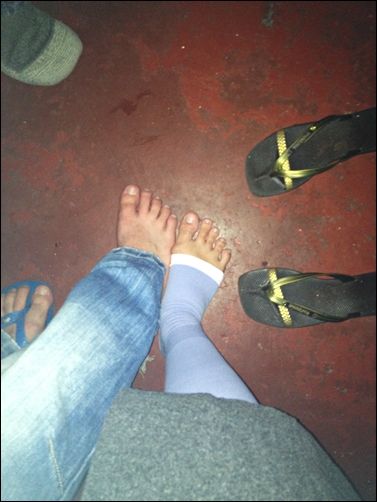 We just sat there and talk for a very long time…
We talked about spiders, deaths, whether one prefers to die in an instant death like accidents or cancers where you somehow know when you will die.
We also chatted on euthanasia and other stuff.
Pretty heavy topics you can say but it was interesting to discuss.
Well, this is the hallway to the front porch in the middle of the night where most went to bed.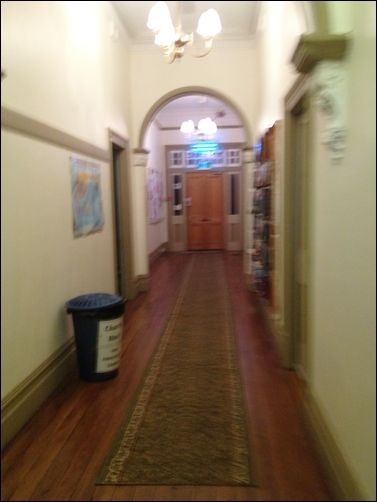 It was all so quiet.
Well, that left with Neil and I talking and drinking (vodka sprite) through the night.

Somehow we chatted until my room mate drove off to work like about 5.30am in the morning before the two of us decided to call it a night and hit the sack.
I only slept for a short while before it was time for me to wake up again!
~*~*~*~*~*~
20 December 2012 – Monday
The last day of my trip with my outfit of the day…

I did not want to leave the lovely place at all… 🙁
Anyway, I had a breakfast date with Ain who is my FOC camp mate at Tiger Tiger Coffee Bar along Murray Mews.
It was only when I was in Perth then I realise she was studying there so decided to catch up for a meal before I fly off.
My breakfast date, Ain. 🙂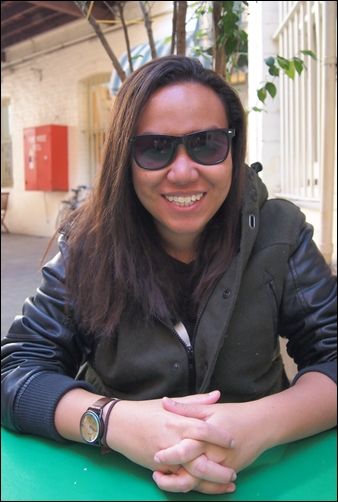 My breakfast, eggs benedict which I honestly think it was one of the lousiest eggs benedict I tried before. =X

My cup of cappuccino.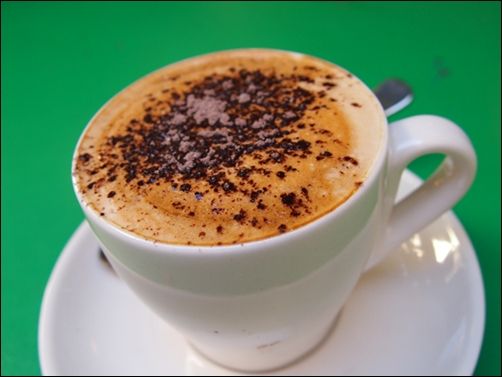 Her toasted bread with smoked salmon breakfast.

A photo before we started on our breakfast while catching up.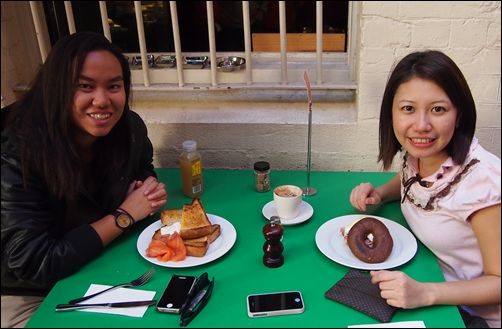 Despite we were not the closest friends during poly times and for many years, we are just facebook friends, there not not a moment of awkwardness between us!
Awesome I say! 🙂
After breakfast, Ain accompanied me for some last minute shopping before sending me off to my bus stop.
I rushed back to the hostel because I had arranged for the Perth Connect (airport shuttle bus) to pick me up at approximately 11.20am.
I made Neil wake up just to send me off.
I was reluctant to get on the bus and head towards the airport…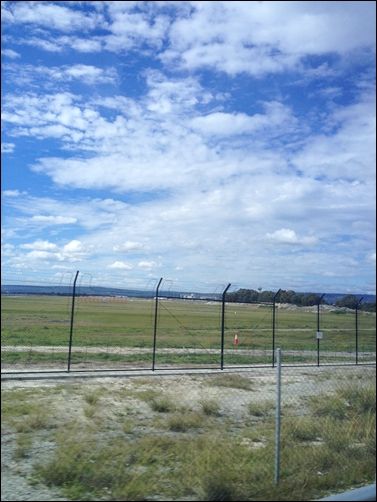 I checked in with 2 baggages with a total weight of 23.7kg!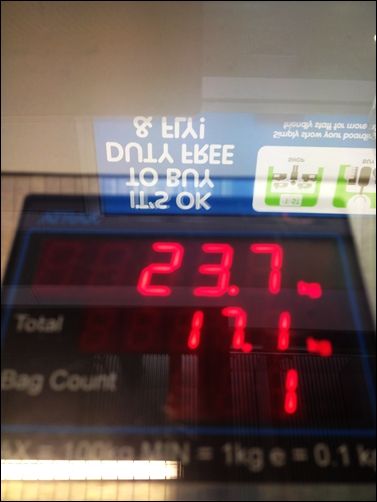 My limit was 23kg and I have exceeded by 0.7kg.
Initially the lady told me I was only allowed to check in one baggage instead of two.
Then I had to informed her that the last time I flew back to Singapore from Melbourne, I was allowed two baggages, how could they tell me that I am only allowed to check in one.
In the end, I got my way…. 🙂
I met a Singaporean couple who are probably about the same age as my parents, they were taking the same flight as me.
Their English were not as strong hence I helped them with some translation with one of the sales assistant at a duty free shop then we started talking then after.
When I told them about my trip there alone, they seemed rather impressed and asked how my parents felt about it.
I just replied them that I used a 先斩后奏 method.
I earn my own keeps, as long as I can afford and know how to take care of myself, they are not THAT bothered I THINK. Hahaha…
They told me they have a son my age and said how they will ring him up when he is not home by midnight.
They also expressed their concern when the son goes drinking. They were afraid that such drinking places has people dealing with drugs and his son would have access to them.
I had to educate them on the difference between clubs, pubs and la-sap bars and assured them that their son should be doing fine.
After talking to me, the dad was telling the mum that maybe they should give their son more breathing space and not to call him every time he is not home by midnight.
I think their son should really thank me for doing him a favour not to have his parents breathing down his neck!
Anyway, they offered to send me back home as they stayed in the west too.. but I declined as I had already arrange for Ahmad Sicong to fetch me. :p
At the waiting area looking at the plane that will bring me back to my reality.
I did not want the adventure to end… 🙁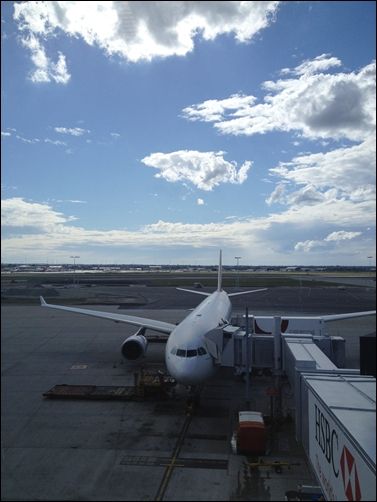 I played with this little boy who sat behind me while killing some time.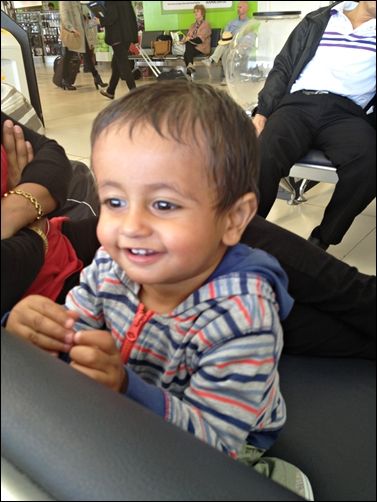 It was a full flight back to Singapore but thankfully I still have that aisle seat.
My beef stew marsh potato with a bottle of wine to aid me to sleep for the few hours back to Singapore.

I am thankful that I had Ahmad Sicong sending me back home because I was deadbeat by the time I touched down.
Although I was back physically, I left my soul there for a couple of days….
Unpacking from a luggage, one of those signs that you are back to reality.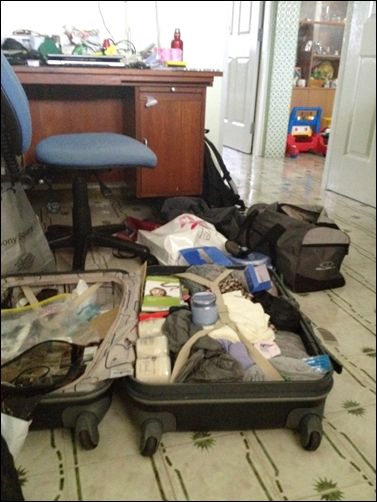 My purchases during that five days!


– SKII essence water
– 6 tubs of placenta cream
– A pair of boots
– A pair of skinny jeans that I ♥
– A grey dress from a thrift store @ AUD$1.50
– 2 playboy lingerie & a bra at really great deal
– Heart-shaped polka dots dress at AUD$9.90
– A bottle of wine from one of the winery
– A bottle of port from DFS
– Nuts to munch on,
– Timtam and shortcake biscuit
To conclude the trip….
My first adventure alone, I am quite proud to say I made it back in one piece.
I had a memorable time, a good experience.
Never regret the impulse decision to book for this trip.
I cannot wait for the next solo trip out of Singapore and not forgetting my year end trip to Taiwan!
Xoxo