15 August 2012 – Wednesday (Day 0)
Booked the trip 4 months in advance and finally it was time for my first ever solo trip to take off!
Rushed straight home after an outlet setup.
Bathed and out I went to take public transport to the airport!
There were long queues at every Qantas counter when I reached Changi Airport.
Not as lucky as my previous experience with Qantas, I had to queue behind those people.
I wanted to try my luck asking for a complimentary upgrade but just before it was my turn, someone just had to sniggered at my intention that made me chickened out and asked for an aisle seat instead.
BAH~
Really, packing 5 days winter wear weighing 14.5kg makes me worry for my 9 days winter trip to Taiwan with just 15kg baggage allowance. I should have gotten 20kg baggage allowance instead. Ugh~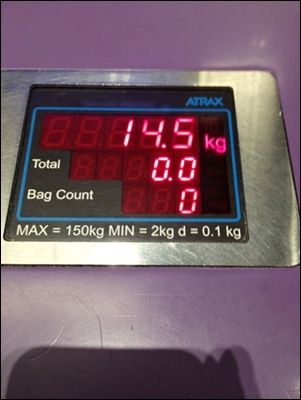 This time round, I walked through the immigration confidently, I told myself not to shed a drop of tears and be drama-mama.
Afterall, I had booked my accommodation and done necessary research so there should not be any problem and just embrace this adventure all by myself!
At the very atas toilet of Terminal 1 after shopping at DFS, looking good and all ready to fly!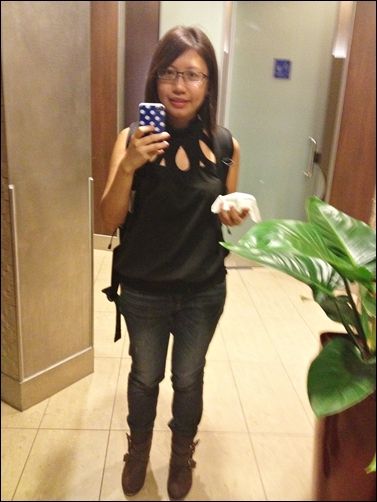 Boarding pass!


With all the shopping at DFS, I was just right in time for my flight!
The aircraft was pretty empty, I had the middle row, 4 seats all to myself!
Damn, I could have just ask for business class.
Anyway, it was still good because I was able to lie down and sleep properly, except that I had a hard time trying to adjust the cushions to support my neck.
Let's check out what's for supper during that 5 hours journey.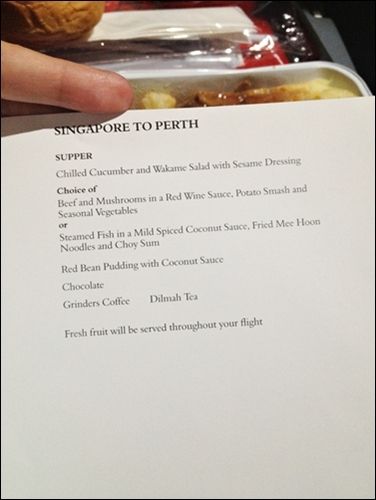 Settled for Beef & Mushroom in Red Wine sauce and I had the shows from my Tab to accompany me throughout the flight.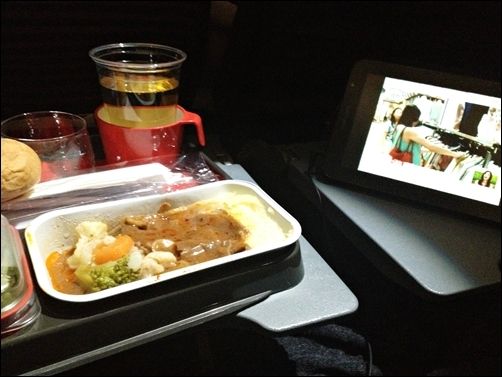 16 August 2012 – Thurday (Day 1)
It was sure good weather and air traffic was so smooth as I arrived about an hour ahead of schedule.
Temperature checked was about 3 degree celsius.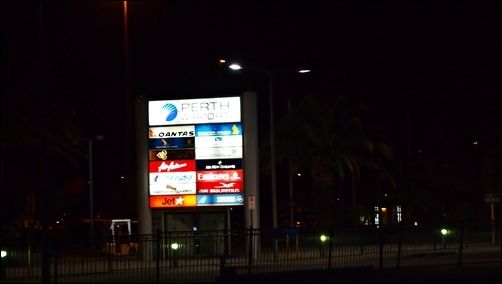 I swear I was mad cold with a pathetic trendy windbreaker and a sleeveless non-thermal top underneath with jeans and boots.
I was blowing smoke when I went outdoor.
Although it was crazy and mad cold to be outside but hey, it was fun blowing smoke! Hahahaha…
I had to wait for an hour or so before the first Perth Connect starts and bring me to my hostel.
Thankfully I had the free internet to keep me entertained for a while.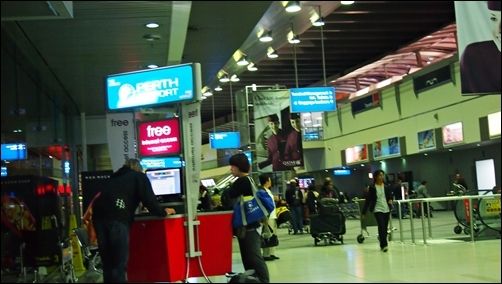 Still waiting for the Perth Connect to start operation.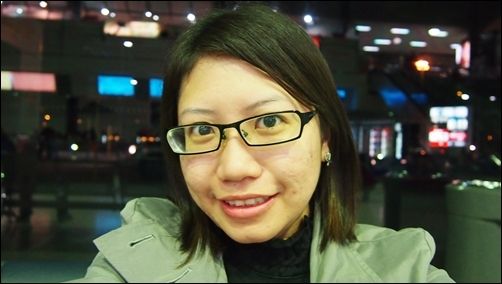 Finally at about 6.10am or so, the bus arrived so I purchased a return ticket that sent me to my hostel and picked me up on my last day to the airport.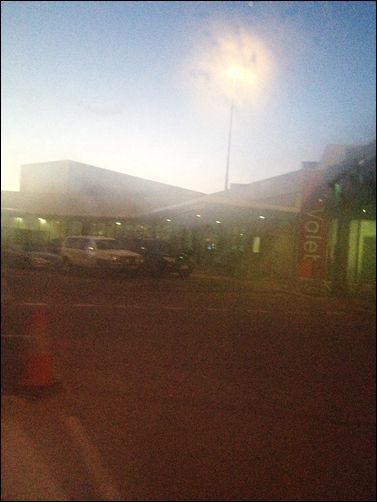 The first ray of sunrise begins at about 6.30am.
It did not take me long to reach as I was the first passenger to get off.
Here, Witch's Hat where I sleep for the next 4 nights.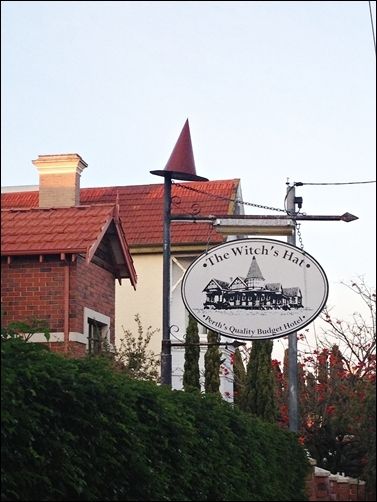 I did research in Trip Advisor and it seems that they had pretty good reviews and interesting looking outlook, hence I decided to book this at SGD40/night for a female dormitory for 4.
If you wonder why it is called Witch's Hat, that is because the roof looks like one.


Pretty cool yeah? Ha…
As I reached really early, I was let in and waited at the TV room.
Here is how it looked like in the TV room.
Couches… to sit, to lie down, to sleep (that was what I did while waiting).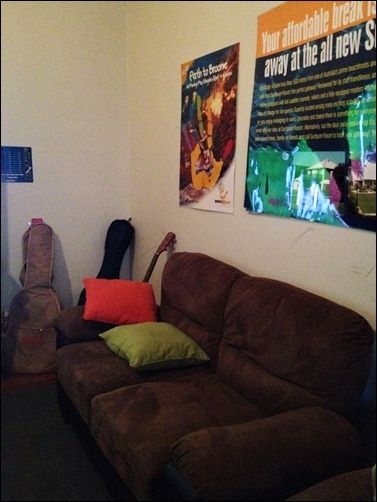 Computer terminals, you have to pay to use them of course.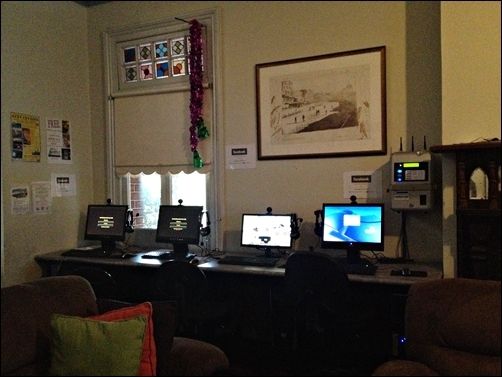 A table that sits at the back of the room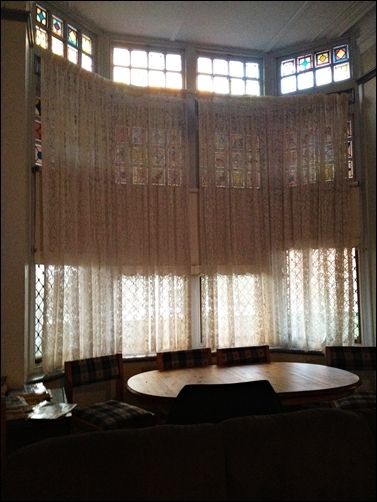 One of the entrance to the room…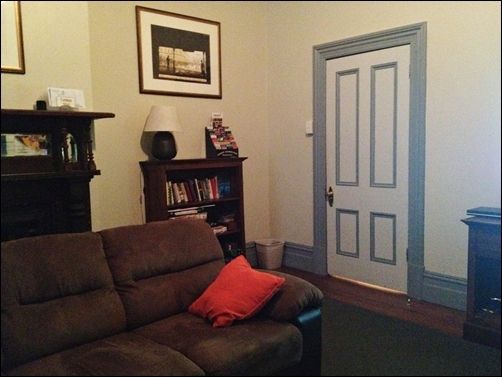 Since I still had to wait awhile before I allocated given a room, decided to head to a nearby supermarket to grab some food that I will need for the next few days, considering that even supermarket closes at 5pm, in case I am hungry at night, I still have some food to keep hunger away!
I was given directions to get to the nearest Coles however I feel no sense of security without google map, my best travel buddy to unfamiliar places.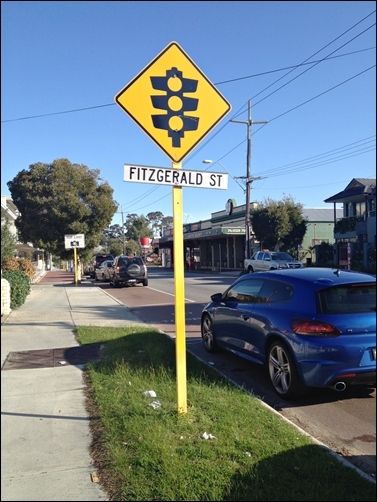 Past by Gull gas station before I reach Coles.
Wanted to buy a micro sim card, ended up getting a normal sim card. *roll eyes*
Anyway, this is the place where the story of Muthu s/o Super Mario and I got started all thanks to my imaginative friends!
As I was trying to fix up the sim card on my Tab, I was having the conversation with the Indian with Australia accent cashier.
So we spoke and I blame it on the lack of sleep in the plane that I told him that I went to Perth alone and where I was putting up at!
经一事长一智.
He offered to bring me around Perth which of course I rejected. I guess he was just being nice to a tourist.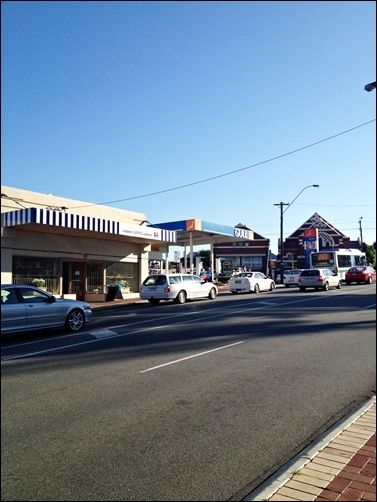 Checked myself into Room 6 with I shared with an Irish woman who is working in Perth.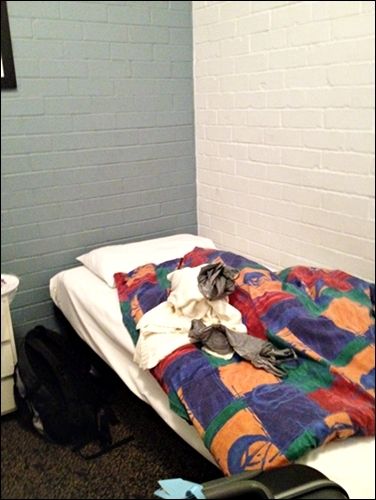 I was lucky i guess because I book for a room for 4 but ended up in a room for 2.
More privacy for me. Ha…
A shared bathroom facilities in the hostel which was absolutely fine with me.
After I pretty much settled down, head to town to settle my micro-sim card issue at an Optus store and got it activated before I begin my exploration in Perth!
First stop of my journey!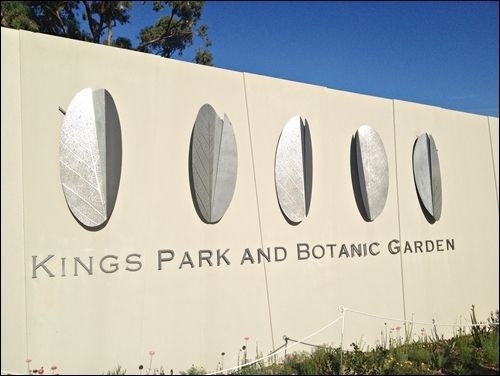 I have an overview of Perth CBD!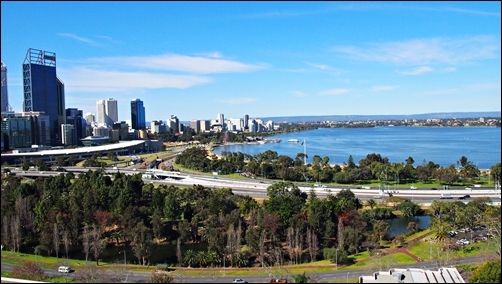 Pretty yeah? I am blessed with awesome weather too!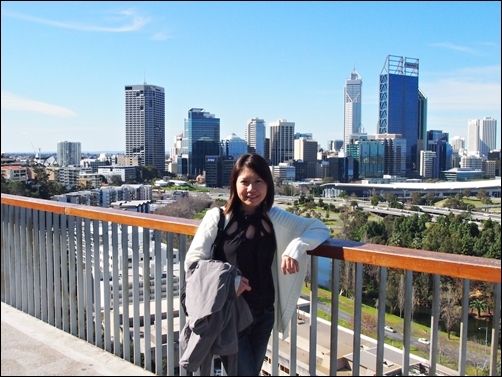 It is a good place to put my skills and camera into good use!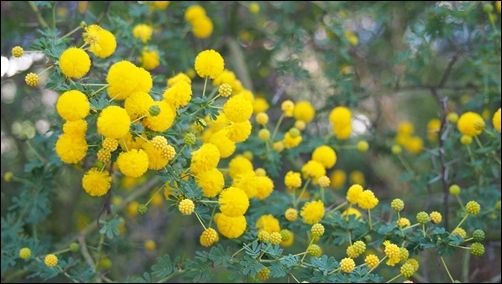 World War I war memorial.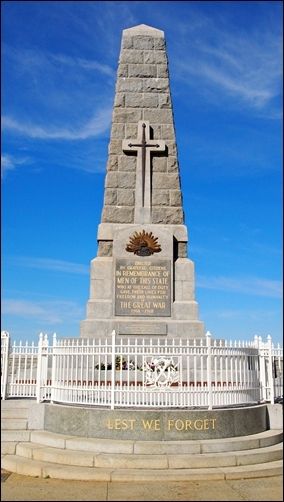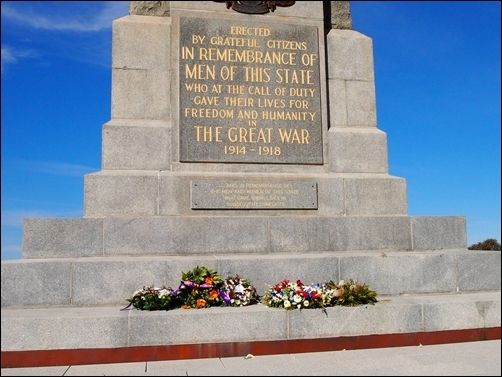 Just love how this picture looks.


In that instant moment, I wished I had a bottle of wine, a good book, probably some snacks so I could spent a couple of hours there.
Lavenders!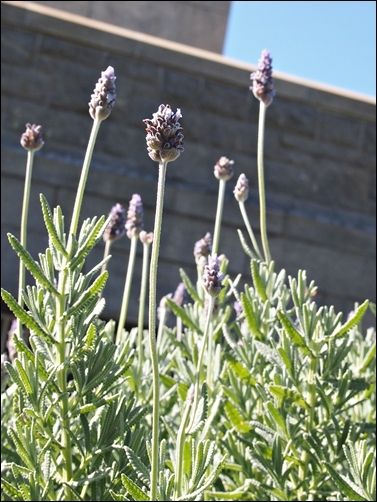 Another good spot for nice overview.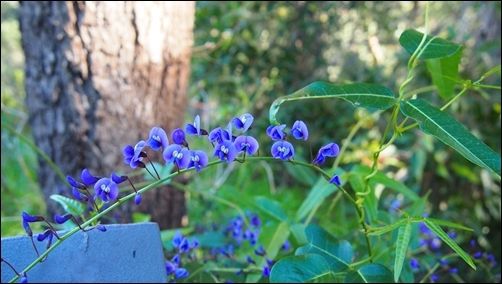 Looking down from where I was. It was pretty steep with no railings.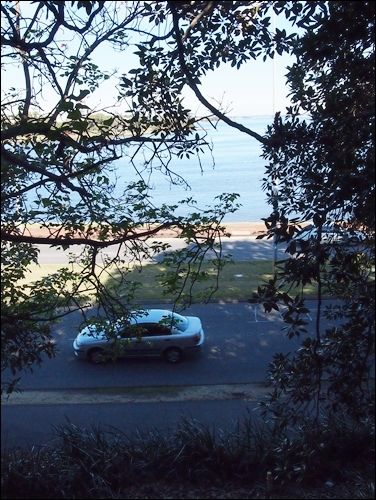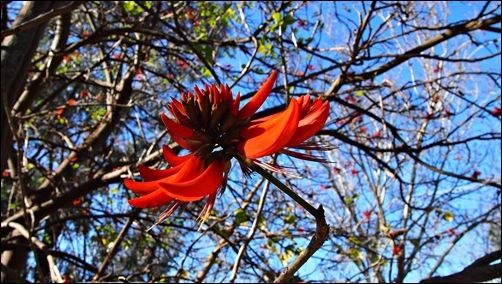 Was climbing up this Kokoda Track.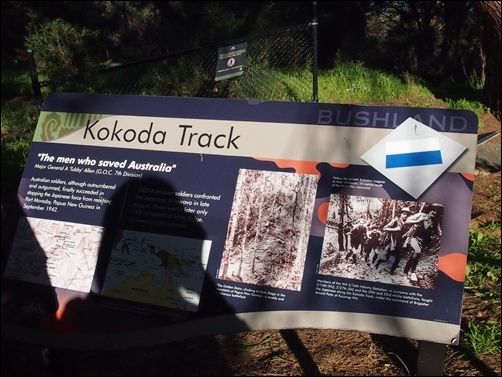 The track was so steep that I was already panting half way through.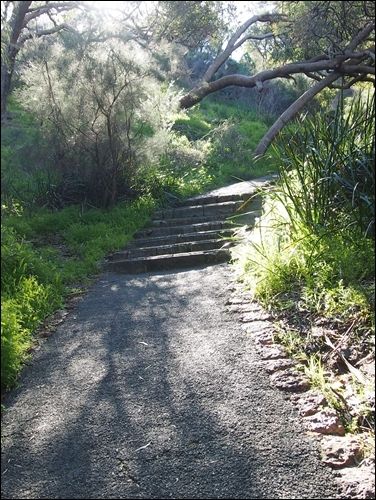 Spot that old brewery.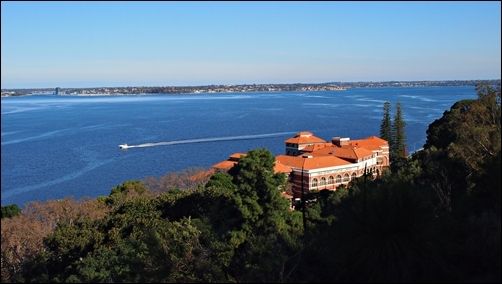 Casting a shadow as I walk.

Self-shot because nobody was around.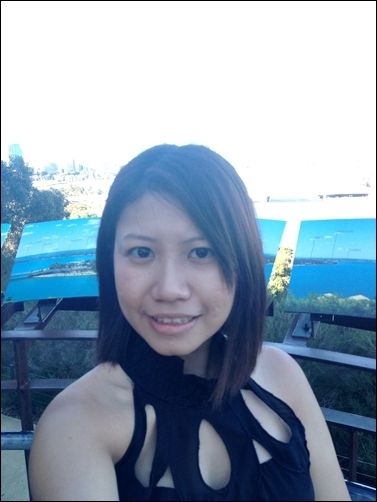 Now, that is the only downside of travelling alone.
Pretty pond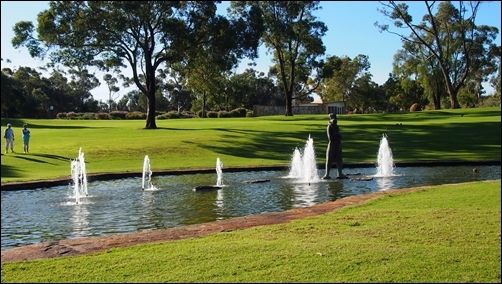 With the water shooting high up into the air!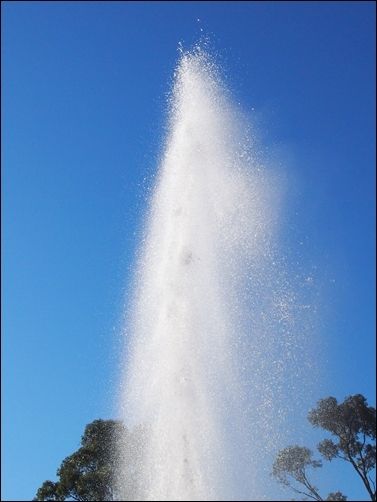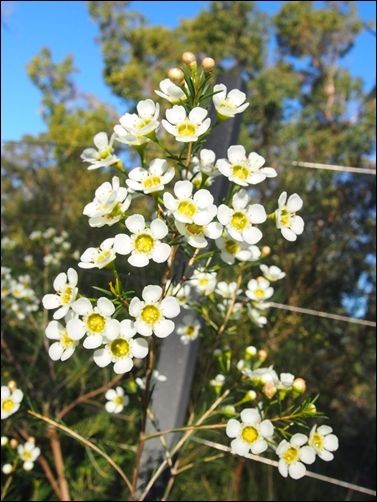 I found an area with pretty flowers. With that, you know Spring was arriving!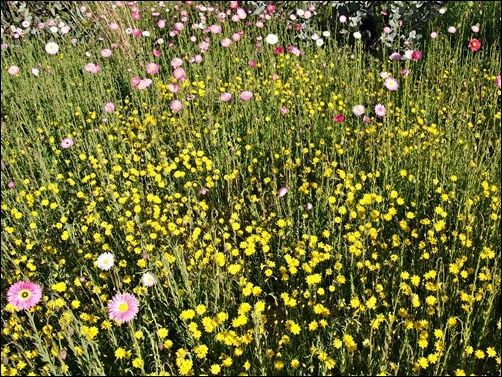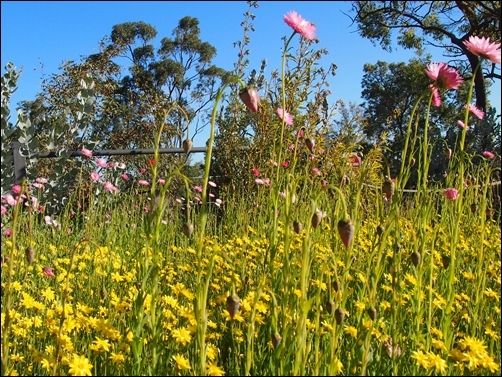 After I left Kings Park, wondered into town then I had a sudden crave for pizza!
I knew I had to have it for dinner!
Started walking around aimlessly while googling for pizzas in the area and it was surveyed that Dough Pizza located at William Street has the best pizza.
I must have walked more than 2km to get there.
They opened at 6pm and I was the first customer of that evening.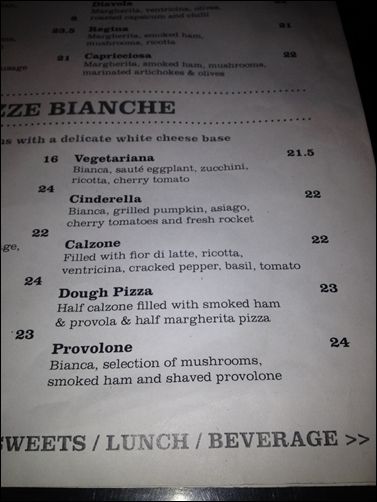 Spoiled for choices but decided to heed the lady boss's (I presumed) recommendation of Calzone pizza.
Well, pretty interesting because instead of a round or square/rectangle shaped pizza, it is oval shaped with fillings inside!


I must say it tasted pretty good! Well, of course I could not finish the pizza all at once so I packed the rest back and had it for 2 breakfasts.
The sun started to set by then.
By the time I walked back to the hostel it was already dark.
Back in the hostel, I bumped into a Singaporean Indian at the kitchen.
He will be immigrating his whole family to Perth!
*Think about the CPF money he gets to withdraw* Haha.
It was nice meet a fellow Singaporean there to feel a sense of familiarity there!
After I showered, spent the rest of the night back in my room.
Was too tired and not quite comfortable to head out to socialise with others.
However I did spoke a little to my room mate.
I realised we did not know each others names and I only know her name on the last day.
Best part, I knew it through another person's mouth. Hahaha…
She occupied the 4 hooks in the room and I had to ask her to give up one of the hook to me.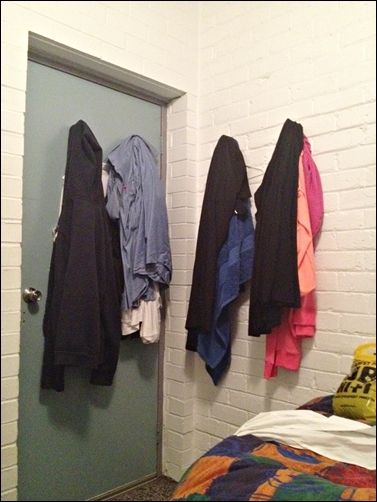 Went to bed at 10pm because I was deadbeat after a pretty much sleepless flight the night before.
It has been such a loooong time since I slept that early.