20 January 2010 – 7th day of CNY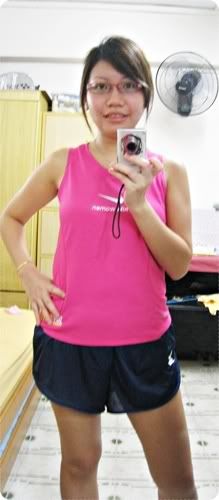 Went jogging at Pandan Reservoir in the early morning!
Did 4km. With all the work out in the morning, I felt less guilty with the good food I indulge in for the rest of the day.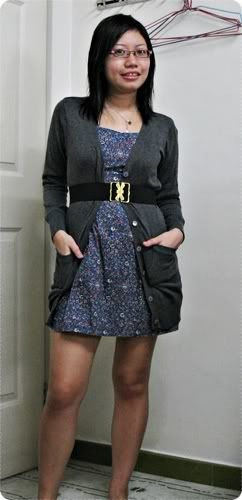 Got myself dressed in a mini dress and grey cardigan from BKK with an old belt.
Met Daphne, BaoXin and Sicong at Kranji before taking the bus across the custom to JB where ZeMing waited for us.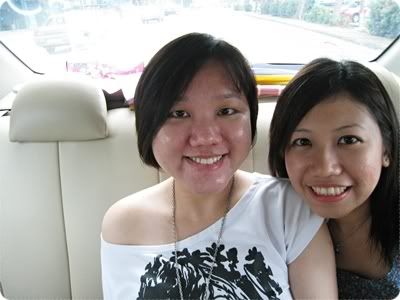 We were so ready to begin our trip!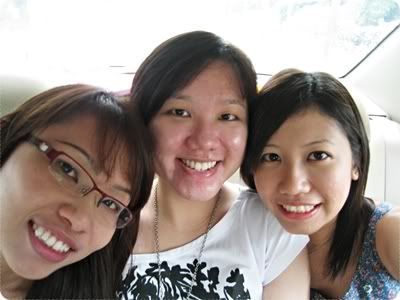 Ok, i mean we!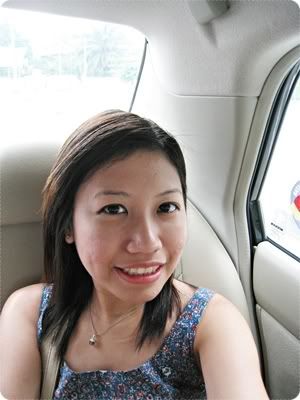 Heh… I was pretty hyped about the trip!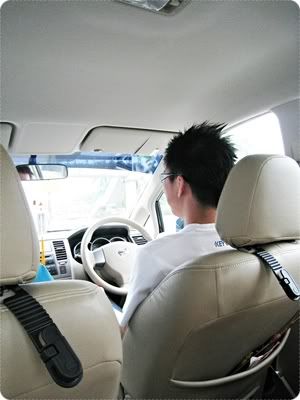 WZM, our driver…
He drove us to this restaurent for lunch, they were famous for the abalones.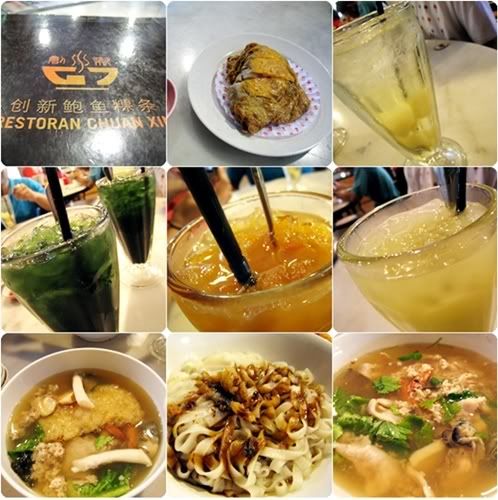 We realised that the difference in the prices lies in a size of the bowl containing the soup and the ingredients inside, the portion of noodles just remain the same.
After lunch, Daphne and I were test-driving in ZeMing's car around his neighbourhood.
I still cannot park properly! =(
I think they were reassured not to sit in any car I am driving in anymore! Sucks!
Popped into ZeMing's place for house visiting.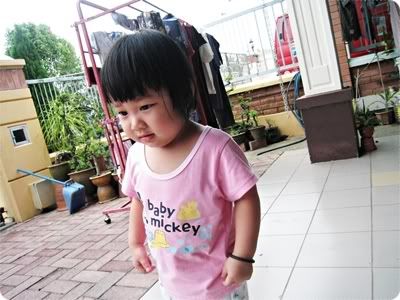 ZeMing's niece…
She is so cute can!
Initially when we went to the house, she was soooo shy that she kept hiding behind his grandfather. She refuse to face us…
Only when we started playing with her then she slowly get herself warm up to us.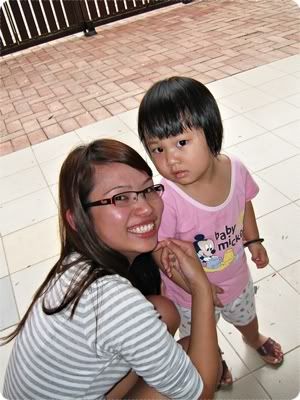 Daphne with baby ZhiYing….

That little girl taking sips of carrot juice from BaoXin.
So cute can! Ha…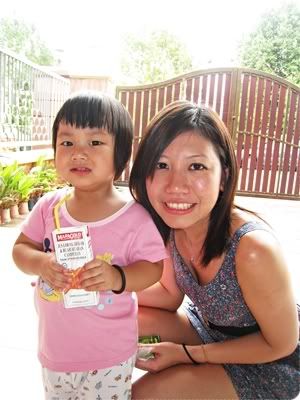 Heh, I like this picture.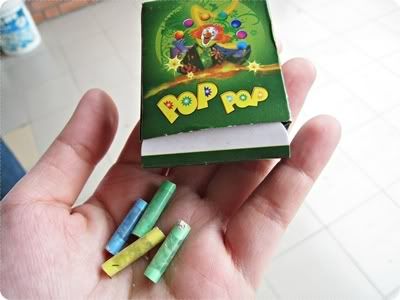 We were playing with these in the front yard with Zeming's niece.
The improvised version of the Pop Pop which we used to play when we were young.
I still prefer those… These seems less powerful and pops easily. Not as fun.
Soon after, we headed off to pick SzeHui and off to Holiday Plaza we went.
ZeMing recommended the optical shop he used to frequent.
We stayed there for many hours because we had a hard time deciding what to get.
We are so fickle minded! Or is it just me? Haha…
In the end, I ordered 6 months supply of contact lens and a new spectacles while BaoXin got herself a new spectacles. Daphne and Szehui gotten themselve shades.
Despite the discount, I am pretty sure the shop did earn quite abit from us.
Then after, we arrived at this restaurant which is located at somewhere I don't know. Hahaha….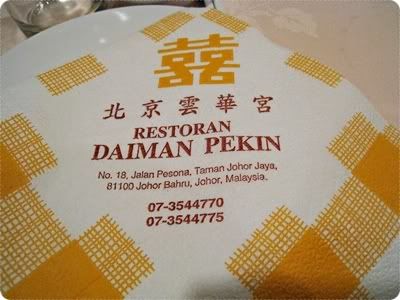 Right, this is the restaurant, heard that it is quite popular place.
We were lucky to get a table there because it was full house and someone actually cancelled their reservation.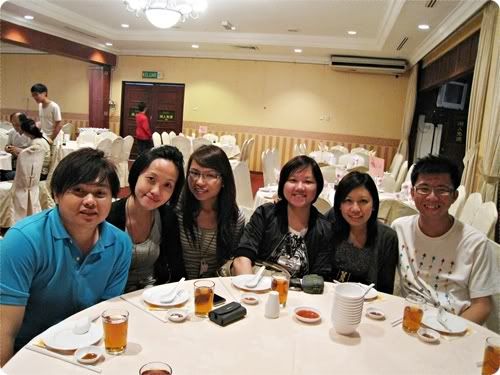 A group photo of us….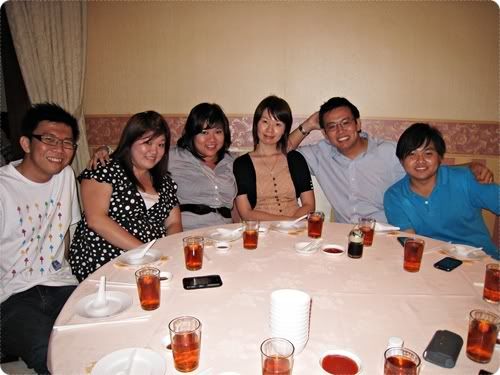 A group photo of them.

and of course some random shots while waiting for food to arrive.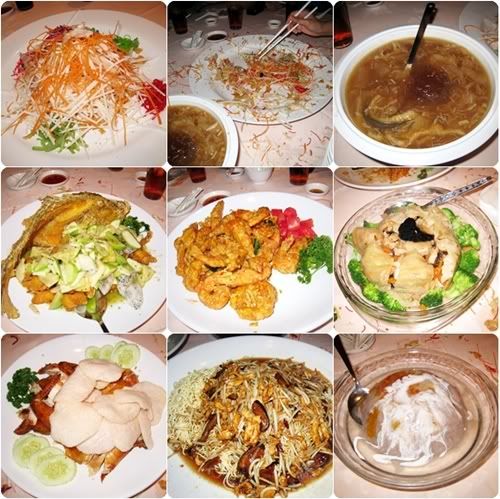 8 course dinner. My 3rd lou hei of the year.
After dinner we all headed off to Garry's place for the highlight of the whole trip!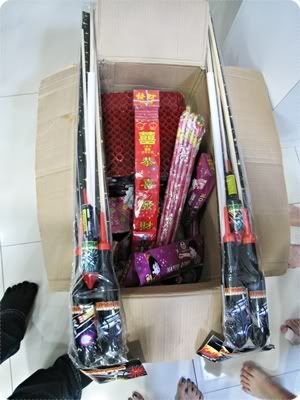 All the explosive 好料 at his place…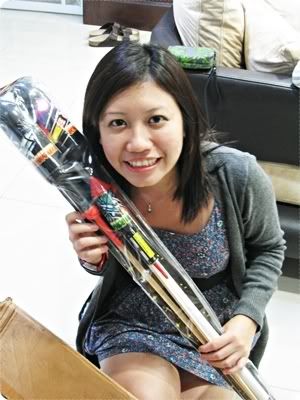 Woot~ I am so fasinated by them!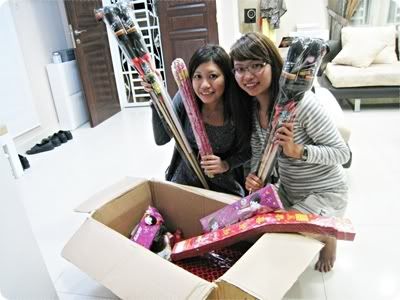 First time holding the explosive in our hands… Shiok!
Damn cheap thrill.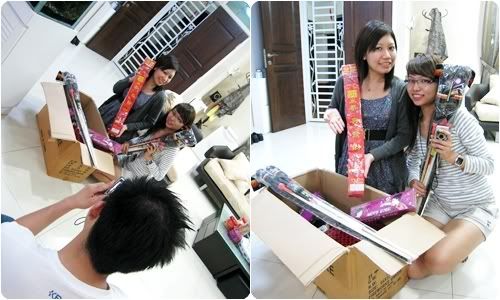 Ok, we are the sua kus. Hahaha….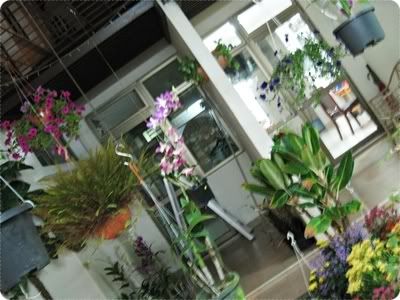 They have got this beautiful mini garden in between the two homes.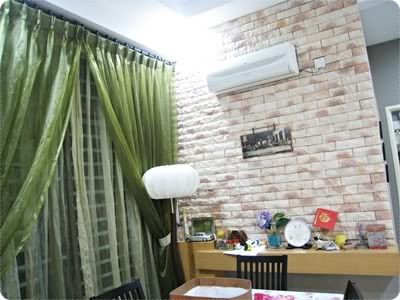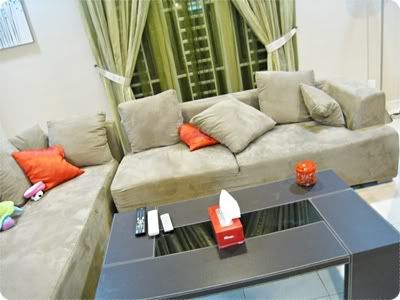 Anyway, we 'hacked' into the brother's place to look for poker cards.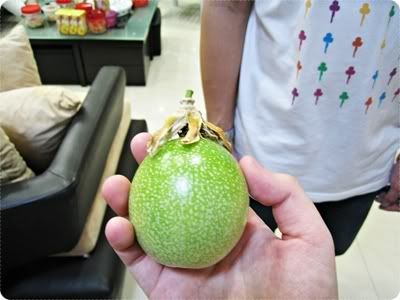 They plucked a passion fruit from the garden.
It's the first time I saw a real passion fruit in front of my eyes.
=.=
After a few rounds of ban lat we headed out with the explosive to perform something impressive. Heh…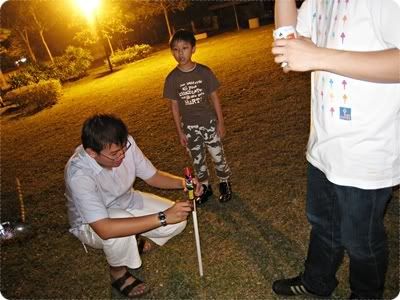 Garry getting it into position….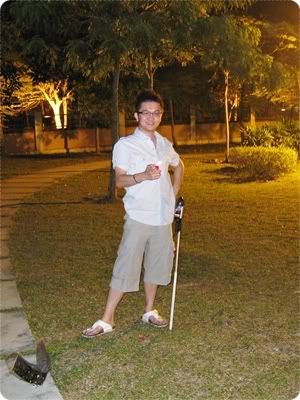 Ready to light up while the rest of us stand a safe distance away….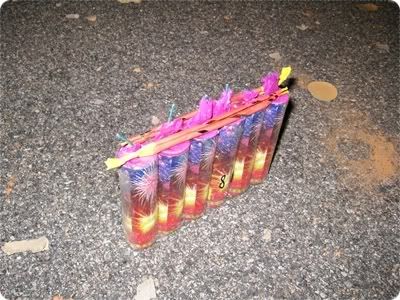 One of the mini ones which we played with.
Video not available, blame youtube.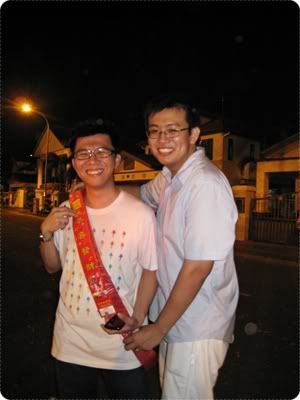 Garry awarding ZeMing with the fireworks banner. Hahaha…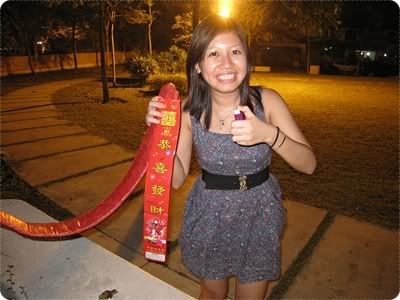 For show nia, I am not the one lighting it.
Again, wanted to show video but…… you know what happen lah.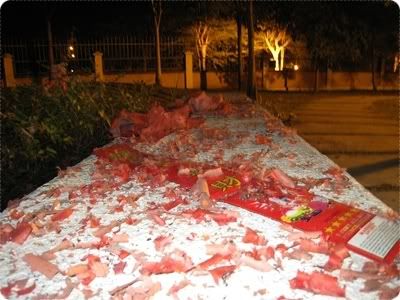 The aftermath.
We played for quite long because we almost missed the last bus out of JB.
Our contingency plan was to go KTV until the next morning if we fail to make it to the custom before the last bus leave.
Thank God, traffic was pretty smooth and we made it back to Singapore smoothly! Phew~
Had porridge for supper at Upper Bukit Timah before calling it a day (for me) and Mahjong for the 4 of them.
Ok, that was when the Mahjong fever starts!
To end off the post…
Here are some of the awesome fireworks captured.
I really enjoyed the trip with fireworks as the finale! Shiok to the max! =)