As you can see, I am still struggling to finish the entries from my trip half a year ago!
I am trying my very best…. 7 more days to go after this!
~*~*~*~*~*~*~
25 December 2011 (Sunday) – Christmas Day!
Just like our 1st day of CNY where most shops will be closed for the day.
We literally nua in our little room until it was closed to noon before embracing Sydney again!
We took a stroll under the scorching sun from our hotel passing Darling Harbour to Rock Village.
Taking photos along the way… your typical tourists. Haha..

在一个炎阳高照的中午…


望着对岸.

I thought I look kind of like a Taiwan tourist. I don't know why! Ha..

Dawn Jie leading the way…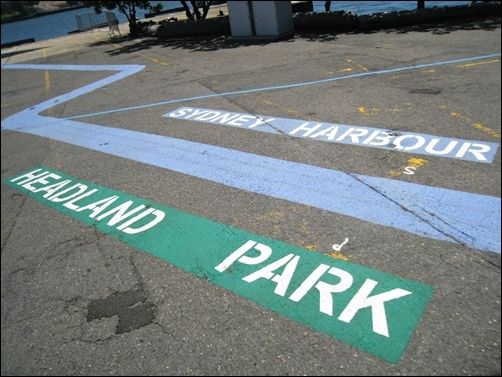 From Headland Park walking towards Sydney harbour.
There you go. The very famous Sydney Harbour Bridge behind me!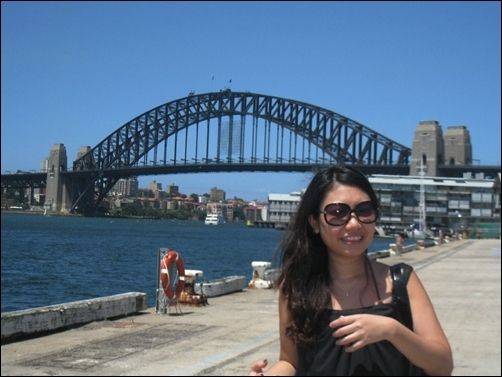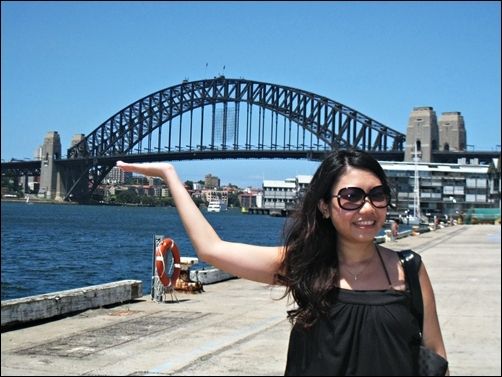 Trying to hold it in my hand. Heh…

Christian suggested to do the Sydney Harbour Bridge climb but I was not keen when he mentioned that because I was not prepared.
However, I hope to return one day and do the climb. Some day, one day!
I am sure it will be an unforgettable experience!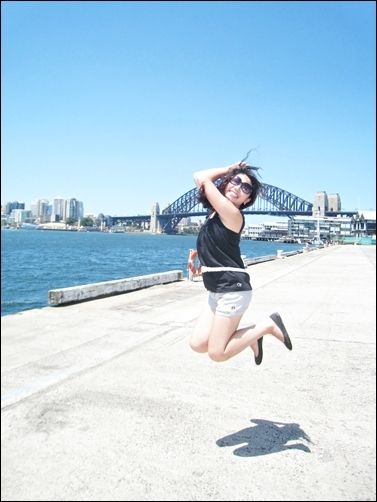 Jump shot! Yay!

How to resist not taking an 'artistic' shot?
As we continue our walk, we saw another important landmark!


Right, it is Sydney Opera House behind us.
Unfortunately we did not venture there.
Oh well, I hope to do so in my next trip to Sydney!

Look at the cloudless sky!

Despite being a very hot and cloudless day, it was very windy too. My hair was flying all over the place the whole time!

Cousins!
As we were walking along the harbour, we decided to had our lunch near Circular Quay Station.
The whole place was packed with people!
Tourists especially…. oh well, I was one of them!
We shared a takeaway lunch, 2 pieces of battered fish & chips plus a thai squid salad which tasted pretty good.


We had our lunch on one of the outdoor benches under the lovely hot sun overlooking some tall buildings…
This are the tall buildings we were overlooking.

The sun was so strong that I got sunburnt in that half and hour just sitting there having my lunch!
With that kind of weather, I just had to buy a cone of ice-cream from Royal Copenhagen. Yumyum!
No picture because I cannot wait to finish the ice-cream before it melts!
We were contemplating between going to Manly or Bondi then we decided to get a pair of return ferry tickets to Manly.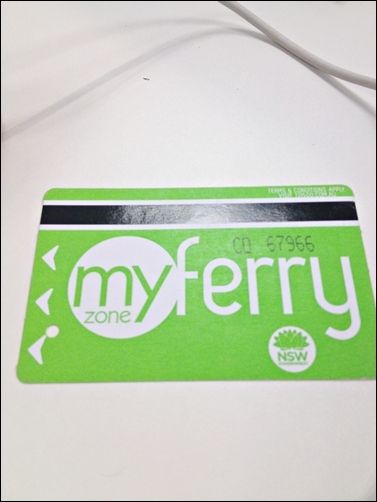 On board the ferry and my dear Cousin was addicted to Brizzle which I introduced her to.
She was playing with it at every opportunity.


This is Manly beach.
After we got off the ferry, it was very easy to locate the beach because all we had to do is to follow the crowd.
Most of the shops were closed except for the eateries and shops selling souvenirs.
Nonetheless, it was very crowded because I guess going to the beach is one of the few things you could do on a X'mas day!
After scanning the crowded beach, managed to find a good spot to suntan.
Was kind of tempted to head to the water but all we brought were our bikinis and nothing else. No towels to dry ourselves if we were to head to the water.
Furthermore, we could not just leave our bags there with nobody attending to them. =(

I felt like I was in paradise.
I missed the sun, sand, sea, sky already!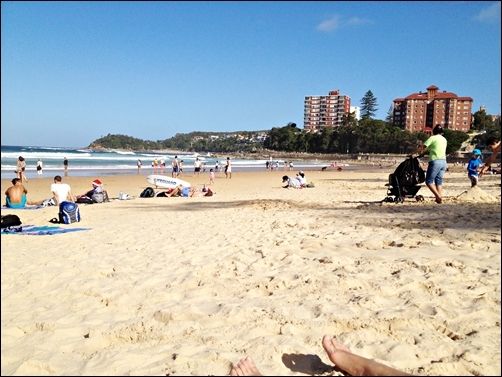 Ok, I need another beach holiday with a 瞭望无际的大海!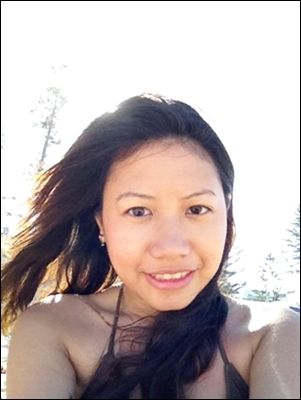 I was trying to even out the tan from the redness of the sunburnt I suffered a few hours earlier.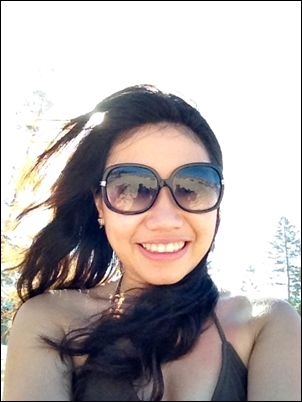 I was certainly enjoying every moment I had on the beach.
I had a good quality talk with Dawn Jie while tanning. =)
She moved to Australia for almost 10 years and despite  not in constant contact, I am glad we still have a good relationship. I guess it is because we spent a good deal of time together when we were young.
There were so much things to talk about.
How my mum adores her and how her mum always think we are better than her. Hahahaha… The grass is always greener on the other side I guess.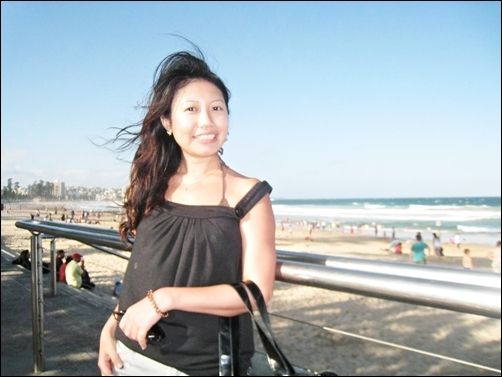 My parting shot with Manly beach.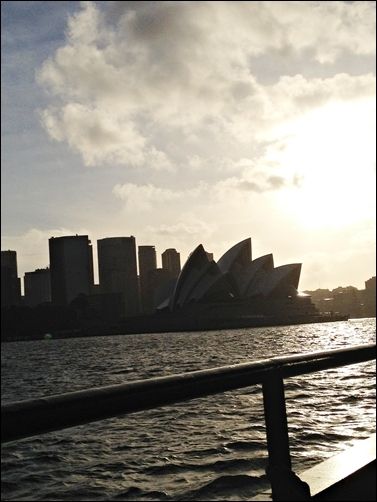 On the ferry, on our way back with the sun setting.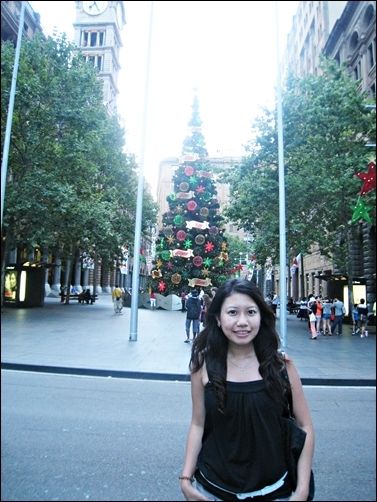 A random shot with a Christmas tree behind me while walking back to our hostel.
We got back and showered.
Simply cannot wait to eat the dinner we had been looking forward to since the day we ventured to Sydney Fish Market!
Now, time to introduced what 'dishes' for the night!

Sea urchins!
It was our first time eating this.
This does not come cheap. 100g for AUD$12.60 if I remember correctly.

Cooked prawns for AUD$18.85. Cannot remember how much they weigh, 500g?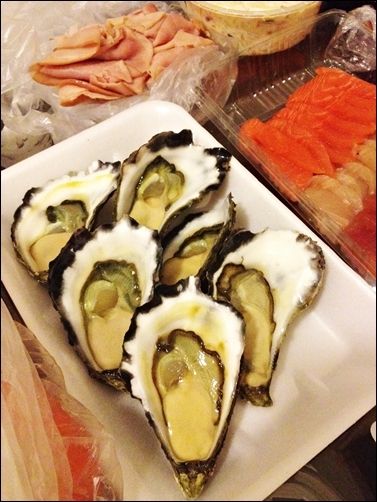 Half a dozen of fresh oysters for AUD$6.50.
They tasted so good!

Sashimi! We had salmon, tuna and sword fish.
This pack cost us AUD$17

Tomatoes and sliced lemon for our oysters!
Good thinking of Dawn Jie to pack her swiss army knife with her!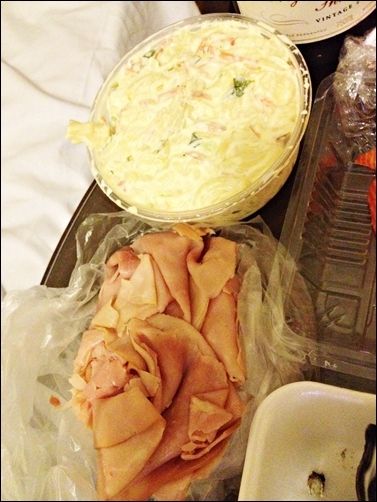 Just to get a little more Christmas-sy feel, we had some ham and a pasta salad

Last but not least, a bottle of sparkling red wine to go with our delicacies!
Ta-dah! We filled our little side table with food!


Our sumptuous dinner!
Being away from home on X'mas day, I feel blessed to have Dawn Jie's company to share this family-oriented occasion with me.
It felt like home again. =)
We felt there was too much raw and cold food, we should have gotten maybe say a bowl of hot instant noodle each. Oh well.. nonetheless, we enjoyed our little family dinner!
After dinner, we cleared up and decided to turn in slightly earlier than other nights because there was the one of the most important sales happening the next day!
Boxing day sale!
It is bigger than our GSS here….
Watch the space for the crazy madness Boxing day sale in Sydney!