I know I am not as diligent to update on my Australia trip anymore. 🙁
Blame it on Running Man. I am addicted to this Korean variety show.
I am trying to catch up from episode one to the latest which is about 80+ episodes already.
Ok, back to my Australia trip!
~*~*~*~*~*~
21 December 2011 (Wednesday)
Dawn Jie tried to convince me to spend a day at Warner Bro. Movie World in Gold Coast.
I was rather hesitant at first because going to a theme park alone seems so…. weird and I will look like a loner.
Plus, getting from Brisbane to Gold Coast (again), that means that is another 2 hours to and fro journey on the train for me!
Anyhow, decided to just go ahead with the plan because after all I am already in Australia!
Here I was!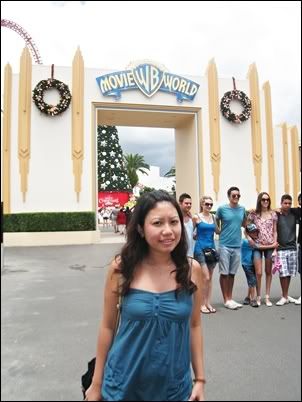 Think I paid about AUD$80 for the admission ticket.

X'mas tree near the entrance!
Here I began my journey.

My first stop.


This is just like the Shrek 4D in our USS.
Their usual show is Journey to the Centre of the Earth which they unfortunately do not have during that holiday season. The Polar Express is the Christmas special edition.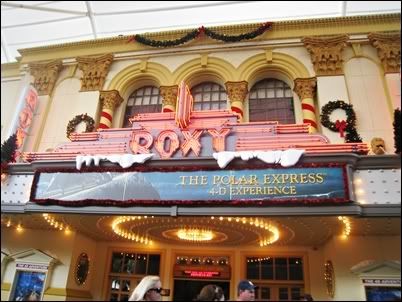 The 4D experience was somewhat predictable. Honesty, it could be because it was a holiday special, therefore it is not as good. I was hoping for something more, more surprises however I was rather disappointed. It was just mostly spraying of water which came at the expected times.
Perhaps their regular 4D show would be better?
With Green Lantern and Flash.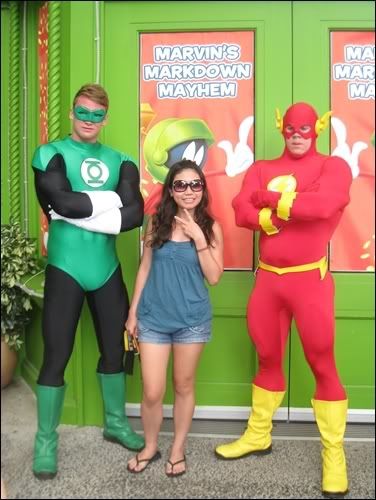 It was tough trying to snap photos with them.
There were no crowd controllers/ helpers with these stars so people were all rushing forward to take photos with them.
Plus I was alone, I had to ask some random strangers to help me snap one.
The time between asking a person to help me with a shot to the time I actually got myself a spot beside these characters took quite a while so some do not have the patience to wait till it's my turn.
Tell me, how to 'fight' with those kiddos to take a shot with them? Tough~
One with Austin Power!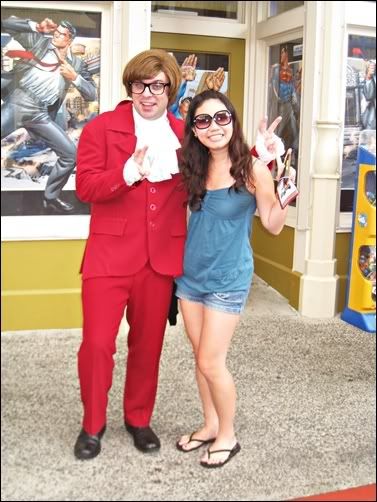 Performance by Tweety Bird and Friends at the central stage area.


[youtube http://www.youtube.com/watch?v=aKMJqYyhsxc&w=560&h=315]
Venturing to other area…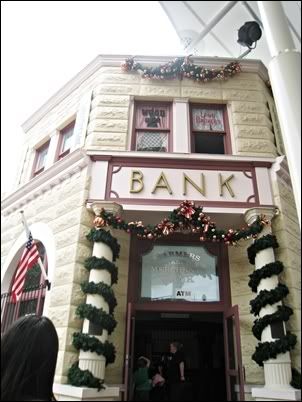 A poster guiding me to the Lethal Weapon Ride…
There I went after I mustered up the courage to do so.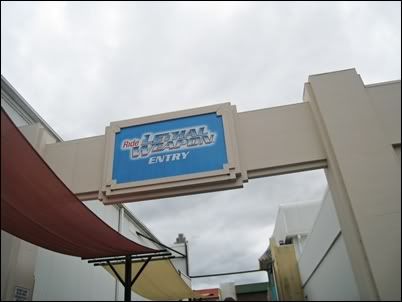 It was almost similar to the Cyclone ride in USS, the one where they strap you on the chair and have your legs dangling from the seat.
Thankfully I did not have to queue too long.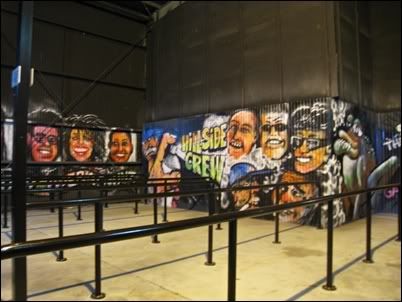 I was a little scared before the ride and being I was alone, I could not rumbling myself off to any strangers right? So I channelled the energy to whatsapp! Hoho… My poor friends have to read my rumbling nonsense and endless 忏悔.
Kept reminding myself that since I could handle the Cyclone ride in USS, I should be able overcome the fear to take a ride in this.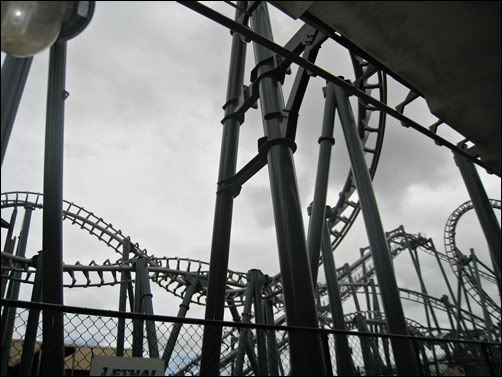 [youtube http://www.youtube.com/watch?v=cszAFoW7bZU&w=420&h=315]
This is how the whole course of adventure look, with all the twisting and turning.
Video was grabbed from youtube.
The ride was not too scary as I thought it would be.
I think the one in USS surpass this because of the deep dive and the 2 360 degrees turn into the mist.
This is definitely milder than that!
This feels safer than the Cyclone because I could have a better grip.
Ok, I did squint my eyes to see, except for those diving down moments. Ha…
I went to the arcade area queuing up for the bumper car ride, however I pulled out after a while because I reckoned no matter how 'brave' I was to venture to a theme park alone, I can never ride a bumper car alone because people usually play in groups and they have a 'target' to hit. It was more fun playing with friends than strangers than probably I will look funny inside the rink just driving around aimlessly as nobody want to bang me or give me a weird look when I bang them. Oh well~
Next stop, to the Wild West Falls!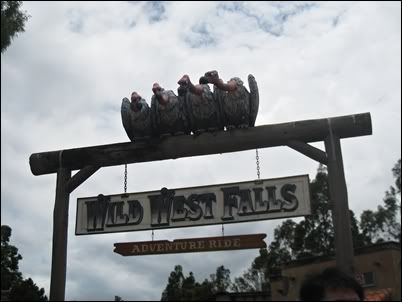 *Bang Bang*
This is the ride inside Wild West Falls.


The ride was close for the day, probably doing some maintenance work of some sort.
Too bad for me.
With the fake Marilyn Monroe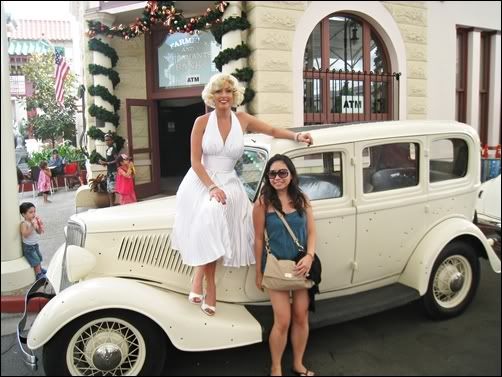 That's my lunch.


2 churros for 6 bucks.
Next, I went for the Hollywood Stunt Driver show.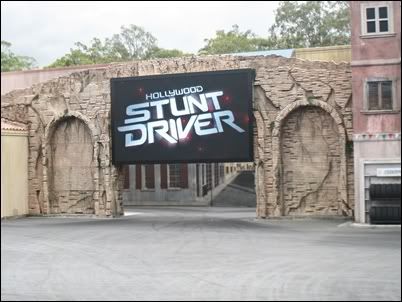 They have 2 shows daily, 1 at 10.30am, the next one at 1.30pm.
Attended the 1.30pm show.
Here are some pictures and videos of the show.


[youtube http://www.youtube.com/watch?v=b3_27hc5C7Q&w=560&h=315]
[youtube http://www.youtube.com/watch?v=-G0kQDAy1rU&w=560&h=315]
I must say, the show is fantastic!
Impressive driftings, explosive fires and amazing stunts!
Immediately went to queue up for Scooby-doo ride as everyone were taking their own sweet time to move out from the car show stunt area.
Lesser waiting time for me. Hoho, the waiting time was a crazy hour during lunch time!

An armour statues.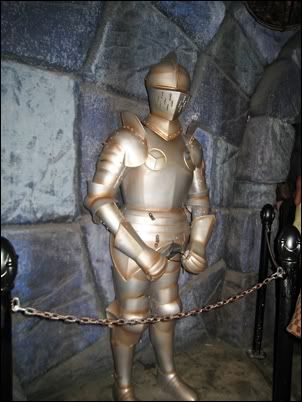 I thought the ride would be somewhat like Mummy ride in USS.
It turned out to be more exciting than Mummy!
The ride is definitely a lot longer, it has more unexpected moments.
The backward fall lasted longer, after the backward fall, we had to go through this long journey of many turns and twist before coming to an end.
It is definitely worth the wait!
Manage to find a video from youtube with people going through the ride with lights on. It looks alot better with the bright white lights switched off.
[youtube http://www.youtube.com/watch?v=nwLtwrUL7PI&w=560&h=315]
There you go, a rather bad quality of an unglam snapshot.

Done!

A photo with the heros of Justice League.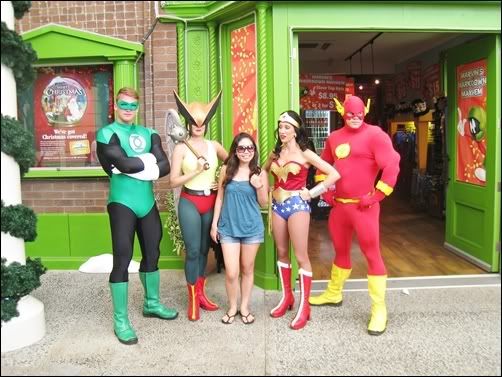 The daily parade by the stars of Movie World begin at 3.30pm.
Sylvester has a car of its own. Very cool!

Tweety and Friends!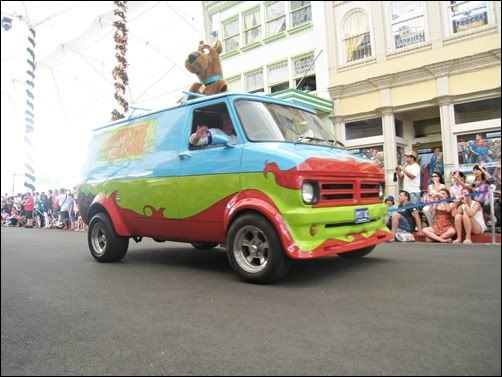 Scooby-doo

Joker!

Justice League
[youtube http://www.youtube.com/watch?v=whbNpK-Y6sc&w=560&h=315]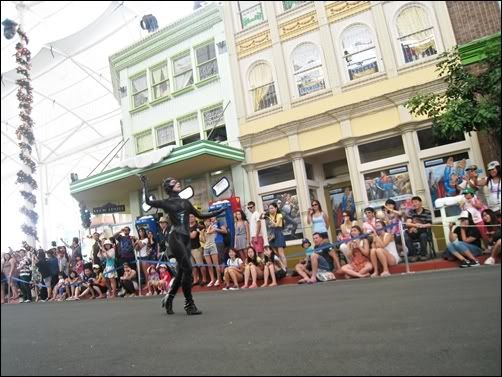 Cat Woman
[youtube http://www.youtube.com/watch?v=QB82w3Jq1x8&w=420&h=315]
So SM feel. =X
Here is the Batman!


[youtube http://www.youtube.com/watch?v=MqSMQuxhXlk&w=560&h=315]

Car from the Stuntshow!
The stars doing their Shuffling. Terrific!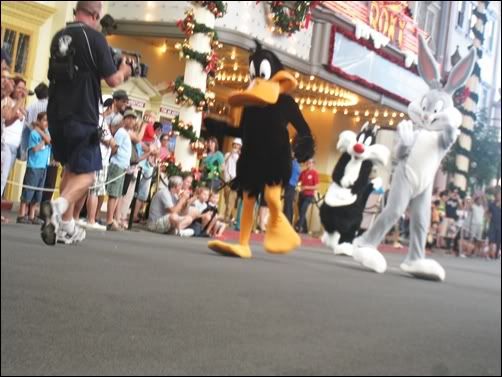 [youtube http://www.youtube.com/watch?v=xO61zyIlrME&w=560&h=315]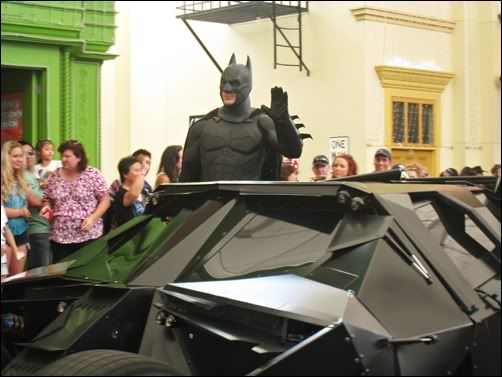 The batman returned to wave and shake hands with the crowd!
After the parade ended, I was heading towards the direction of Superman Escape! That is after I plucked up the courage of course!

[youtube http://www.youtube.com/watch?v=qiAnfBfsO8M&w=560&h=315]

Yeah, did this ride all by myself!
I swear this is the most scary ride I had ever taken till date.
It is definitely 100 times scarier than the one in USS.
The speed was… FWAH~ 3 dives and the first one being the highest of all.
I shutted my eyes througout the ride. All I could do is to feel the speed and all.
A sense of accomplishment I must say!
[youtube http://www.youtube.com/watch?v=u711CJ02vhk&w=420&h=315]
The ride I did not take.
Never taken such rides before and I remember watching those Taiwan variety game shows back then, I could feel cold palms just watching them play the Tower of Terror.
Well, I would not mind taking the ride with friends or something, at least they could offer me a sense of comfort but doing it alone and trying this for the first time.. No thanks. I am not that brave after all.
Here is the more family-oriented part of the theme park.
This area just for the kids!

You know why because this is way milder!


Well, it could be rather embarrassing to be queuing with those kids to sit on this right?!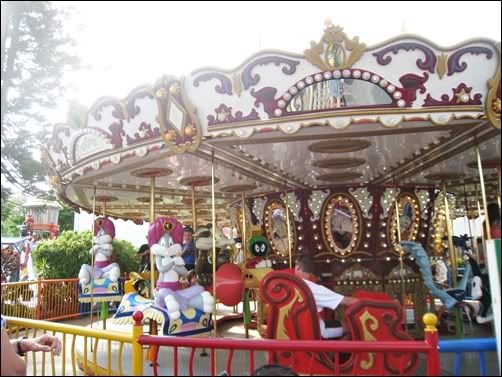 A carousel.

Daffy Duck!
When I was in secondary school, I used to think Xian Liang looks like Daffy Duck. Hahaha….
Tasmania!

I even master the skill of taking self photos with statues. Hoho….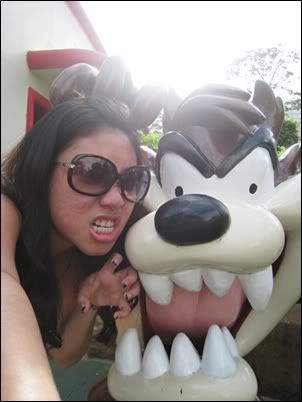 After purchasing those souvenirs, it was time to head back to Brisbane.
The super heroes bidding me goodbye!

The transportation system in Australia has very accurate timing, I had purposely planned to catch the bus at 4+ in order to get back to Brisbane at nearing 7.
In the end, because there were too many buses that came along to the bus-stop, the bus I had to board was hidden right at the back behind so many buses that I missed it.
I ended up having to wait another hour just to board the correct bus back to the train station and begin my long train journey back to Dawn Jie's house! I only reach back home at 8 plus. Boohoo~
She had an early Christmas dinner and some sort-of purchasing of a new car celebration *roll eyes* at her boyfriend's dad's place hence she had to abandon me to settle dinner by myself.
Curry from the same Indian stall for second time that week!
This time, I ordered a mango curry chicken.
The Indian rice was complimentary from the boss. That was a very nice gesture of him because I had initially wanted to eat the curry with some breads I bought.


It was yummy yum yum!
I love the curries there!
At the end of the day….


A messy luggage.
So glad to have a room all by myself. It is allowed to be as messy as can be!