31 December 2011 (Saturday)
First stop of the day was to pick up a takeaway pizza at Domino's nearby our hotel.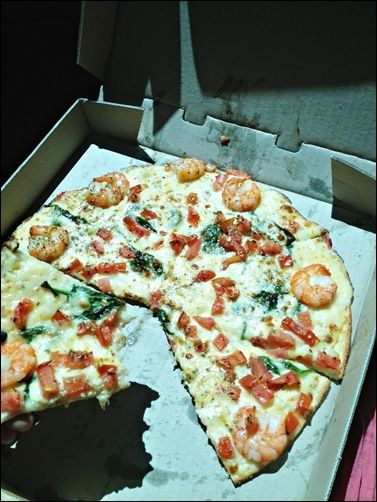 That was our brunch that lasted us for 12 hours that day!
Ok, my first time eating Domino's. Ha!
We ensured we had enough food and water to last us a long journey to Great Ocean Road and back.
Then we retrieved the car and off we go!
Before we could drive off…

Guess what? We found a spider that was spinning a web under the sun visor of driver's seat.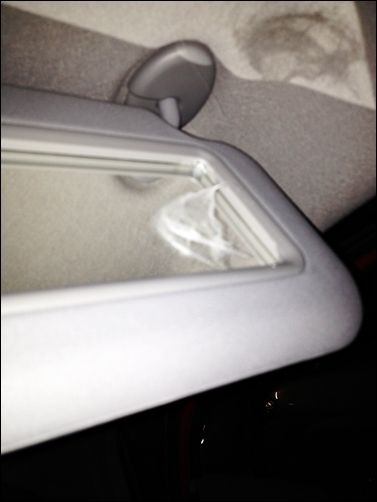 Got it removed before setting off.
又是风和日丽的一天!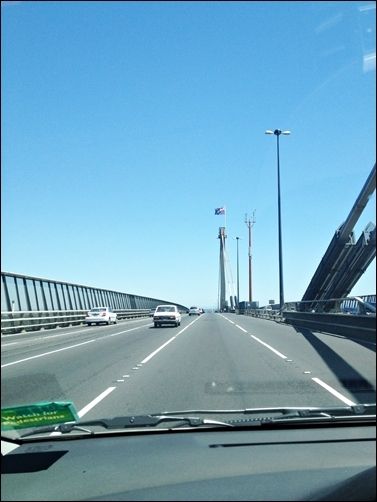 Ready to start our 3.5 hours journey to Great Ocean Road!
I tried my best to be the 2nd navigator in the car.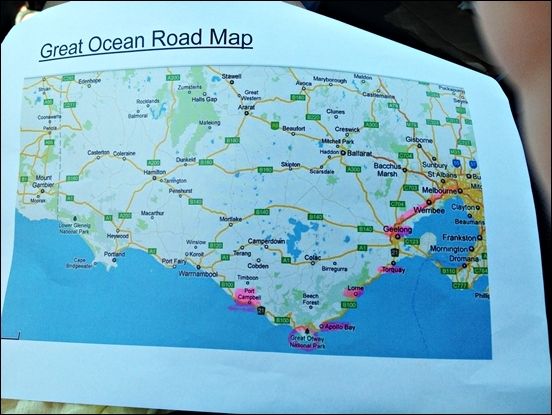 Zong Yao had warned me not to fall asleep, I had to keep him entertained as he drove.
Thanks to my shades, I dozed off several times.
Well, thank God when he caught me dozing off, he did not have the heart to wake me up. Aw~
3.5 hours drive X 2, that makes it 7 hours of drive in a day! Tell me how not to doze off in the comfortable seat? =P
Well, their drink and drive awareness message hanging over the bridge.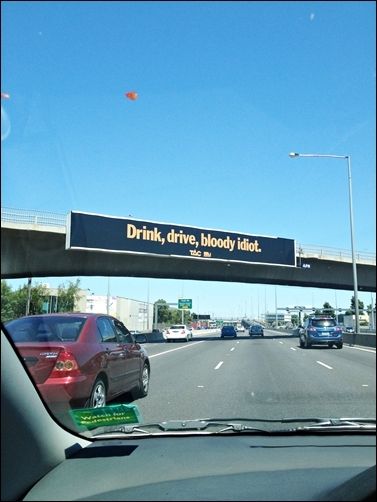 Awesome isn't it? I wish Singapore have such humour like the Australians!
Well, our latest one is drink/ drive, choose one… boring!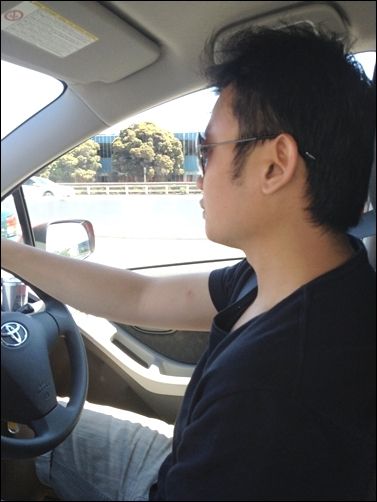 Again, my personal chauffeur. Oops!
Anyway, the weather sure looks good!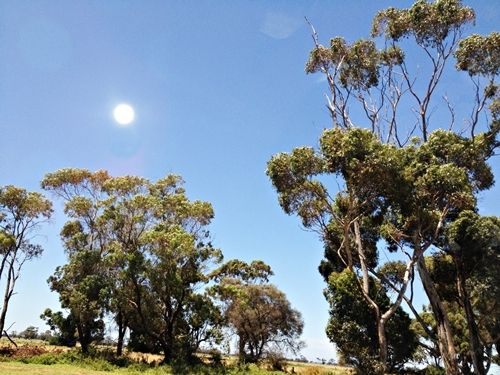 Cloudless sky, and a fiery sun shining down on us.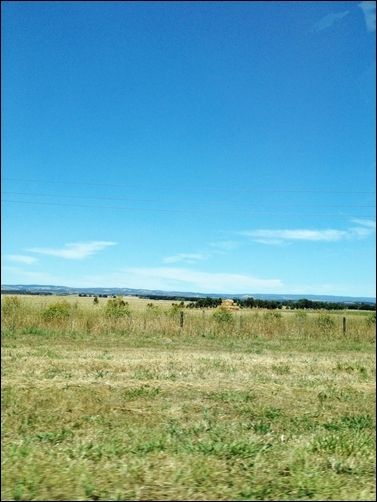 Still on our way to Great Ocean Road.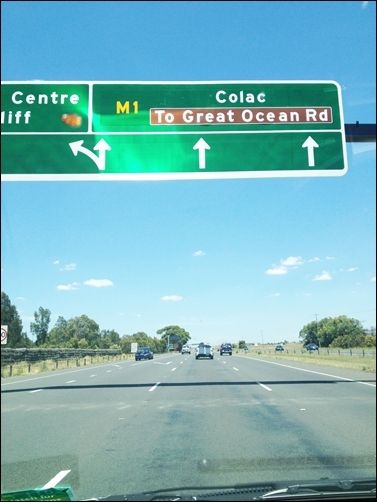 A very bored passenger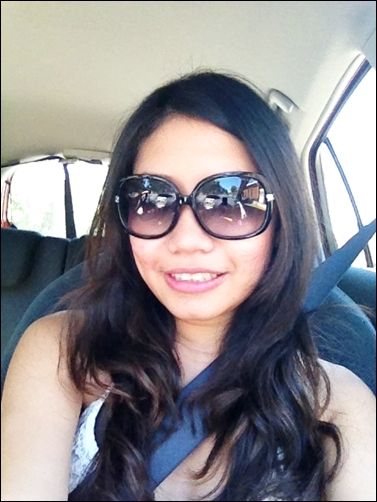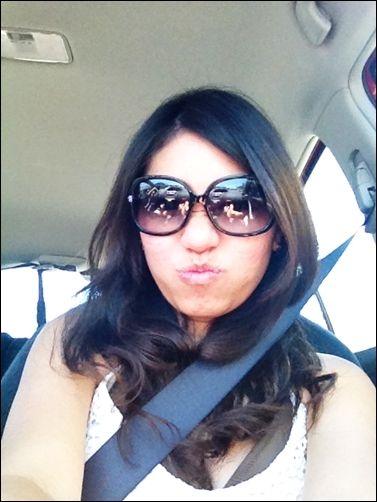 My personal chauffeur in full concentration on the road.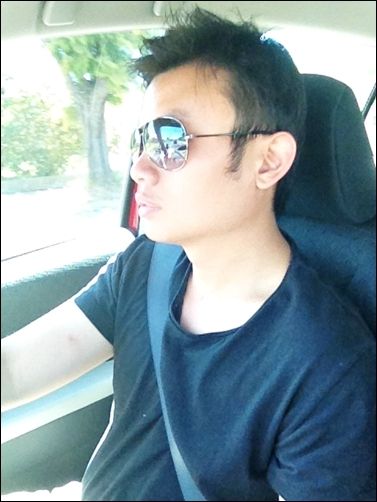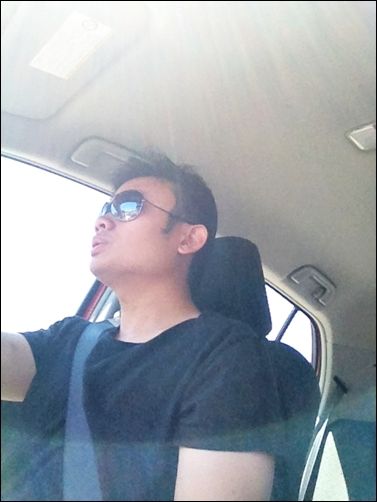 I like this photo because of the rays of lights shining in!
After many hours on the road, we finally stopped by Port Campbell Information Centre where we asked for the final directions to 12 Apostles which was probably about 15 mins drive away.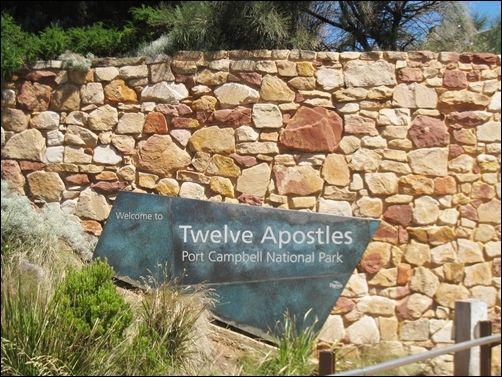 At Twelve Apostles!
We FINALLY made it here!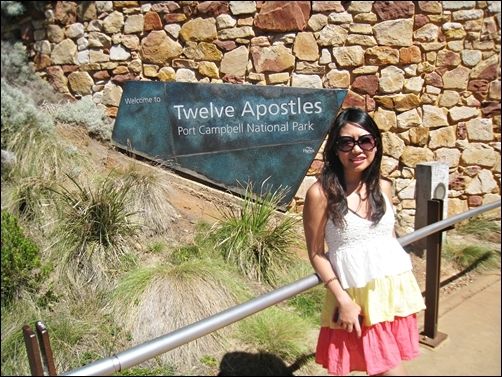 Look at the spectacular views!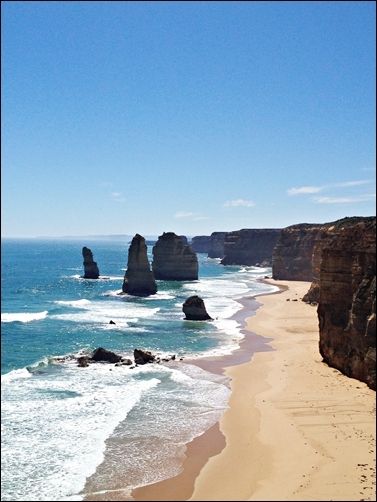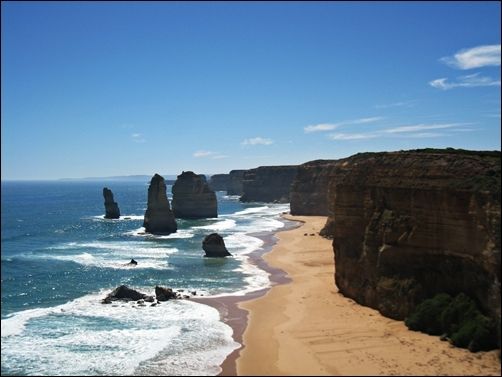 Starring at the cloudless sky, endless oceans and waves crashing on those amazing rocks….
What more could I asked for?!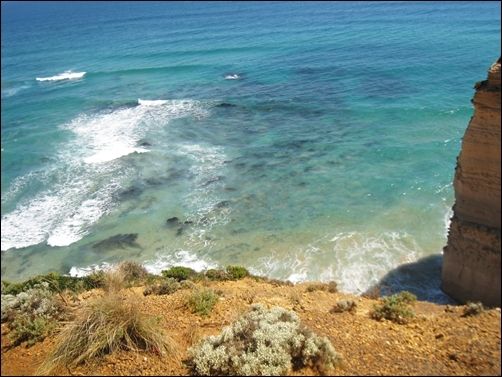 See how clear the water is…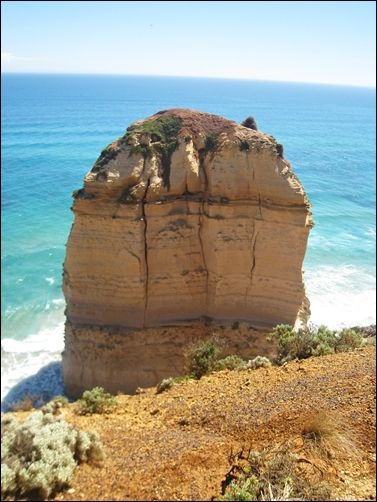 A close-up of one of the rocks.
It reminds me of my days as a Geography student, reading on the coastal rocks, the erosions…
One day, all these rocks will erode away eventually. Sad but that's Mother Nature for you.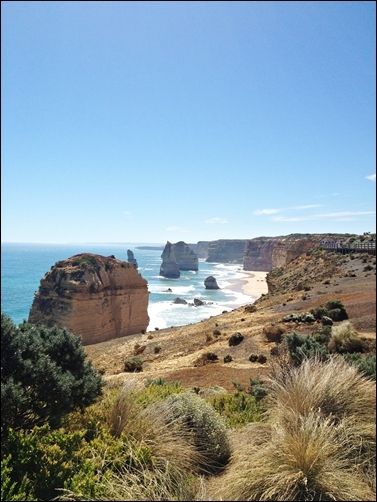 I love getting close to Mother Nature, appreciate those amazing moments she has given to us.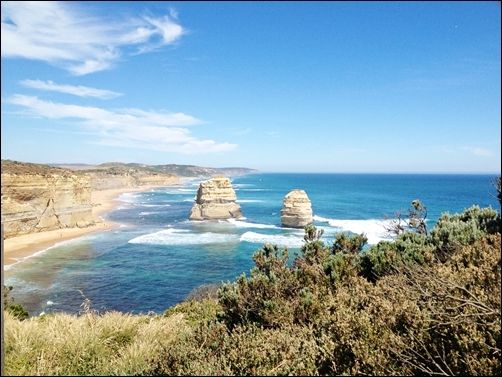 Every shot from my iPhone or camera looks soooo good!
Poster worth shots!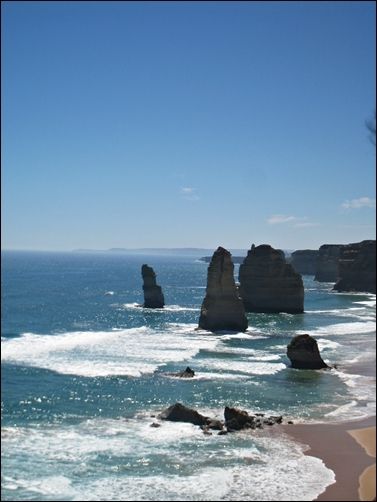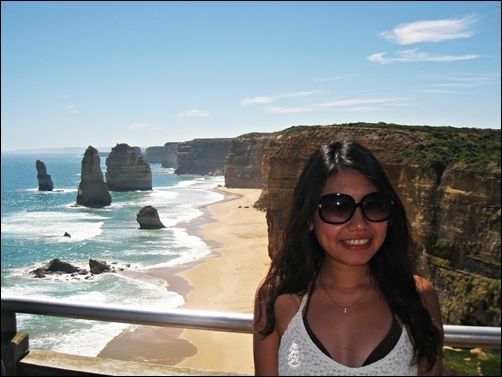 This photo looks like me standing in front of a fake background. Ha…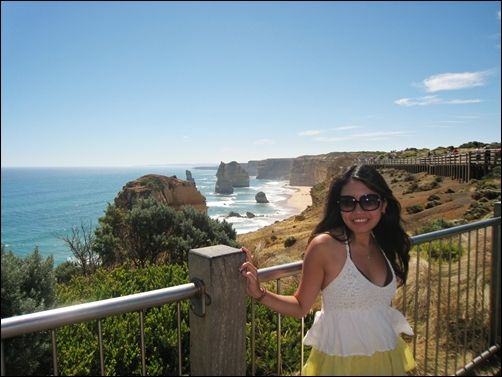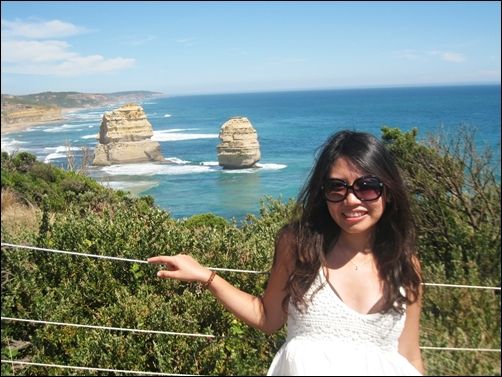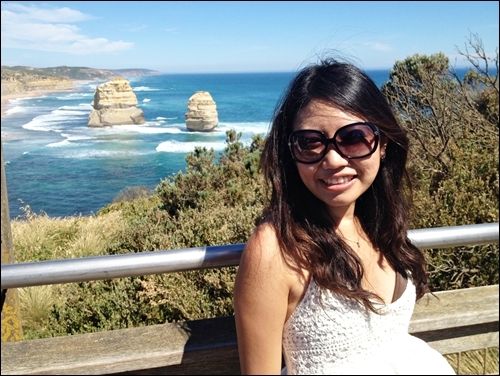 I really love this place a lot!
Honestly, I was quite touched that Zong Yao brought me here despite the long hours drive and he went there before.
Anyway, I INSISTED that I had to be there at least once in this lifetime because not going to the Great Ocean Road is like never been to Melbourne before!
To some people, it was a overrated place, probably they do not appreciate Mother Nature at the level I appreciate it.
Well, I am easily contented. Ha..
We stayed there for about half an hour before we had to make a move back to the heart of Melbourne.
I wish we could stay there longer… make the drive more worth it but we had a more important event to attend to… like counting down with thousands of strangers in the streets of Melbourne. Haha..
The whole Great Ocean Road was a loooong stretch of road…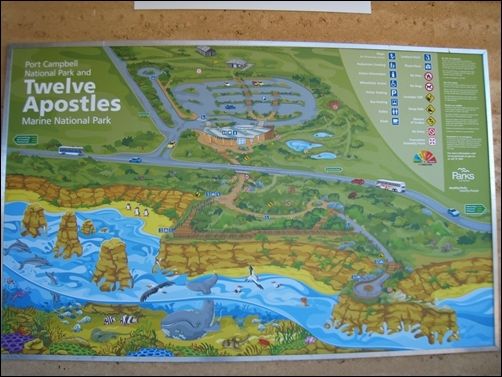 This map just shows part of it..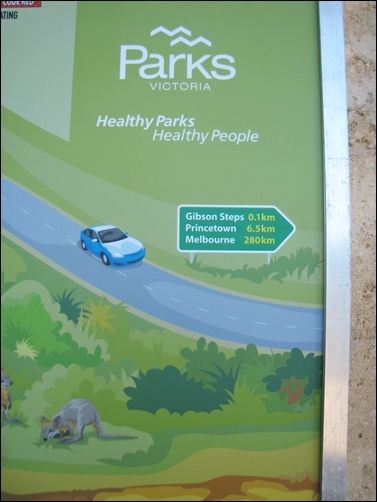 We had to drive approximately 280km to get back to the city!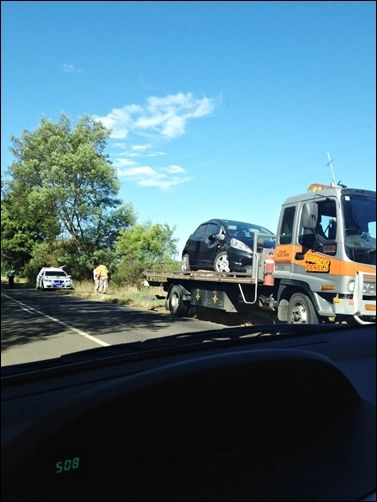 On the way back, a car broke down along a long and quiet stretch of road and had to be towed away.
We only got back to our Hotel at about 7 plus in the evening.
We were both deadbeat.
Well, I could understand why Zong Yao was tired but I wondered why I felt extremely tired too…
Anyway, I was really grouchy and literally had to beg Zong Yao to let me take a nap…
He enjoyed bullying me! =.=
We finally got our asses out of our room at about 9.
Polices were already getting ready for the countdown, closing off certain major roads so people could walk freely on the street.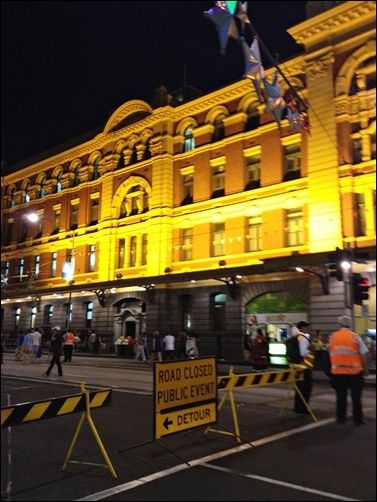 On our way, walking towards Mekong Vietnamese, a highly raved eatery for our very late dinner.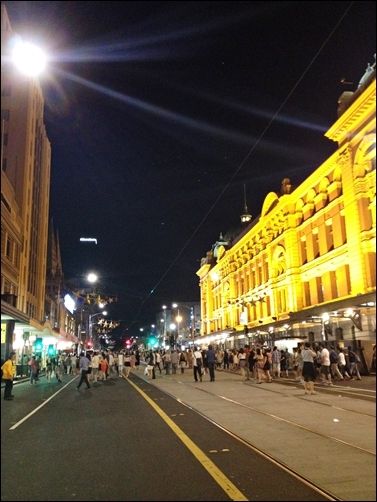 Thankfully we made it there just in time for their last order! Phew~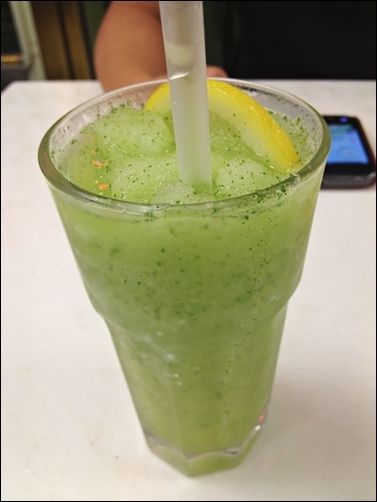 My very refreshing ice-blended drink.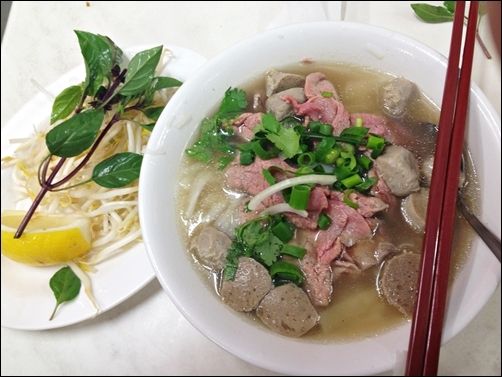 Beef rice noodle soup was…. good!
We finished our dinner at about 10.30pm. That was like an hour and half before the new year.
Slowly, we strolled over to Flinders Street…
The main road was closed so people could gather around to welcome 2012!
The theme for the countdown at Melbourne was Gold Rush.
I was excited to be celebrating NYE and welcome a brand new year abroad for the first time!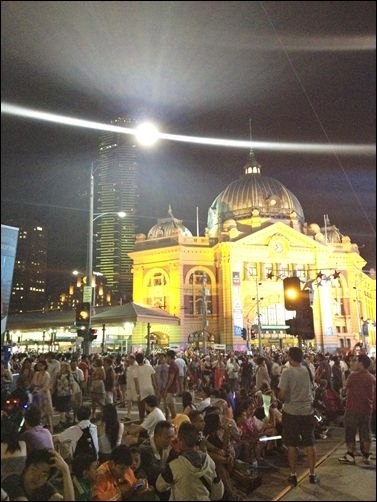 Opposite us is Flinders Station.
We were just standing beside St. Paul's Cathedral.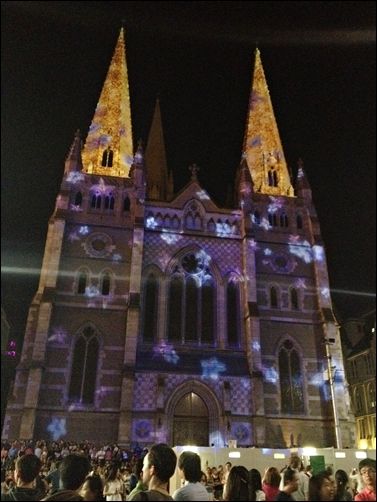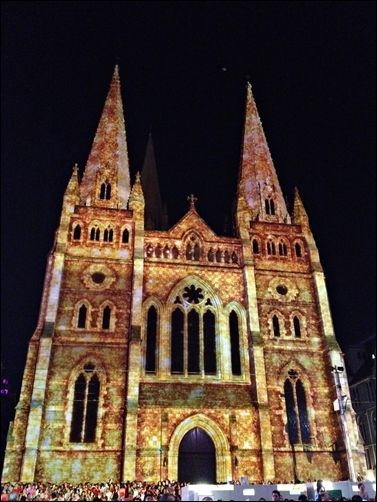 I love how they shone lights on the church and it made me feels very Autumn.
Really pretty yeah?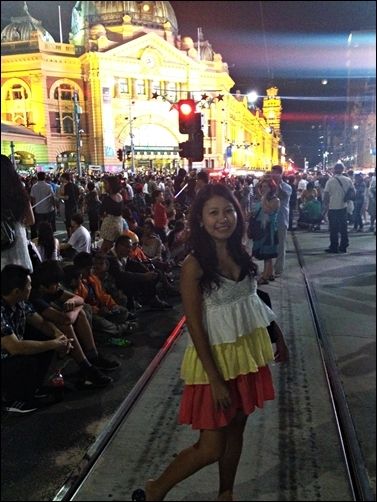 It was the tram track I stood.
You know, as crowded as the place is, it is still spacious!
You could still have that personal space between people and it is not sardine packed.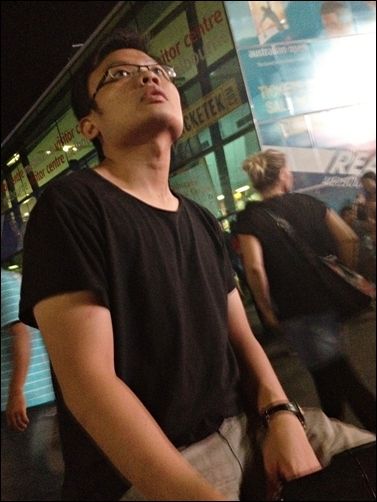 Staring into the space…
We just rotted there, you look at me, I look at you for the next an hour plus waiting for the clock to strike 12!
We were bored lah.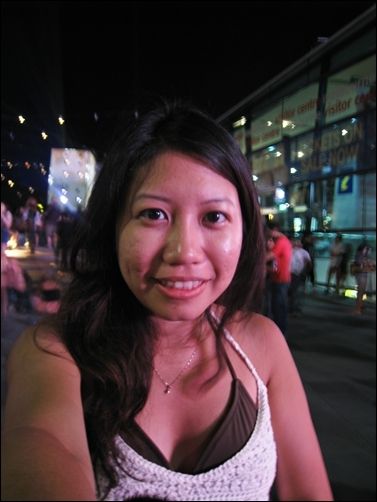 Excited to welcome the new year!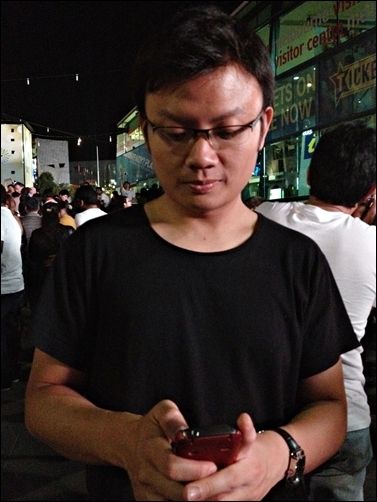 Wonder who was he messaging. Haha..
Just when the clock struck 12….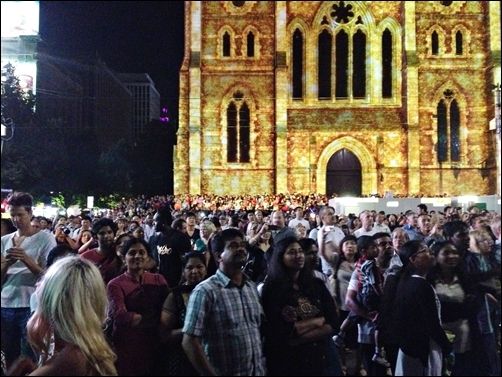 Everybody was looking high up into the sky!
We were surrounded by fireworks shooting from the tall buildings around us!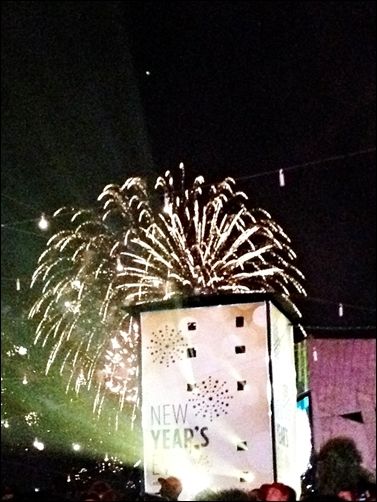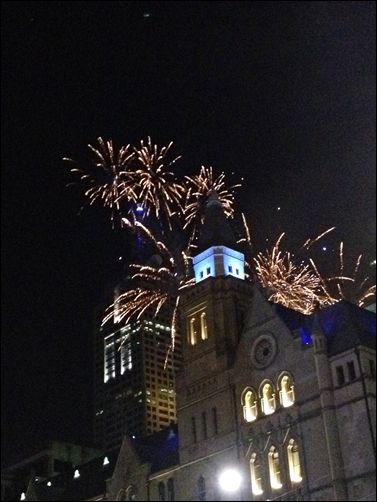 [youtube http://www.youtube.com/watch?v=6gY0b72infg&w=420&h=315]
[youtube http://www.youtube.com/watch?v=XCfEoqsNV14&w=420&h=315]
[youtube http://www.youtube.com/watch?v=NV541mzJSaQ&w=420&h=315]
We were among the first to welcome 2012 while the rest of the world are still in 2011!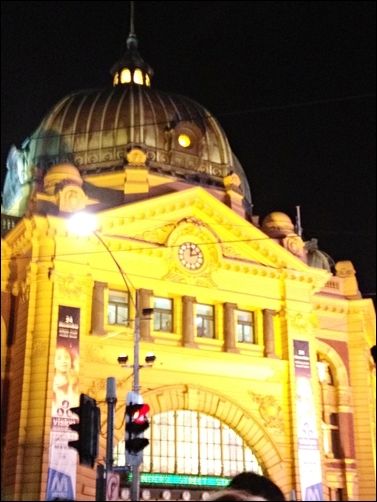 The fireworks display ended at 12.10am of 2012!
In my opinion, it was not as spectacular as what I was expecting.
Afterall, they claimed that it was going to be better than the one in Sydney.
In fact, although they themed it as Gold Rush, the fireworks were boring in that one and only colour.
I would think Sydney had a better fireworks display for it was usually the most watched fireworks…
Somehow, the excitement of the new year died as the fireworks ended.
So was my awesome long holiday… =(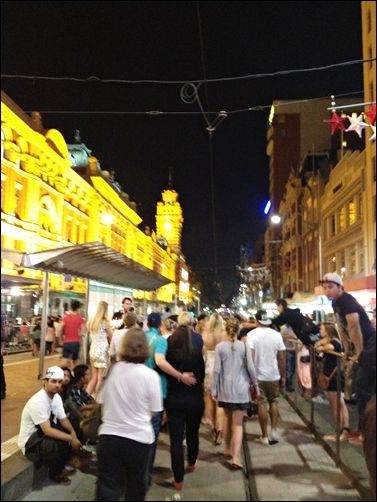 After the fireworks display ended, we started walking back to our Hotel.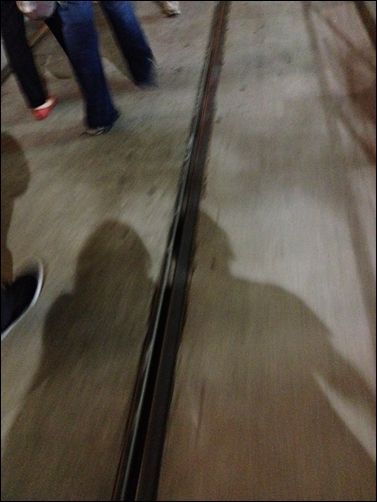 Shadows of us on the tram track.
When we got back, washed up and started packing for we need to check out the next day at 11am!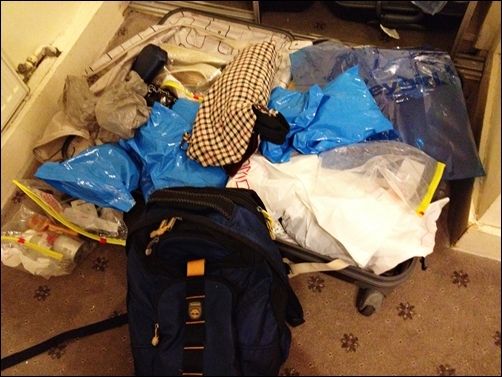 I hate to pack my luggage but at least I was not as worried as I was in Sydney because I knew I could use some help if I failed to close the luggage myself. Ha…
With all the packing and all, We only managed to catch some winks after Singapore made it  to 2012.
~*~*~*~*~*~
1 January 2012 (Sunday)
We started off the morning of 2012 in an epic way!
I did not set my alarm, Zong Yao setted his to ring at 9am.
I did not hear his alarm, he heard it, he snoozed it and joined me in lala land.
He woke me up, I was reluctant at first until he mentioned it was 10.50am!
I practically jumped out of bed as we needed to check out by 11am which left us with 10 minutes!
He tried to call the reception desk to delay our check out time by an hour or so unfortunately they do not allow and they only gave us till 11.10am to get out of our room!
Well, we managed to get dressed, packed and all within the next 20 minutes and checked out!
Thankfully I packed most of my stuff the night before so it was a minimal stuffing things into my luggage.
Put all our stuff into the car before heading out for our last meal together.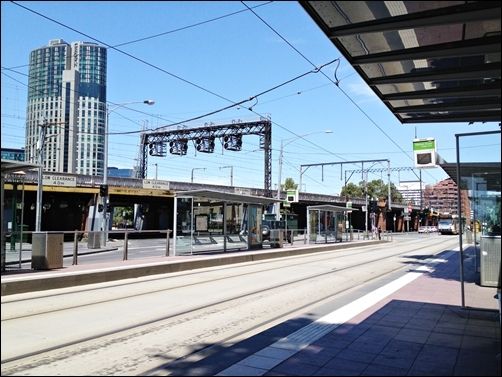 Traffic was back to normal the day after the massive countdown.
During the trip, I took all kind of public transport.
Planes, buses, trains, trams, ferry…
Land, sea, air, I done them all!
Well, except for taxis and a ride on the horse carriage.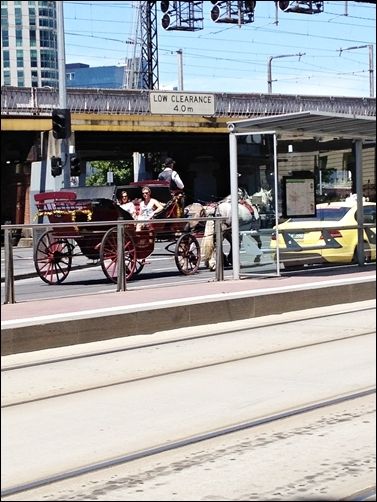 For some reason, I felt sad for the horses, they had to live in the city, pulling people from one place to another place, no freedom of their own to walk freely.
Somehow, I think it is cruel, they do not belong in the city.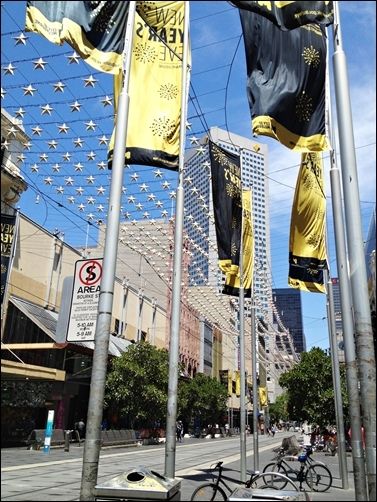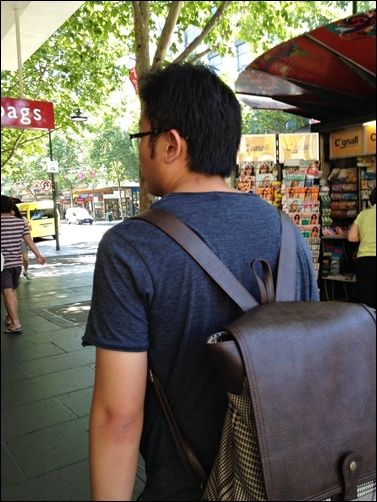 Mr Chua leading the way…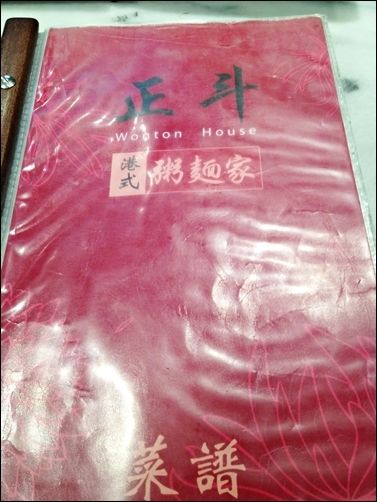 We managed to settle for a Hong Kong cafe, Wonton House for our brunch.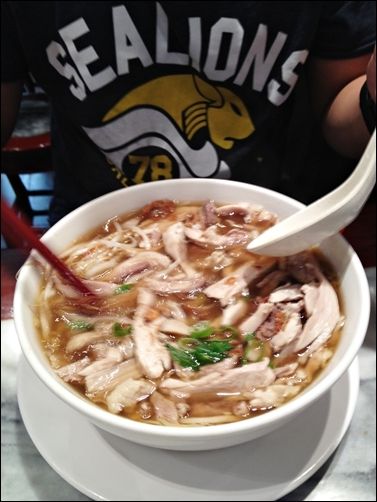 His.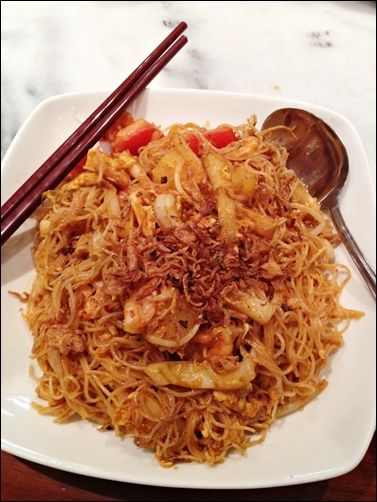 Mine.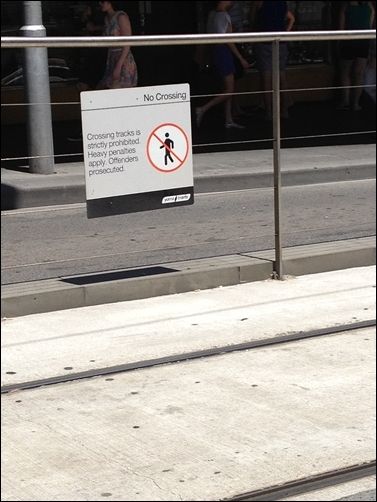 Well, crossing on tram tracks are strictly prohibited unless you are feeling rich enough to pay for the hefty fine.
The only exceptions were made during NYE when they closed off the road.
After our brunch, it was time to pick up the car and off to airport we drove.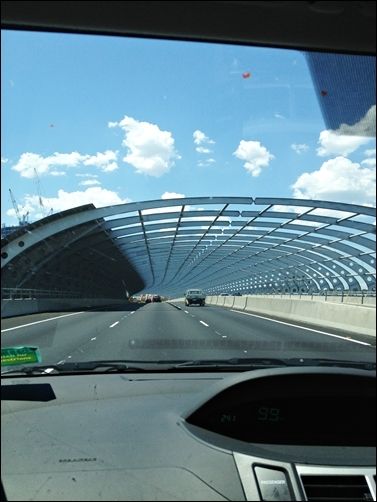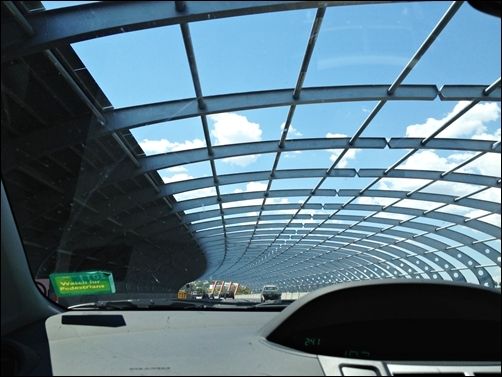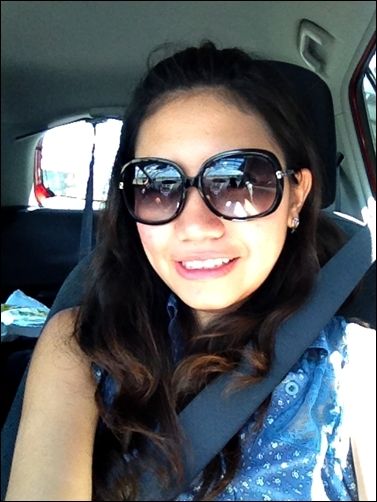 With a tinge of sadness…
I do not want the holiday to end! =(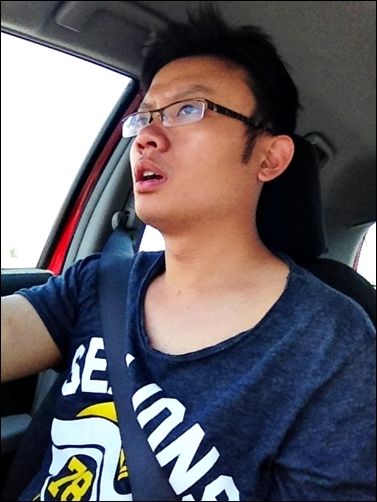 Being my driver for the very last time, or rather my first driver of the year!
We returned the car at the airport.
My flight was at the international airport terminal while Zong Yao's flight was at the domestic airport terminal that was just beside.
My flight was scheduled to take off first before Zong Yao's.
I am thankful for I am not 'stranded' in a foreign airport alone…
At least I still had the company before I walk into the transit area.
I tried my luck again at getting a business class seat on the A380 but I failed.
The only consolation was the aisle seat.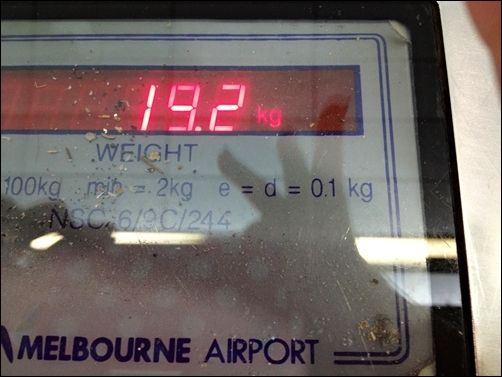 To my surprise, the luggage and a check in hand carry was only 19.2kg! I was rather amazed for my luggage from Brisbane to Sydney registered 21kg.
I should have bought a few more pairs of shoes! Haha…
We spent the last bit of the time together at the departure hall before the final call.
As much as I look forward to the new job and new beginning, part of me do not want to leave my 短暂无忧无虑的日子. =(
Well, Zong Yao cannot wait to get back to Canberra to get his DIY mirror fixed. =.=
Rushed through the whole immigration… afraid that I will be late for my flight.
First flight of 2012!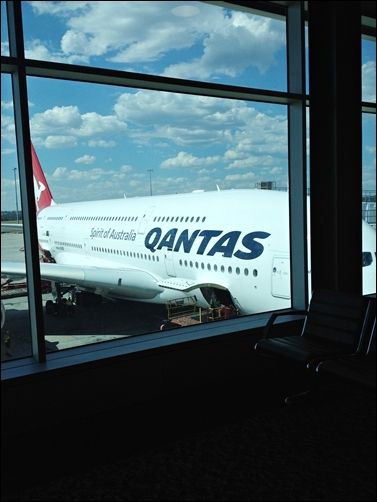 Well, because it is a A380 and it could carry more passengers, it took relatively long before we were ready to take off.
My meal on board the plane…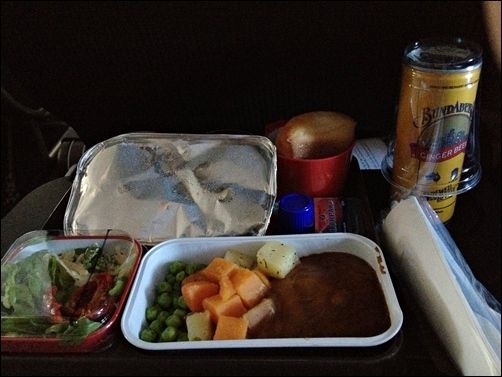 Call me sua ku but there was a sky cam that you are able to see what is happening in the sky from your screen!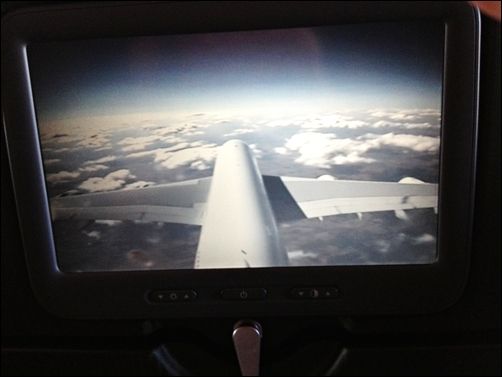 Beautiful clouds beneath…
2nd meal…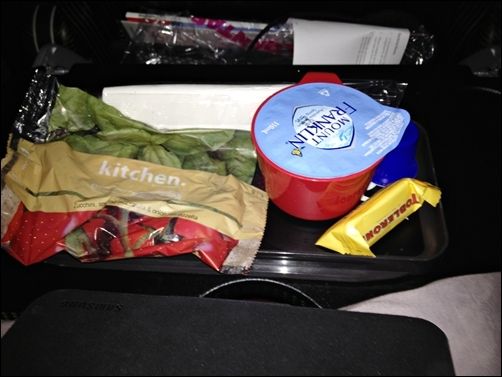 Gaining the 3 hours crossing the zones.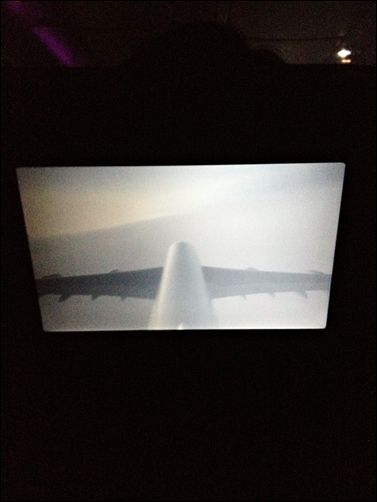 Finally, we were reaching Singapore.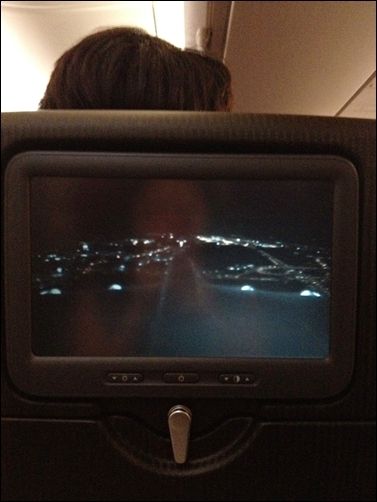 Check out all full of lights (and life) city.
From the screen, you could see only lights and not able to see clearly.
I had illusions that the plane is crashing into some buildings…
Haha… a little scary I think.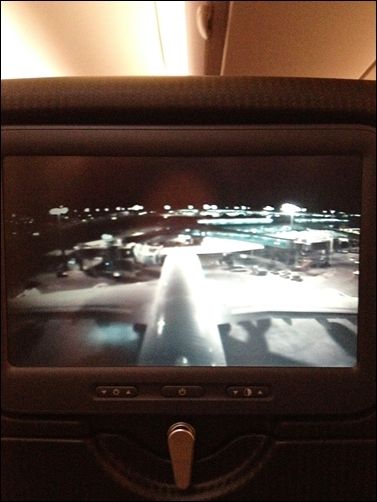 Here, landed at where the reality is waiting for me.
Overall, the flight experience was great.
Leather seats, better entertainment system as compared to the A330 which I took to Brisbane where I had a bit of problem with the earphones, the lousy occasional flickering screen.
Daphne, Baoxin and Sicong came to pick me up from the airport…
It was good to see those familiar faces.
Well, that marks the end of my holiday and reality shall set in.
~*~*~*~*~*~
Finally!!!
It took me 8 months to blog about a 16 days trip!
To conclude, I enjoyed every single bit of the trip and it also signifies that the scarifices and perseverance in the past 2 years be it at work and in my studies has paid off in a good way.
It was a good way to end one chapter of my life. =)
I am quite proud of my little achievements such as flying there and going to a theme park and took roller coaster rides all by myself.
I am glad I was able to schedule the trip in a way that I get to spend quality time with both Dawn Jie and Zong Yao. 😀
Australia, I know it is a place I will return again… some day, one day.
Soon. Very soon. Real soon. 🙂
Wait for me!