29 December 2011 (Thursday)
Started our journey to Melbourne from Canberra at 12 midnight.
It was an overnight coach ride.
Always had problem sleeping on long distance coach/plane rides.
So what I did was to stare at the sky while we were on the move.
So much for the stars gazing Zong Yao promised me.
I had to settle for my stars gazing from a bus instead.
Nevertheless, the cloudless sky with bright shiny stars were FANTASTIC!
Yet another 世界真美好 moment.
I never wanted the moment to end. =(

Half way through the journey, the coach was stalled.
It could not move… Darn.
The drivers asked the guys from the coach to get down and give the bus a push while she tried to get the ar started but to no avail.
She had to call back to their HQ for help.
At that moment, I remembered the insurance I bought, I thought since the bus broke down, I should be able to claim for compensation right?
However after checking out the compensation policy online,  I quickly prayed for the bus to get moving.
I will only be compensated $100 for every 6 hours the bus broke down.
After an hour, the driver finally got the bus started! Hooray~
We ended up reaching Southern Cross Station Coach Terminal an hour later than scheduled.
It was surprisingly cold on a summer that day! I was not ready for that kind of weather.
Pulled our luggages along with us crossing streets, going up and down slopes before reaching Hertz at Franklin street to collect our car.
It is 小红, a Toyota Yaris for company for the next 4 days!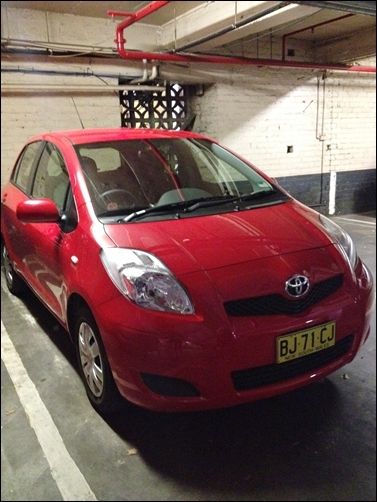 Drove round and round the confusing roads before we finally made it to Hotel Enterprize located at Spencer Street.
Zong Yao commented that I was a bad navigator! Bah~
Checked into our budget hotel.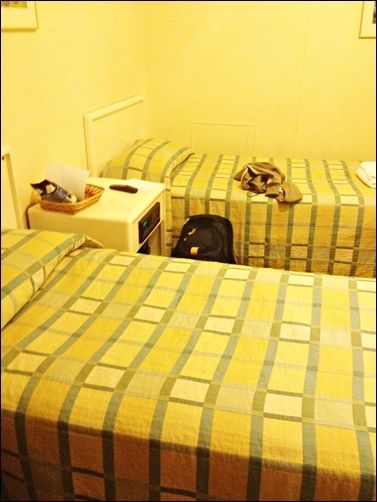 Twin beds and I took the one against the wall.
Toilet.


Simple but the only DUH thing is that the toilet door is a sliding door. Hence there is no way you can lock it. =.=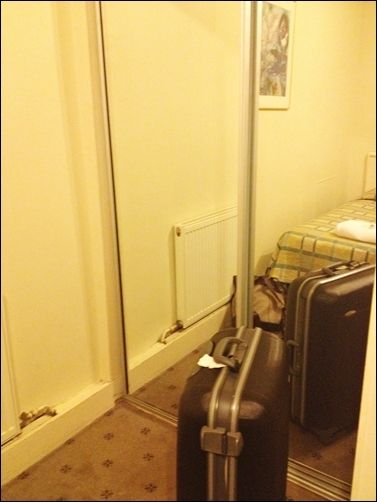 Right in front of my bed was a full length mirror wardrobe.
Freshened ourselves up after the long hours of coach ride before we start the day in Melbourne!
Outfit of the day with my new pair of golden shoes I bought from Canberra.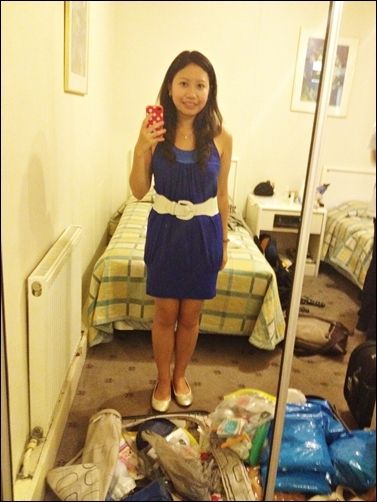 First stop of the day was to get to DFO South Wharf by foot.
Walked a distance before we reached.
By the time we reached, I totally regretted wearing the pair of new shoes.
My feet were hurting like mad!
Being a vain pot, I had to put up with it.
Had our lunch at the food court before walking around the whole mall.
Well, the things were supposedly cheaper because those are factory outlets however nothing caught our eyes.
My only purchase was a Cotton On top for my baby niece.
After we left the building, we decided to wait for the free city tram to take us to elsewhere.
While waiting for the tram to arrive.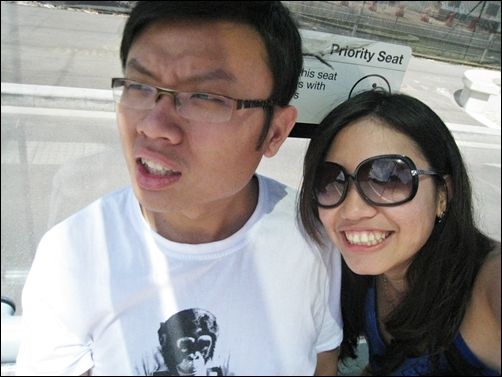 Well, as you can see, Zong Yao was totally ignoring me…
So I ended up taking one by myself.

Took the free city tram and paid AUD23.90 for a random visit to Melbourne Aquarium.
King penguins.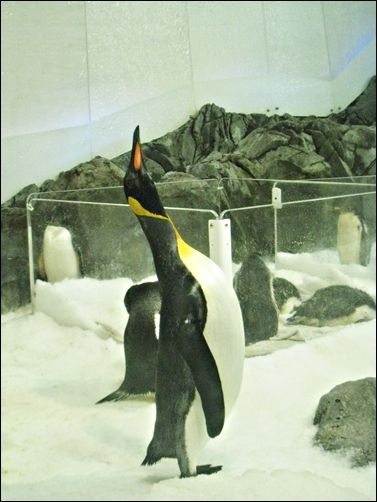 Looking all majestic yeah?
Gentoo penguins.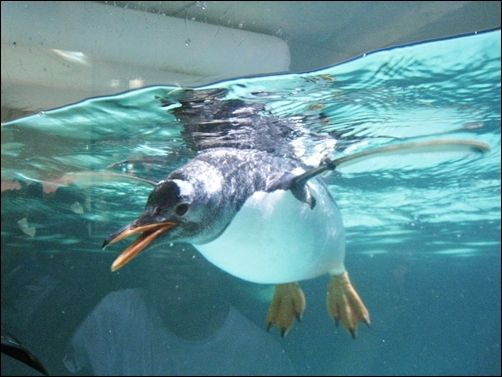 Some weird and ugly looking fishes.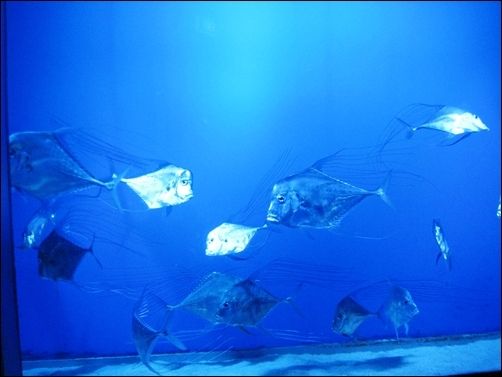 Jellyfishes everywhere!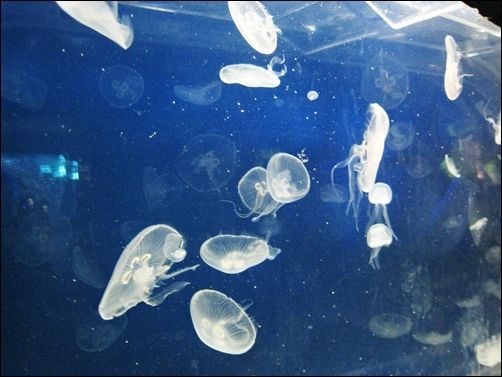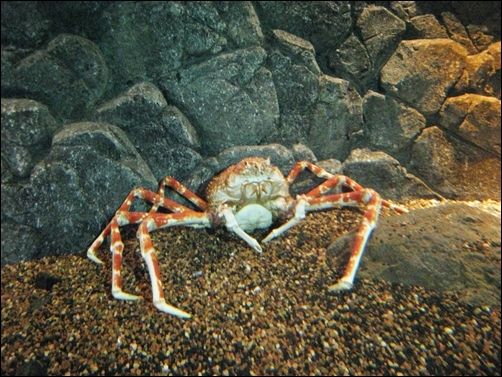 Hmmm… I feel like having chilli crab! =P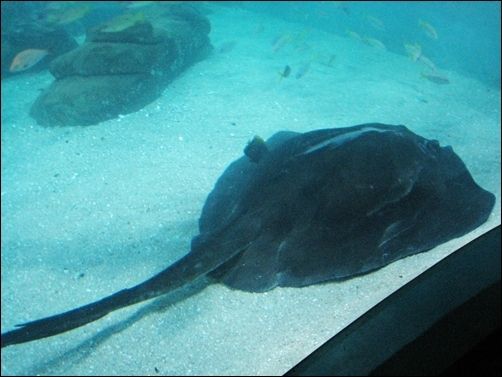 Sambal stringray anyone?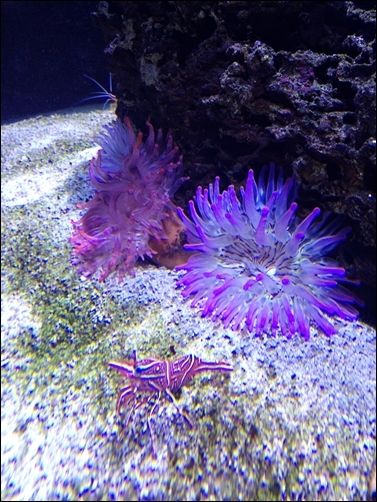 Guess what we spotted?!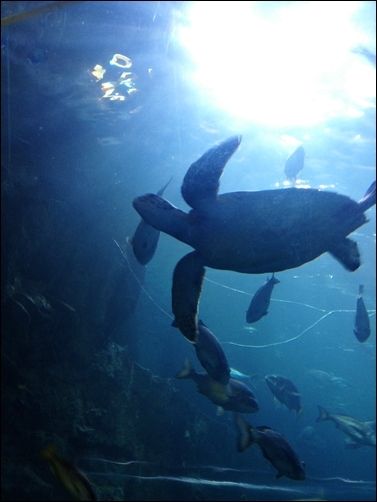 Our friend, Turtle! =P
Wondered around the aquarium for a while, looking at different aquarium creatures swimming by.
The aquarium was pretty small in my opinion. You could finish everything under an hour.
For the kind of price I paid, I am expecting more of like Sentosa's underwater world kind of model.
Am I asking for too much? Haha….
Anyhow, we ended off the aquarium trip in the souvenir shop.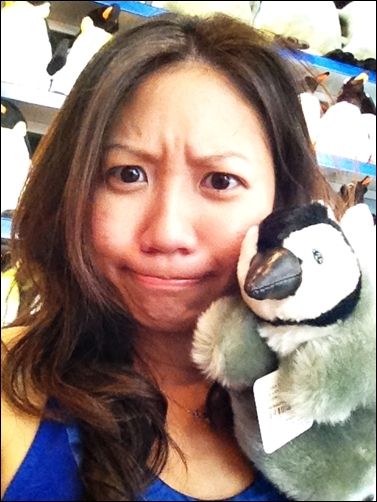 A little penguin.

Hugging a huge penguin.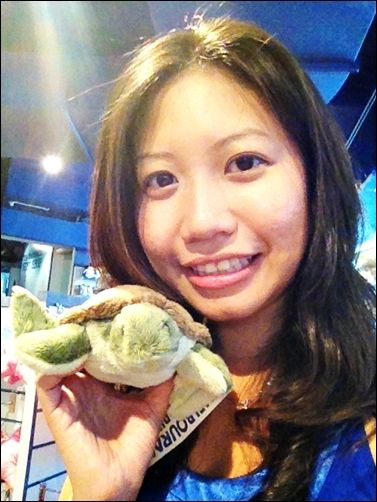 Turtle…. if only it is in 24k gold. Sigh~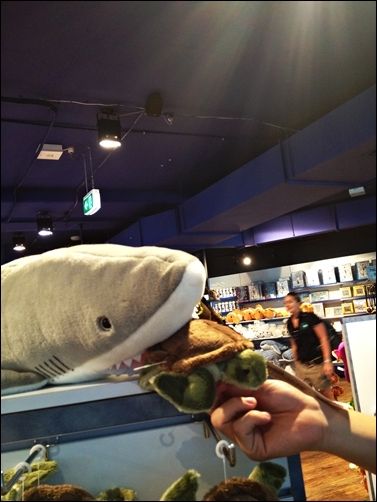 Well, the turtle was eventually eaten up by the shark.
Poor turtle. =(
Cannot remember where is this place.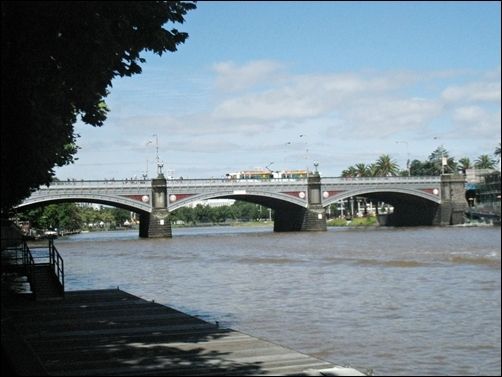 Although the weather looks really scorching hot but my make-up was still intact, zero perspiration and best of all, the breeze was extremely cooling.
Perfect!
This is near Flinders Street.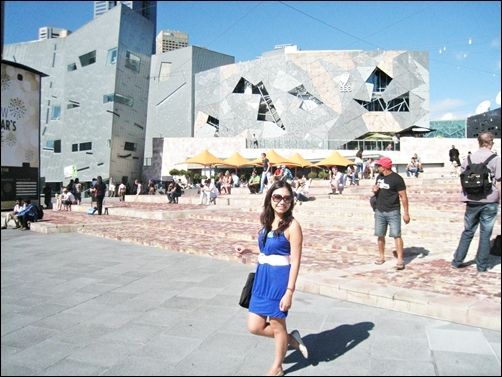 St Paul's Cathedral Church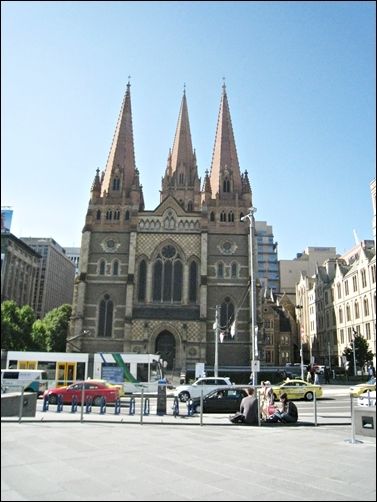 It is one of the landmark in Melbourne.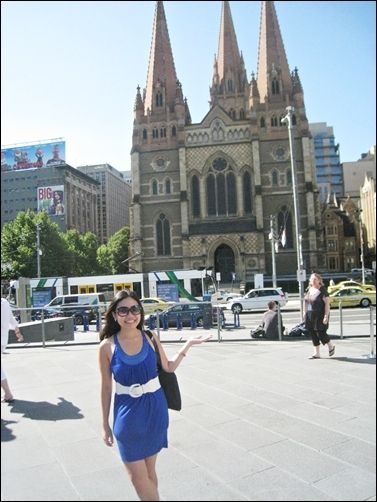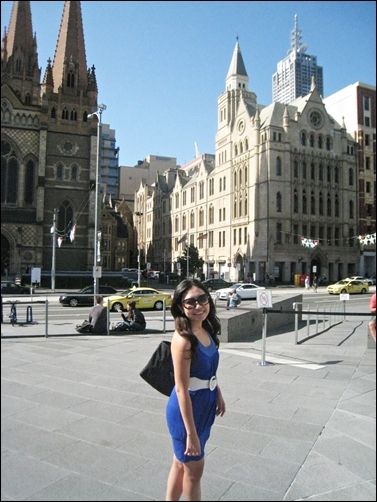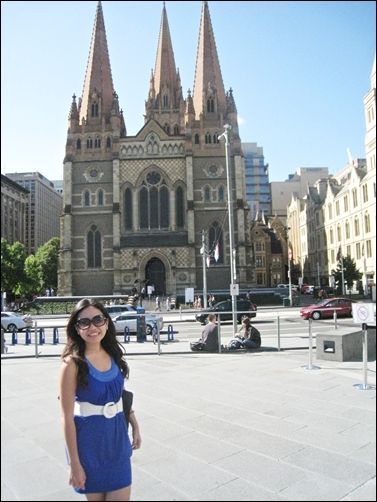 See the cloudless sky!

After which, we went back to our hotel because my new pair of flats were killing me softly!
I had to change out of it, into my trusty Roxy slippers. Haha…
This is Flinders Street Station.
It is a central railway station in Melbourne thus it is one of the busiest railway station!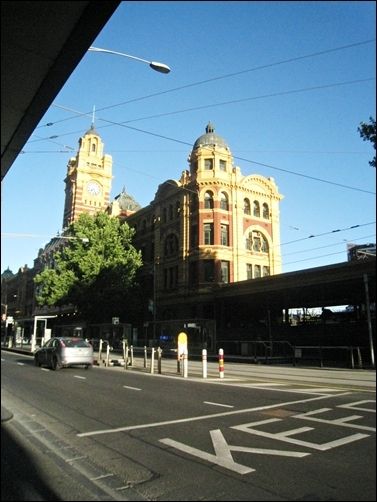 It was so cold that even Zong Yao had his jacket on!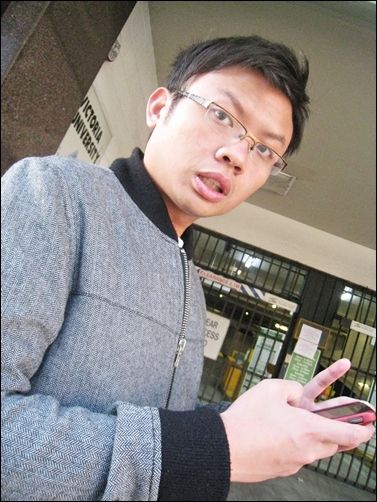 Being a vain pot, I refused to wear my one and only other Adidas jacket because it simply does not goes with my dress.


Hence my one and only cardigan that is barely keeping me warm. Haha..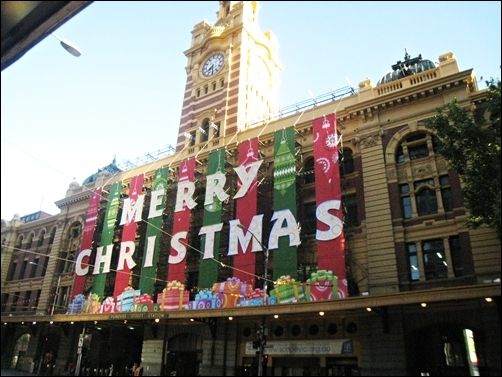 Merry Christmas from Flinder Street!
We had our dinner at Es Teler 77.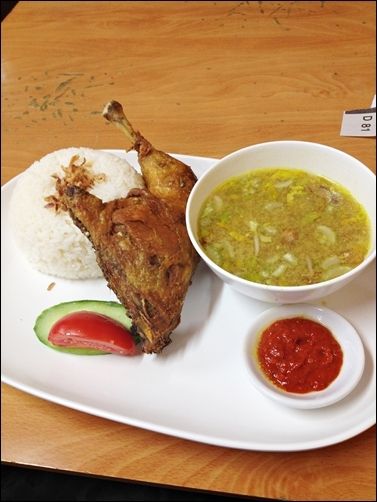 Ayam Penyat.
Yes, they have an outlet in Singapore too. =.=
You know it is definitely not my choice.
I still prefer the grilled ayam penyat I frequent in Lucky Plaza.
After dinner, we went to Melbourne's Chinatown.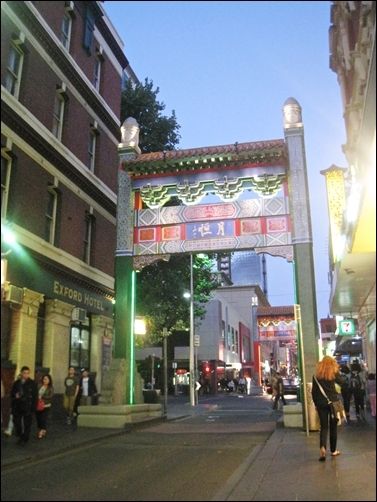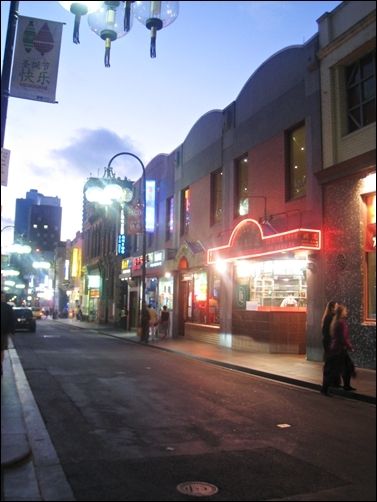 Cannot remember much of that place, it was not a huge place… or was it because we never finish the whole Chinatown?
I was braving the cold temperature with my cardigan, slippers and dress.

Another shot of Flinder Street Station after sunset.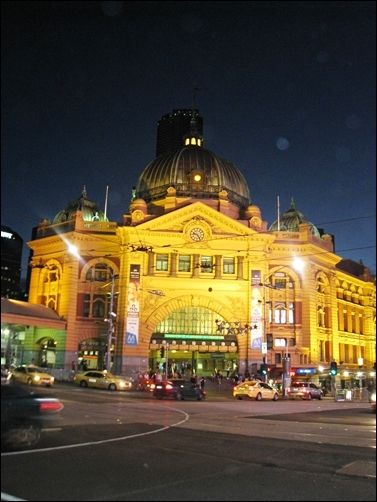 Long days short nights during Summer.
We went to meet up with one of Zong Yao's friends and her parents at Crown Complex.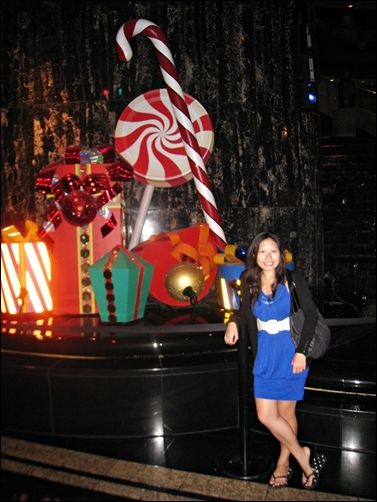 At Crown Complex with X'mas decorations.
We went to see a short Christmas musical at which was at one of the lobby.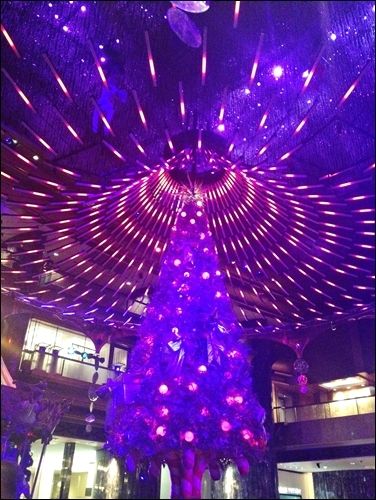 Pretty lights and I love how they reflect on the ground!
Took some videos of the very short act.
Decided to get some desserts at Crown Complex after the show.
However Zong Yao could not find the nice dessert stop that he wanted to bring us to anymore, so we settled for Calatrava Cafe.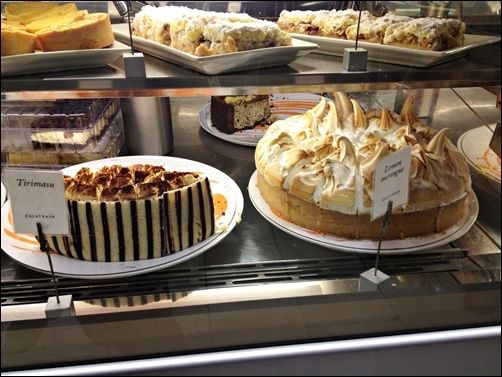 The cakes look really good!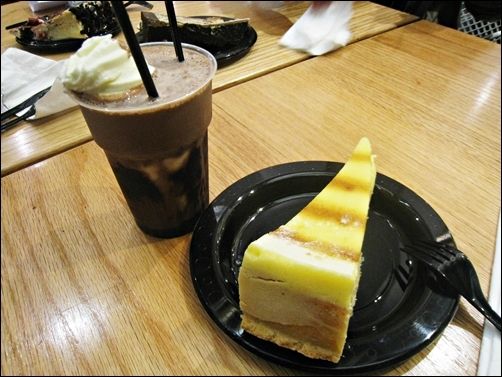 Ordered a piece of Lemon Cheese Tart cake (if I recall correctly) and Iced Chocolate to share.
I tell you, beauty is nothing!
Our cake was just average… but his friend's cakes tasted pretty terrible.
Well, she proclaimed she could bake better ones! Ha..
Was totally disappointed.
Took some pictures by the bridge before we parted ways.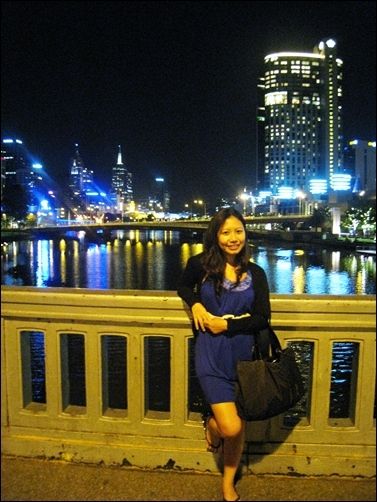 With the beautiful cosmopolitan city behind me.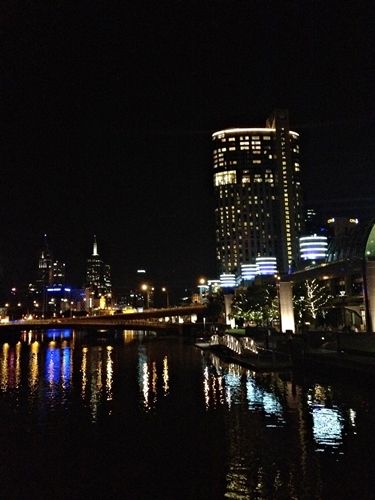 The temperature that evening was about 12-13 degree celsius.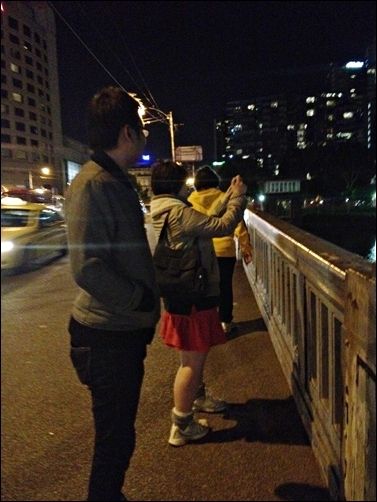 Zong Yao had his jacket all zipped up and his friend and her parents were dressed in thick sweaters all fully well equipped for a cold weather.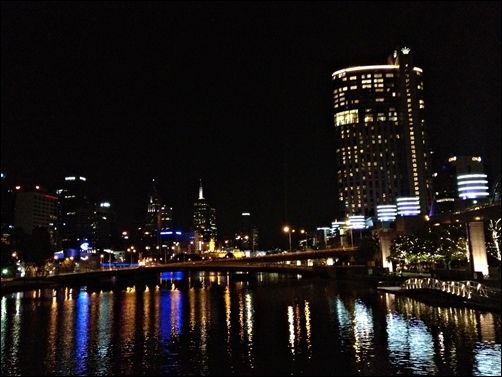 One last shot before we call it a day and returned to our hotel.