I know I have not been blogging as regularly as I should, all thanks to Facebook and Twitter, however I will try my very best to complete my Australia trip entries.
I did not take as many photos during this trip as compared to all my other previous trips.
The photos will look not as fun as previous trips because most of the time, it's just photos of my surrounding and I am the one and only constant subject.
Looking through the photos, it is as though I went on this trip alone.
I had my 'part-time photographers' with me and of course random strangers to help me with the photo takings.
I will try to blog down every single details I can remember, pardon me if I missed out any as 2 weeks are not that short you know.
I experienced many first times during this trip.
I know I will refer back to these entries in the future reminiscing the fun time I had.
It was one of the furthest, longest and best trip I have taken so far. =)

~*~*~*~*~*~
16 December 2011 – Friday (Day 0)
My flight with Qantas on A330 was scheduled to fly at 9.05pm from Changi Terminal 1 to Brisbane
There was such a long queue of people waiting to check in.
Thank goodness I was flying alone (yes, one of the 1st for me), I was quickly directed to a newly opened counter to do my check in.
Yay to their excellent service, it saved me time from all the queueing behind the large groups of families.
A failed attempt to get a complimentary upgrade and a window seat. Managed to get an aisle seat though.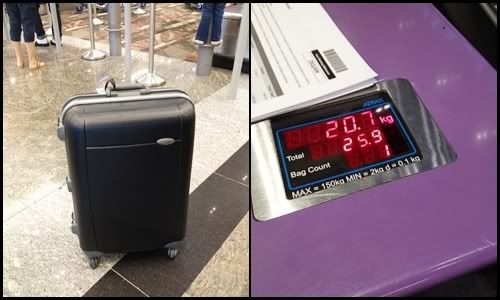 Well, the weight limit for my luggage is 23kg.
Out of the 20.7 kg, 4.5kg belongs to my cousin as I helped my aunt to bring a set of curtains as well as a glassware over for her. So technically, my things weigh 16.2kg.
I know it is still considered super heavy to all the seasoned travellers but I really tried my best to remove whatever that is redundant already.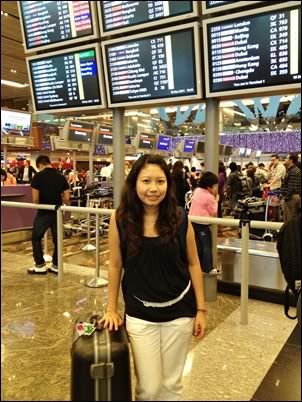 I . cannot . wait . to . fly!
Ok, a part of me was really excited but as I walked towards the departure gate, I had butterflies in my stomach.
All of a sudden, I got so worried and I start to miss my family and friends here.
A part of me just wanted to stay here, it suddenly seems that 2 weeks were a little too long and I was too adventurous to even fly alone, I  never felt so independent.
Ok, just between you and me, I did tear a little after I past the departure gate. =X
Hahahaha, I know I am very drama mama, I just felt too overwhelm all of a sudden.
The moment I had been waiting for, then when the moment came, I just freaked out. Hahahahahahaha…
Anyhow, I did made it to the aircraft without getting lost.
I can be pretty muddle-headed at times. (Just like right before I left my house, I actually placed my mobile phone in the luggage bag and spent 10 minutes looking high and low for it!)
It was a full flight and I was surrounded by all the Caucasian families.
They must be thinking that I come from Cheena as I was reading 那些年我们一起追过的女孩 and watching Hong Kong drama on my Galaxy Tab as the shows on board were not fantastic and some were lousy quality.
I only managed to watch Hangover 2 which was not fantastic at all.
First meal being served to us.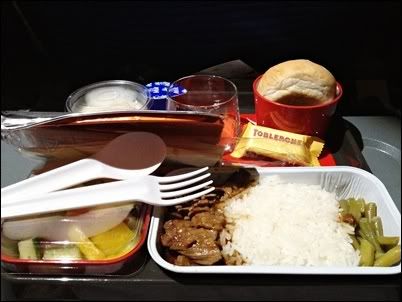 I think it was some braised pork with steam rice.
Requested for some red wine to aid me to sleep better.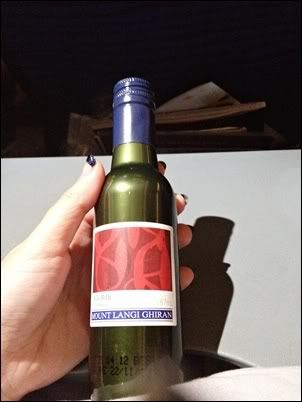 I only managed to catch about 2-3 hours of sleep during the 8 hours journey.
~*~*~*~*~*~
17 December 2011 – Saturday (Day 1)
A light breakfast was served just about an hour or two before we touched down.

The plane was 40 minutes earlier than schedule.
Waited super long at the immigration checkpoint as there were many planes which landed at Brisbane International Airport about the same time.
Finally as I get through the checkpoint, I was hoping to get a pre-paid SIM card from Optus as Zong Yao suggested unfortunately they do not sell it there.
Realised that somehow my auto-roaming was not activated since I forgot to double check with M1 before I fly as I switched over to them from Singtel recently.
No available wireless can be found at the airport too!
I needed to contact my cousin, Dawn to inform her that I have reached the airport as she would need to pick me up from the train station nearest to her place.
Thankfully I had googled on how to get to her place from the airport plus I could access to the specific instructions she had emailed me before the trip.
Worse come to worse, I would just find my way to her apartment myself.
As I came out from the Airport terminal to the Train station, I could feel the cool breeze despite the sun shining brightly. Felt damn shiok!
Thankfully I managed to find a payphone at Central where I need to transit to another train.
I was not sure how much it cost to make a phone call, hence I tried with the lowest denominator I could find, 20 cents.
I even had to check with a random stranger how to dial her number as the number she had given me was with the area code in front which was not needed to make that phone call. All I needed to do was to add a '0' before her mobile number.
As just I heard Dawn's hello, the line got cut. =.=
It was then I realise, it cost 50 cents to make a phone call and 20 cents to SMS!
Hahahahaha… silly me. Still, the pay phone was kind enough to return me that 20 cents. Muahahaha…
Anyhow, I managed to get through to Dawn and yup, she would wait for me at the train station as she promised.
On the way to Dawn's place…. The view from the train as well as the inside of the train plus a really tired me.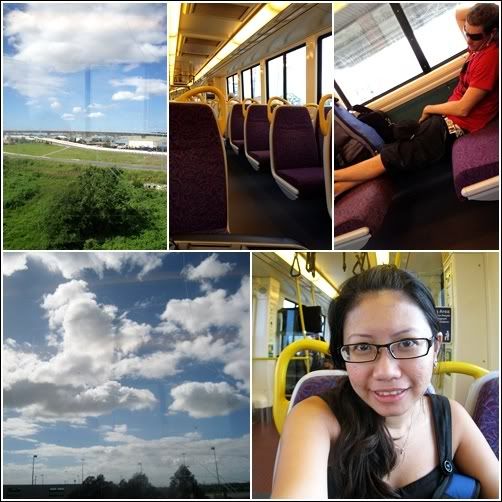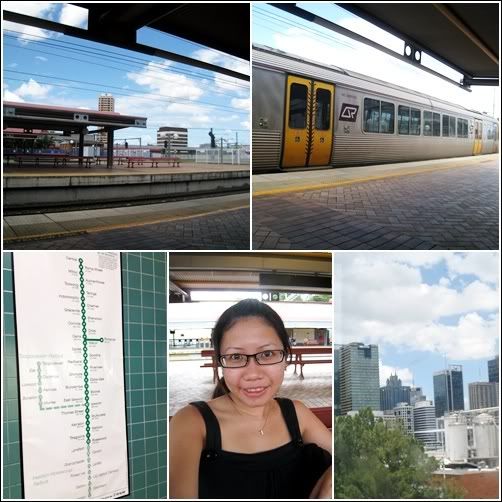 What I love about the trains there is that it is never as crowded as Singapore's MRT!
Plus, I was super heng to be there while the rest of my fellow Singaporeans were cursing and swearing at SMRT when the trains broke down and cause disruption to their lives.
When I reached Sherwood station, indeed, Dawn Jiejie was there waiting for me!
I hugged her the moment I got down the train.
There was this sense of accomplishment that I flew miles to see her! Hahaha.. It was good to see a familiar face too! =)
Got back to her apartment, she showed me around a little.
I had a room all to myself because she kicked her housemate out of the house weeks back.
Called my aunt, had some instant noodles before we packed for our trip to Gold Coast over the weekend!
Brisbane and Gold Goast railway system are well-connected so we took the train and head towards Narang Station, that is where Gold Coast is.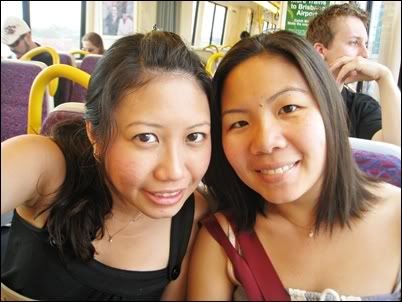 While on board the bus to Surfers Paradise, we saw a woman with a head of purple hair. Super random I know.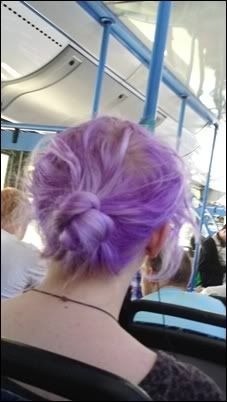 We were walking along the 名副其实的 Surfers Paradise to our hotel which is just round the corner.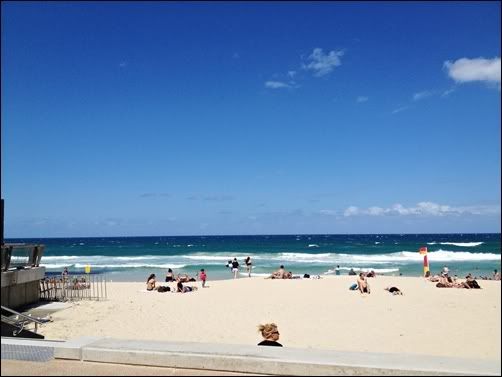 Fantastic view isn't it?
蓝天 瞭望无际的平行线 with no ships in sight. The water looks really good too. Not to mention, the sands are so fine and soft!
Reached the hotel just in time for our check-in at Holiday Inn.
It was a pretty decent deluxe room.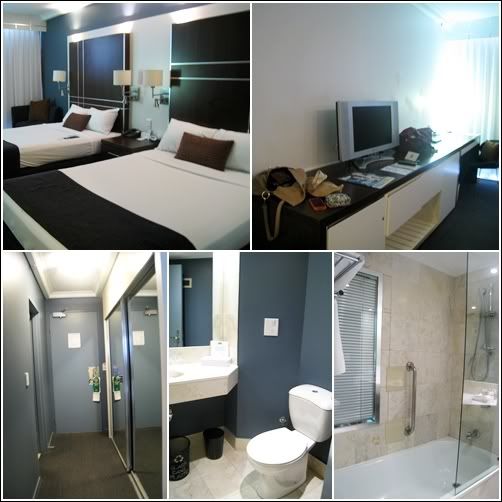 Big and comfy twin beds, clean and big toilets, they have got mirrors everywhere and I actually slept beside a gigantic mirror next to me. Ha…
How can I forget the amazing view right from our balcony!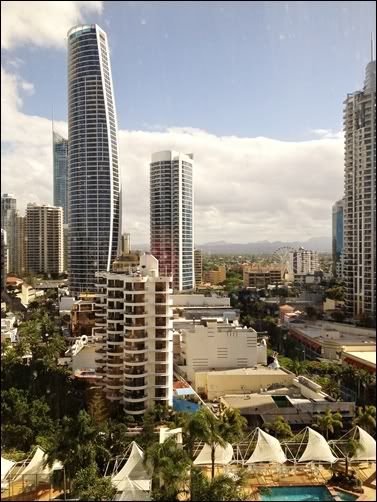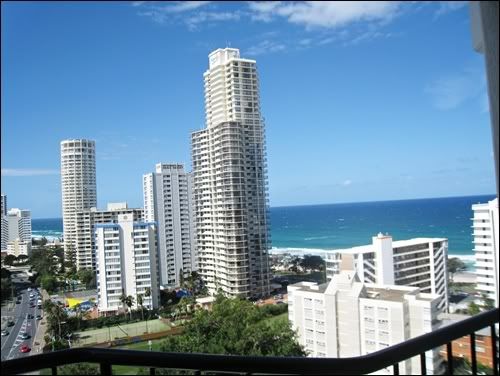 Hello, we have got the ocean view peep. Hahaha…
Grabbed a couple of pies from Pie Face which was pretty popular in Australia.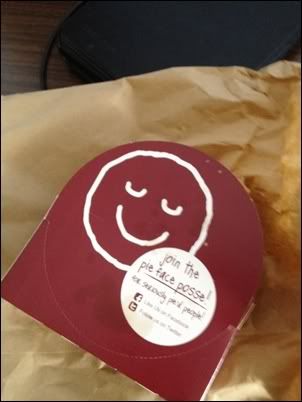 Each one for us.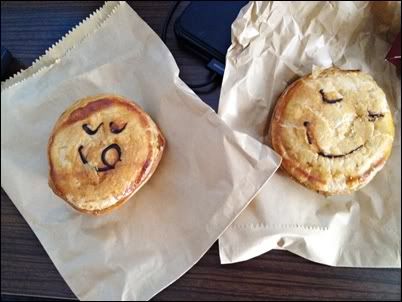 Honestly, I feel it was rather overrated however it was told to me that the taste differ from states to states. It seems that the nicer Face Pies are in Melbourne or something.
Anyway, it is not cheap, it cost about $5+ AUD per pie. It did fill up my tummy though.
After we are done checking out the hotel, out we head to the beach!
It was a rather windy day in Gold Coast. I experienced the strong wind by putting a towel on my body and remove my hands from it, it could still stick on to my body with the force from the wind! Despite the sun shining right down from above, I was chilling cold from the strong wind.
Initially, we wanted to tan ourselves by the beach, but the fine sands keep hitting us and it got rather painful so we had to move to the grass patch area nearby for our tan.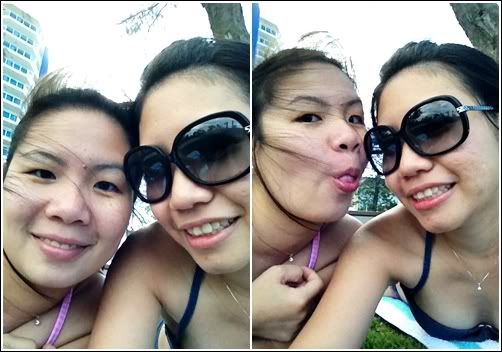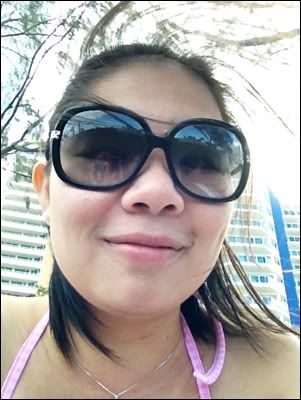 That's cousin Dawn for you.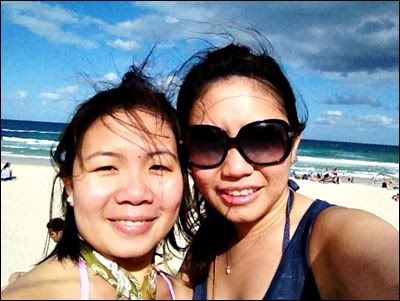 Can you see how windy it is over there?
We did not get much of a tan as the sun was playing hide and seek with us. =.=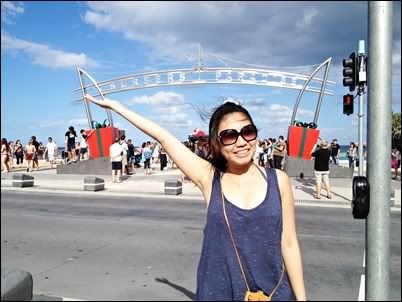 That is me in Surfers Paradise!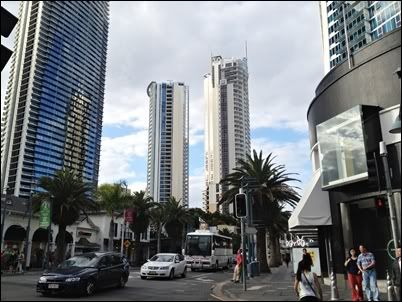 We head over to a shopping mall nearby to jalan jalan.
Dawn Jie bought a kimono lookalike night robe from Cotton On, while I managed to get myself connected with the world with my Optus SIM card!
Oh well, none of my friends has any peace since I activated that SIM card. Oooops!
After the aimless roaming around, we got back to the hotel.
Bathed and slacked in the comfort of our own beds.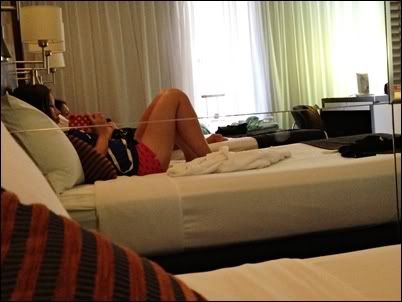 It did not take me long to fell asleep.
According to Dawn Jiejie, she tried to wake me up but I was sleeping like a log to wake up.
Apparently I was feeling extremely tired from the long flight.
I woke up just in time as she was about to write a note informing me that she was going to head out to grab some food.
Borrowed a dress from her, changed and out we went to fill up our starving stomachs.
The first proper meal for the day and it was also the first Vietnamese meal I had in Australia.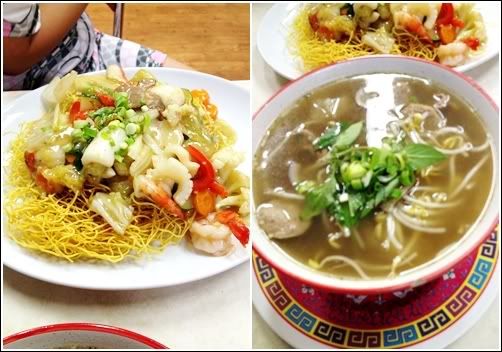 Dawn Jiejie had the seafood fried noodles while I had the beef rice noodles.
I still miss the one Natalie brought me to in Joo Chiat earlier that week. =p
You know how the sound of fireworks and gunshots sound rather alike.
While we were having our dinner, we heard that sound but we never got it figured out if the sound was from fireworks or gunshots.
Apparently Gold Coast is not as safe as I thought.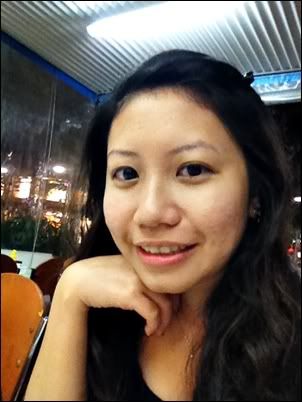 Yup, that is me, without my liquid eyeliner, I think I did a bad attempt with my crayon eyeliner. Haha…
After dinner, we walked around a little.
Unfortunately, those shops that were opened, the clothes either do not look good or too expensive. Some were a combination of the two!
The shops we were interested in were closed. =(
Decided to take a bus to Gold Coast Casino which was located at Jupiter hotel.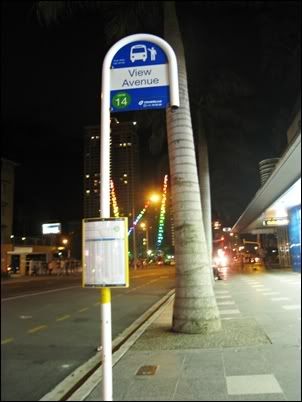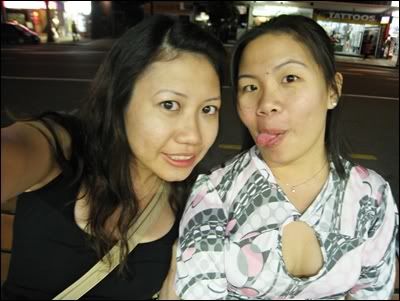 While waiting for the bus…
It was a freezing cold night and I left my cardigan in the hotel. We had to keep escaping from the cold by getting into a shop that was near the bus-stop.
Finally, we reached the Jupiter casino!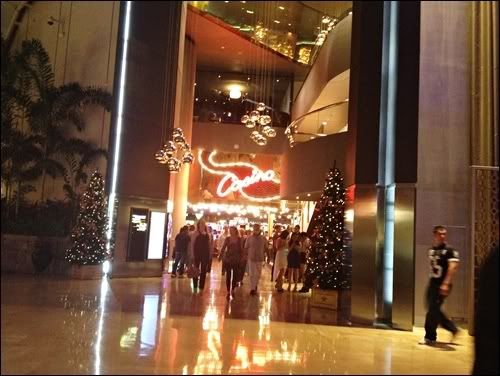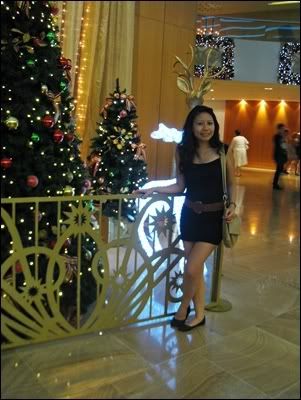 What is Christmas without X'mas tree?
The casino has pretty good crowd that night.
Yes, the security guard did checked my passport. Hehehe.. *cheap thrill*
Nope, I did not gamble.
All we did was checking out tables to tables.
Observe how people play their games.
I am such a noob when it comes to casino gambling.
We did not stayed for too long.
Caught the bus back to the hotel and sleep….
~*~*~*~*~*~
18 December 2011 – Sunday (Day 2)
Woke up to a rather cloudy morning.
At least it was not that windy.
Not wanting to miss any minute in Gold Coast, we hit the beach hoping to get a quick tan through the clouds.
There were not a lot of people by the beach in the morning so we enjoyed a little of the peace with just waves crashing on the sands.
人生可真是美好啊!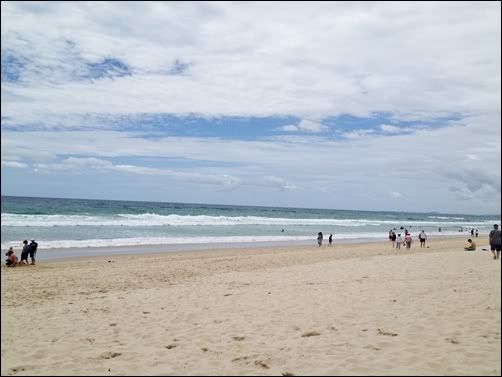 Seagull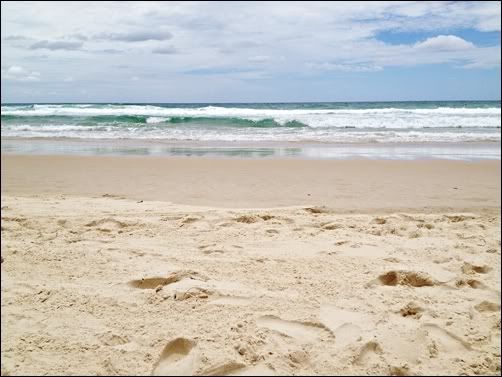 I am missing the beach already.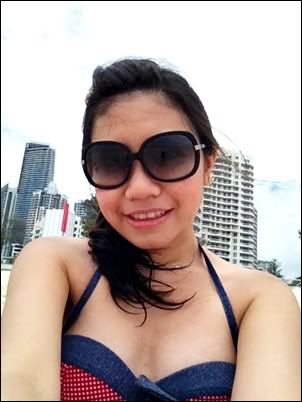 Me, totally relax, enjoying the breeze.
After another unsuccessful attempt to tan, we head back to the hotel to wash up and got ready to check out.
Outfit of the day.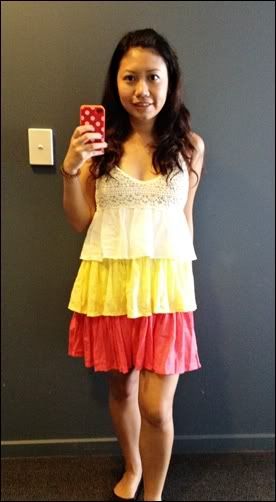 I really love this dress which I bought months back from Forever 21, unfortunately, this is not the kind of dress I will ever wear in Singapore. Hohoho… this shall be kept in my wardobe as part of my Holiday collection.
Went shopping after we checked out!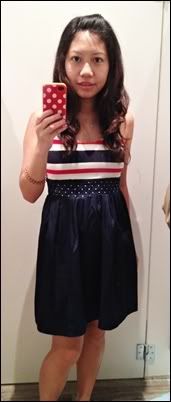 Bought this dress from Chica Booti for 20AUD.
The quality of this dress is pretty good.
I think this is a very good buy!
Well, the dress is so me lor!
Lunch was pizzas at Crust!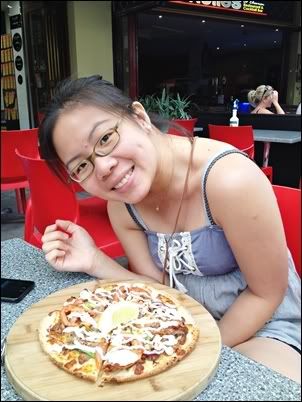 Dawn with her Mediterranean Lamb pizza.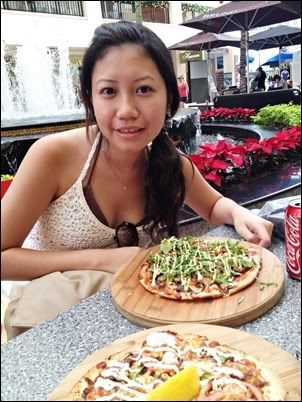 I had Philly Steak pizza.
I think it was very worth the price!
A pizza and a can of drink cost about 10AUD.
The portion was just right for us and the pizza tasted really yummy!
I still prefer my Philly Steak pizza as compared to the Mediterranean Lamb one. =P
Ok, just realise they do have one outlet in Singapore, Holland Village.
I want to go there and try the pizzas one day!
Did more shopping after lunch before walking to the bus stop to check out the timing of the bus to take us back to the train station.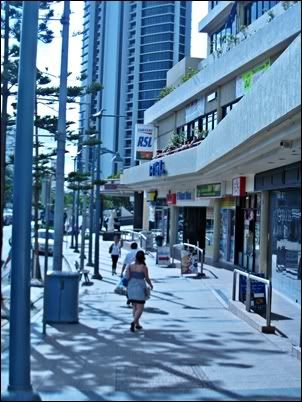 Spot Dawn Jiejie!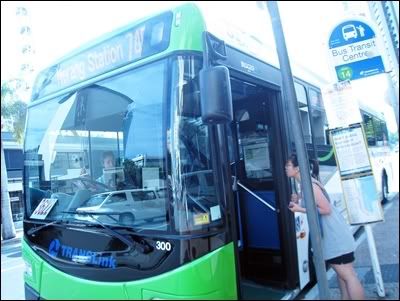 Confirming with the bus driver.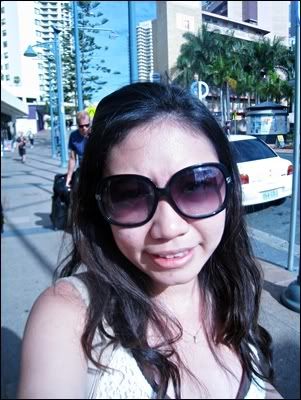 Ok, that is me, just tagging along.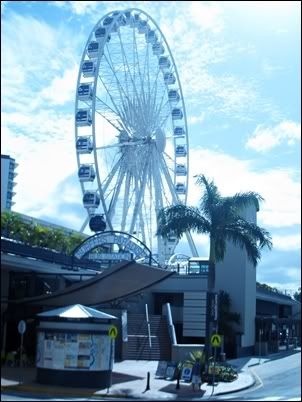 The bus stop was located just opposite Gold Coast's ferris wheel.
Proceed back to hotel to grab our bags then head back to the bus stop…
While travelling on the bus back to Narang train station……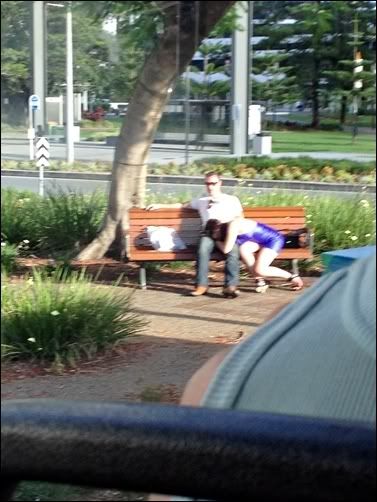 I know the picture just looks damn obscene as though the lady was giving the man a blowjob!
But nope, the girl was just somehow too drunk or whatsoever, she looked really unconscious.
She just happen to have her head well, on the guy's laps.
Initially the guy looked really awkward with her in that position.
I guess after a few moments he decided to just make the best out of the situation by putting both his hands behind his head as though he was enjoying it.
All the passengers on board the bus saw it and yes, we all laughed out loud.
Humour, humour!
It was already 8pm when we reached back to Brisbane, Dawn Jiejie's place.
Supermarket was closed, most of the restaurants were closed.
What was left was quiet and empty streets.
Popped down into a nearby Indian restaurant and ordered a regular Butter Curry Chicken and a Nan (Bread) to share for our dinner.
Dawn Jiejie cooked some rice (Brown & White) as add-ons.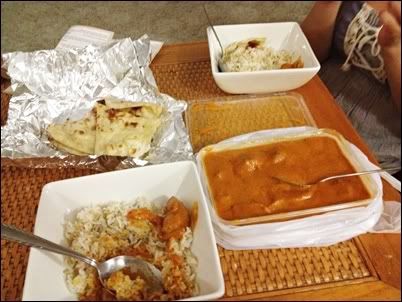 We still had quite a fair bit of leftover which became my breakfast and Dawn's lunch the next day.
Heh…. 一餐变四餐.
Quite worth it. =D
The curry was really good too!
I was not used to the deafening silence at her place which she describes as peaceful.
Thankfully I brought my iPod and speakers along!
Washed up, packed/unpacked a little, showered then off to our respective beds.
(To be continued…… watch this space!)