A day away from work.
All thanks to the medication the doctor gave me.
So strong that it just knock me out flat.
Well, just hope I'll get better.
我出国了!
AiLing's brother drove AiLing, BaoXin, Daphne & I to Johor Bahru last Sunday.
A very last minute trip.

1st, we went to the Giant to shop for our groceries.


Tell me do we look like some sua ku tourist in these photos. Hahahhaa….

Bought some tidbits from Holiday Plaza.
Somehow the clothes there just somehow does not looks appealing to us.
Is it the place or the clothes? Hahahaha….


After Holiday Plaza, AiLing's brother drove us to this very friendly place to buy very friendly stuff.
Hahaha… I bought one of it and because AiLing's brother know the people so well that we were given discount. Hahaha…. =)
Next up was seafood feast at 大马花园.

The food we ordered.


I like the cereal prawns and the 土包鸡.
The stingray & squid is too salty for my liking.
After our dinner, we proceed back to Singapore.
We were stuck in the jam for an hour plus. =.=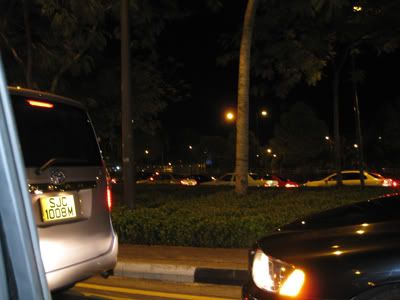 I also bought a couple of facial products.


Cheap cheap!
Cheaper than Singapore.
All thanks to the currency exchange rate and the 15% discount at the Watsons there.
Thanks to AiLing's brother for driving each and everyone of us safely back home. =)
I hope we can do this again! Heehee.
A short trip out of Singapore.
The whole time I was so paraniod over locking of the car door.
Hahahaha….. I cannot help it lah.
After seeing so many horrible reports in the newspaper and hearing all these we have to exercise caution mah.