Woke up pretty early on the 2nd day.
Due to the lack of sleep and packed activities, I slept soundly the whole night through.
Ha! Good.
Prepared myself.
Had the buffet style breakfast getting ourselves charged to start the day!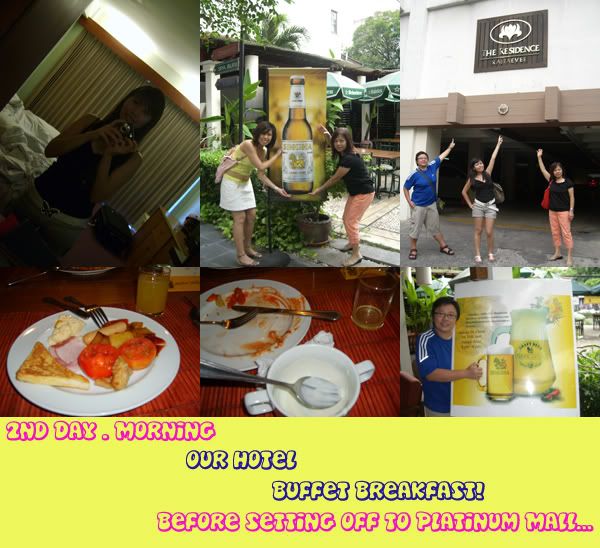 Reached Platinum Mall.
All of us practially 大开杀戒 can!
Wow lor.
In order to get the wholesale prices, we had to combine a few pieces of items from the same shop.
Therefore, I could not do without my sister, she could not do without me.
The best shopping partner lah.
Ha, most of the time, she'll psycho me into buying something from the shop she wants to get her items from.
Sometimes, we would buy the same design or even the same colour of clothes.
If only we still lived together, we do not have to spend money on the exact same clothes anymore.
Save money to buy more pieces liao can.
Too bad. *shrug*
We shopped until we cannot even feel our hunger.
Whenever we decided to leave the mall one person would say "你看, 这个美!"and off we wander into the shops.
The things there are so irresistable lah you see.
Reluctantly, we dragged our feets out of Platinum Mall and head to the nearest A&W for the duper late lunch at about 3pm or so.
I've been craving for these for the longest time can!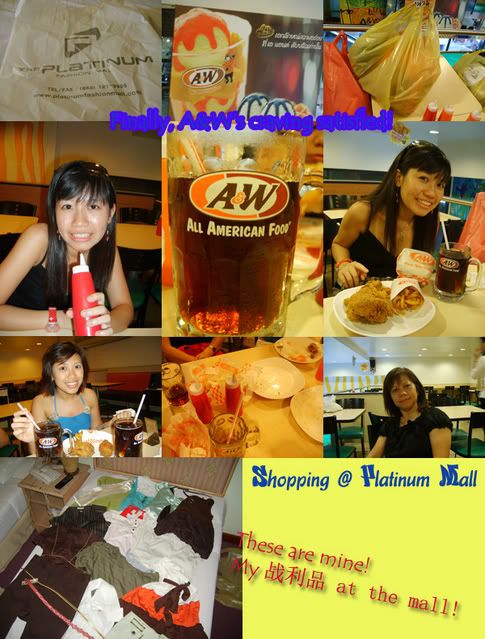 Went back to the hotel to put down all our barangs before heading out again for our massages!
This time round, Mama and I decided to try the leg massage while Jie and HaiXing did the thai massage again.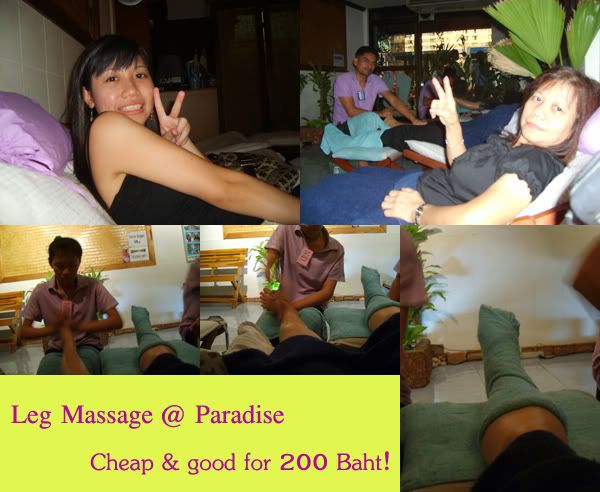 Look at the signboard of this shop and what service it's offering.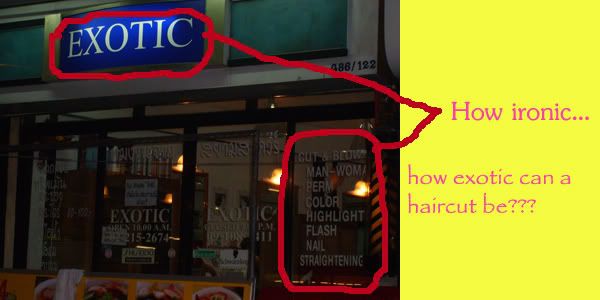 Hahahaha!!!
Was just outside this shop hailing a cab to ChinaTown.
Went straight into the 1st restaurant in sight!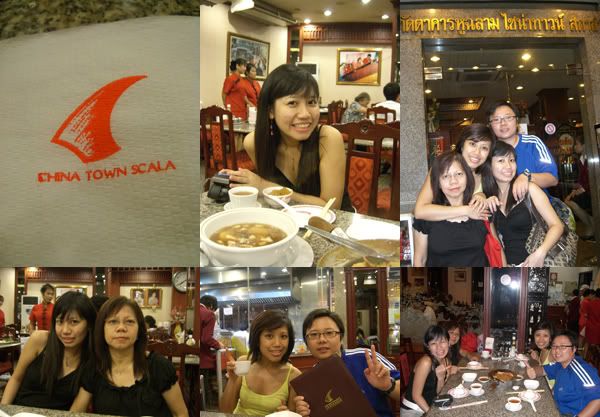 Well, the only dish that is nice is the Vermicelli with Crabs.
Other than that, other dishes were disappointing.
The prices in the restaurant isn't cheap as well.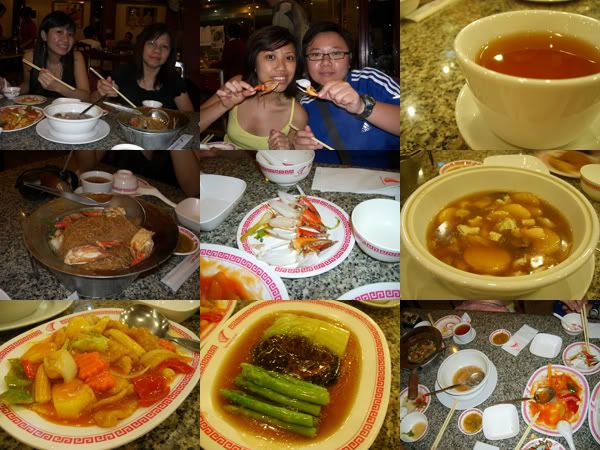 After dinner, wandered around the street.
Stopped at a street vendor selling slippers by the road.
Mama and HaiXing bought some slippers while Jie and I were busy cam-whoring away.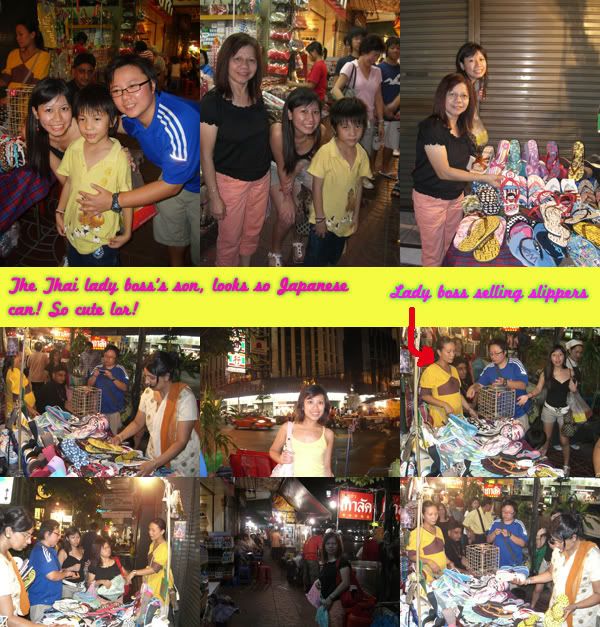 We went into a store too.
The shopkeeper is chinese-thai.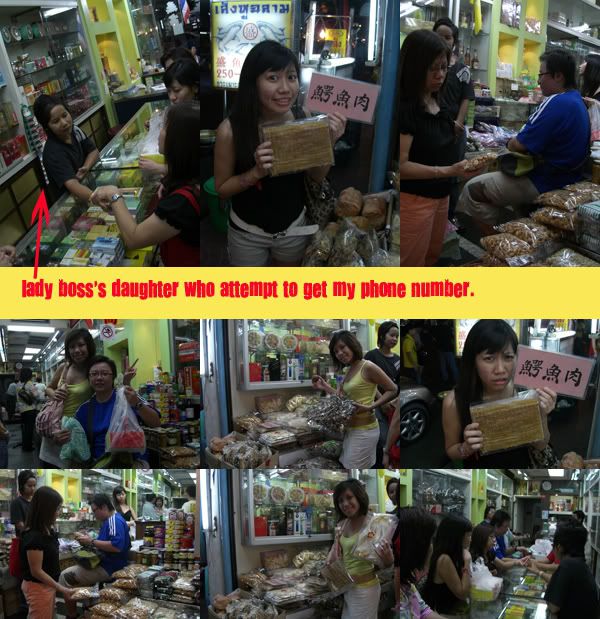 Next up, we walked into another restaurant that serves shark's fin and birdnest.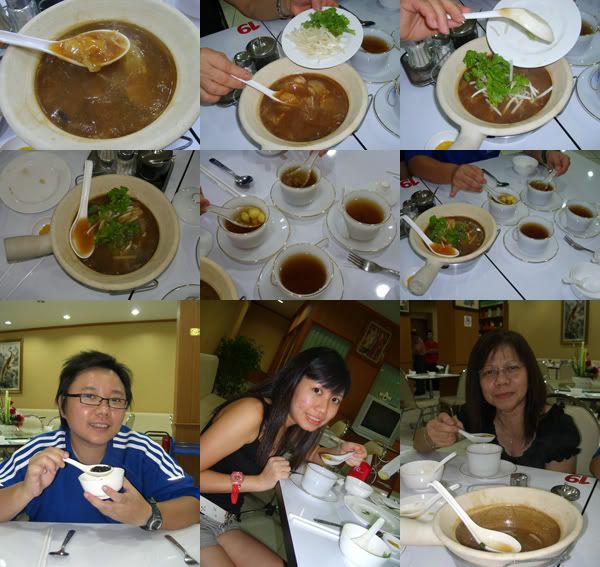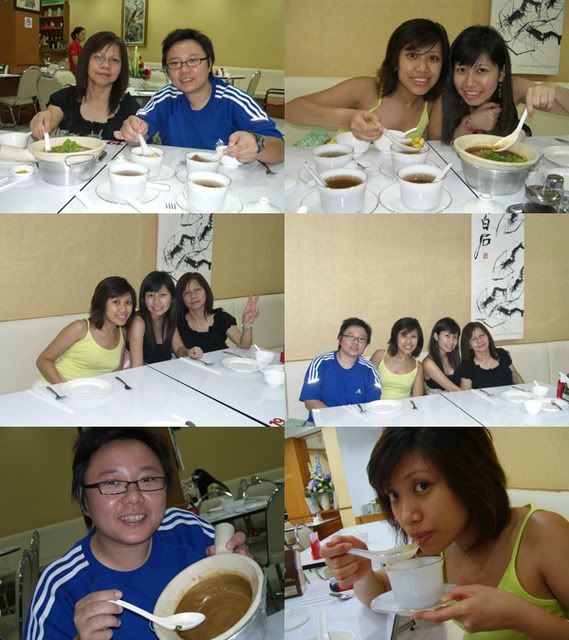 Seriously, besides the pot of shark's fin, the birdnest is expensive yet so little birdnest lor.
Totally not worth the price man.
Finally, back to the hotel we went.
Due to my 冲动-ness, I bought Mister Donut from a store in ChinaTown.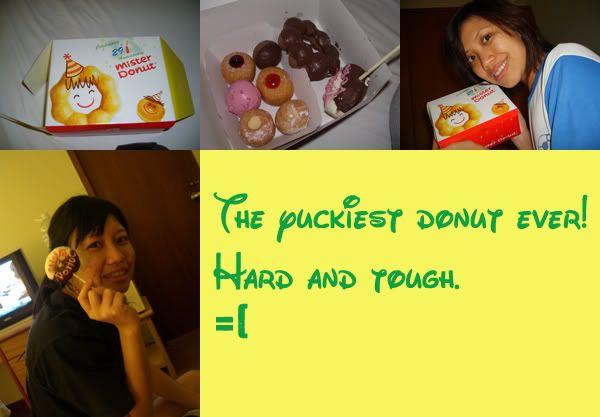 Totally 冲动-ness lah.
I've learnt my lesson man.
I know, I can't placed the whole Bangkok Trip photos into one entry alrightie.
Be patient mah.