On the 5th day of the trip, it was our last day at Hua Hin.
Woke up at 6.30am just to head down the pool side to watch the sunrise.
Although York Lin gave us a morning knock on the door, He left us behind and head out to watch sunrise alone…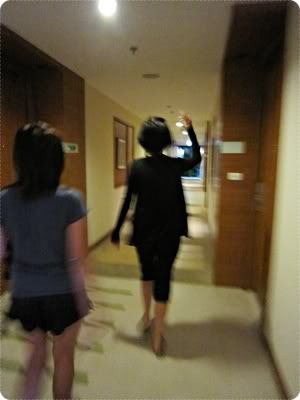 Miss Poh almost wanted to kill him as the sky seems pretty bright from our room.
Luckily we realised that although it was bright outside, the sun is only just beginning to rise.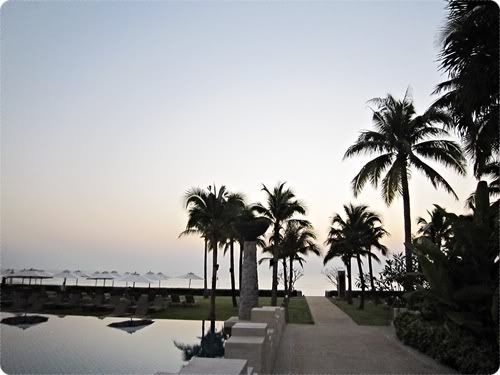 The endless horizon.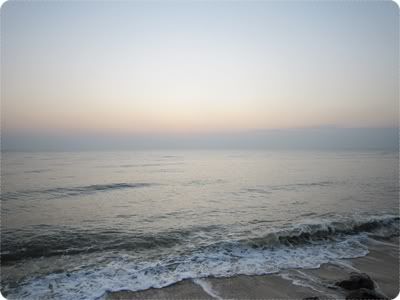 This is when it's low tide.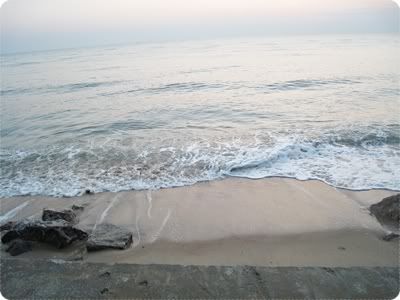 We were standing high up on the steps.
Even with the low tides, no way can you even step onto the beach.
Too dangerous….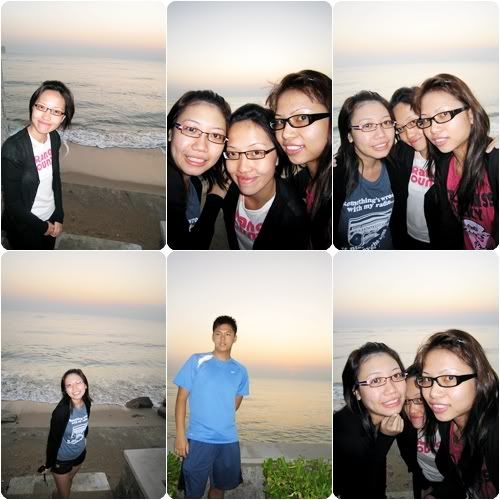 We look super cui with the spectacles and make-up less faces.
Finally the sun decided to make apperance…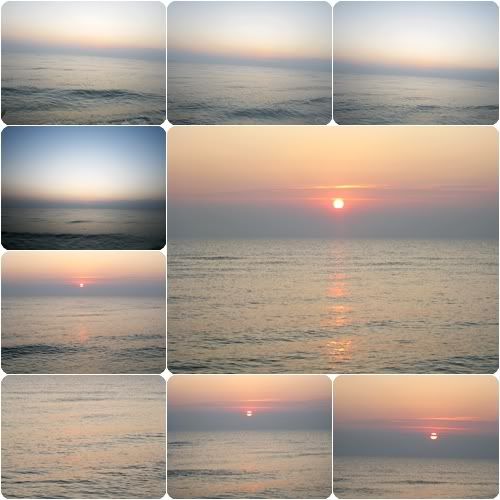 Slowly and steadily.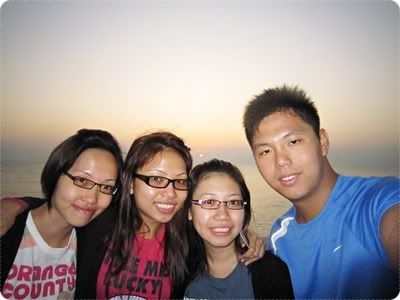 Us without Eugene. He was too zonked out.
The view was really good and air was so refreshing in the morning.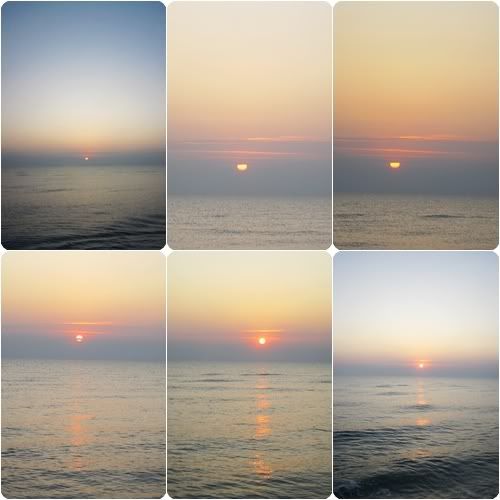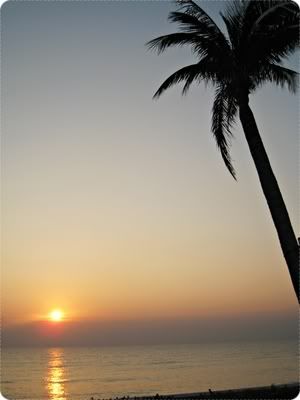 It was really worth the sacrifice of our beauty sleep for this.
The les.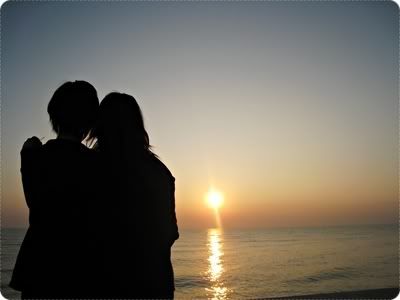 情人.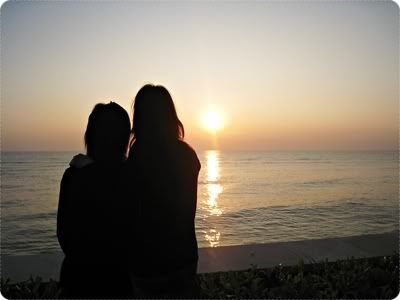 I took this and to be honest, I really like this picture!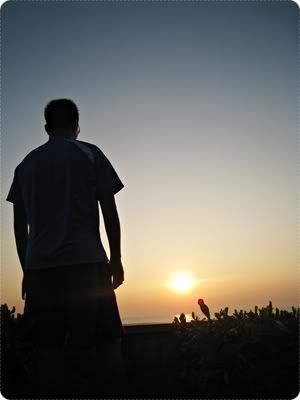 Don't York Lin looks like a good example of the Yellow Ribbon project?
An ex-prisoner's 1st sunrise after 10 years.
He sees the sun as a ray of hope, a brand new start.
Don't it looks inspiring???
Awesome landscape Sheraton has.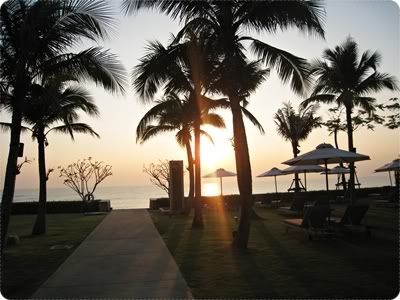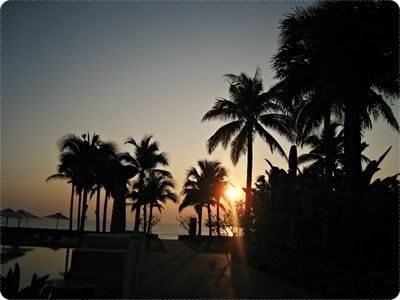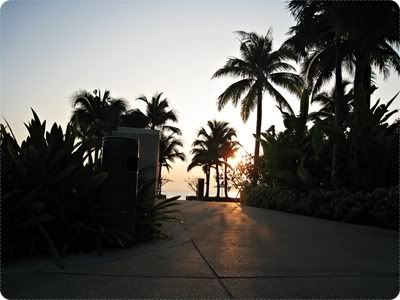 Awesome awesome!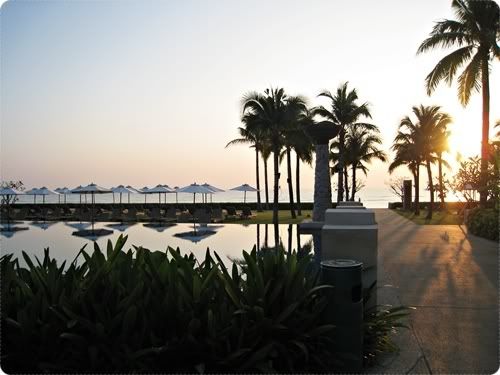 I absolutely love the view here!
If only I am rich enough to go there every now and then.
After the sun has fully risen, we headed back to our room for a little more sleep.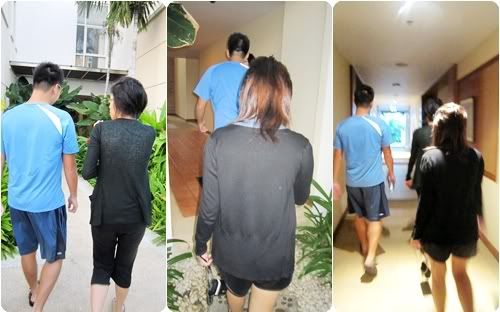 However we girls ended up doing these.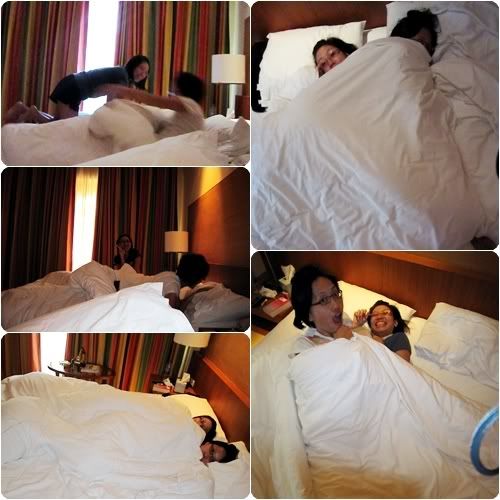 我们被捉奸在床 by Daphne. Ooops.
Before we left the place, we went for a quick swim and tanning session before going back to our rooms to pack and checkout.
The christmas decorations were all properly setted up on our Day 3 there.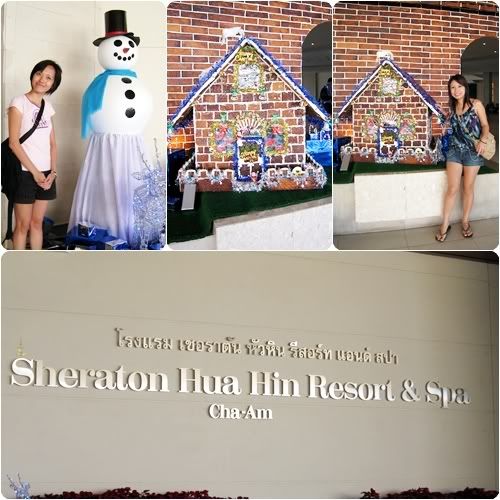 End product of christmas display.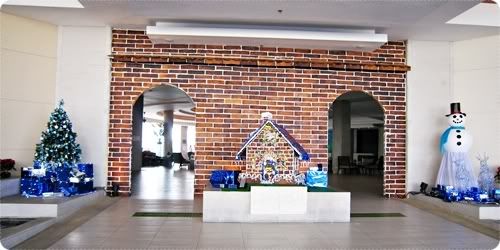 Farewell my love.
Board our mini van and before we started our journal back to Bangkok, we had another meal at the place we had lunch the previous day.
吃好一顿好上路.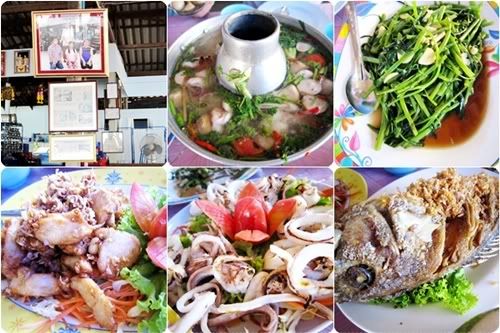 Apart from the morning glory, we decided to be adventurous to try out other dishes.
The steamed squid is rather hard to chew and not tasty at all.
Still preferred the steamed fish with lime that we had the day before to this fried fish.
How could we not forget to buy the chilled coconut for such a hot and humid weather? 1 each, for the 5 of us.
We are the satisfied customers!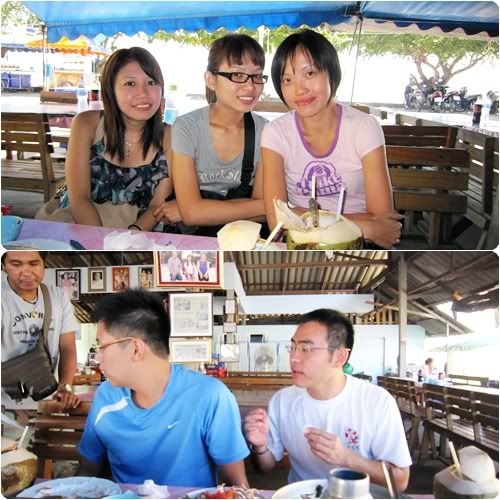 The guys footing the bill on our behalfs.
This is the coconut stall which we ordered our chilled coconuts from.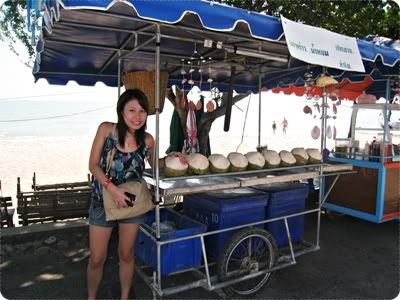 Total, he earned 11 chilled coconut profit from us.
Leaving the very relaxed and peaceful Hua Hin, making our way back to the hectic Bangkok!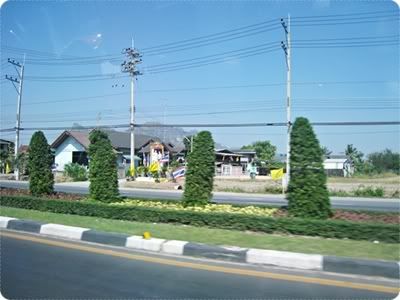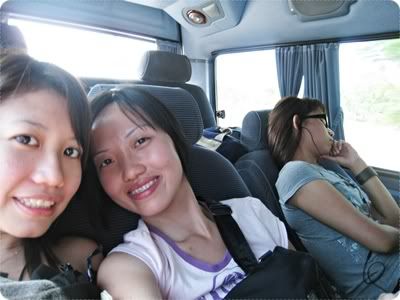 We tried to a photo with Daphne!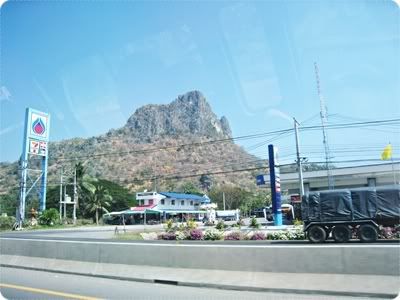 Sze Hui was so fascinated with that moutain.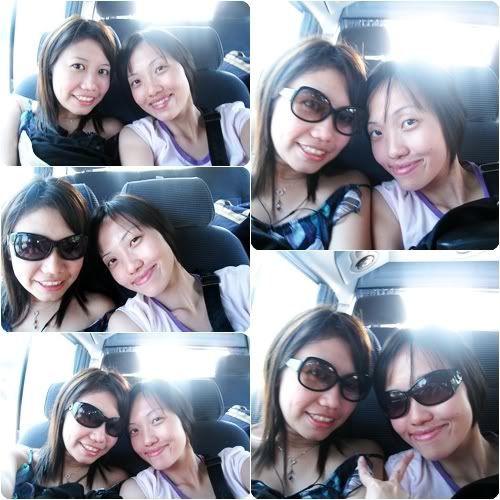 With the superstar shades!
We were stuck in a jam that was more than an hour jam on our way back that we were so frustrated as we were had not enough time to do our last minute shopping!
After many detours, we finally reached our hotel.
We were so pressed for time that Sze Hui ran to the counter to check in while Daphne arranged for the concierge service.
Once we got back into the room, we quickly brought out our loots which we bought on the second day, transfer them to another extra bag of ours and passed it to the guys to help us bring them back to Singapore first since they are doing back that night while we arrived back in Singapore the next day.
Bascially we rushed out of the room within 5 minutes of entering and just left the guys stranded in the room to plan their activities before their flight at night.
Walked damn fast to Platinum and for once, we did not lost our way there.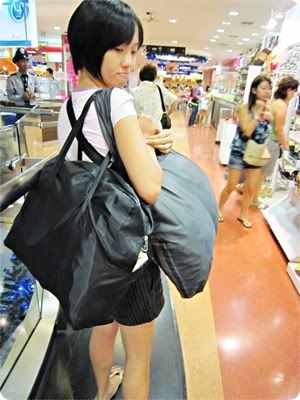 Sze Hui after 1.5 hours of shopping!
2 big bags of loots!
After our crazy shopping trip at Platinum, headed to Gayson Plaza to get some 土产 before rushing to Central World to meet up with my Thai ex-colleagues from E D & F Man Asia.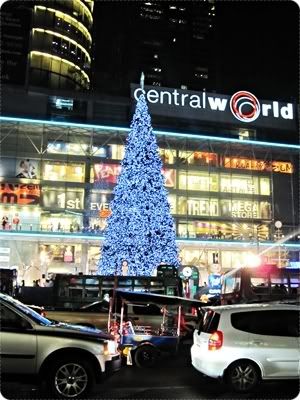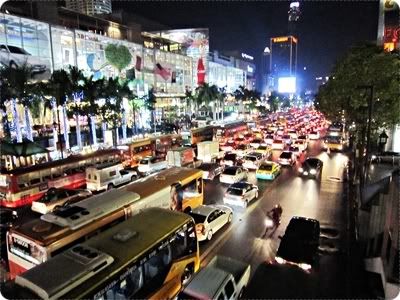 Look at that horrible jam!
What's new in BKK right?
Met them outside this Tiger Beer graffitis.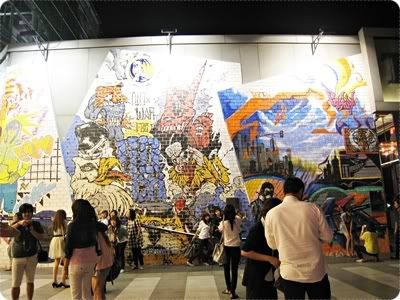 We had our dinner at Mango Tree Bistro.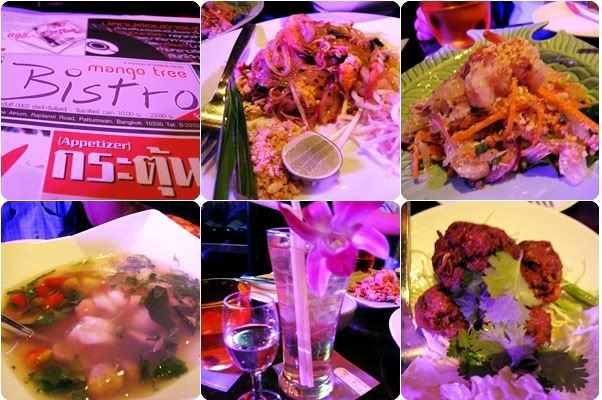 The minced pork ball is really excellent!
It is located at the top floor of Central World.
They have got a live band playing and after certain hours, the customers are able to went up and sing KTV.
Very cool place! =)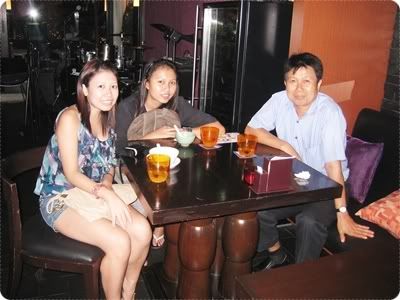 With Eve and Jarin.
I made Eve taught me a few Thai words. Hahaha…
Bid them goodbye after dinner and I went around roaming on the street outside Central World to take some christmas decorations!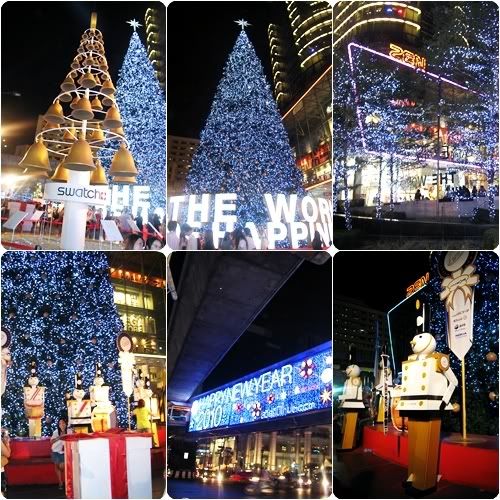 As I was alone, 自拍 was the only way to take photos with the pretty decorations.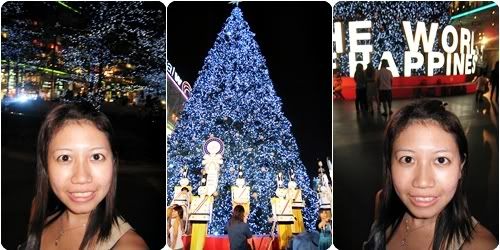 The girls also went around to take photos of the christmas decos while I was having dinner with ex-collagues.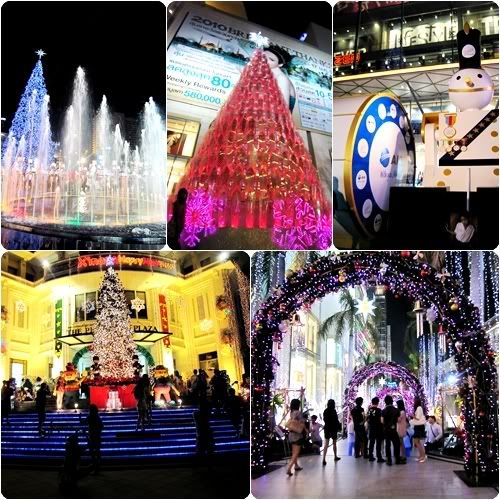 They got back to the hotel before I did.
Since it was the last night, they requested for me to buy some food off the roadside stalls.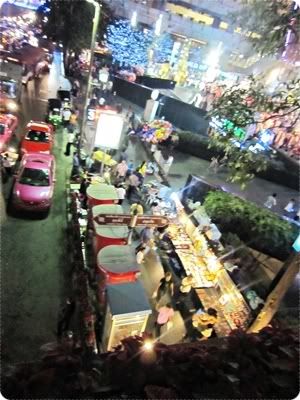 You know, the food by the roadside were surprisingly delicious and most important of all, CHEAP!
Here are our loots of the day.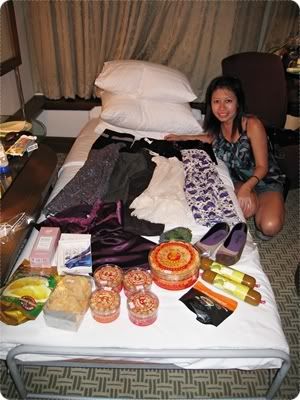 I did not buy alot on the last day due to limited funds. T_T
All these are Daphne's.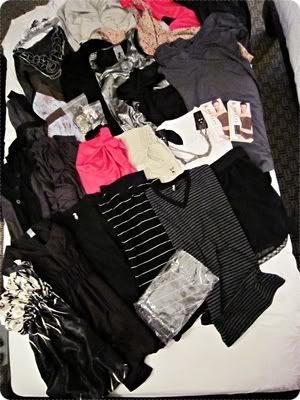 The colours are so typical of her yeah?
Mostly black and a couple of pink.
Last but not least, Sze Hui's purchases!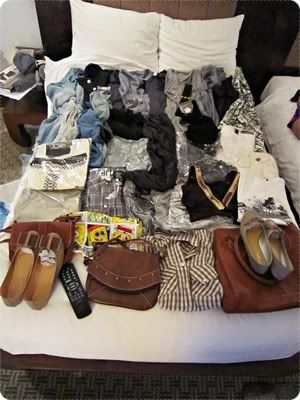 I think she is the biggest buyer of the day! Ha….
In one of our random tries of clothes which the 2 of them bought.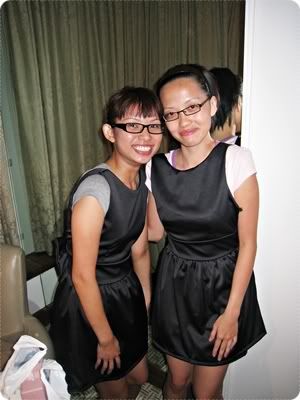 Frenchmaid anyone?
I tried on their dress too.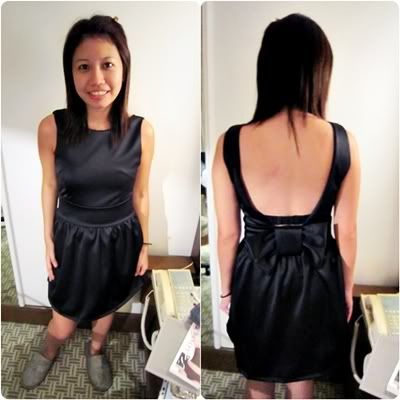 Ain't the back so sexy. *whistle*
Ok, not my back but THE back of the dress!
Shall continue with the Day 6 entry sooooooon.